With Liverpool running into the same old problems on the pitch, Dan Morgan writes that The Reds need to adapt before they fall further…
SOMEBODY once said to me: "If you do the things you've always done, you'll have the things you've always had".
Right now Liverpool could not be more opposing in that viewpoint. They're a team which looks beaten every which way. They've been chewed up and spat out by a freakishly nightmare season after three years of total Shangri-La.
Yet they continue to try and be the best version of themselves. They continue to be the only version they now seemingly know. They're doing the things they've always done, but what they're getting is the thing nobody wants.
Trying to reason with such realities becomes extremely difficult. A team which enabled cheat codes all over the pitch is an extremely difficult thing to come by. Defending in a three-versus-three against the speed of a Chelsea attack is only doable if you're honed to absolute perfection.
This team could not be any less honed, it's a hone-less shell right now. It's vulnerable and cyclical and seeing a football pitch as the hardest thing on the planet to navigate.
So why no change in tact? Why not a radical shape shift to do what needs doing? In a crisis you manage by first and foremost applying limitations to damage. The current approach continues to serve only to haemorrhage doubt.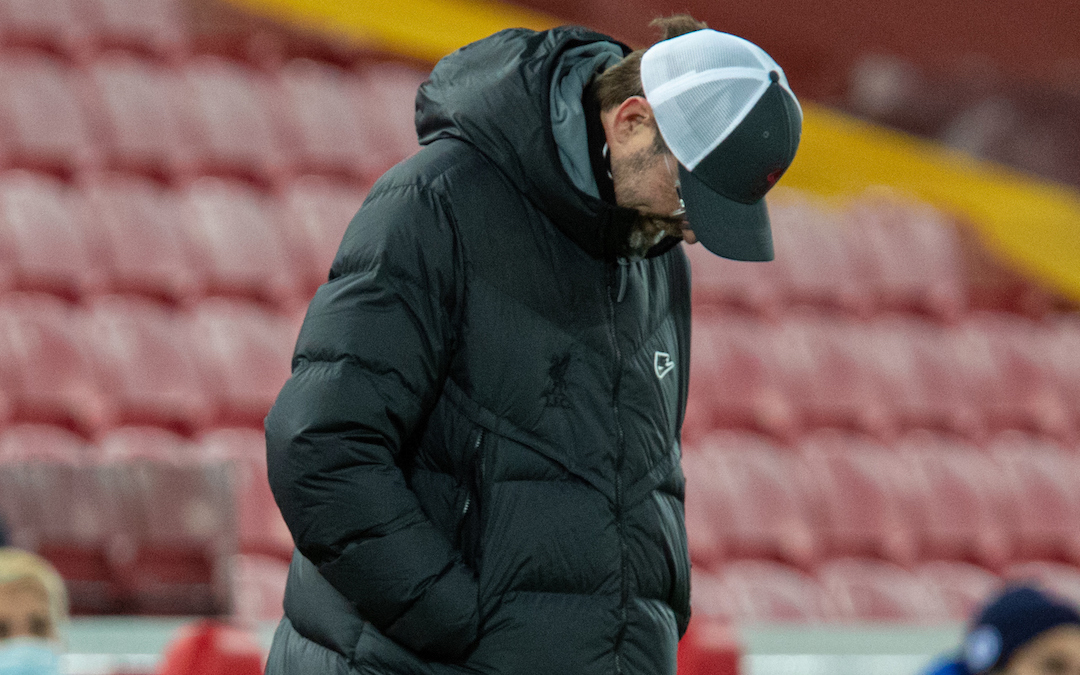 Against Sheffield United, Liverpool had a specific plan in how they could match them up in possession and provide structure and protection when they didn't. We've seen this yield some of the few positive results we've had the privilege of witnessing this year.
Other times, however, we're left with a team like last night, which acts inanely as though it is still able to apply the same principles which saw it achieve mid 90 point seasons consecutively.
They don't at any point ensure they won't be beaten. Manchester United remain a curate's egg of a football team, but what they've quietly done is to come to terms with a game they're going to struggle in and get what they can, often by making it a drab, goalless affair.
The irony is, they've done it before under this very manager. In 2016-17 around this time, Liverpool decided they weren't interested in losing. They became ugly and dogged but they made it their reality for a quarter of a season and it worked.
From April 8 2016, they picked up 16 points from a possible 21. More importantly, they conceded only three goals. Granted, this may have been a case of Jürgen Klopp using what he had to good effect to a certain degree.
For every Emre Can and Lucas Leiva, he now has Thiago Alcantara and Gini Wijnaldum. That should only serve as a positive in a conventional world, but when the entire operation becomes by any means necessary, you find that not everyone can apply themselves if they're predominantly used to winning.
The irony about everything in this most punishing of seasons, is the team that is currently doing all of these things best is Everton. In that sense, it becomes a bitter pill for ourselves to swallow for once, as they continue to doggedly get what they need from the situations they face.
All of this has no answer, but surely one of the most obvious wrong ones is to continue doing the same things and expecting things to change?
We've now gone past that point and then some, and has become something which cannot psychologically be written off as a seasonal blip for this manager and squad.
They need a glimmer of light, to see themselves in the darkness. If they can find something to hold on to, they can still come back once all of this is over.
But they need change, they need hope and they need a plan.
---
"We had a team of leaders last year."

"We have enough quality, we just haven't seen it in recent results."

"If nothing else, you wanna see a shift in mentality come Sunday."

The ️

Listen for FREE https://t.co/KhGDpLm9OG pic.twitter.com/011uuyhHim

— The Anfield Wrap (@TheAnfieldWrap) March 5, 2021
Recent Posts: