David Segar writes that it's time for a little less conversation and a little more action at Anfield if Liverpool are to turn the tide…
IT never rains, but it pours.
It has been pouring almost non stop on Liverpool's season of late. Michael Edwards has reportedly been seen shopping for an ark.
I try to stay relatively optimistic in these weekly columns (admittedly, this isn't a good start), but just when you think you can see the sun peeking from behind a cloud, The Reds lose at home again.
A year on since the last Premier League game that featured a full crowd, there seems to be a general agreement that this pandemic version of football is nothing like as enjoyable, and not just because Liverpool are shit at it.
The highest of highs are far lower than usual, while the lowest of lows are frequent, harsher and make you want to tear your hair out, which to be fair is quite handy while the barbers are still shut.
With everything else going on in the world, for many, football's return last June was pretty much the only thing to look forward to. We went from relying on Zoom quizzes and waving at the Amazon delivery person, to actually having our primary leisure activity back. Sure, it would be behind closed doors but we'd get used to that, wouldn't we?
Nope. It's just gotten progressively worse, not helped by the additional ingredients of injury lotteries, consistently drab media coverage and our beloved VAR.
Take all of that though, add your recently invincible team breaking historical records for defeats from pretty much nowhere, and now not only does football not release that increasingly elusive serotonin, but it regularly hurts you. Often twice a week.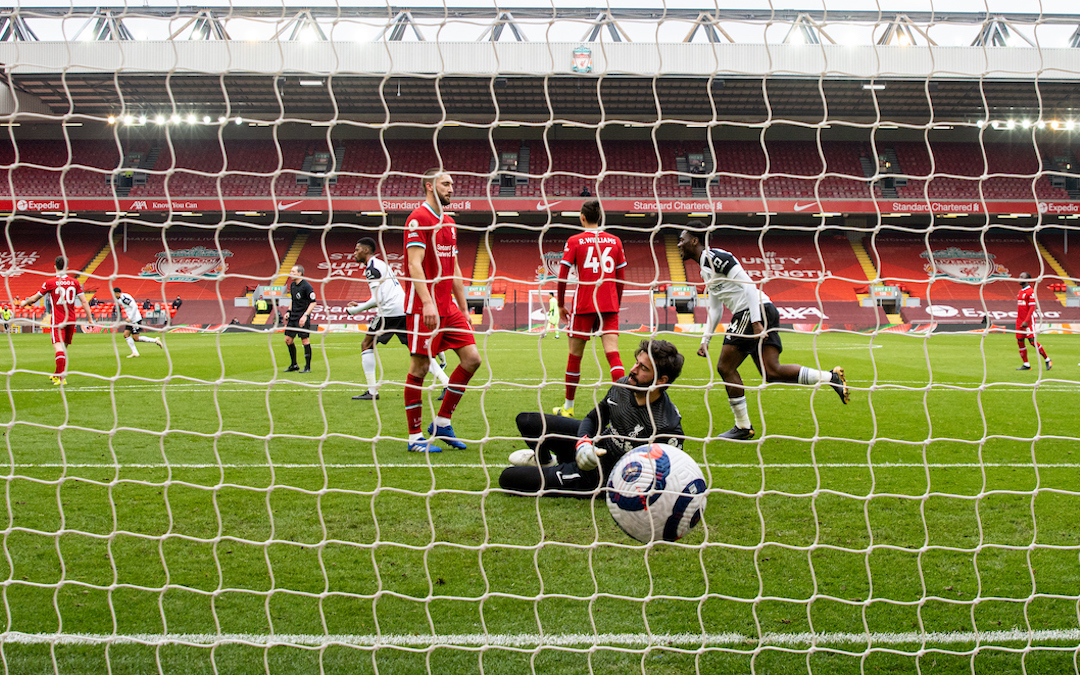 It's like spending your lockdown with a big fluffy dog, but instead of coming for cuddles and playtime, he just bites your ankles and shits on your pillow.
I'm sure fans of other clubs are running out of small violins by now. We may bitch (and I will continue to do so shortly, don't worry), but we remain the only fans to have celebrated a Premier League title win since the before times, and have had more than our fair share of excitement in the last two-three years.
Things have unravelled wildly in the last two and a half months though, and it's harder to deal with when you're so utterly helpless to do anything about it. All you can do is watch, hope, and write whiny articles where you're not entirely sure what your overall point is.
Normally when a team has a bad run of form, they just need one good result and/or performance to snap out of it. Liverpool have had three moments since Christmas where they could look back on a much-improved showing and victory to build on, only to follow it up with another insipid performance and limp defeat.
Sure enough, they kept up that trend last week by following their 2-0 win at Sheffield United with 1-0 home losses to Chelsea and Fulham.
This is Anfield? Oh no.
Going 68 home games unbeaten, and then losing six in a row is the sort of thing that makes you question how logical real life even is now. Did Bruce Grobbelaar pissing on the goalposts cause a reactionary curse where Liverpool don't win at home for 68 games on the spin?
Speaking of relief, there was an element of it to see that the Champions League last 16 second leg against RB Leipzig is far far away from L4, with Wednesday's return fixture taking place back in Budapest. It has been reported that Leipzig have to pay Liverpool over £1m for the inconvenience. Seems mad that it's not the other way round, to be honest.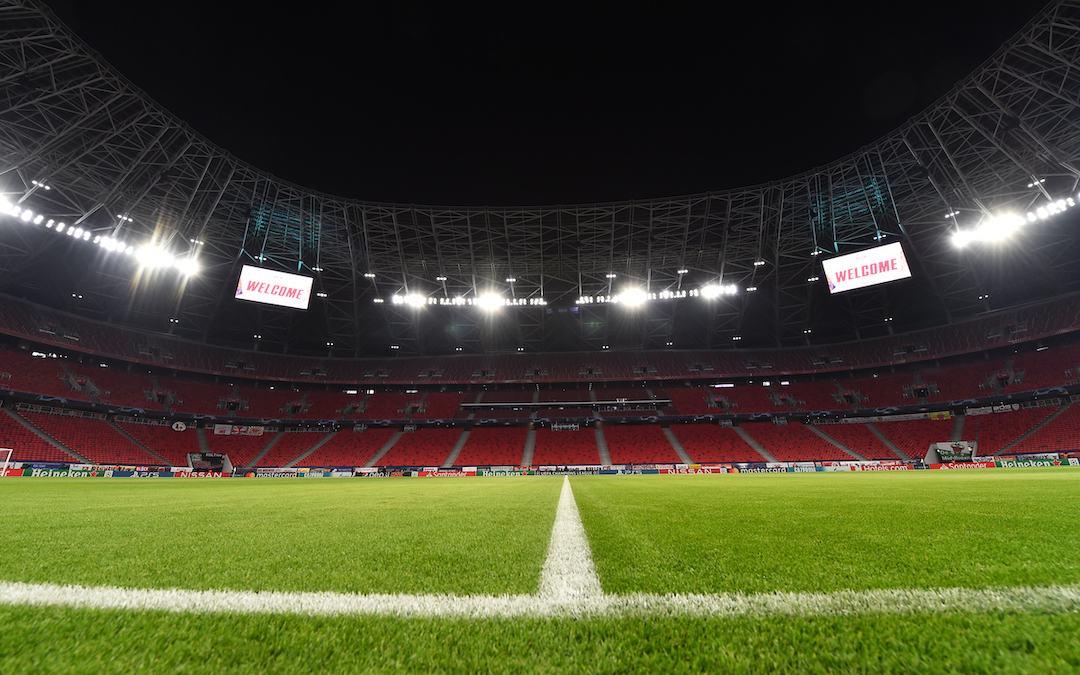 If The Reds win again, I'd be all for a petition to play there for the rest of the season. 'This is Puskas'.
Following a defeat and a bad performance, the inevitable fallout is for a player or two to come out with a rallying cry. We've heard so many of late, and in fairness, you would be concerned if you didn't.
It is positive that the players can see the problems and are trying their best to turn things around, but strong words followed by meek performances is no use to anyone. Show, don't tell.
While I'm still firmly in misery arse mode, you know what else I could do without? Videos of Virgil van Dijk and Joe Gomez doing their rehabilitation work.
Don't get me wrong, I'm delighted that they're on their way back, and it was great to see them the first time, but neither man is going to be back anytime soon to help with this crisis.
While the intention is presumably to cheer us up by showing what we have to look forward to, it feels a bit like showing us videos of pub gardens all winter.
Good luck fellas, can't wait to have you back, but I'd rather see a video of Ben Davies that proves that he's a real boy and not a Harchester United defender we accidentally signed on deadline day.
Jürgen Klopp is going nowhere, and rightly so. The extenuating circumstances that have been widely discussed remain as valid now as they were in December. The manager has made some questionable decisions of late, but flippin'eck, who hasn't?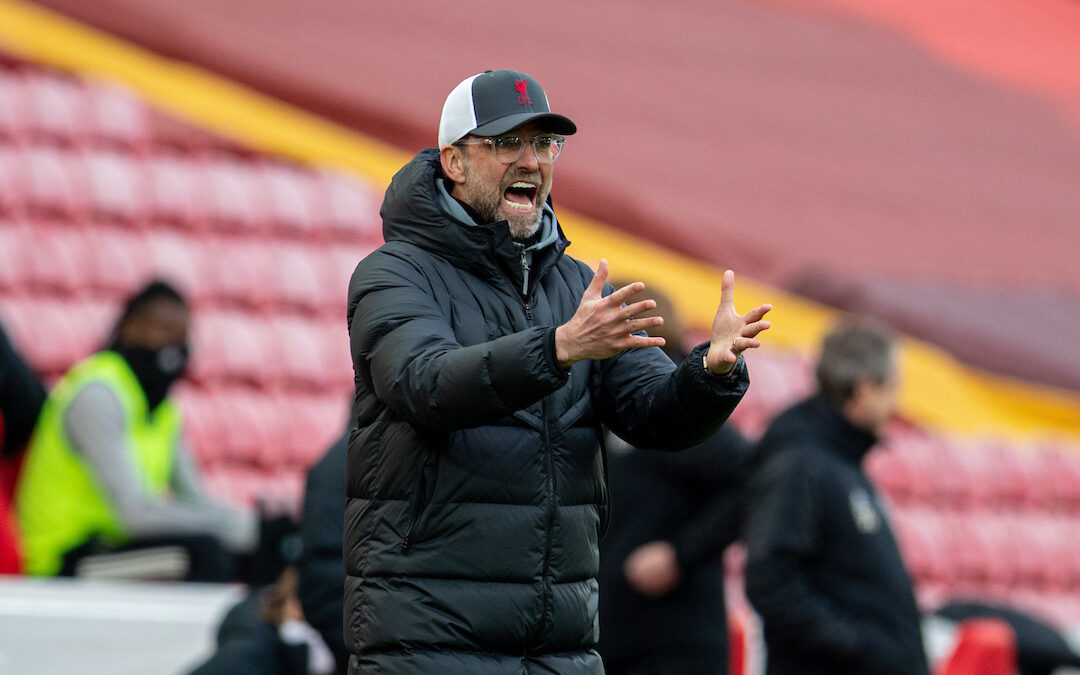 I sent an email at work last week where I called someone 'bro'. It was at the end of a very long day, but that I haven't yet been fired is a damning indictment of my higher ups.
Noises from journalists are that the owners are planning to back Klopp in the summer, with Paul Joyce of The Times stating: "After five years of progress FSG will not abandon 53-year-old Klopp and plans to make money available to strengthen the team, despite the increasing likelihood of missing out on a place in the Champions League next season."
What constitutes appropriate backing will, I'm sure, be debated high and wide by the fanbase. I cannot wait for that (he says, tapping his head with a brick wrapped in barbed wire).
In the meantime, we must sit, wait, and hope that something somewhere clicks with the players the manager has available to him. Yes, there are injuries, and many are clearly exhausted from having to cover for so long, but remembering how to pass to one another and kicking the ball in the vague direction of the opposition's goal from time to time will do for starters.
Liverpool remains the best club in the world to support (bias? where?) and a certain amount of perspective has to be kept given this is an atrocious version of football that everyone is being subjected to, but blimey, a few goals and wins wouldn't go amiss.
The players will be feeling the same, and hopefully rather than just hearing about it beforehand, the belly fire is actually on show in Budapest.
We could certainly all do with a sunnier forecast soon.
---
"Those players have to have the self-belief. Those players have to have the confidence…and they're going to have to embrace failing."

Liverpool 0 Fulham 1: The Anfield Wrap | #FreePodcast | #LFC

Watch👉 https://t.co/deeISX47N0
Listen 👉 https://t.co/6W1n5qo9WK pic.twitter.com/R83Wnjoi5w

— The Anfield Wrap (@TheAnfieldWrap) March 8, 2021
Recent Posts: