Liverpool have hit their lowest point, and Karl Coppack writes that The Reds now have one place to turn to save their season…
NADIR (n)…
1: The point of the celestial sphere that is directly opposite the zenith and vertically downward from the observer.
2: The lowest point.
Well, let's not concern ourselves too much with the first definition. Suffice to say that if you look directly over your head you're staring at the zenith. Have a look at your own feet and you're making friends with the nadir.
Liverpool are in the latter category.
It's popular to both overreact and call for some perspective. What's the low to you?
Roy Hodgson's derby was awful, but it had competition from the Wolves and Blackpool games. Much of Graeme Souness's tenure was moored firmly at low water and the less that can be said about the odd Gerard Houllier and Brendan Rodgers season the better. 
But those sides hadn't delivered the worst home record losing streak in our 129-year history. Please welcome the strangest Liverpool side in the strangest season in history. From a team who celebrated a league title, Champions League, European Super Cup and Club World Cup in recent memory, we've raced to the bottom.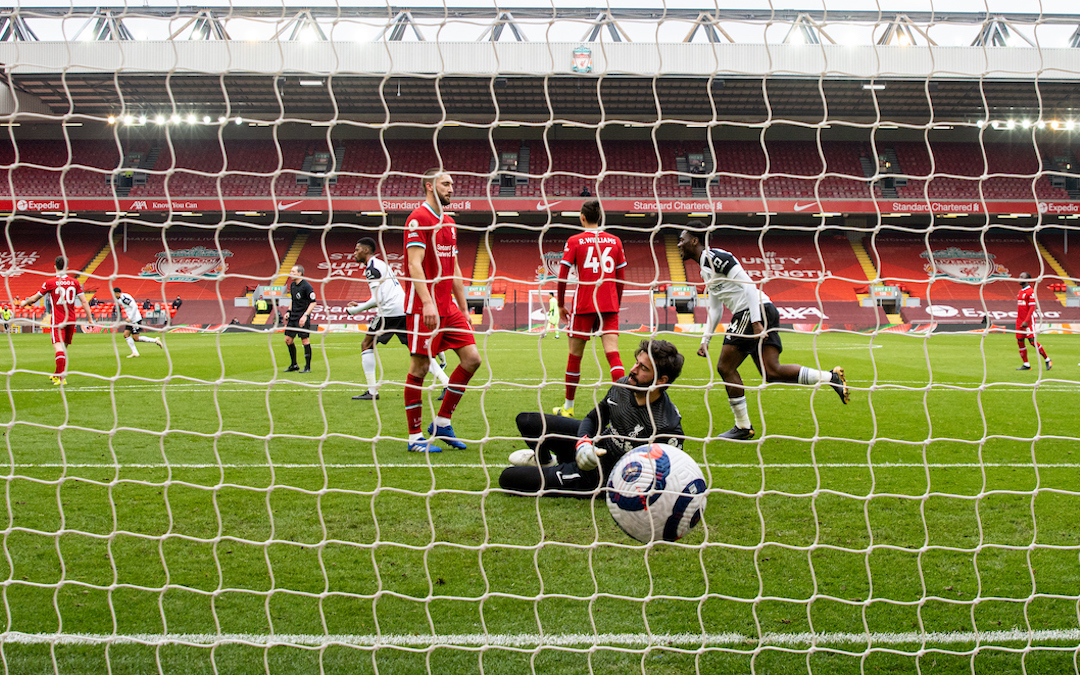 And it's difficult not to be overtaken by events. I'm still shaking with fury at the last 20 minutes of the Leicester game, but new and more starker horrors have swollen and eclipsed it. The derby was shocking, Brighton was an exercise in inevitability and Fulham was an apology played out in interpretative dance, but Chelsea? Jesus, Chelsea.
It's old ground now, but that was the first time I've ever stared at the manager and thought 'Well, you've lost me there.' Suddenly, Jürgen Klopp is human again.
He always was, of course, but following the last few seasons you almost expect him to come up with the antidote to the flesh-eating poison in the final act and save the village. The rest is inevitable. Big smile. Thumbs up to camera. Fade to titles. Literally.
Fulham told us that he's trying everything. The two kids at centre back. No Roberto. No Sadio to start and Keita and Shaqiri brought in. I've always liked the look of a shake up, but even that failed.
Then, in an act of sheer pathos, a lad who has scored a grand total of seven goals in his career swings a leg and beats Alisson. Like so many Liverpool sides before them, the champions couldn't find a way through. Another weekend ruined. Another deposit made in the 2020 Hubris fund.
We didn't even have the solace of Manchester United getting battered by City to fall back on and, after a while, even Scott(ie) Parker's coat seemed less funny. A grey day all around.
No, hang on. I liked the bald lad in midfield. He might be able to do a job in there one day.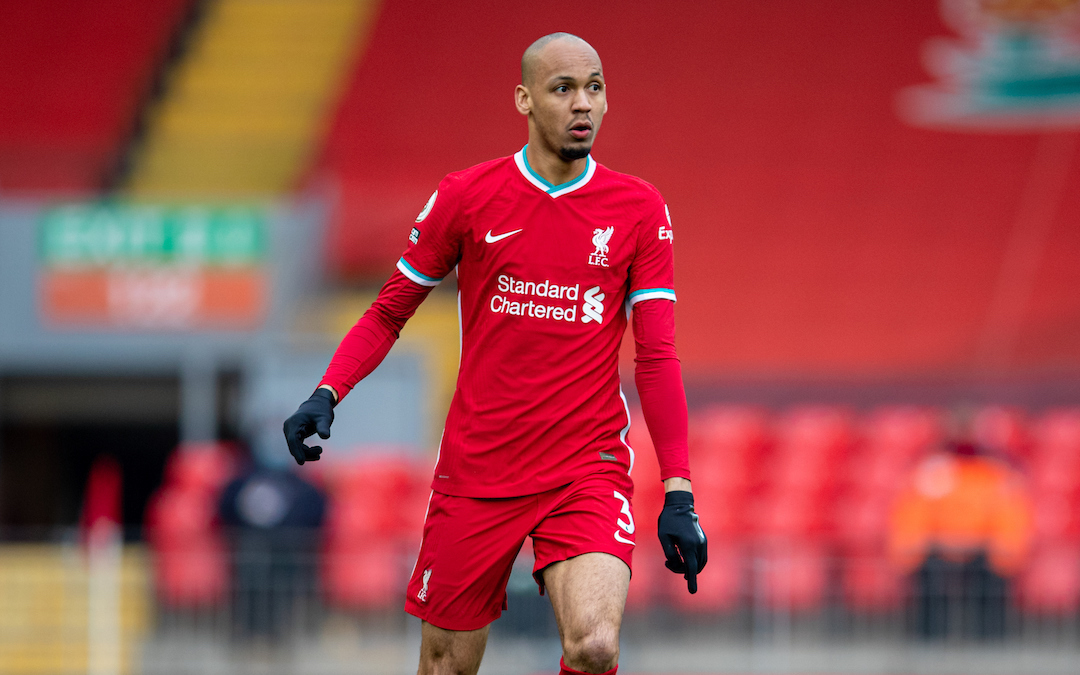 Jürgen admitted that the run is getting to him. I'd be concerned if he didn't. The worry is that he's no idea what's going wrong either though, at the same time, I don't have the first idea of how to arrest the slide.
Ordinarily, and with respect to them, you'd come off the pitch after Chelsea, acknowledge that they're a decent side but then feel a bit better that it's only Fulham next. That should do it, surely?
We took one point off them this season and that was only because of a penalty which wasn't really a penalty but was that week.
Like everyone I've been scratching my head and wasting hours talking about what happens next. I'm certain that this all changes when Virgil comes back (and I advocate a full dance routine a la Coming 2 America when he finally trots onto the turf) with Joe and Joel next season.
Then the bald lad can drop back in with the captain and Curtis or Thiago and service Kylian and his mates upfront. Goals, points, medals, trophies presented in front of fans.
A mate of mine is less convinced, stating it's harder to get back from this sort of position, but I don't want to think about that. Has there been too much damage done? Maybe. Grim, isn't it?
And yet the squad is still there. They're still good players. Great, some of them.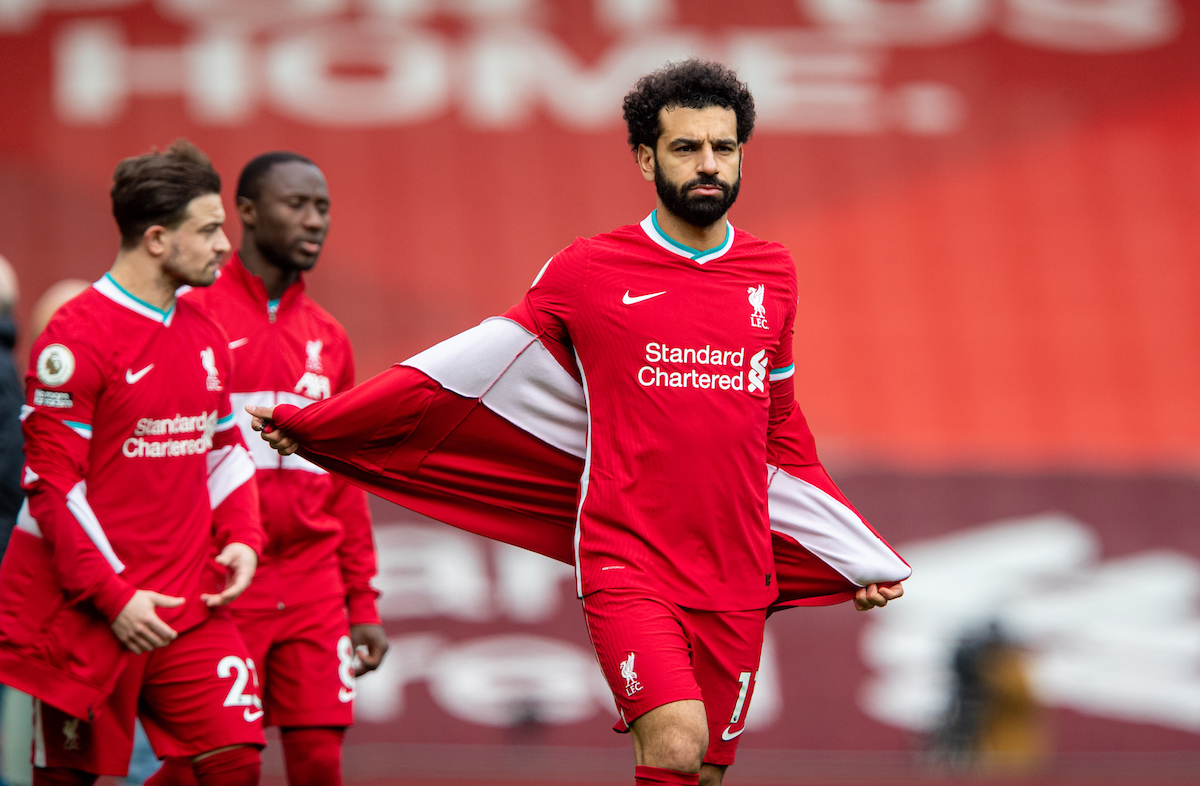 Maybe we get through tonight's game and give Wolves the hammering of a lifetime and nature will renew itself. Maybe we'll all exchange rueful grins in months to come and say 'Remember that time we lost six on the bounce at home? That was mad, wasn't it?' before Mo slots in our eighth goal at the Etihad. Maybe. 
I'd take eight shots on target at the moment.
What does the manager do in this case? Gone are the days where you take them all to an island somewhere and let them unwind and plan a bit of a reset. The current restrictions have rendered that a pipe dream. Is the Pontins at Ainsdale open?
Luckily, we won't be back in the league at Anfield till the Villa game next month so there's little point in stressing out about it till then. There's a Champions League to be won and, if there's been a silver lining of late, it was the performance in Hungary.
If they can throw off the horrors of the recent home form and go back to being Liverpool again for a bit, we might be able to save the season somehow.
It'd be the most Liverpool thing ever to be so beige in the league and then win the big one. I'm praying that it happens. Absolutely praying.
It's all I've got.
---
"A marker of a good season is if you've still got something to play for in April."

"If there's one thing this season needs, it's that."

The Preview Show 🎥

Subscribe for all of our build up and immediate reaction, in person, later tonight 🗣

👉 https://t.co/oaOWcUzrlr 👈 pic.twitter.com/AQA83XLDQd

— The Anfield Wrap (@TheAnfieldWrap) March 10, 2021
Recent Posts: