Neil Atkinson's post-match review after Liverpool 2 RB Leipzig 0 in the second leg of the Champions League last 16…
HOW it starts.
Back at your house. They make life worth living, you know. You remember that between the first and second goal and you remember that when they miss between them in the first half – in hindsight.
There's a universe where Liverpool are flying and I write 800 words on what Thiago Alcantara, Mohamed Salah and Sadio Mane do first half, you know. The reason why I dwell on it is its inherent brilliance and then sheer ridiculousness. We walk around it. We remember the silliness of our investment in this, we dwell upon the fact they are just playing a game, a game a load of us play and we do so as badly consistently. We remember the fact that the ball is round.
But we are currently not sure of that life lesson. The ball has been round far, far often across the last 12 weeks. What? This game makes a fool of us all? Christ alive. Look at me. I may as well wear a permanent jester's hat. Yes. Fools of us all.
So there are other lessons. One is the value of a lad playing holding midfield who loves it. Fabinho is the absolute business. He's the best footballer on the pitch, the game's dominant force. He's both magnet and liberation. He's making everyone better. He's the very epitome of the idea of a cog at the centre of the machine. He makes everyone better in a red shirt and everyone worse in white. What a trick that we've missed out on.
Liverpool aren't infallible. Both Nat Phillips and Ozan Kabak are, at times, out of shape and, at times, doing crisis defending. But both simultaneously play ever so well. Kabak has to respond on a couple of occasions to the fires burning to his right. How often did you see Virgil van Dijk at right back? But Kabak ended there on two occasions because it helped his mate.
Similarly, Phillips goes and finds it to win repeatedly. He passes forwards well too at times. It isn't pretty and it emphatically isn't perfect but it is a thing which Liverpool can build around whereas Fabinho is where they build from.
Gini Wijnaldum finds his triangle with Sadio Mane and Andy Robertson. Mo Salah and Thiago Alcantara are great mates with Trent Alexander-Arnold. My god, what footballers.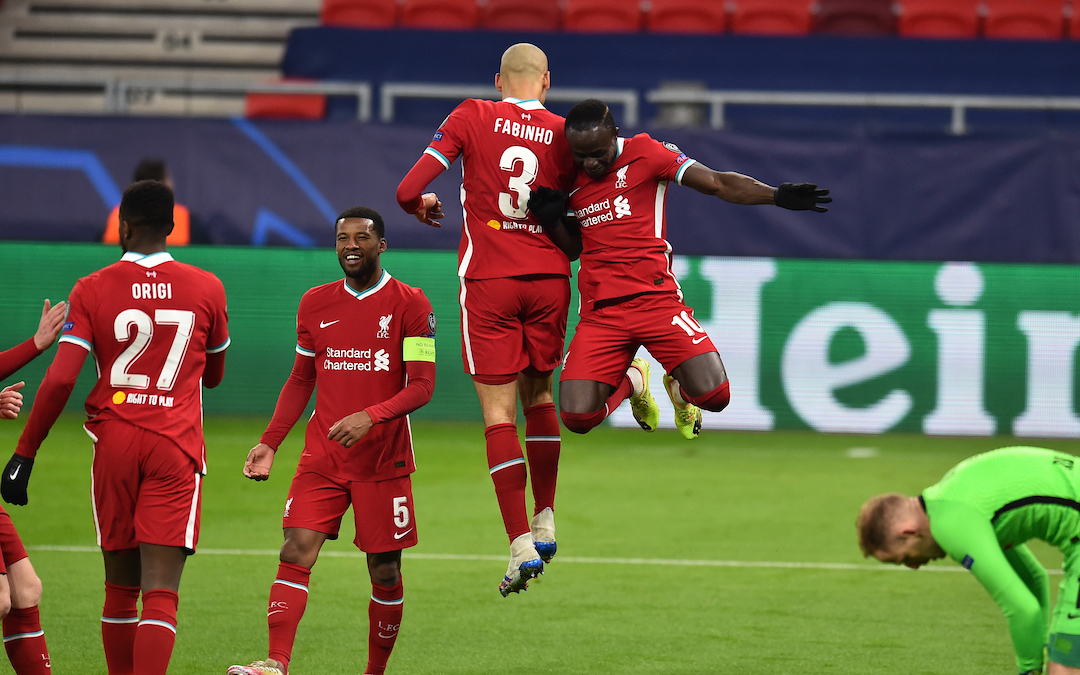 Liverpool's opening goal is beautiful, you know. Mo and Trent interact with one another, the ball is sent and Diogo Jota fills the space Mo has vacated. Diogo then travels and leaves Leipzig for deal. Salah ghosts and ghosts and finds the corner. It's a tremendous goal, a sumptuous goal, a goal which lets you laugh at what came before and delight in what comes next.
It's a goal that reminds you that Liverpool are Liverpool. Their essence is in being intense and in being first to everything, but their essence is also in their movement being better than you can conceive of. Jota sublime. Salah ridiculous. Liverpool home and hosed.
Divock's ball for Sadio's goal is a delight. It is impossible to defend against. Impossible to defend against. When did we last get to say this about this gang of lads. Impossible to defend against.
Where Liverpool have ended this season, regardless of what happens next. is understandably unable to fight a war on two fronts. This here is their front. This is it now. European football is ours as it has been before and as it will be again. European football can make life worth living. European football is my April. It's all my tomorrows, all my delight. And it may be why I can hold you in my arms come May. It may be why I get to see all of my friends some night.
Life's worth living, promise exists and we have this moment of Phillips heading it, Kabak shepherding it, Salah finishing it and Fabinho being the lighthouse you can rely on.
It's the memory of our betters that are keeping us on our feet. All the memories. All the hopes. All the friends. Tonight.
Liverpool into the last eight. Don't get carried away. I am getting carried away.
Holding you in my arms come May, you know.
---
"Only 8 teams left, with Liverpool being one of them; let's see what happens from here."

🗣 Liverpool 2 RB Leipzig 0 (4-0): The Post-Match Show | #NewPodcast | #LFC

Subscribe 👉https://t.co/oaOWcUzrlr
Listen👇https://t.co/el8x4p7OP9 pic.twitter.com/KgJOCDWw2S

— The Anfield Wrap (@TheAnfieldWrap) March 10, 2021
Recent Posts: