After a big goal against Sheffield United, David Segar writes that a new role for Roberto Firmino could reap further rewards…
TODAY'S article is about the ongoing debate around the form of Roberto Firmino, and whether Liverpool need to re-think using him as a striker.
However, it would be remiss on this sad day not to start by acknowledging the heartbreaking news we had to wake up to that Liverpool legend Ian St John has passed away at the age of 82.
I remember being sat on my grandad's knee as a little Red in training, and he would tell me all about Billy Liddell (his favourite), Ron Yeats, Roger Hunt etc, but he always had a particular gleam in his eye when he spoke about St John.
He must have told me about St John's FA Cup final winner against Leeds in 1965 a thousand times, but it never got boring.
Whenever you heard St John speak, what always came through was his genuine affection and enjoyment of the game. In many ways, it was akin to the reasons why people seem to appreciate Ally McCoist's punditry these days. No nonsense, no agenda. Just a love for football, like ours, that shone through.
There is a video package that runs regularly on LFCTV of fans, and current and former players talking about what the club means to them. St John speaks of Bill Shankly's mantra that it was always the player's responsibility to win for the fans because they have hard lives, and so it is up to the players to give everything for them on a Saturday.
He gets emotional talking about it, and you can't help but get emotional listening to him, because he did give everything.
RIP Saint.
While St John scored the historic extra-time winner to seal Liverpool's first ever FA Cup, last season, Roberto Firmino did the same to win the club their first ever World Club Cup.
The dazzling-toothed Brazilian has been an integral part of The Reds' success in recent years. However, there has remained a simmering debate that he doesn't score as many goals as he should, despite everything else he brings to the table.
It is a topic that has inevitably reared its head again in recent weeks, with Liverpool's poor run of results since Christmas Day stoking the 'does Bobby Firmino score enough?' argument.
Given Firmino's role has clearly never been quite the same as more traditional strikers like Robert Lewandowski or Harry Kane, coupled with the fact that the team has been frankly phenomenal for most of the last three years, his goal record has never really been more than a minor critique of an otherwise beloved and central player.
James Pearce wrote an interesting article on Firmino's situation for The Athletic last week, suggesting that The Reds need to consider moving on from having the 29-year-old as their main striker.
Pearce mentions that the defence of having Firmino there is always about how important he is for the team, and as Sadio Mane mentioned in a recent interview, "Bobby" is probably the reason why Mane and Mo Salah have been able to bother the net so often since the trio started playing together.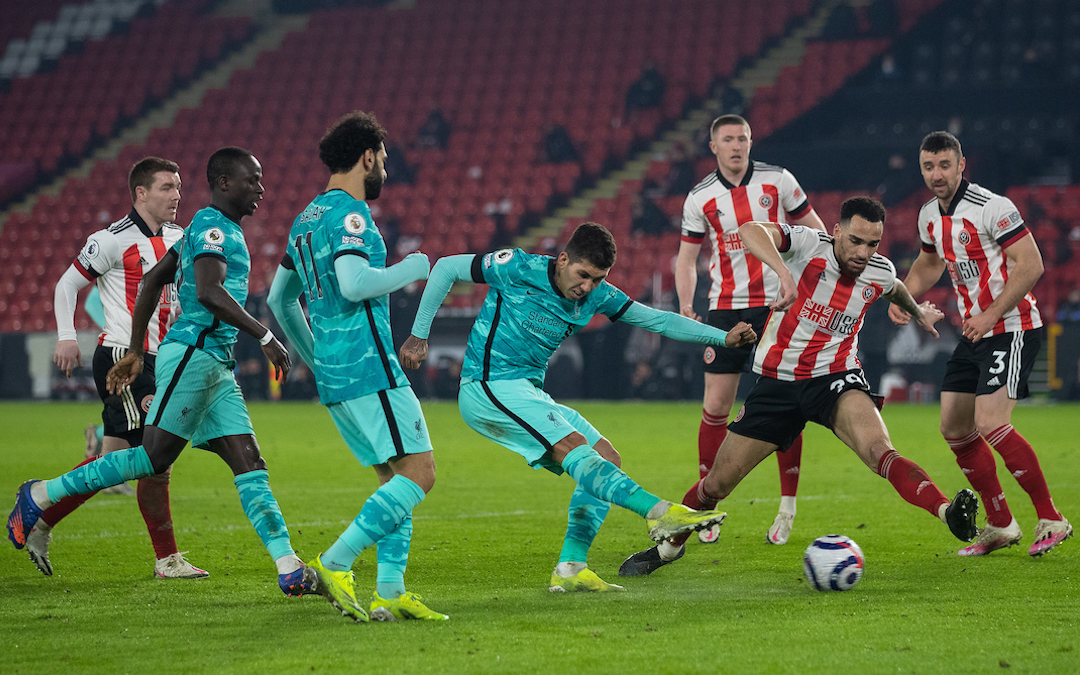 It does seem like the former Hoffenheim man's overall influence has waned somewhat in the last year and a bit, though, and so the question is, does Firmino need to be replaced, or merely supplemented?
Firmino played a big role in last season's Premier League title success, but he also very nearly went the entire campaign without scoring a league goal at Anfield.
As harsh as it was that his goal against Sheffield United on Sunday was taken off him (the shot was likely going to nudge the corner flag to be fair), it means that he has scored just once in his last 15 appearances, and has only six strikes to his name in 36 games this season.
I've seen it suggested that Liverpool should look to sign another Firmino type. I would argue that it makes little sense to do that, as there's no-one more like him than him, and it's not so much that he's not good enough at being him. It is more that the time might be right for something a bit different.
On the face of it, Jürgen Klopp favours a system where the central striker isn't the main goal threat, and that might be the case, but it must be remembered that his best team at Borussia Dortmund was built around Lewandowski, who still arguably remains the best striker in world football.
That's not to say that a striker needs to be a goal hanger, or the proverbial 'plan B', which always seems to be typecast as Andy Carroll or similar.
Lewandowski himself was, and still is, a mobile player who defends from the front and links play with the midfield when needed. Not to the extent that Firmino does, but the Pole also makes sure he's in the penalty area ready to lethally put away any chances that come his way.
Lewandowski would be too expensive, too old and too unavailable, so if Liverpool are of a mind to seek a new striker, it would make sense to target the next best thing, which at the moment is undoubtedly Erling Haaland.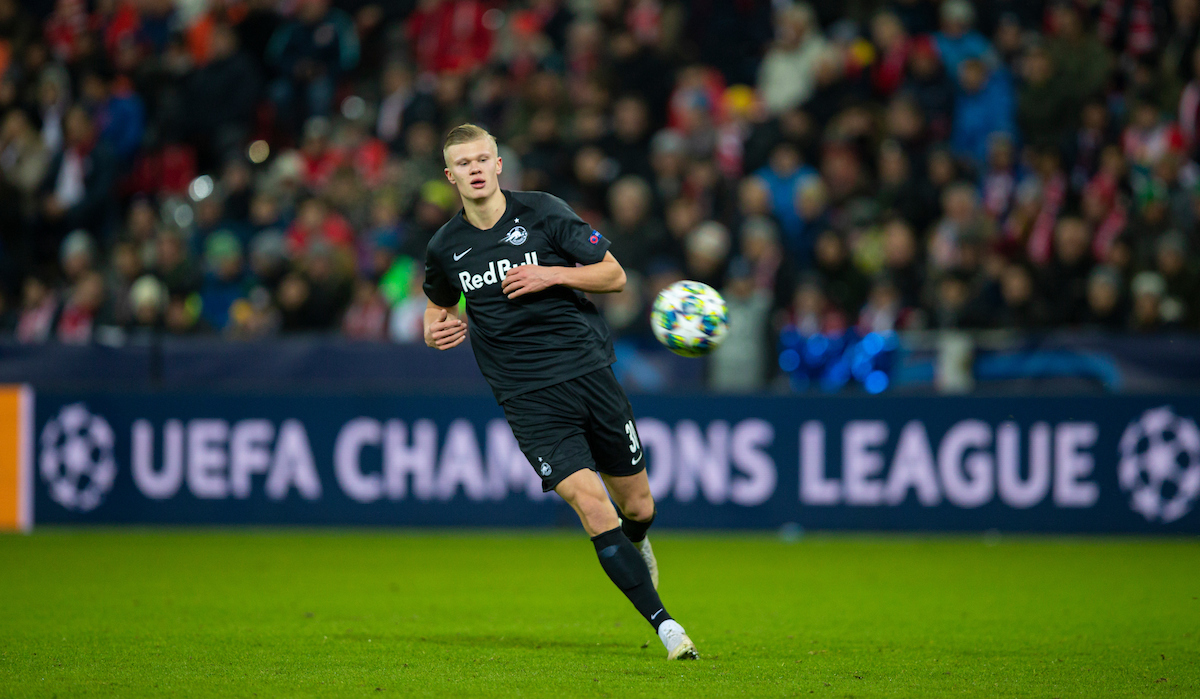 It would take a lot of money and a lot of wooing, but when you have a talent like the Norwegian breaking all kinds of records at just 20 years old, it would be bordering on negligent not to do everything in your power to get him on your books if the possibility arises.
That possibility could be there in 2022 when Haaland's widely reported release clause at Dortmund of around £65m kicks in. It's still a lot of money but without that clause, he would likely command at least twice that much, or at least will when the game's finances pick up once fans are back in stadiums.
I've seen some mention of teams taking advantage of Dortmund's situation now and getting Haaland a year early, but it seems a stretch to think that any club would have the money to do such a huge deal this summer. A certain amount of financial recovery will likely be needed before any deals of that magnitude can be done.
Of course, that would mean Liverpool having to wait another season to get their man, but there might also be another adjustment possible this summer, because Klopp already has a world-class goalscorer in his ranks.
Mo Salah leads the Premier League scoring charts, and given his insatiable appetite for putting the round thing in the rectangular thing, is unlikely to object to sometimes being played down the middle as he was for a while during the 2018-19 campaign.
That could explain why we are seeing links with wide attackers such as Raphinha and Pedro Neto, rather than strikers.
It would give the manager plenty of options while he waits a year for a potential 'Goalden Goose' (patent pending on that nickname for Haaland) rather than immediately switching from one system to another across a single summer.
Could Klopp already be adjusting for a new approach, though? The team had an interesting shape during Sunday's 2-0 win at Bramall Lane, where Mane was effectively the central attacker for a lot of the game, with Firmino almost dropping back into a '10' role.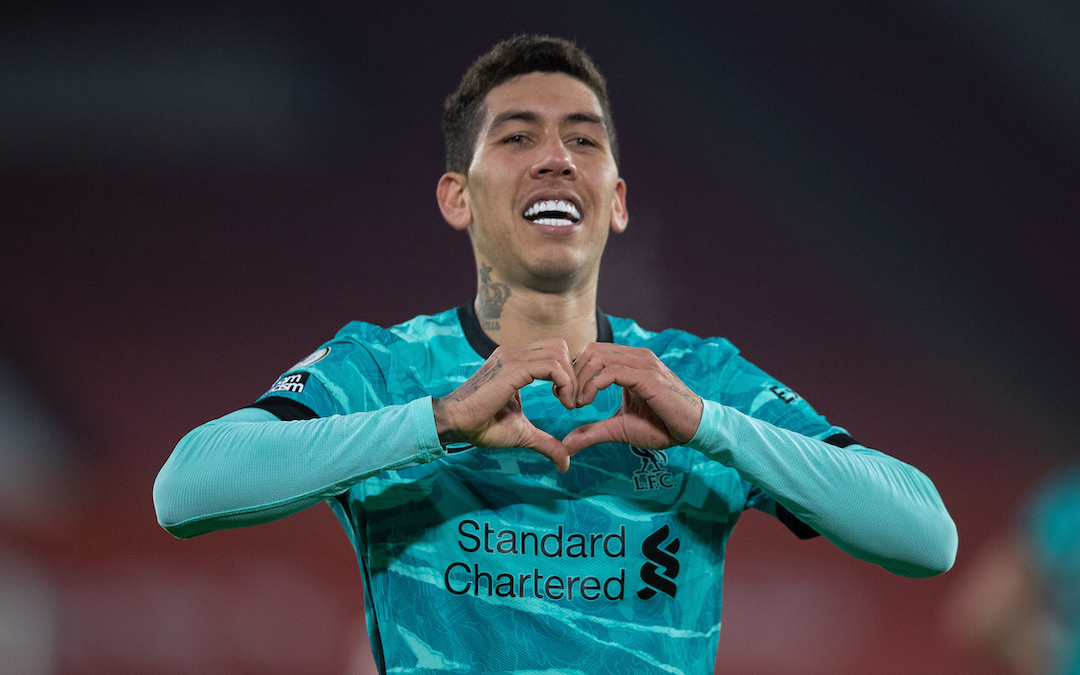 Perhaps not coincidentally, he had his best game for a while, linking play, getting closer to the midfield and being able to run at the opposition from deep, rather than receiving the ball with his back to goal and under pressure.
It was the opportunity to run from a deeper position that led to the second goal on Sunday, and what a run it was. Although it ultimately went down as an own goal, the incredible skill that Firmino showed to carve out the chance would have made it a goal of the season contender had it gone in without a deflection.
It will be interesting to see what sort of approach the manager uses when Diogo Jota is back, and this may have just been a specific plan for a specific opposition, but it worked well, so perhaps we could see more of it in future.
Personally, I think Firmino could offer plenty back in the 10 role, which he thrived in at Hoffenheim playing behind Kevin Volland. Should Klopp seek to use a new system in future, the Brazilian could still be a vital piece of the puzzle.
It might be that Liverpool need to move on from having Firmino as their main central striker if they are to evolve.
However, there is certainly no need to throw out the Bobby with the bathwater.
---
"His contribution to LFC is unimpeachable; but we have Jota coming back and a summer transfer window ahead of us. Bobby has to start scoring goals. Yesterday was a great start!"

🗣️Free Podcast |

Watch on YouTube
👉 https://t.co/dS05MLY4Vp
Listen
👉 https://t.co/yhPI3fg0bV pic.twitter.com/RCwd1hcj3I

— The Anfield Wrap (@TheAnfieldWrap) March 1, 2021
Recent Posts: