Neil Atkinson's post-match review after Liverpool's 2-0 Merseyside Derby loss to Everton in the Premier League…
IT'S Liverpool's poorest performance of the season.
And that's going some because this season Liverpool have lost a lot of games and even been beaten 7-2. You lose 7-2 it shouldn't get worse. I look back on that 7-2 with fondness. Halcyon days.
Liverpool were abject. There is no sugarcoating it. They start dreadfully. They manage to be so poor in the first two minutes they deserve to be behind. Think that through. You start that badly you deserve it.
Liverpool could not get a goal today if Mo Salah was stood on the penalty spot and Jordan Pickford had inadvertently gone for a wee halfway through the game. But they couldn't get Salah near the penalty spot other than one occasion where he passes lamely to Pickford.
Michael Keane plays ever so well but Liverpool play into Michael Keane's hands. Sadio Mane had a good 15 in the second half but the goal was never coming.
It was agony throughout. It was agonising. It couldn't hurt more.
Despite a lack of confidence in passing, and despite the captain going off with a horrible-looking hamstring or groin injury, Liverpool still take possession of the game. They still dominate possession for much of it. But to lose Henderson at that time and in that way just makes this all hurt all the more. It makes it more part of this season which feels cursed.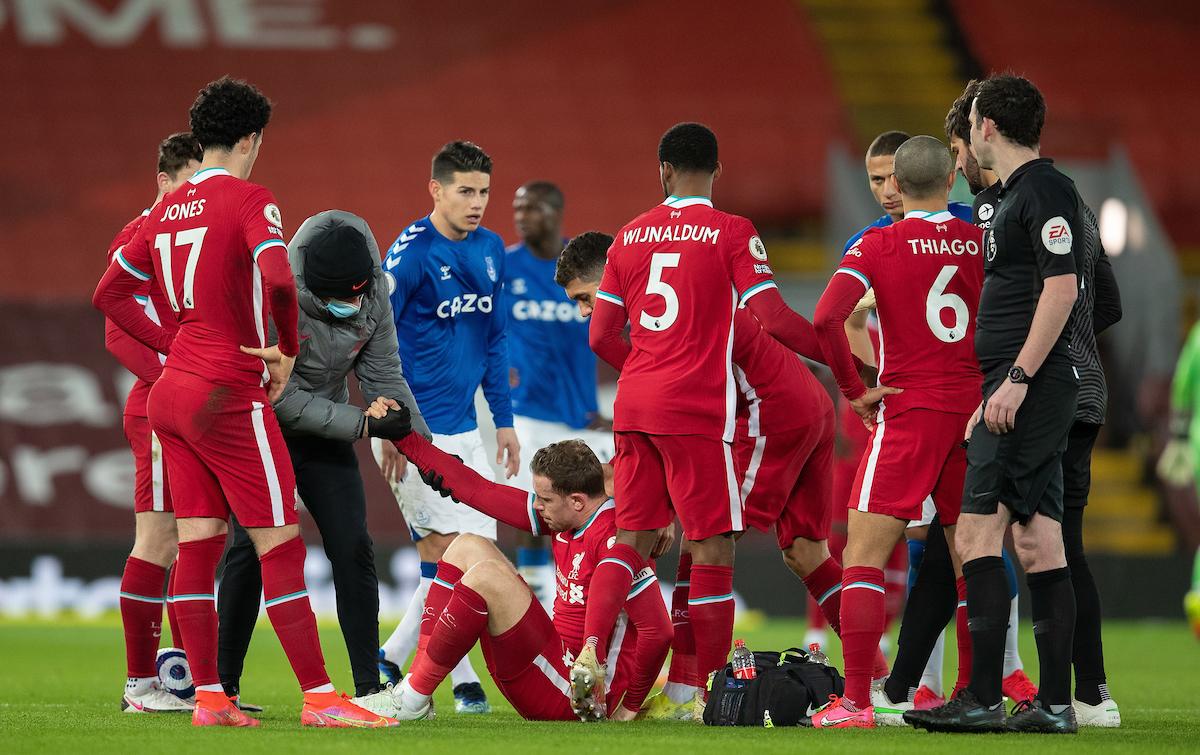 Everton get the gift and manage the game ever so well. There is a fact here – Liverpool simplify the task. They are so poor and concede and they let it be easy for The Blues especially with our weaknesses at centre back. Hoof it up the middle lads, hoof it.
Calvert-Lewin is good once he is introduced, and they have some class players, but seriously, don't get the impression this is anything innovative. It is just playing the game which is in front of you. Everton weren't quite magic. Liverpool though were tragic.
Kabak makes a mistake the opening minute to allow the first goal. He is OK through the game, but you can only hope that this is some sort of baptism of fire from which he will come through stronger, tested. Likewise, Curtis Jones.
Of Salah, Mane and Firmino, Mane is the best. He has the most dangerous opportunities and puts Michael Keane under huge pressure. It is credit to the Everton defender that he keeps him out. Salah never looks on fire, though he looks for opportunities and Firmino doesn't impose himself enough. Between the three of them though, the zip is not enough. This is not our top players at there best today.
Who knows why that is? Does the confidence issue always require an extra touch, a slower pass, a less instinctive flow between the three of them? Or is it supply issues from a midfield that is too often looking behind, playing defensively, not making charging, distracting runs? Sometimes the midfield just looks confused.
We should be faster than Everton, tactically and skilfully better. And in many aspects of the game, that is true. But there is a chronic inability to make play happen. It is as though there are not enough players on the pitch who can read the game, see the whole game. It is like we are playing in pockets, bit to bit, not sweeping front to back.
It's the line. No one knows entirely where they should be. Liverpool are a system team. Every cog needs to be perfectly placed, needs to fit. But none of them quite do. Sometimes the machine works. But other than Manchester City, system teams are malfunctioning across Europe to differing degrees.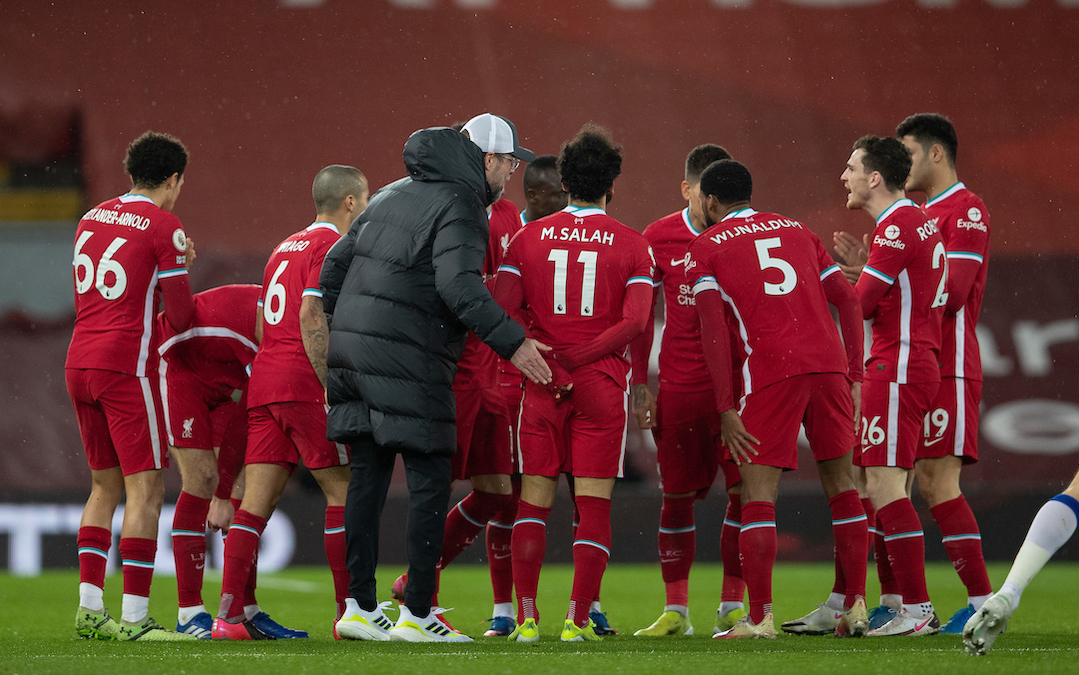 It's, in part, why the manager turns to Xherdan Shaqiri as his first sub to change it but Xherdan can't. Because everyone else is still in the system.
When the penalty is awarded it is so much today: the icing on the cake of what is a very flawed and also unlucky game of football for Liverpool. It is horrible and nervy through the final 10. You can only imagine the dressing room.
They aren't there to enjoy it. I'm ambivalent about that; it's obviously immediately funny but the flip side is all the things we haven't been there for. This shadow world we inhabit without end hurts me far more than 3,000 of our neighbours who have been coming for years and losing getting to enjoy themselves tonight. They deserve it.
These are, in some cases, our mates. Our colleagues. If they could paint the town blue tonight then great. Because, let me be fucking clear, I want to paint it red again soon.
Unironically I love Everton's slogan, you know. Nil Satis Nisi Optimum. Nothing but the best is good enough. Tonight their mostly likeable setup – Richarlison and Pickford aside – will feel like the best and fair play to them. We can manage that through gritted teeth. Fair play.
Liverpool have to pick themselves up off the floor. It is time to get up. I am fucking sick of this. Nothing but the best is good enough. Get up Liverpool. Get up. Now.
We've got a town to paint red. Get up. Find a fucking way.
---
Recent Posts: