Neil Atkinson's post-match review after Liverpool's 2-0 win over RB Leipzig in the Champions League…
PLAYING in Europe is good, isn't it?
Like we all might be stuck at home but at least our lads have been on a bit of a journey.
Odd to be in Hungary playing second in the Bundesliga but it would do me right now, getting out of the house. And The Reds being boss again.
Perhaps it is the change of scene, and perhaps it is the pressure finally coming off, or perhaps it was always going to happen, but tonight Liverpool FC swagger again. They keep the ball and play the ball, and score two goals that ooze confidence in front of goal. You can hear the manager shout from the sidelines, keeping this team going. Outstanding, yes Jürgen, outstanding.
RB Leipzig do well, Ozan Kabak ends up with a split lip and in a game which was well and liberally refereed they end up with five yellows to Liverpool's two. This tells its own story.
The German side are quality but they at times resort to industrial tactics when they are short of ideas on how to beat the Liverpool tight passes; indeed as the first half wears on you get to see how they are simply looking to create possible turnovers more than build attacks. It's a way to play but it is limited and it is tiring. It doesn't really work for them, despite a number of chances.
Liverpool. The press. It is great to see. They are a tight machine tonight. Defending is smart and Andy Robertson is like a steam train driving the ball forward. We get flashes of excellence from Nkunku who makes an impression on our defenders but Liverpool's line is reassuringly high. To play in this way takes confidence, and that is what is so good to see. Kabak and Jordan Henderson seem a proper pair tonight.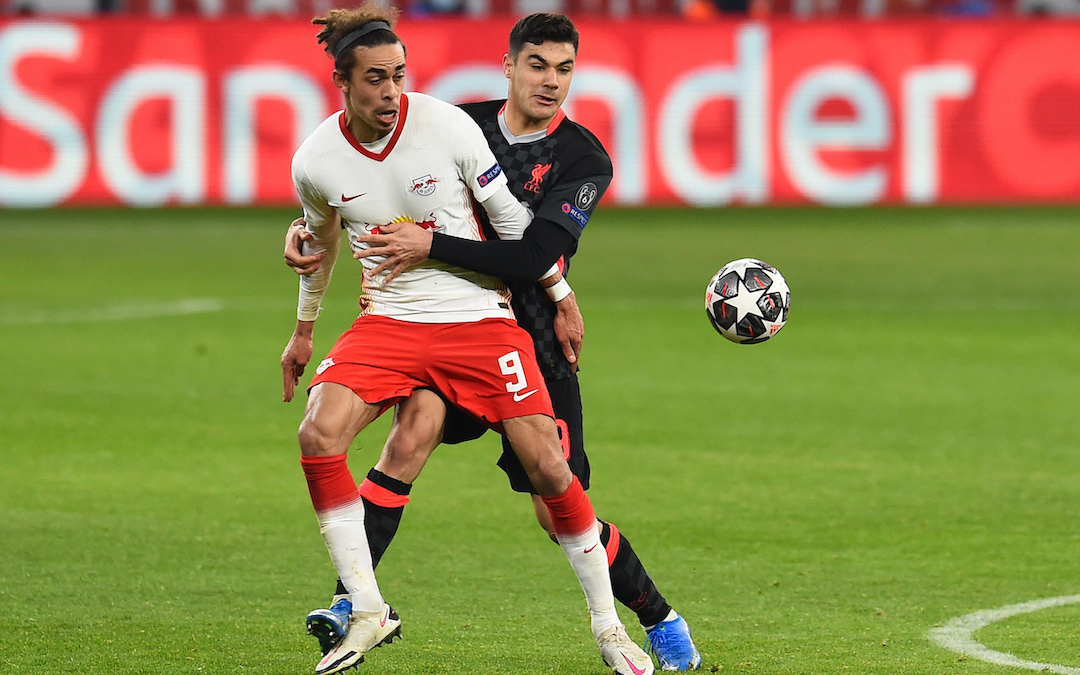 And then there are the goals. Oh lord, the goals. Mo Salah sweeps the goal from midfield takes one look at the goalkeeper and with a flick of his hips sends him the wrong way and slams the ball in the back of the net. What's interesting is that Salah takes the opportunity to create for himself the angle to score in any way, whereas earlier in the match he had been left only with the dink.
Perhaps the reason why this happens in this way tonight is not that we have players back from injury, or that the confidence magic dust has startled to sparkle again, but rather that passes are good and sharp, the shape works well and supports Salah, Mane and Firmino maximising chances like this.
We didn't need to be 100 per cent better. We needed everyone to be 10 per cent better and make the collective work. The whole thing is repeated for Mane's goal, with the strongest of assists from Curtis Jones.
It is worth saying that the mistakes are there from Leipzig for both. But this is their approach, they set up in a way which led to their defenders being under pressure, being harried. Klostermann and Mukiele have torrid evenings because Sadio Mane and Mo Salah especially verge on unplayable and Roberto Firmino is difficult to keep track of.
Leipzig start both halves well and make this a game that while Liverpool play well, they think through well. There are a series of different and good 10 minutes from Liverpool.
The first five fly by and Leipzig hit the post. But Liverpool settle and draw them out for 10. Then put the hammer down for 10, then turn the screw and then ease off as half time approaches.
In the second half, Leipzig again start quickly but Liverpool find their way after that five, get the goals and then spend 10 minutes soaking up pressure before 10 minutes of ensuring nothing meaningful happens. This is smart football.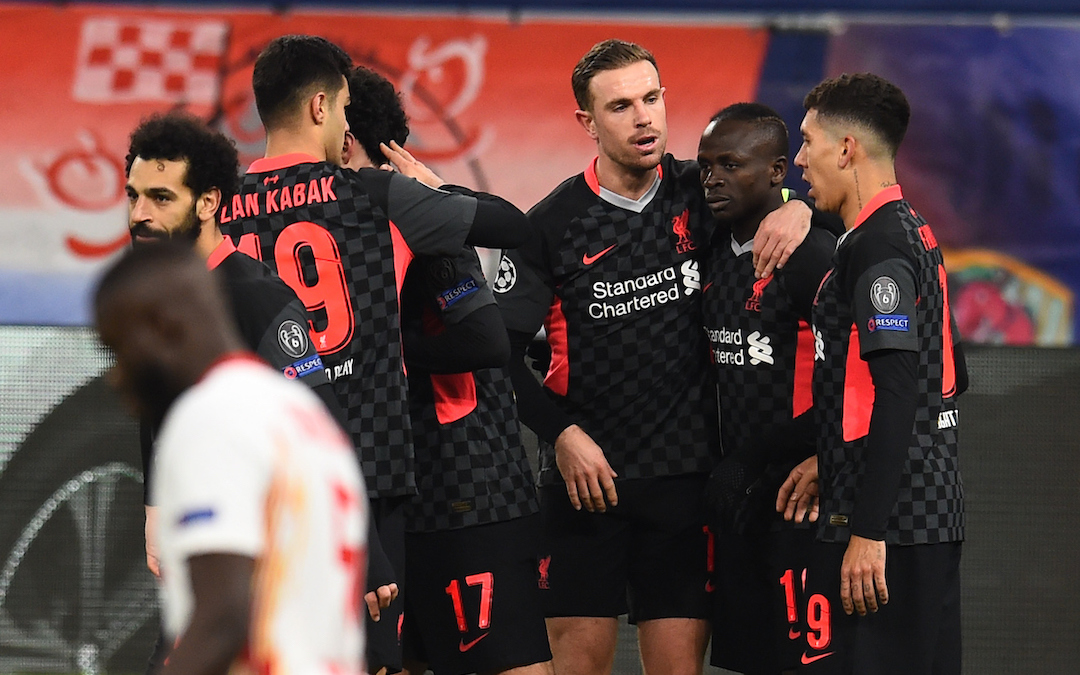 It wasn't football without gambles. Leipzig were all gambles but Liverpool's were calculated and best summed up by Trent Alexander-Arnold's quick first time passing first half which was the essence of risk versus reward. You got to see the reward because you got to see their quality.
It's not the football of a side that have lost their way. There will be those who think this could just be Europe for Liverpool this season, that the Champions League will suit, will be like taking off tight shoes and they may be right. But this side managed something similar against Leicester before the video assistant referee intervened.
It works. It just all works for Liverpool. Things click back into place. Perhaps this is a function of time, these players having been together for this time, intelligent people making it work. It was probably the best proper showing from Thiago Alcantara where he midfielded.
Who knows where this goes? If tonight was a carefree adventure, Saturday is back to earth with a bang. Let's not worry about turning corners any more. The only way out is through. It's the essence of the manager's every press conference and he is right.
In both senses, Liverpool aren't through yet, not to the last 16 nor through the worst of it but this is a massive step forward.
Who knows where Saturday will end up. But for tonight, who cares?
---
"They ride their luck, but they've been due luck, they get the goals from nowhere but they've been due getting their goal from nowhere."

"It feels as though something might have turned for Liverpool tonight."

🎥 Post Match Pint Video

👉https://t.co/oaOWcUzrlr👈 pic.twitter.com/nXiVTMuKE9

— The Anfield Wrap (@TheAnfieldWrap) February 16, 2021
Recent Posts: