Though many may feel Liverpool's title tilt fell against Manchester City, Karl Coppack writes that we shouldn't pick apart the team regardless of the result…
I'D forgotten what it was like to be angry at Liverpool.
To be so furious that I can't think straight and start blaming everything that's wrong with the world on 11 players, and what's more, 11 players who have the temerity to be battered by what was clearly a better side.
Come Sunday night I was a bubbling ball of annoyance, keen to lash out at an uncaring world. It was a mixed broth of fury but every now and then a candidate worthy of my ire would raise his head.
Let's start with Thiago. I'll admit that I'd already started to turn my face against him before Sunday. Oh, don't get me wrong. I can marvel at his passes and his reluctance to play a square ball when a trickier one is on and I'm sure he's kind to children and animals, but I've never been a fan of the (insert a commentator's chuckle) Paul Scholes School of Tackling.
An entry requirement to that institution lies simply in the ability to clatter into someone from behind or the wrong side and then raise your eyebrows when the ref trots over with his hand in his top pocket. Yet there we were, mere minutes into the biggest game of the season where concentration was key and he's wiping out Gundogan. Great. The rest of the game on a yellow.
The Spaniard took the majority of my rage and, later, the blame for pretty much anything going wrong in my life from being back at work the next day to my Ringo Starr lockdown hair.
Some pointed the finger at the goalkeeper. That seems harsh. Yes, he was poor and his head went but that's a rare occurrence and he's got plenty of credit in the bank. I'd rather someone ask the manager what the hell he was doing taking Curtis off.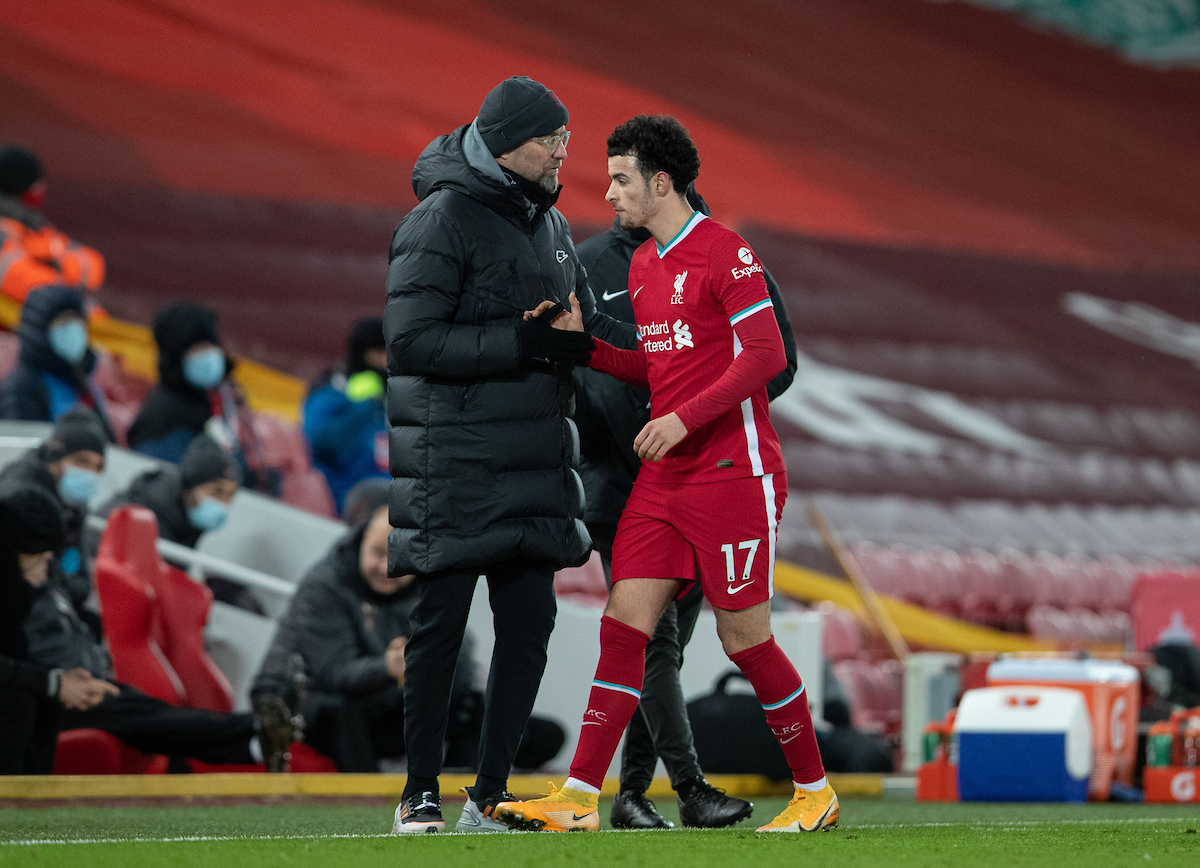 See, I have a different view on Curt. While the mere mention of Thiago on Sunday was enough to raise my hackles, they were easily dissolved with the thought of Curtis' passing, gait and frown. From a hurricane to a pastoral scene of bluebells swaying gently in a summer breeze in seconds. Curtis can do no wrong. I've chosen to build my life vicariously around his dreams.
When I commit, I commit heavily.
I expected most outcomes before kick off, but incandescent rage wasn't one of them. Full on primal screaming at no one. Shrieking at every half-arsed challenge and lack of press. And there were plenty of those to keep the vocal chords busy. Jesus, what a terrible display that was.
It's unpleasant to admit it but there's a degree of entitlement here. We've been spoilt over the last three seasons. So much so that draws feel like defeats. Lately a goal has felt like a win.
Not entirely our fault, of course, but the criticism has been justified in some places.
I get that Klopp didn't want to rush his new centre backs in when they weren't used to our defensive system and a defeat by Manchester City might do them more harm than good, but I would have liked to have seen one of the new lads drafted in at 3-1 to push Henderson further up the pitch.
What harm could it have done then? Every domestic game they play this season will be easier than that one, so they'd hardly be traumatised so early in their Anfield career. Maybe it would have been nice for them to see the benchmark.
That would have been the rawest of positives and the manager will be desperately searching for them amid the awful let down of the result. Curtis played well, Trent is almost back to his best and…
Well, hear me out.
There's a positive in this being such a low time.
Over the past weeks we've worried that the injuries have made us a little bit shit. There's been the Spurs games and West Ham to cheer and set us straight, but there's always been the nagging thought that we're just not up to the job without the centre backs who've won us so much.
We're not just a one/two-man team or anything so stupid, but just they've proved to irreplaceable from within our own squad. While we've made a decent fist of it and will continue to do so, the elite arrived and took what was rightfully ours. We were found out.
Credit to them. Foden is a hell of a find while Gundogan and Sterling wouldn't let us settle. If they go on to win it (though I bet they're petrified of Martin Tyler's bold talk of West Ham) then it'll be no fluke. I mean, I'd like to see how it would have been had our first XI been out there, but they were always worthy winners on the day.
And that's what Jürgen faces once more. That's the level. We just couldn't match it with half the team out, a pandemic and an ever-changing list of rule changes. No one could.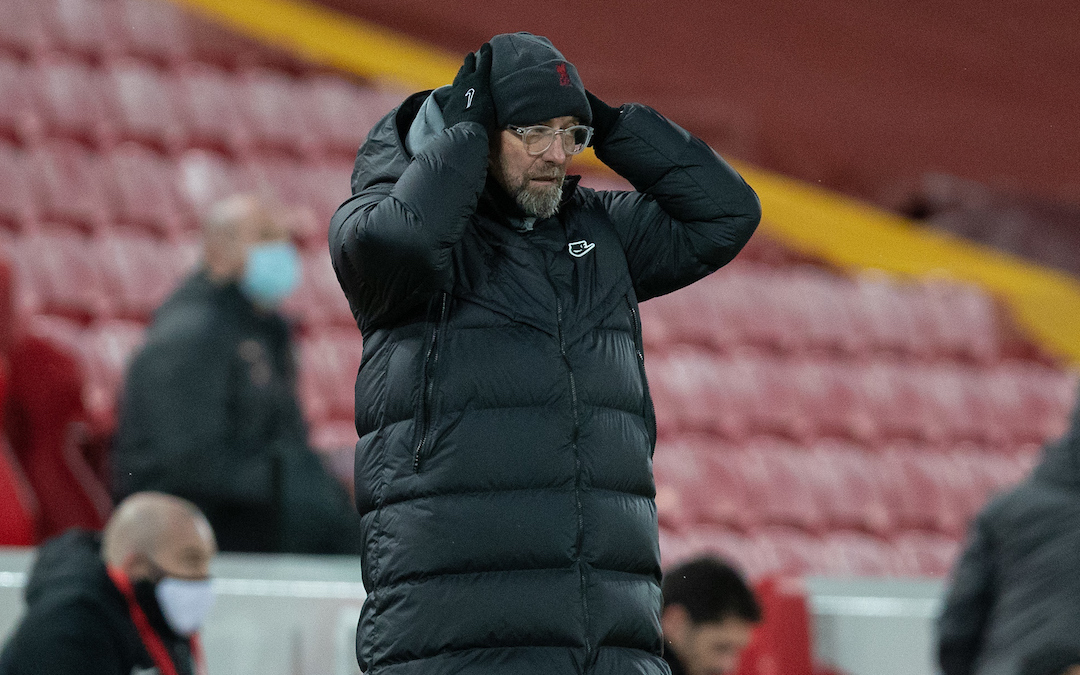 But we can grow from this. This isn't 2010 or 2015 where the follow-up season to a title bid was quelled before a ball was kicked. Back then we had Hicks and Gillett and, later, Suarez sodding off to Barcelona. That unrest is not apparent today.
These are the same players who have brought us so much joy, so much consistency. It's just that most of them aren't allowed anywhere near a ball until a doctor says so.
It'll be nice to be out of the spotlight for a bit. Let them write the Champions off and we'll just get along with bedding the new lads in without the heavy crown of expectation stifling us.
We've a whole week off to regroup and face up to the lessons City taught us. Circle the wagons and play for us and each other. That's pretty much what City have been doing while we've been breaking and setting records.
In 1981, we lost 3-1 to City at Anfield on Boxing Day. We ended the day in 12th place some nine points off the league leaders. Bob Paisley's men sat down and worked out what was going on. The pressure was off, so they built a run. Four months later they regained top spot. A month later they won the league.
I'm not suggesting that that's possible, though I refuse to discount the possibility, but sometimes there's an advantage to being off the radar.
Circle the wagons, Jürgen. Let's build this thing again. That will give us something nicer to shout about.
---
"You cannot underestimate how important it is having Henderson in midfield."

"I'd get the two best midfielders that we've got into the midfield in a game [Leicester] where the midfield will be vital."

The Anfield Wrap FREE Podcast 🗣

Listen for free 👉 https://t.co/O0lEhdHiGp pic.twitter.com/KpwrsF1KiD

— The Anfield Wrap (@TheAnfieldWrap) February 9, 2021
Recent Posts: