Neil Atkinson's post-match review after Liverpool's 4-1 loss to Manchester City in the Premier League…
THE league went Wednesday but today the gifts killed us.
The league went Wednesday. We wrote about that on Wednesday and we were right to do so and today we get to see in part why. The lack of seriousness, of deliberation, of certainty at key moments is what has done for this Liverpool side. That and the sheer scale of the injuries.
The injuries remain the defining force of the season. They have made this campaign what it is. There has been no respite from them. Every game has players returning or departing because of injury. It's fine not to have consistency of selection out of choice, but there has been no choice. Liverpool have been firefighting for months.
Tonight and for the last six weeks the fires have been burning.
The league went Wednesday but tonight, if there was any doubt remaining, it was clear who it was going to. Indeed, it could only be clearer had Alisson Becker walked on with the trophies, untied the red and white ribbons and replaced it with some sky blue ones. It would have been a more reasonable thing for him to do second half than what he actually did.
There will come a point – and for some of you it will take years, for some months, were I in a boozer minutes, possibly hours at the outside – where we would be able to laugh at Becker's second half. Laughing at it is all that is left to do, all that makes sense.
Try and laugh sooner rather than later. It's better than the alternative. The reason why is because he is the best and he will never be more shite. He is the best. He has been part of winning the two massive trophies we have won. In 2018 against Napoli he keeps us in a competition we go on to win. He is key to the 26 wins from 27. There isn't a better one. He is the best one. We cannot find better and we shouldn't even kid ourselves with searching.
He was just shite in those moments. Emphatically, deeply shite.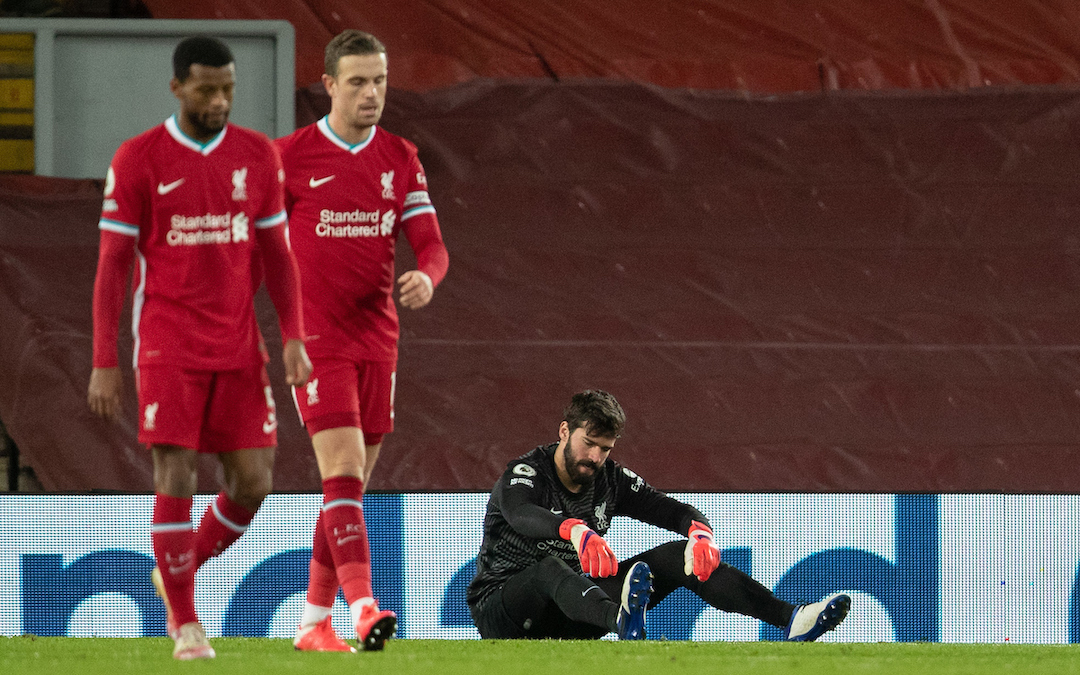 Manchester City play brilliantly this afternoon. Their pressure is incredible and their strength at both ends of the park determines the shape of the game. Manchester City deserve credit in amongst the clear offering of gifts. They were oddly poor at 0-1, far poorer than I would have anticipated. But across the 90 minutes there were some excellent performances which told the story of why they are where they are right now.
Both full backs were excellent and had completely different jobs. Joao Cancelo almost has a free role but Oleksandr Zinchenko has a very, very responsible job. Rodri and Ilkay Gundogan are complementing one another perfectly. And Raheem Sterling was the game's defining attacking force. He is rightly captaining that outfit in lieu of Fernandinho and Big Kev De Bruyne. He is at the centre of everything they do which is good.
However, the first half sees City's pressure contained by a Liverpool side that succeeds at times in slowing them at key moments. Question is whether either of these sets of players can change it up, bring some speed in this dark afternoon.
For a few minutes you think it may be Liverpool that breaks through. We are great in the moments before the half time whistle, the passing becomes zip, zip, zip again. And then City come back out and score on the 49th minute. Gundogan – whose first half penalty gets spooned into the stand – gets to retake his shot albeit from open play, not the penalty spot.
Let us recount some good things amongst the bleak desperation. Trent Alexander-Arnold was looking better, more confident, less lost than in recent games. There were some very bright spots amongst it all, his link-up play with Salah that gives flashes of magic. Jones and Gini do a great job in midfield, and despite the mistakes at the back, they don't deserve this scoreline.
But still. The score is the score. It cannot be denied. No one should think that our manager is absolutely faultless or flawless. He has had ups and downs in his career. This is the first real time for Klopp at Liverpool whereby the plan has not really been executed.
Klopp will need a new plan. One that reflects the reality of this god-awful season, and finds whatever marginal advantage we can get out of the next run of games. COVID-19 has made this game we love a different thing and the injuries has added to the idea that we are a different thing, a thing scrapping for life, for a pulse.
I am scrapping for life. For a pulse. I am a different thing.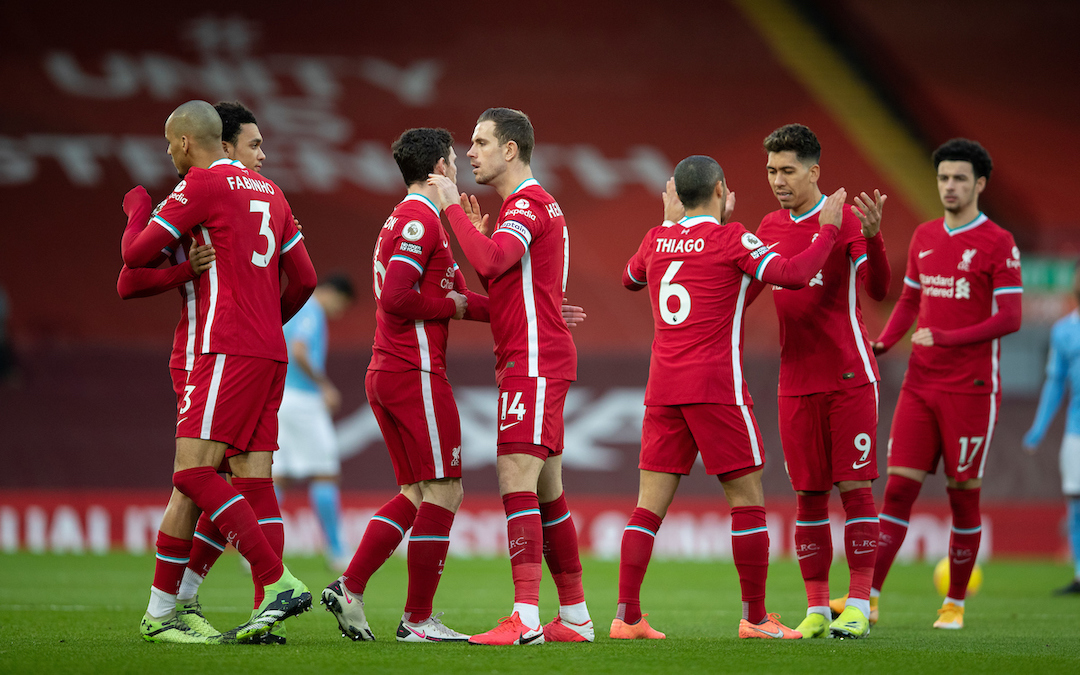 The fellow feeling we would normally have in moments like this is absent. It is numbing. It is cold. We need to find a way to laugh. We need that moment of laughing. We need a plan suitable for the climate, and one that recognises that progress is never banked, it must continually be fought for, always battled for, never giving in.
Perhaps our ambition has not gone away. Perhaps it is hibernating. Our energy is being conserved for something. But what? When will the ice melt away? We don't know. We just want them to fight their way out of this, we just want to see the fight again and not see them give it away. All I wanted today was fight and you got to see it but you can't both scrap and give gifts like that.
Liverpool's Women played in the snow today in a game you couldn't fucking watch, a game that kicked off at 2pm and you couldn't fucking see it anywhere. Then the men's team play and you can't be there, you are snowed in again, a million miles away from making Anfield a bugger.
And whilst our women's team and our men's team had opposite results last season – one relegated, one league title – right now for both, the football is hard going as much as the weather is cold. This is football in a cold climate, in a distant moment. This is the bleak midwinter, and Liverpool as a whole are trudging through the snow, bitterly cold.
We need to find a way to laugh. Honestly. We need to feel less distant, I can't make it clearer. I am scrapping for life. For a pulse. I am a different thing.
The march is halted but it was halted Wednesday. Liverpool nearly found a spark but instead they gave gifts. Three massive games on the horizon but Liverpool have to stop trudging. We need to. You nearly felt alive. But the gifts, they killed us.
Top four and a Champions League run. But, for both, Liverpool need to be more serious. And Liverpool need to be more fun.
---
Recent Posts: