Neil Atkinson's post-match review after Liverpool's 1-0 loss to Brighton & Hove Albion in the Premier League…
IT felt, looking at the next few games, that if Liverpool didn't manage to start a new home run it would be very difficult to challenge Manchester City for the title.
The expectation wasn't that that momentum blow would come tonight, this early.
Prior to the game it was right and proper to reflect on the fact that Brighton & Hove Albion were better than their league place suggested and tonight they play excellently at Anfield. On the final whistle you can see what the win means to them and their manager.
But this shouldn't come as a surprise to Liverpool. Not the quality of Brighton, nor the size of the target on their backs. They are the English and World Champions, last season they won 26 out of 27, back at the start of January the Southampton manager burst into tears upon beating them.
Liverpool always have a target on their backs; it is part of the shirt. But right now they have a target on their back like no other Liverpool side in living memory and they are struggling to deal with it. They had a terrible record before kick off against the current bottom six and tonight it has just got worse.
It has, through the season, increasingly become a problem for Liverpool. Sides are shaping to stop them from hitting any heights but they themselves look incapable of hitting those heights in games like these in any case.
It's important to remember that they looked on the verge against Tottenham and West Ham only to again come back down to earth, a hot air balloon deflating for the sixth time in the driving rain, in the middle of nowhere.
Goals change games. Liverpool looked like they were just beginning to move through the gears second half. They'd changed shape, got Roberto Firmino involved and asked Brighton some questions they were just struggling to answer. Brighton were increasingly wayward with their passing, the shape began to fray, they looked leggy.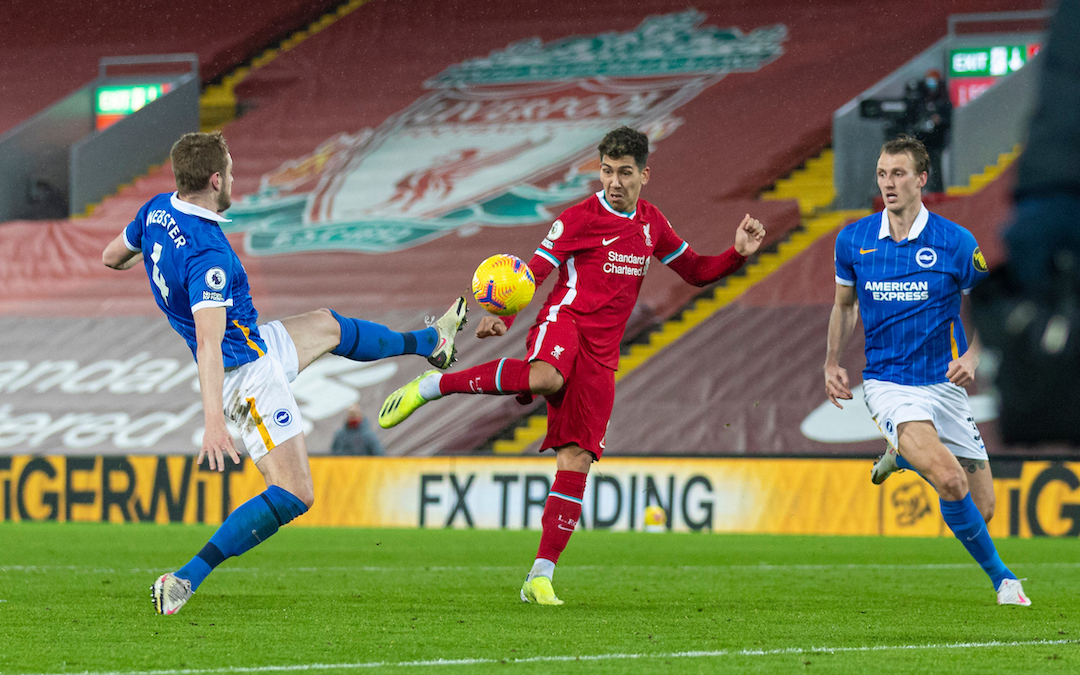 Then they get playing nicely for a split second, get out of Liverpool's grip, hang one up for Big Dan Burn to nod back across and while Nat Phillips possibly should be a smidgeon quicker to it, it isn't his fault as such as the fault of chance and caprice.
What's difficult to take supporting this Liverpool in this moment is that last season Liverpool played like a football team that gave no fucks about chance and caprice. That weren't letting them into the building to sprinkle their stardust. They were emphatic in their refusal of that nonsense and instead were, week after week, hard reality.
Last season Liverpool had a bit of hard lines against Aston Villa the week before they played Manchester City at home and they kicked Villa's door in until the points were theirs. Hard lines could fuck off.
Of course they are missing the option of seven or so first-team players. They are missing the heart and soul of football supporters. But the fact is this – if Liverpool were building up a small head of steam at 0-0, they are absolutely dreadful at 0-1. They don't know where the door is to kick it in. They have forgotten they have feet. They take the hard lines and make them harder.
Yes, suddenly Brighton's passing was tighter, their shape sharper, their tails up. They play brilliantly, frankly, and it is curmudgeonly to begrudge them that moment at the end. But we are here to talk primarily about Liverpool and Liverpool were woeful, inexorably bad.
The only place the goal looks like coming from is the passing of Jordan Henderson. The issue is this: that passing needs to travel 50 yards. Henderson aside, though he wouldn't want it that way, there isn't a Liverpool player who plays well at 0-1 which means they haven't played well on the night. Because the time that counted was then.
They were unfortunate to find themselves 0-1 down, but they weren't unfortunate it stayed that way. If anything the opposite. Last season Liverpool were the best team in the world at 1-0 up or 0-1 down. Last week against Tottenham they are irresistible when 1-0. They score a peach against West Ham at 1-0. But here, suddenly, when 0-1 there is nothing. There is no gear shift. In fact the chain fell off the bike.
It's that which is most damning and that which is toughest to take. None of the subs worked and were summed up in the moment Divock Origi kicked it out for a goalkick. The referee, who was fucking rubbish for both sides and blocked passing lanes like a trooper, added fuck all time on, not that it would have done any good. Liverpool could have had all night. Liverpool got beat. They didn't run out of time.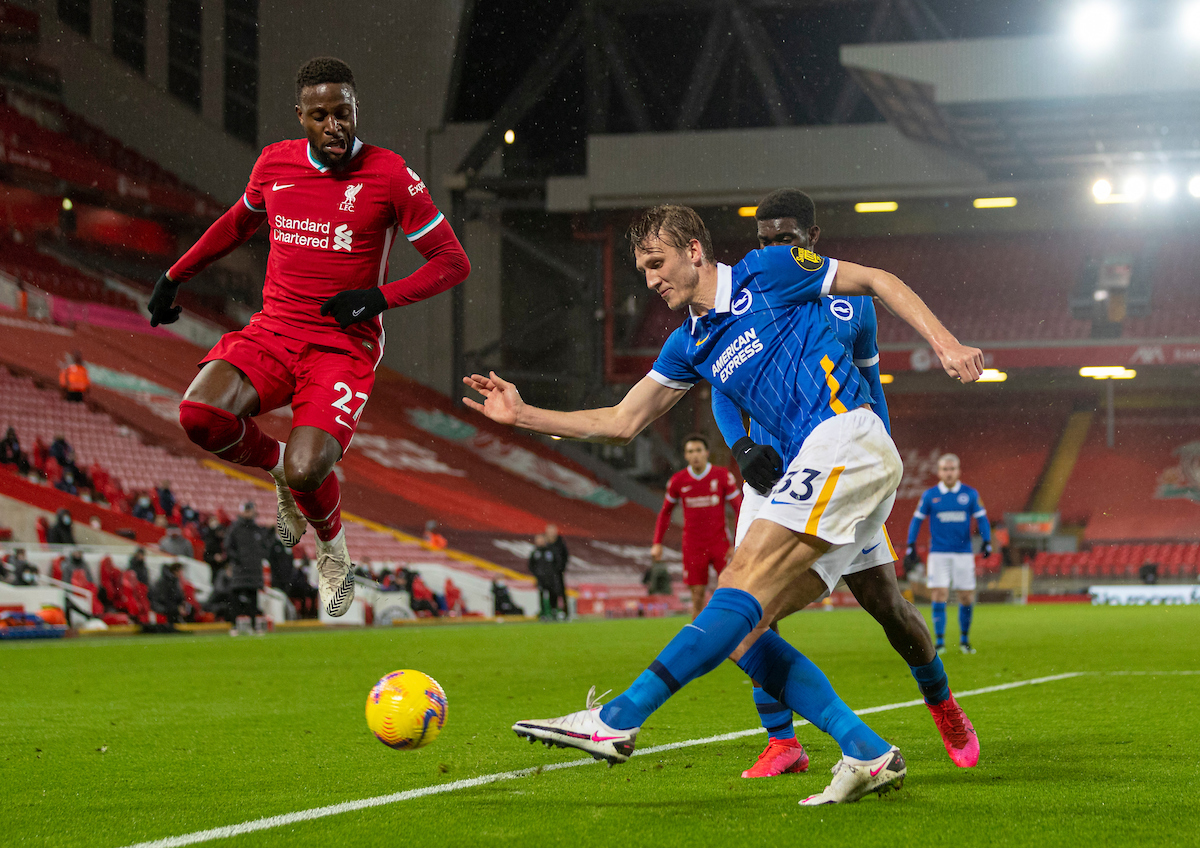 For the second home league game in succession Liverpool have lost. For the second home game in succession I wish I could have been there. This time not to clap them off but to howl at the fucking moon with three minutes to go. To stomp off down the stairs. To be on my worst behaviour afterwards. To wake up tomorrow filled with booze, regret and bile. To have filthy apologies to make and shows to do filthy. Because tonight is the night.
Certain seasons have had one since 1990, this night. They tend to be when Liverpool have played, but not always, there are exceptions. But tonight is the first time since January 2017 (we were never in it 2017-18) there has been that moment when you have had to acknowledge beyond all reasonable doubt that Liverpool will not end the season league champions. You go from delusion, to hope, to belief. And the night of one of West Brom, Newcastle or Southampton this season from belief to hope.
Tonight hope fades and we will have to find a way for delusion.
But not from believers back to doubters. This matters and is a very different thing.
This is a Liverpool side that still now can find a way to go on a run, starting Sunday. One which can be believed in. A Liverpool side that needs to do well in its next few league games to create room to chase down a Champions League.
Liverpool have been good in big games this season, no matter the personnel. That cannot fail them now. They have a lot to play for. They just don't have a clear pathway to retain and for that, right now, in this moment, at this time, they only have themselves to blame.
What they do with that blame is almost entirely up to them. Tonight is over. They have to choose how to respond. We cannot magic key players back. Everyone has to find strength and figure this out. Normally, we too would have a role to play, heads to keep not lose. Not so this year: we are as far away from the pitch as Virgil Van Dijk and Joe Gomez. In both directions that hurts. But there is one choice for you, Virgil, Joe, Jordan and me.
There's no way round but through. Kick some fucking doors down, Liverpool. Don't be this shit again because right now, when we can't go out, when there isn't the option to scream at the heavens, the last thing we need is the return of doubt.
---
Recent Posts: