Paul Cope analyses the impact that the highs and lows of 2020 have had on Liverpool and how it laid the foundation for the 'failures' of this season so far…
I DON'T usually write about football anymore unless I feel compelled.
I woke in the middle of the night with this article in my mind, though, which I think puts it in the "compelled" category.
If you are a long-time reader of these pages and have read my pieces in the past, you might be expecting a motivational rallying cry in an hour of need. Some words to make you believe we can still win the league or, maybe, the Champions League.
That isn't what this is. Since I last wrote to you, following our mighty boys in red securing the Holy Grail of a 19th league title after a 30-year wait, my life has continued down a path I'd started a year or so before.
I don't write about football anymore because I'm busy writing about something more important. A book ultimately about what underpins our relationship with the game and why we feel the way we do about it.
For now, though, I wanted to share some words that might help as we navigate this unforeseen low point in our football-supporting year.
I want to write to you about the mentality monsters tag and being flawed human beings. About people and emotions. There will be those who mock what I am about to say. Those who call it excuses. That's OK, maybe they're right.
Let's start with a label. Most things do these days.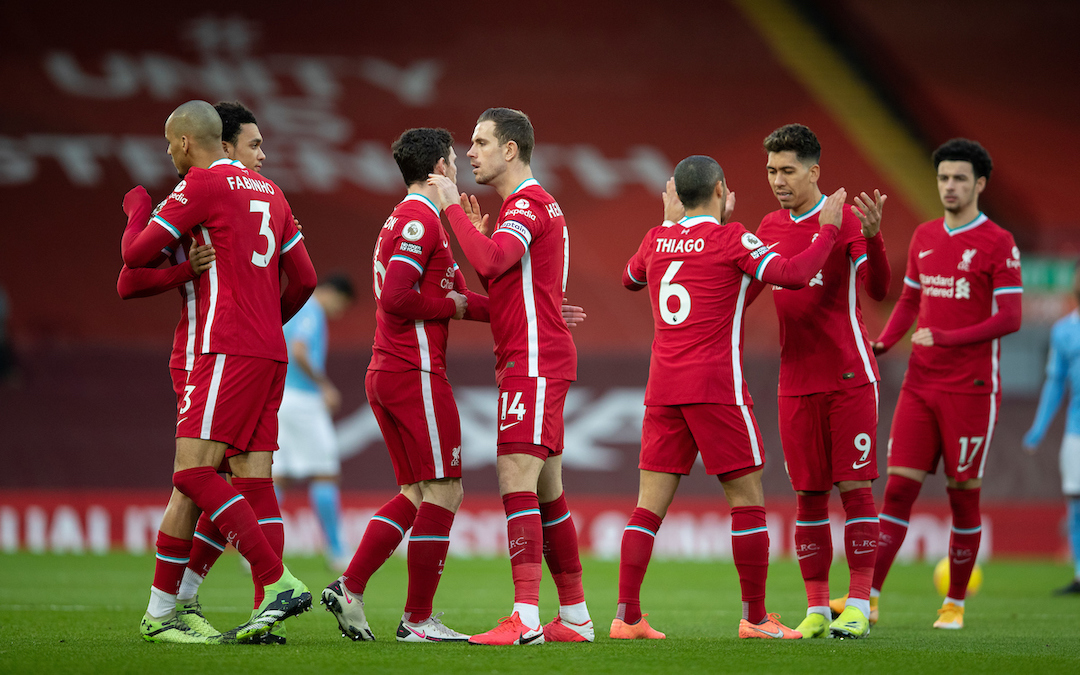 Our god-like manager labelled this squad of footballers "mentality monsters" in April 2019, as it began to show the world what it was capable of.
That tag followed it throughout its incredible march to a Champions League success and the league title we had all been so desperate for. There was something missing from the label, though, that we always miss when labelling people in any walk of life.
Flawed human beings.
That's what this squad really is. A group of elite athletes with an unbelievable mentality and, at the same time, just a bunch of flawed human beings. Just like you and me.
I know it's not a popular opinion to talk about well-paid people living what we consider a dream life as having many of the same problems and challenges as the rest of us, but I don't write to be popular.
A human is a human regardless of how much money you give them or how big a house they live in.
They still face the same difficulties every day. Still haunted by their past and challenged by their present, just like the rest of us. If those things could be overcome by people being given bigger numbers in their bank accounts, the world would be in a much healthier place and life's problems would be easier to overcome.
The reality, though, is an important lesson for us all. Even the superheroes are flawed.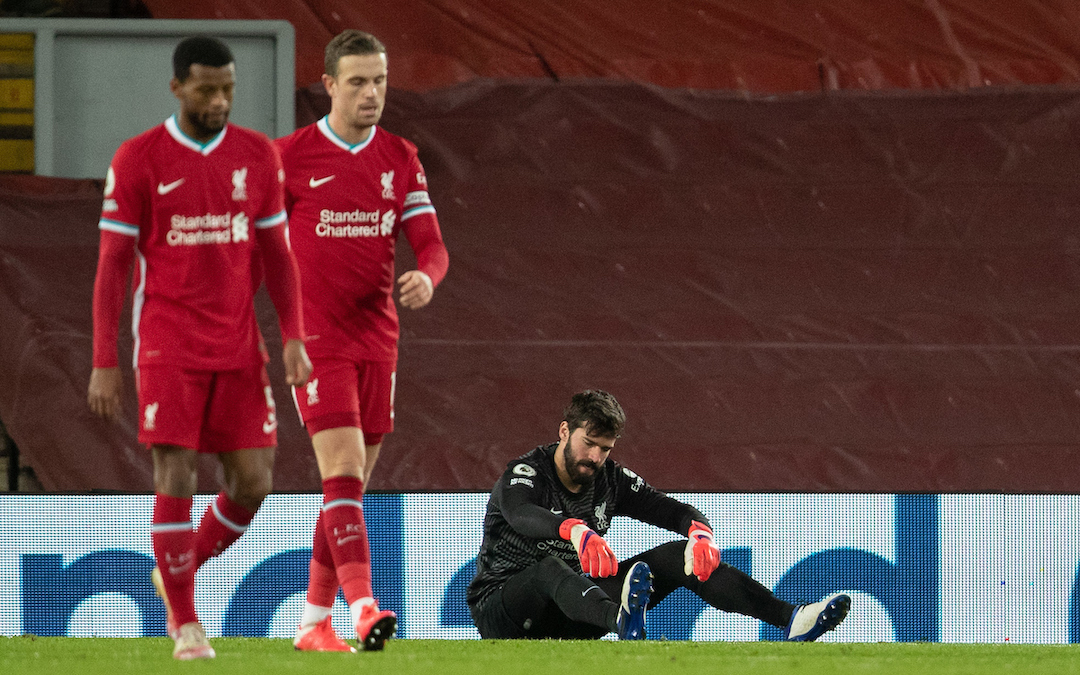 Even the ones they tell us to hold aloft and worship as gods, as an escape from our own struggles, experience darkness. Even mentality monsters break under enough pressure.
We are living through one of the most unusual periods in human history and still not enough is made of it. Are you finding life more difficult than you were a year ago? In the United Kingdom we're in the middle of yet another lockdown, only this time during dark winter days with no definitive end in sight.
I have watched it chip away at everyone I know. All the flawed humans in my life have struggled in one way or another, and most of them are not having to live their lives and do their jobs under the constant scrutiny of a demanding public.
Just stop for a few seconds and think about what this side has had to face.
It won a first league title in 30 years for a club that had destroyed all previous squads attempting to achieve that feat. The weight of history had forced so many before to crumble. But not this side. No, this side managed to get the job finished even in the face of arguably the greatest Premier League opponent of all time and a global pandemic.
And what was its prize? Did it get to revel in its glory and soak up its richly deserved adulation?
No. It got to lift a trophy in an empty stadium.
Did it get to bathe in the glow of being Champions for a full summer before embarking on an international pre-season tour to be lauded by its adoring public around the world?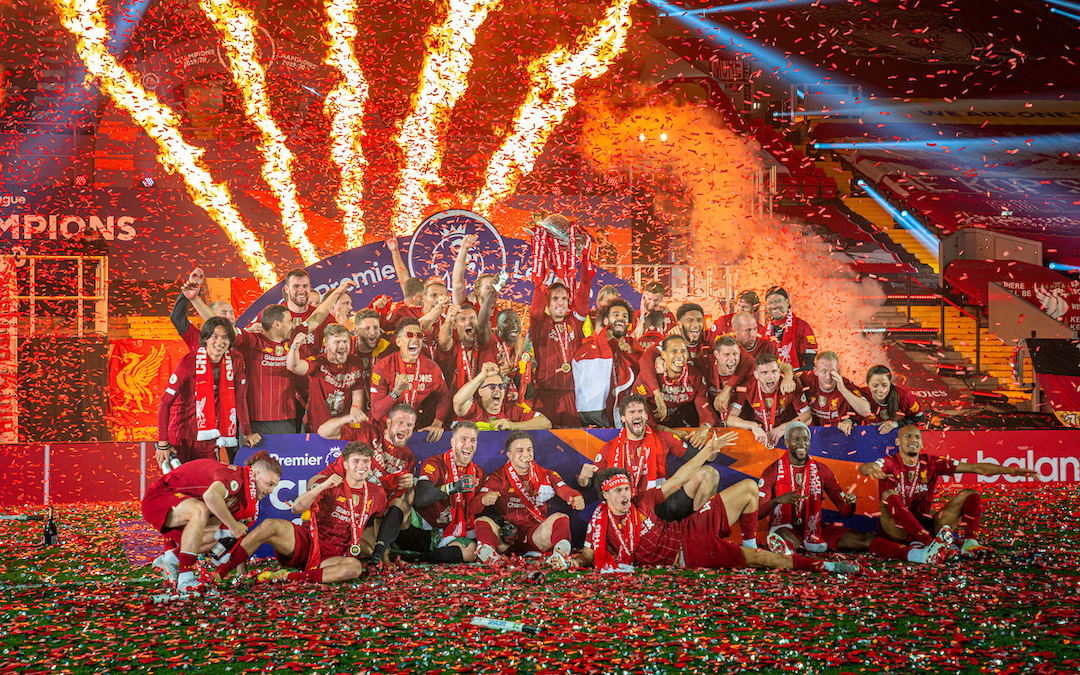 No. It got a shortened summer and a limited pre-season behind closed doors.
Most importantly, did it get to bounce out every week the following season to an Anfield packed to the rafters with delirious, insanely happy supporters, filling its veins and lungs with unlimited power every game, singing "Bring on the Champions"?
No. It got to carry on playing football in the most sterile of environments.
It was then bombarded week after week with serious injuries to key players. Jürgen mentioned something following Joel Matip's recent injury that, again, not enough has been made of. This squad didn't just lose its two best centre backs from the pitch, it lost them from its daily training sessions and matchday dressing room as well.
Every time a key player has been injured, there has been one fewer mentality monster in the group helping to keep everyone else going. Which has put even more strain on the others.
And all that is just part of the professional challenges they've had to face, without mentioning the players are all facing the same issues most other humans have endured during this most unusual of years. They still have families to worry about. Still have elderly relatives vulnerable to a virus. Still get bombarded daily with messages of fear from the media.
Sooner or later, under that sort of weight, every human being stumbles. We all do. I have and I'd guess you have.
Even our superheroes are flawed because they all have the same in-built fallibility as us. They all have the same system flaw as the rest of us that no amount of money or privilege can change.
They all feel.
We have reached a point in western society where, thankfully, we are talking more and more about mental health. There's still something, though, we rarely discuss that, to me, is even more important. Emotional health.
We live in a world where our emotions are largely ignored, yet I have discovered during my own adventure of the past few years they're the most important part of our existence. If you think physical and mental health are important, wait until you learn more about emotional health. It will blow your socks off.
Which brings me to the final things I wanted to discuss before returning to my cave to finish my book. Anxiety and grief.
You might have already considered the role anxiety plays in life and in supporting a football team. If you haven't, it might be time to start considering it. A few years ago I wouldn't have ever recognised anxiety as being a part of my life. I had too much going on to worry about that.
As time has passed and a new world has been revealed to me, though, I now see millions of people suffering every week with chronic anxiety. It pours out of every social media orifice and every radio phone-in.
People having sleepless nights fraught, among many other things, with the worry of what their football team is doing.
The problem, though, is never the emotion. An emotion is just a chemical reaction inside our body that passes in 90 seconds if we do nothing with it. No, the problem is what we think or feel about the emotion.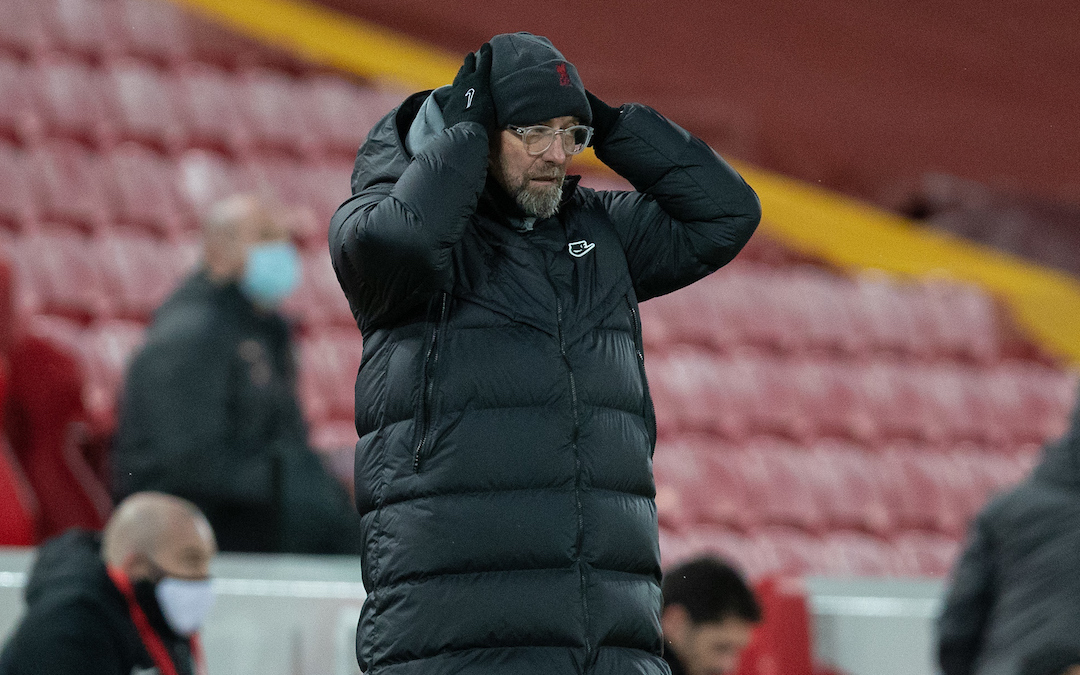 We've been taught that anxiety is not acceptable, so we do our best to repress it. To push it away. We might even have people in our lives telling us how ridiculous it is we feel the way we do about a game, which just makes it worse.
We can't help how we feel. Our emotions are just our emotions, and being told or believing they're unacceptable is part of a much wider problem which is a topic for an entire book. But at least with anxiety we can see it, even if it might hide itself from plain sight at first.
In comparison, grief is an elite undercover operative. It's Jason Bourne with an invisibility cloak.
If you're anything like me, you'll have been raised to think grief is just something we feel when someone dies.
It's one of the greatest lies we're told.
Grief exists whenever we experience loss. The end of a relationship, a change of job, moving house. We experience grief with them all.
And, maybe even more powerfully than any of those, we experience grief at the death of an idea. When we picture something in our mind it becomes real. Our brains don't know the difference between the things we think and what actually exists. The truth is we can't be sure of the difference ourselves.
So, when we create a vivid picture of a future life and that picture disappears, we experience grief.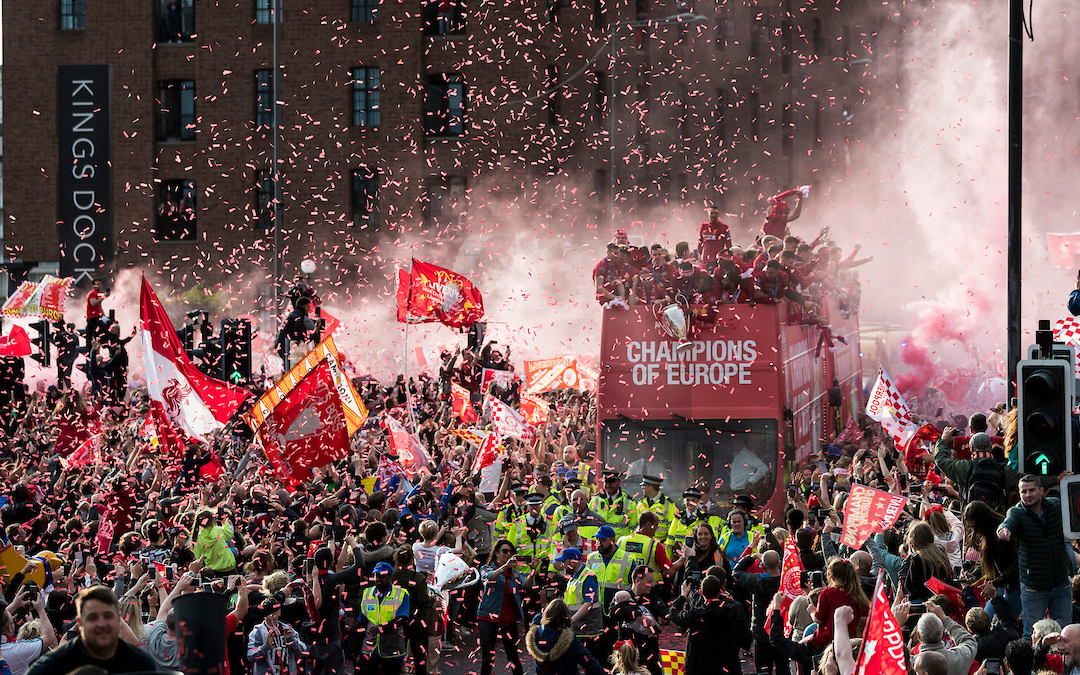 As a football club and as a supporter base, we bought into the idea of being Champions, of revelling in the glory of it and, most importantly, of having that open top bus tour celebration Jürgen promised us would still happen.
But few people expected us to be still locked down all these months later, with mass public gatherings still a distant dream. No-one expected the season to be where it is in early February.
And as the realisation dawns that we won't retain our title and the bus tour is unlikely to be what it would have been, we experience grief for a vision that died.
All we can do in moments like this is accept how we feel. Accept our anxiety, our grief and our sadness. They can't hurt us. They are just a normal part of being human.
I wish it could be different but it's not.
So, this is not a rallying cry or a motivational speech. This is a call for compassion. A suggestion that you should be compassionate to yourself and compassionate to the heroes you worship. We are all flawed humans and sometimes things don't go the way we hoped.
Ultimately, what we see in the outside world is simply a reflection of what's happening inside us. If you look at this football team and are filled with frustration and anger, those feelings aren't being given to you by the team.
If we can all look at the same thing and experience different emotions, it can't be the thing causing the emotions.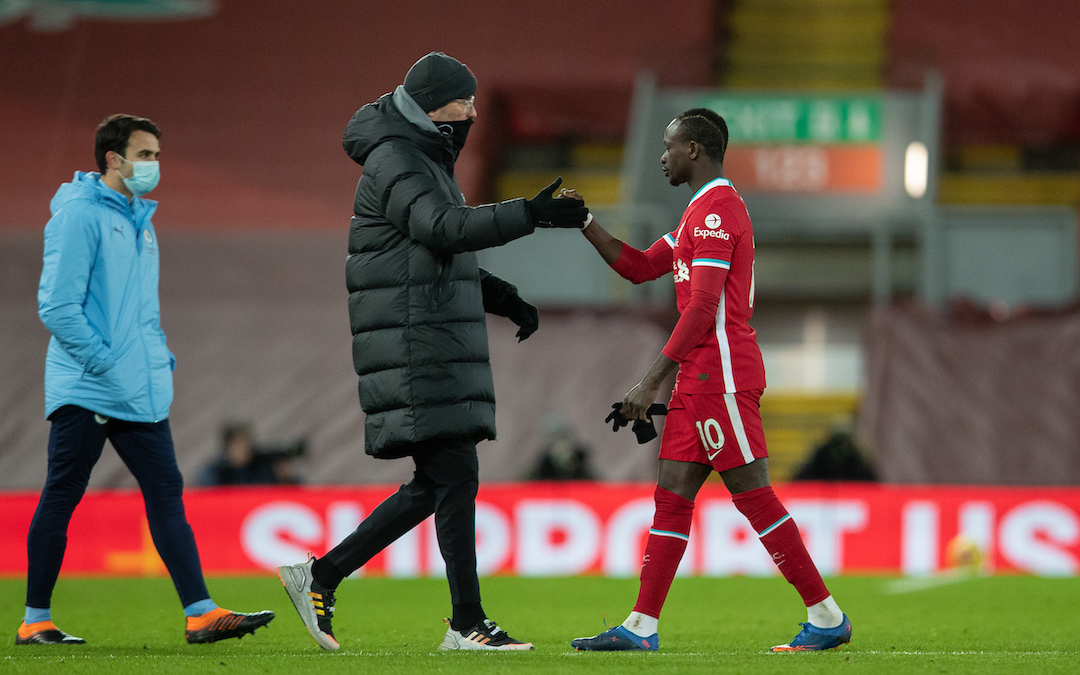 So, no, this isn't a rallying cry. This is a reminder that even mentality monsters struggle sometimes and need a break. Maybe you do too. If you do there's nothing wrong with taking one.
Delete Twitter and Facebook from your phone for a while. Listen to your favourite music instead of watching the match for a couple of weeks. Watch some movies. Allow yourself to sit with your emotions and feel the anxiety and grief for what they are.
The anxiety is enhanced for many of us by a feeling of helplessness. Those of us fortunate to be able to show our support for these incredible lads at Anfield over the years have missed having any notion of influence.
We then watch as an army of online followers (who I refuse to call fans or supporters) bombard our heroes with messages of hate and negativity. Perhaps, then, our boys in red forget the rest of us are out there.
Maybe, just maybe, it's time for those of us who usually consider themselves too old or too cool to message footballers on social media to send them a little love note. A small token of our appreciation and support.
I think I'll do that today. I'll break my usual social media policies to tell Jordan Henderson how much I love him and how thankful I am for everything he's done. I'll let Trent know he'll be getting a statue regardless of what happens next, and will send Robbo a message to make his fatigue-filled legs feel as though he's still got 50,000 supporters screaming him on.
They probably won't see my messages, but if enough of us show them our love they'll feel it, collectively. It's not something I'd usually do, but these are unusual times and unusual times call for unusual measures.
These lads deserve our support during tough times maybe more than any Liverpool side before them. As Jürgen said after the game: "If you're only really united together when you're winning, there's something wrong with you".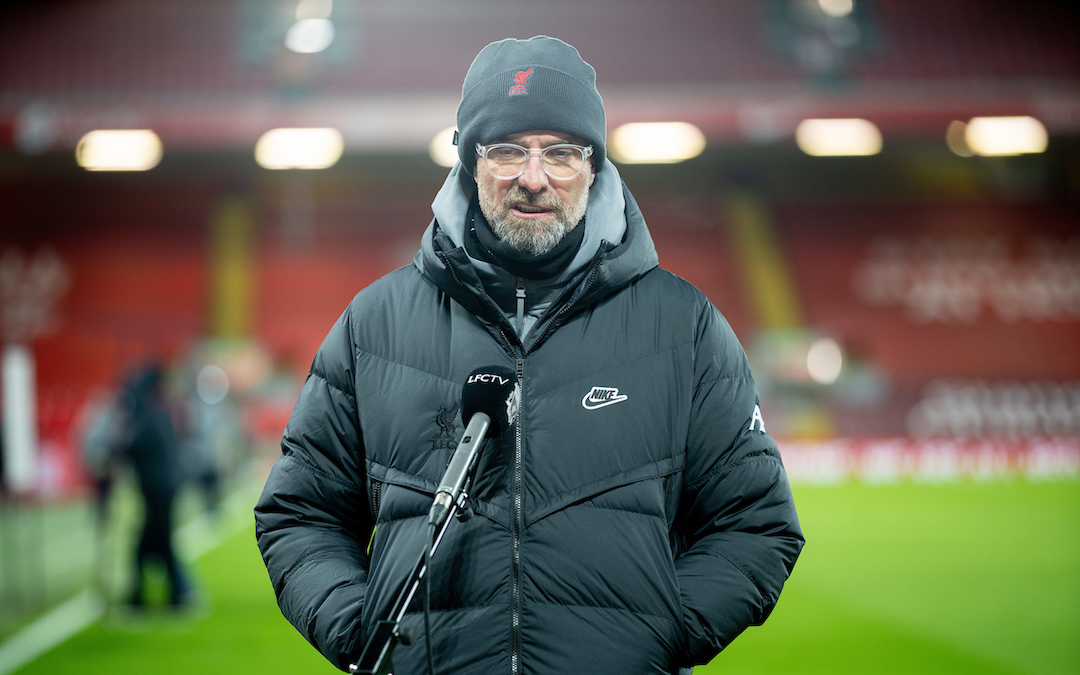 So, let's stay together.
We'll be back. Once these players have had the chance to breathe and release their own emotions they'll be back to something like the level we've seen before. Maybe not super humans, that might be too much to ask and was always more than we expected, but definitely very good humans.
Very good flawed humans. I don't think we can ask much more after everything they've given to us.
I've realised as I've been writing this to you that I haven't taken enough time to revel in being league Champions. The new season started so quickly and the crazy world we're living in consumed so much that I didn't stop long enough to reflect on what had happened and truly soak it up.
So, today I'll watch the documentaries about last season. I'll remember how great it felt and I'll remind myself we're still Champions for the first time in my adult life. I'll remember and I'll be grateful, regardless of what happens next. I'll allow that gratitude to keep me warm on these cold winter nights.
See if you can find it in you to show compassion to yourself and to them. Take some time to remember how great it is to be Champions and to believe how good it can be again. These lads deserve that.
Most importantly, though, take care of yourself and remember, but whisper it quietly, there are more important things in life than football.
---
"It is poor pickings on the back of the last few seasons which shows the journey we've been on."

"It doesn't mean we're excused from being rubbish going forward but it adds context to it."

The Post Match Pint 🎥

👉https://t.co/oaOWcUzrlr👈 pic.twitter.com/81yN8j2PYO

— The Anfield Wrap (@TheAnfieldWrap) February 7, 2021
Recent Posts: