With speculation around what has caused Liverpool to lose their spark recently, Josh Sexton writes that it may be the absence of fans being felt by all…
NO two people view football the same way.
It sounds simple and it's hard to disagree with, but if you assess football's coverage in this day and age you'd understand why it's still worthy of note.
Social media has created a melting pot of football opinions in which everything in the sport is either black or white and all nuance is completely lost.
Mainstream media has no doubt played a part in further feeding into that and boosting the platform upon which this kind of mindless debate can get an airing.
You're either pro or anti. Reactionary or level headed. A 'Top Red' or against the manager. No middle ground to be found. How can there be just two homogenous masses doing battle on either side of a debate?
When no two people view football the same way.
Look at Jürgen Klopp, for example. He's built a backroom staff who each bring their own set of skills and qualities to the table. Coaches and analysts who see the game differently to each other and to Jürgen himself, but can bring all those different views together to create a successful football team.
Different views of the game used for good.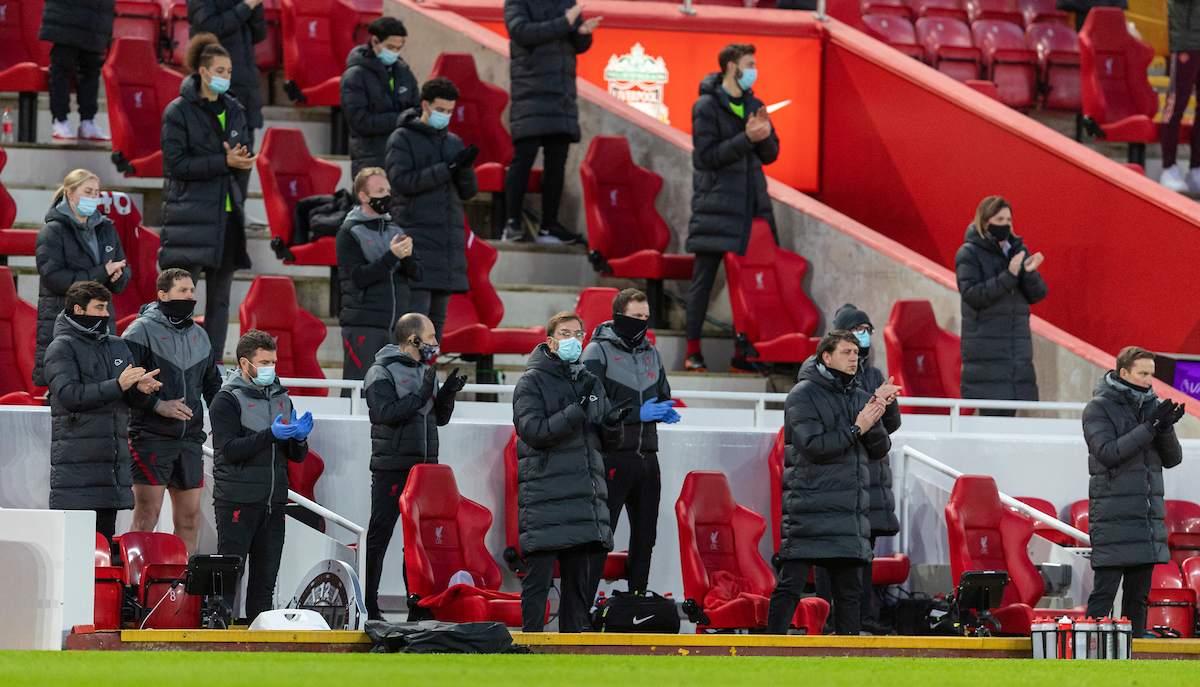 Of course that's similar to being part of a crowd – having different views but all getting behind the team as one – and that's something I'm missing incredibly at the moment, to the point where it became my main takeaway from the Manchester United game.
Whenever I feel like that I have to acknowledge that I'm spoiled. Because no two people view football the same way, so me not being able to get to Anfield at the moment is the norm to somebody who never gets the chance to watch Liverpool live.
Whereas I have become so accustomed to viewing the game from the middle of a sea of Red in L4 – with its absence of commentators, pundits and never ending betting adverts – a Sky/BT Sport subscription, or the equivalent in other countries, is the only way some supporters get to watch our lads.
Because no two people view football the same way.
All of you reading this will know the feeling of missing Anfield in different ways. Maybe because it's the mecca that you've never had chance to experience. Maybe you've been to Anfield once or twice and you miss not being able to get that feeling more often. Maybe you used to go regularly but you can't anymore.
Well I suppose the above pretty much covers all of us now, doesn't it? But no two people view football the same way.
I can't put into words how much I'm missing it. Everything about it. The brekkie in town before the game. Packing into a pub to watch the early game if there's one on. Bouncing down to the ground full of beans after your rivals drop points. Shouting and screaming in support of The Reds for 90 minutes plus.
Even if that's not your usual matchday routine, you'll know that what we've got now is a far cry from what we had. You'll have felt it in some way.

You might have previously been able to pack into a pub or supporters club full of like-minded people, grabbed yourself a drink and tried your best to sing and shout over the speaker system piping 50,000 Scouse voices into your ears.
Your current matchday routine might not have actually altered at all. It might still involve grabbing a coffee or beer, getting yourself draped in our colours and sticking yourself on the couch ready to watch another Liverpool win. But even that's not the same without the 50,000 lunatics leading Liverpool on.
While no two people view football the same way, we can surely all agree (for once) that the experience of the matchday has lost some of its sparkle. The fake crowd noise has faded for me, it no longer creates the same illusion. The commentators, pundits and betting adverts have grated on me.
But most importantly I feel like it's diluted it for our lads too. They look as lost as ever without us.
I could picture vividly what that ground would've been like on Sunday. A ground full to the brim, berating the Mancs with chants of Bring On The Champions, willing Liverpool's tiring legs on. You can't help but feel like it might have made a difference.
No two people view football the same way. Our definitions of what it is will be different and personal to each of us. That's why it's like a religion.
To me it's that but it's also a social activity, a chance to sing and shout and let all my frustrations out before dancing long into the night.
For now that's been lost and it's a loss we'll all be feeling in some way, even if no two people view football the same way.
---
"It's the Post Match Groundhog Day."

"Liverpool do alright. But off the back of what we've seen, watching in the circumstances, it just feels depressing – for want of a better word."

Subscribe 👉 https://t.co/oaOWcUzrlr pic.twitter.com/T1jwicCJzC

— The Anfield Wrap (@TheAnfieldWrap) January 18, 2021
Recent Posts: