Neil Atkinson's post-match review after Liverpool's 3-1 win over West Ham United in the Premier League…
THE march. Suddenly you feel it.
You feel it when Trent Alexander-Arnold has a big think about things, when Vladimir Coufal decides against closing Xherdan Shaqiri, when Shaqiri sends it oh so early and when Mohamed Salah takes two of the best touches you have ever seen in a football match. When Mohamed Salah gets his 21st goal of this season. When Mohamed Salah scores one of his goals that go ever so slowly but ever so inevitably over the line.
Salah resplendent. Liverpool delighted. The long march very much on. The goal rings out.
We've learnt from those we are looking to march towards I think, from those we meet next Sunday. Liverpool pace this match brilliantly, something for which their manager deserves enormous credit.
There has been something in the last few weeks and even months of Brendan Rodgers's Swansea City's sterile domination of Manchester City. They have battered teams with passing, looked after the ball with the knowledge that they can't score a goal if we have the ball.
It's been a conscious choice of theirs. It's been interesting that it has been a significant part of their way home. A part of it, because the domination doesn't remain sterile. It becomes potent.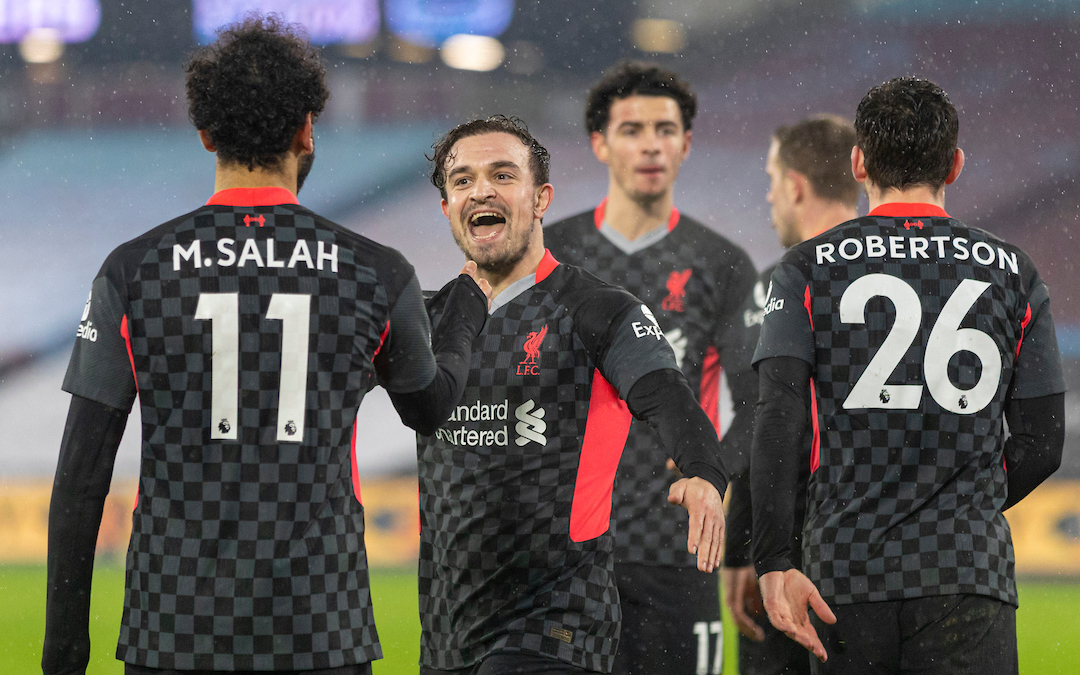 Liverpool spent 45 minutes working West Ham. And perhaps working West Ham out. It is interesting how in Arnold is just after the break, Liverpool using West Ham's narrowness against them. It is striking how much West Ham don't hurt a makeshift defensive pairing, how much they can't expose Liverpool with their four midfielders (if we are being honest) and two wide-ish forwards.
It's startling too that Liverpool are able to play with real confidence. There is a cohesiveness to Liverpool through all phases of the game which has been lacking. One aspect of it is that players all run for each other and all cover each other. They took control and kept it of themselves and one another. They didn't look like they were just about to score in the first half but they knew that the game lasted for 45 minutes more.
Divock Origi was willing. He showed for the ball and found his way through the game. He isn't Sadio Mane, Roberto Firmino or Salah. Mo Salah today breaks 20 goals for the fourth consecutive season and confirms he is Liverpool's most consistently prolific forward since Ian Rush, the most prolific ever.
It's no disgrace being second to Rush and no disgrace being the cover to that three from Divock Origi's position. What hasn't been right has been Origi's general level, but today he did everything his manager will have wanted and hopefully his injury will be very minor indeed. He'd be useful from the start against Brighton and he will have a role to play.
James Milner and Gini Wijnaldum were both excellent again in midfield and Thiago Alcantara grew as Liverpool did. Curtis Jones gave Liverpool an extra gear while the bookings for Declan Rice and Tomas Soucek offered genuine encouragement.
The former was booked because of a rash tackle on Jordan Henderson. The captain was again marvellous tonight. He's thinking his way through these games, and not just his way. The wider way. Nat Phillips's way.
Phillips also had his best game for the club so far. Yes, he won his headers but he passed the ball well enough and positioned himself with boldness. West Ham have to wonder if they played into his hands, though they may have felt there was no other way.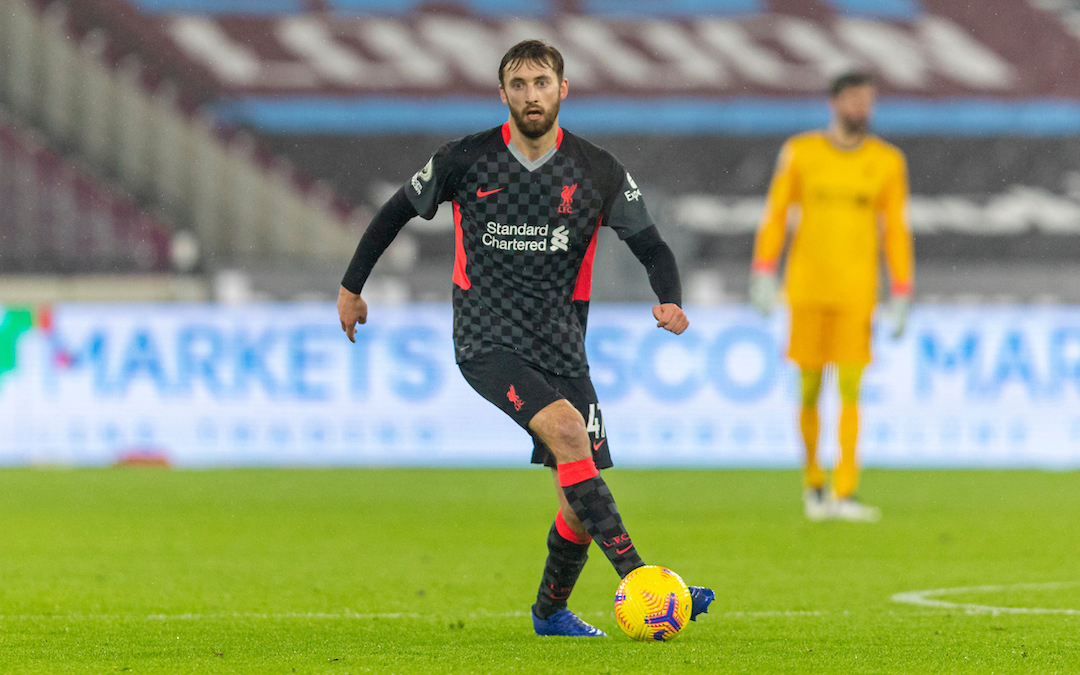 The night though belonged to two men, two men who have been so integral to everything this club has done well since 2017. Champions League finalists, winners and then league winners. Mo Salah isn't letting it all go easily. Liverpool will stay on the march with him around.
And Jürgen Klopp and his team. The manager swallowed it all when we lost to Burnley but tonight his side do him and his thoughts, his approach proud. He isn't letting things go easily either, he has a squad to get us through all of this, but he has a squad he needs to get through it too. Tonight is one of his best wins in 12 months.
Tonight was controlled. It was, like Tottenham, reminiscent. It was a side that was stretching its legs, finding its stride. There were 19 hurdles but Liverpool have cleared two of them. Seventeen more to go.
Keep ringing that fucking bell. Liverpool worked their socks off tonight. For the second time in days you can look at a set of results and not want to gouge your eyes out.
You feel it when one of the great Liverpool players in one of the great Liverpool teams scores one of the great Liverpool goals.
You feel it. Two down. Seventeen to go. Into these.
---
Recent Posts: