Neil Atkinson's post-match review after Liverpool's 3-2 loss to Manchester United in the FA Cup fourth round at Old Trafford…
LIVERPOOL have been the better side and are the team in the ascendancy at 2-2 right up until the moment the referee gives the freekick on the edge of the area.
And the keeper should do better. It isn't a freekick for me. But even when given, the keeper should do better. It isn't a brilliant freekick from Bruno Fernandes. But it is a percentage one.
Footballers make percentage decisions all the time; a lot of what we think is brilliant play is percentage gambles that come off; Mo Salah, for instance, is brilliant at percentage gambles that come off.
Alisson Becker sets his wall up a certain way, but he doesn't back his gamble, doesn't entirely back his goal. We, rightly, praise Becker because he makes the marvellous look mundane because of his footwork and anticipation.
But here, in this instance, he has made the mundane look marvellous. Fernandes strikes it well and into the corner of the net but not the corner of the goal. He is struck it solidly but not emphatically. He hasn't put height on it.
Becker sets up the gamble, sets up the odds and Fernandes reflects those odds right back, knowing that if he puts it where he puts it there is a good chance of a corner, a decent chance the ball comes back into play and a slight chance of the goal.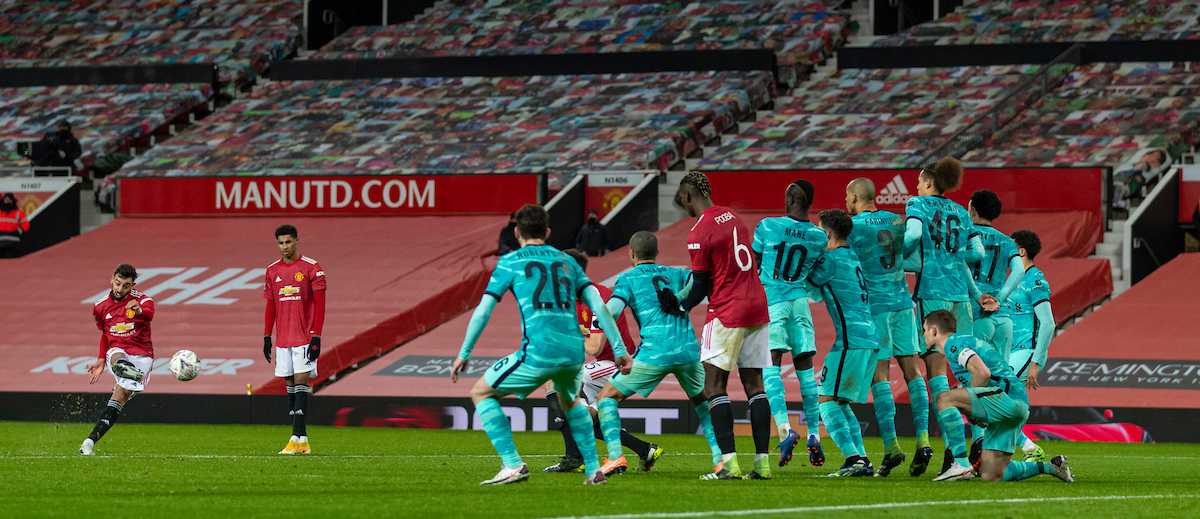 He pulls the lever and hits the jackpot because at the last moment Becker shifts his weight the other way. He stops backing his own gamble. He lets doubt enter his mind.
We're not in the habit here in general of slaughtering the footballers. There are a ton of reasons for that. One is that most of these lads are the best you have ever seen. Alisson Becker gets that one wrong but he is the best goalkeeper I have ever seen play for Liverpool. There is a fair chance that when I fade from this mortal coil he will still be the best goalkeeper I have ever seen play for Liverpool.
You need to bear that in mind.
But doubt creeps in.
In the previous round Liverpool conceded a goal to an Aston Villa under-18s side because of the issue of right-hand sided centre back. All game against Manchester United, especially the second half of the first half, Liverpool were deeply vulnerable on that side and on that channel outside.
United took a gamble – they let Marcus Rashford cheat a fair bit knowing that the reward for the cheating was significantly greater than the stakes. Essentially if Liverpool have Joel Matip or – especially – Joe Gomez there then you don't do what United did with the same commitment. But when it is Rhys Williams it doubles the encouragement.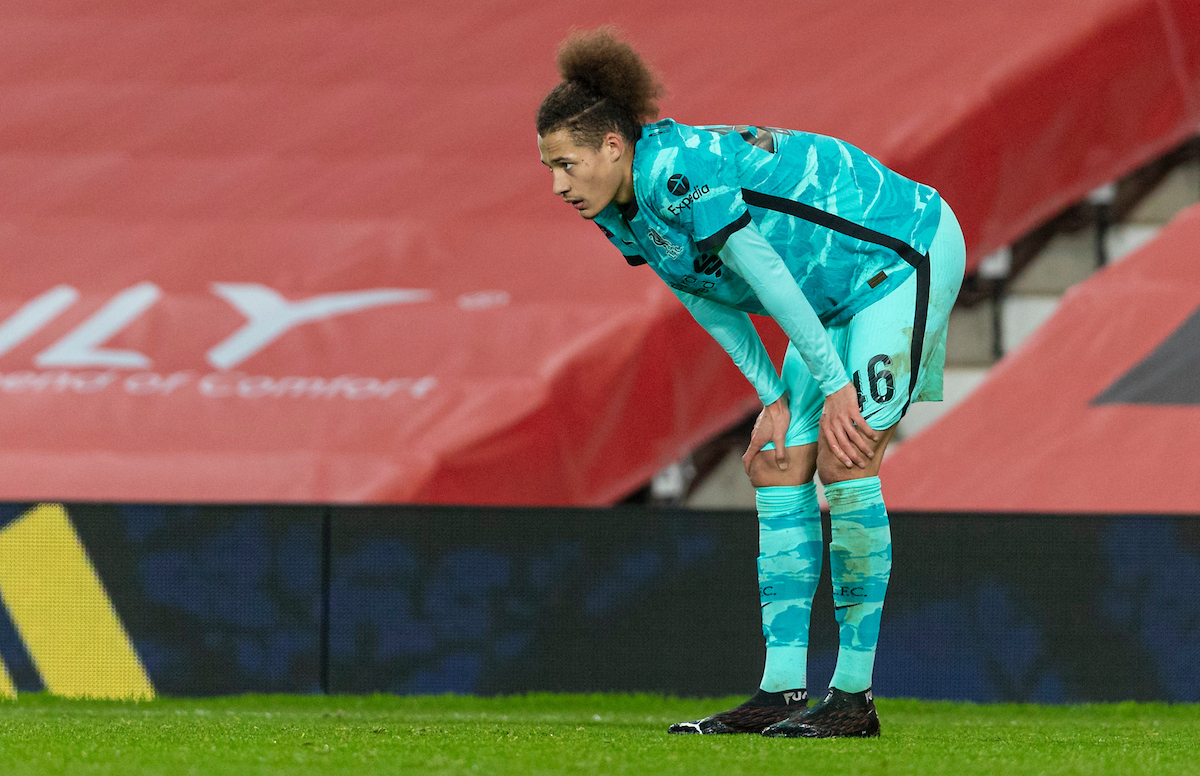 It was writ large the issue that Liverpool have which is structural. Trent Arnold cannot find a starting position he can settle in because there is constant chaos next to him. Without someone playing six who isn't Jordan Henderson, Liverpool are struggling to bolster the space, because it is Henderson who makes that space work best.
Last season doing what United did was the equivalent of throwing the dice and needing sixes. This season, with this selection, it is the equivalent of throwing the dice and needing even numbers. You make a calculated gamble.
The United second doesn't particularly even come from the gamble. It's a ball which should just be dealt with, frankly. Williams will go to bed tonight knowing that. We don't need to labour it here.
There is something about football where Liverpool's shape and approach was arguably better in the game at Anfield but they created far more tonight in terms of quality opportunities. They had Harry Maguire on absolute pins, he was the poorest central defender on the pitch who wasn't a teenager by a distance.
Roberto Firmino was both dreadful and the most creative player on the pitch. His ball for the opener was sweet as a nut, sweet like Tropicana. Sadio Mane came on and looked likely and, if we are looking for positives, then Mo Salah has himself a brace and should have had a hat trick. He was very, very lively.
The movement was the best it has been for weeks. It's worth remembering even his two against Crystal Palace are not the goals we need. These tonight very much were.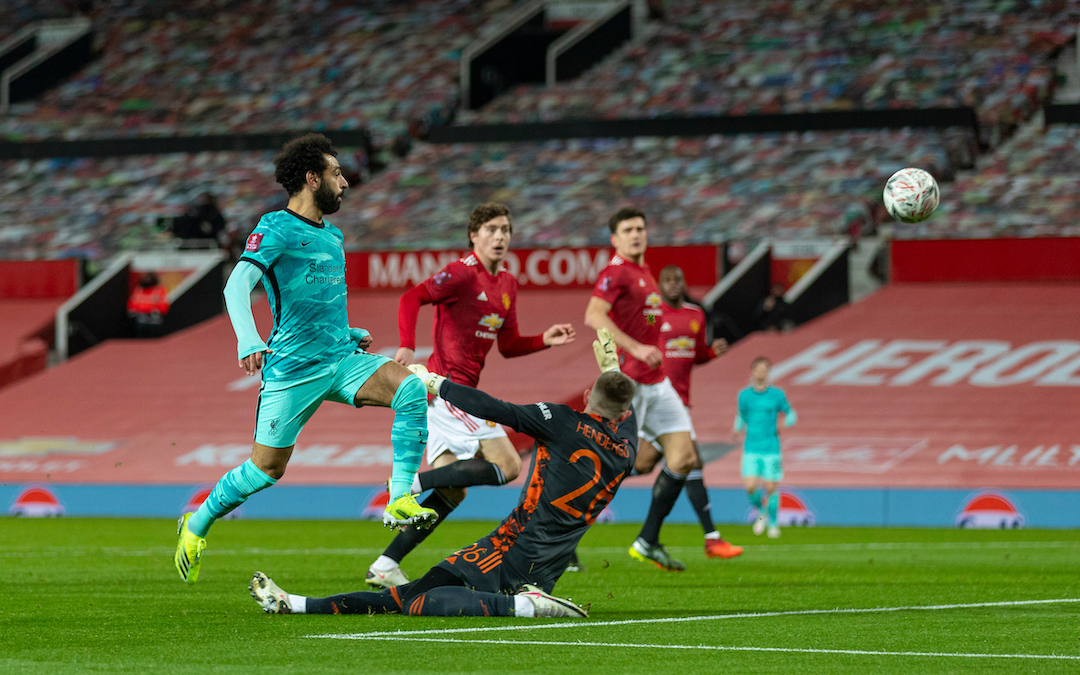 Thiago Alcantara and Gini Wijnaldum looked goosed. James Milner was tremendous. The second best midfielder on the pitch behind Paul Pogba who, for reasons I don't understand, was shunted right mid.
This is the oddity of the arrangement. It feels like there is a fair bit I don't understand beyond the idea that what happens in both boxes matters.
Were it not for the fact that they are literally Manchester United I would say there is a fair bit to like about this United side as individuals but that they aren't as good as Liverpool. Even tonight you can see them lose the ball sloppily over and over. Pogba digs them out repeatedly.
But they have a point at Anfield and a fifth round FA Cup tie to hold close.
If Liverpool had been as good around Manchester United's box as they were tonight last week then they would have the three points. And if Liverpool had had the shape they did last week tonight then right now I wouldn't be typing these words but watching extra time.
"If" is frankly a bastard in football. It counts for nothing but it feels like something.
If Liverpool relax a tiny bit more and Joel Matip plays his 7.5/10 then I fancy they beat Tottenham. But doubt creeps in.
There has been so little doubt for so long that any amount of it feels like a mountain of it. And it is perfectly natural to have it under these circumstances.
"If" Liverpool build on tonight, if they win on Thursday and back that up next Sunday then tonight is OK, a stepping stone on a tough journey. But "if" Liverpool end this season trophyless and aren't able to hang in until the bitter end then tonight will sting.
"If" that happens then Liverpool will also rue the decision to start the season having sold Dejan Lovren and replaced him in the squad with a left back we have barely seen. And they will rue not having addressed it in this window. Another percentage gamble. They don't all come off, you know.
Regardless, as it is, the agony continues. Liverpool haven't won in a month. And if you can't sleep tonight then know that neither can I.
Liverpool are no longer on the road to Wembley. They aren't necessarily on the road to nowhere either. But the doubt creeps in.
---
Recent Posts: