Neil Atkinson's post-match review after Liverpool's 3-1 win over Tottenham Hotspur in the Premier League…
AND there it was.
In my mind it was going to need a worldie and then hanging on, or a late show, or a penalty. It was going to need to feel divine.
Instead it was divine. As performances go in away games against top four rivals, what Liverpool do tonight is up there with absolutely any of them across these last three seasons. And it was that good against all the adversity.
When the rumours started to circulate today about Fabinho I couldn't believe it. For the first time in an age it looked like we could at least field our third and fourth choice centre backs and have Jordan Henderson and Thiago Alcantara in midfield. But it wasn't to be.
Personally, it felt like a hammer blow. I am, for these Reds, pretty can-do on the whole. I am very much about them being able to sort things out but when that team dropped, I dropped. It felt karmically unfair.
Liverpool play the game. They start the game and they get Sadio Mane in. All through the first half they get Sadio Mane in but they get him in early and he misses and Heung-Min Son scores and let me tell you about hammer blows. Let me tell you about being, about feeling broken.
Maybe here is the divine. Maybe this, just this, was the sole intervention, the bit of luck we have been waiting for because the way we get off the hook there is just tremendous.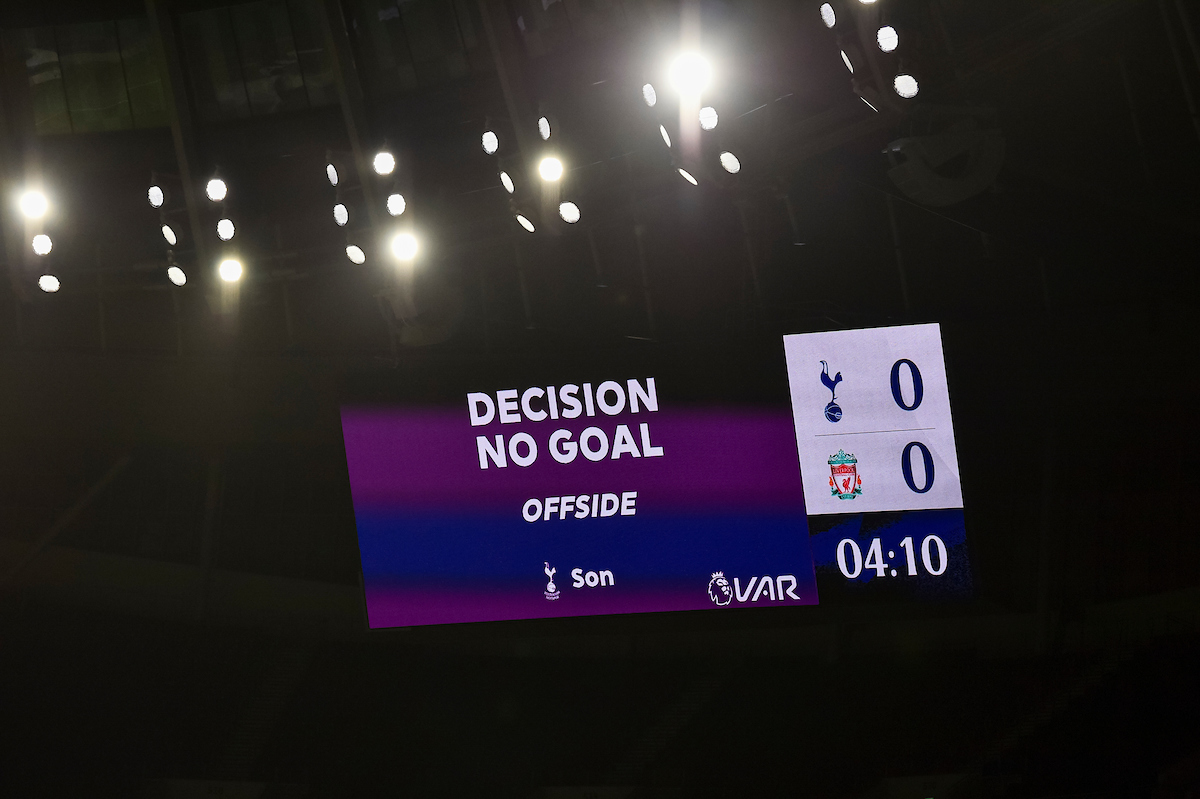 The first half until about the 42nd minute was pretty evenly split. Both sides had chances. Sadio Mane kept getting in and Son kept nearly getting in and Mane was beginning to drive himself mad, but he does well with an effort to elicit a good save from Hugo Lloris and he lets himself off the hook too.
Joel Matip was excellent. Jordan Henderson was excellent. Trent Arnold was excellent. Liverpool more than held their own but for those first 42 minutes the game's outstanding performer had been Tanguy Ndombele. He ran midfield beautifully and Liverpool could not get near him. He was tremendous.
However, only for 42 minutes. Because as half time approached Liverpool grew into the ascendancy and due to injuries there was four minutes to add on and for the seven minutes before half time the game was Liverpool's. The momentum was theirs. The energy was theirs. And finally the reward was theirs.
Mane showed like nothing on earth first half and kept his cool after Henderson's glorious ball but Roberto Firmino had also been excellent first half and there he was, where a number nine should be to make it 0-1 and Liverpool had edged that. Had shaded that.
Then Matip goes off. Joel Matip goes off and it feels like the divine is playing an almighty joke on all of us. Another hammer blow and I'll be honest with you, I'll level with you, my head was in bits. It's partially having to talk. It's obviously having to watch. All of us, our heads, in bits.
And Liverpool – let me be crystal clear with you – Liverpool do not give a fuck. They fly at Tottenham. They have looked at the divine, looked at another injury, looked at the idea of Nat Phillips and have decided that it is do or die, that to dare is to fucking do and they go and they fucking do until it is fucking done, until it is 0-2.
Pierre-Emile Hojbjerg then larrups one in from 25 yards for the first time since he has arrived in English football and Liverpool still don't give a fuck. Liverpool stay on Tottenham and then they have a very good goal harshly, but given the rules probably just about correctly, ruled out (I have questions about how far back…).
They don't give a fuck about that either and Sadio Mane absolutely leathers it into the roof of the net and Liverpool get their cushion.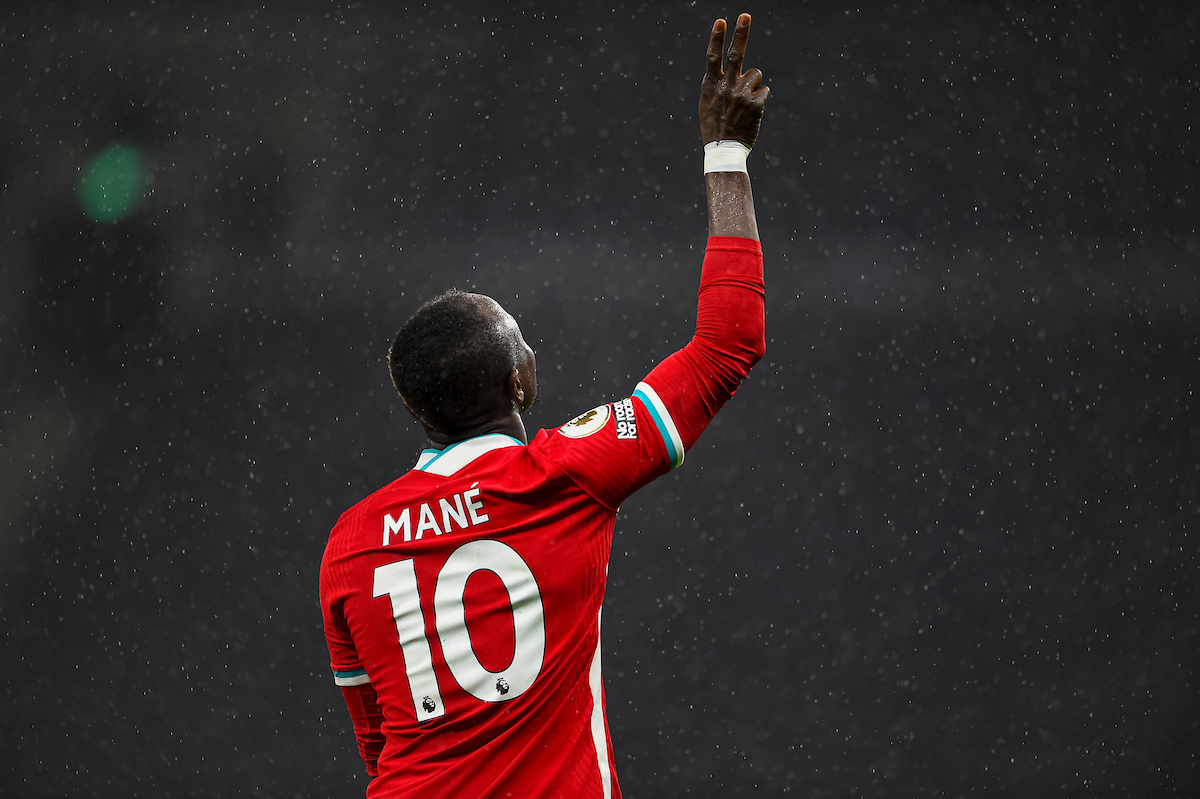 They get their cushion. Cushions have been in short supply, almost as short as wins and then, in that moment, James Milner and Gini Wijnaldum come to the fore. Tottenham can barely get near Liverpool's back four as they can hurt them and the truth of the matter is this – take the goals out of it and Joe Rodon, Eric Dier, Ben Davies and Matt Doherty were all far busier than Big Joel, than Nat Phillips, than the sublime Jordan Henderson.
It was Liverpool's game. And Liverpool were divine. The first half could be split but the second couldn't and let me tell you they looked like themselves. Let me tell you they were horrible to play against. Let me tell you they were the business.
In 2017, we beat Tottenham at home when we needed a win and the night out that night was wild. I obviously wish we could do that tonight, take this pent up energy out into the middle of the city and smash it to smithereens together.
That can keep. Because tonight was that bit divine. Tonight was that bit reminiscent. Tonight could be the first step of being on the march, that first stride over the 20th hurdle of 38, that first stride over that first hurdle of 19. Sound the alarm. Ring that fucking bell. The run-in has started for this Liverpool side and they'll need to count their legs and they'll need to keep working on their plans.
But they keep showing this intent, this hunger and this sheer will to be an absolute set of bastards to play football against then they will do for me and they had better do for you.
We shouldn't get carried away. Every step will need earning. Every single step will need to be forced and worked for. But suddenly there is a path opening up for the righteous. For the first time in weeks you can look at a set of results and not want to gouge your own eyes out.
And there it was. One down, 18 to go. Into these.
---
"They show such courage and heart. Liverpool get that statement win."

"We could just be on the march…" ✊

Subscribe to TAW Premium now for award winning post-match reaction on audio and video 👇

👉https://t.co/oaOWcUzrlr👈 pic.twitter.com/HnP7w0es5o

— The Anfield Wrap (@TheAnfieldWrap) January 28, 2021
Recent Posts: