Neil Atkinson's post-match review after Liverpool's 1-0 loss to Southampton in the Premier League…
THERE can be no excuses.
For as long as this manager has seen a Christmas period in a full season in this country his side has done far better.
It was a time to make merry. The win against Tottenham, the demolition of Crystal Palace, Liverpool were on the verge, on the cusp. Instead it feels like from the moment Joel Matip went down against West Brom Liverpool have been the very opposite of merry.
There can be no excuses. But you and me love a bit of understanding and it is possible that Matip's latest injury was just one blow too many to a Liverpool side which has found itself in the wars this season like nothing on earth. One last, flailing dig which knocked us back, disoriented us, left us unable to recover.
Liverpool looked punch drunk from the early goal, Trent Alexander-Arnold unable to recover. It's probably his poorest evening as a senior pro, one which didn't have the outrageousness of a 7-2 reverse against Aston Villa about it but one where he couldn't find himself back in the game.
We know he is good and we know he is special. We can know this and know he was dreadful.
It's easy to love when everything goes for you, it's easy to love when the sun shines, when the drinks are flowing, when there is a glint in the eye. You and me know this too, know that when times are hard, when you have to remember the good days ahead as well as those behind is when it is real. We know that on frozen days with cowardly, belated announcements more than any.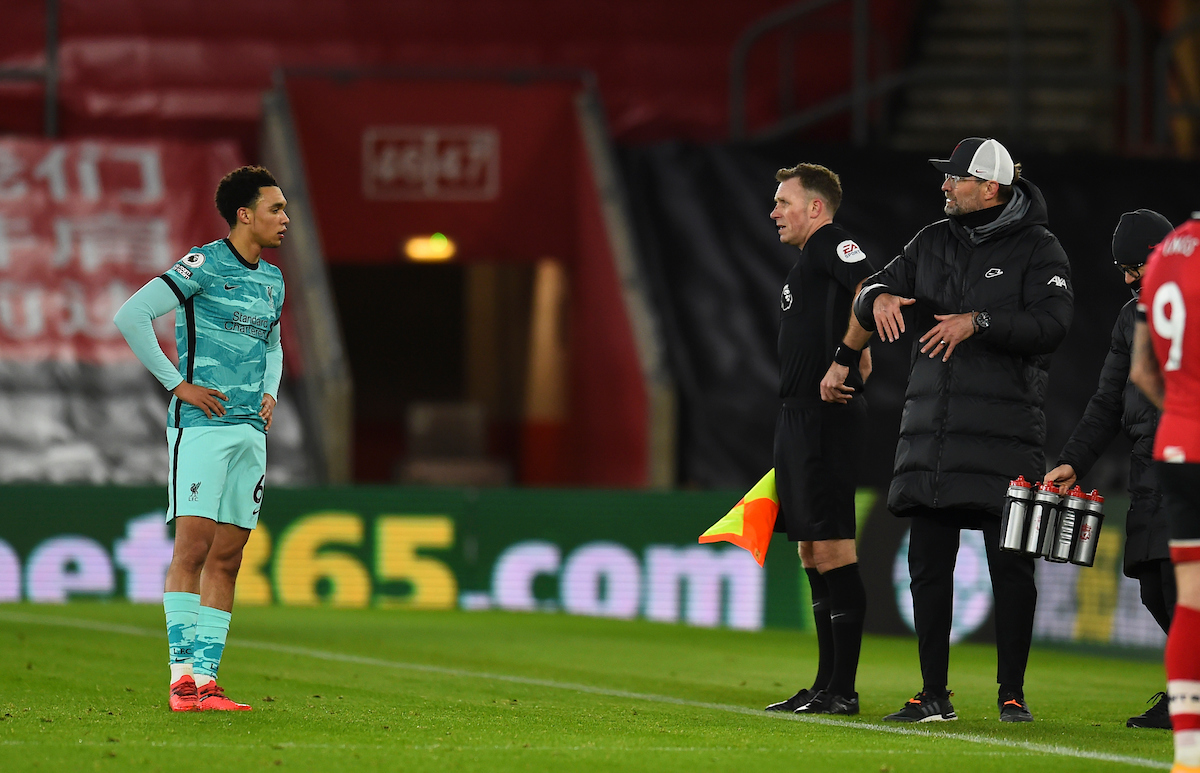 Arnold won't have to read this to know he has been dreadful. But he will need to be told he will be phenomenal again. As will you. As will I. Promise on all counts.
There can be no excuses. But the referee was so poor. Currently I talk and talk while the football match is on and those who listen know that I despise these bastards in the black. They hear that inner monologue. We keep these things out of the public domain usually. Stay away from the issue. But there has to be a reckoning with how Sadio Mane and Mo Salah are treated by opposition players.
In general they don't do enough getting fouled while driving into the box. But they get endless amounts of fouling while their backs are to goal. Salah had an arm around his neck. Mane was thrown to the ground. Elsewhere penalties are won by carrying the ball towards goal, driving and being touched. This is something for Liverpool to think about and reflect on. Are they actually doing enough of that? I don't think so.
However, someone should be putting pressure on officials to say that enough is enough. They should be forced to reflect too. It's hard at the minute for Liverpool but this isn't making it any easier.
There can be no excuses. Since the year 2010 no side has retained this league bar Manchester City. But both Liverpool and Manchester City have put in back to back 95+ seasons. It takes an awful lot to slog through it all again and this year there is only slog. It is made of slog. It's heavy, heavy going.
However Liverpool are making it heavier and they need to have a think about that too. This needs to find a way to be enjoyable. It might be 4-2-3-1. It might be Shaqiring early and often. Christ, not that I would, but it might be recalling Harvey Elliott. Whatever it is to find the joie de vivre.
Because Liverpool are trying. Liverpool are grafting. It is in the trying and the grafting they are losing themselves and you and I know the moment is the place to be. Liverpool need a one-day holiday. They need to blow the cobwebs. They need to feel the breeze and they need to look at the sea and they need to realise it is only a game and they have each other to play it with.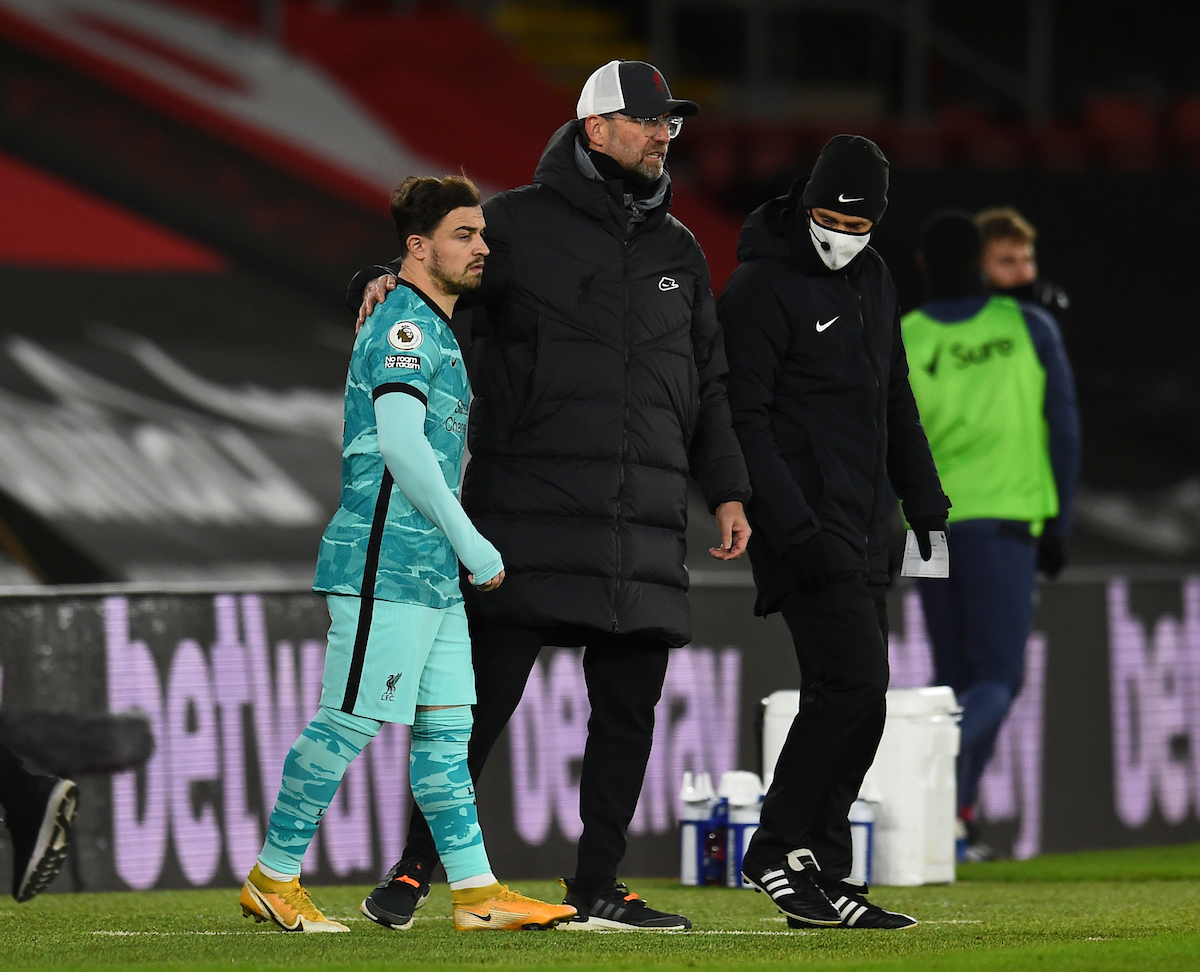 They need it to be a joy to be alive. They need to be adventurers.
There can be no excuses. Thiago Alcantara and Alex Oxlade-Chamberlain will come on for the time on the pitch but the latter needs to think about what he is doing in matches when it isn't going his way. The makeshift centre halves simultaneously both did rather well and simultaneously were both deeply missed in midfield.
There can be no excuses. This isn't good enough, it isn't enjoyable enough, it isn't essential enough. Not of Jürgen Klopp's Liverpool. It needs to improve starting Friday and continuing through Friday. Tonight needs to be the poorest performance of 2021. Tonight needs to be a nadir.
You and I both know you do the job that is in front of you. You do it to the best of your ability and you do it with a smile on your face and you remember you are lucky to do it.
You and I both know that, when things aren't as you like them, make the basics work. Make the basics sing.
You and I both know hurdles are for clearing and for landing and Liverpool have 21 more of them and while they have just hit one they need to keep running because the joy is in the running, in the bunching of muscle to clear the next, in the smooth landing that follows.
There can be no excuses. There is only what comes next and supporting one another when it is hard. It is hard. It is very hard. We need one another. We need Liverpool.
---
"It's been a really frustrating Christmas period. There was a time when a lot of us thought these kinder fixtures could help Liverpool stretch away a bit, but now it's not in their hands."

Subscribe to TAW Player to listen 👇https://t.co/oaOWcUzrlr pic.twitter.com/SDoeABmPv0

— The Anfield Wrap (@TheAnfieldWrap) January 4, 2021
Recent Posts: