This Liverpool team has been defined by its will to win, but Dan Morgan writes that refusing to buy a centre back could send those players the wrong message…
CONFIDENCE is possibly the most important and unspoken element of success in football. It has certainly been a crucial factor in Liverpool's recent woes.
Last night's win over Tottenham encapsulated a season of bittersweet. In many senses it was symbolic of what we've come to expect from 2020-21. No sooner are you high, the low is waiting to pull you back down.
Just when you thought you were out, it pulls you back in.
As a supporter, it has become troublesome. You spend days and nights thinking you should care both more and less simultaneously. That ambivalence matched by guilt. "It's only football," coupled with this being the only real outlet of joy for many of us right now.
For all the frustration, the calls to sign a centre back and accusations of FSG negligence, have we ever stopped to peel the layers off reasons why they need to?
• They need to bolster reinforcements because of injury. Obvious but nonetheless true. But this isn't a team leaking goals uncontrollably (23 goals against in the league and an expected goals against (xGA) of 22.85).
• They need actual centre backs playing there who have the required experience and ability. Again very true, Rhys Williams and Nat Phillips have performed admirably but the team is clearly affected collectively when they play.
• They need to allow for the likes of Fabinho and Jordan Henderson in midfield. Valid, however there are players such as Takumi Minamino, Alex Oxlade-Chamberlain and, when fit, Naby Keita who remain on the periphery of midfield selection.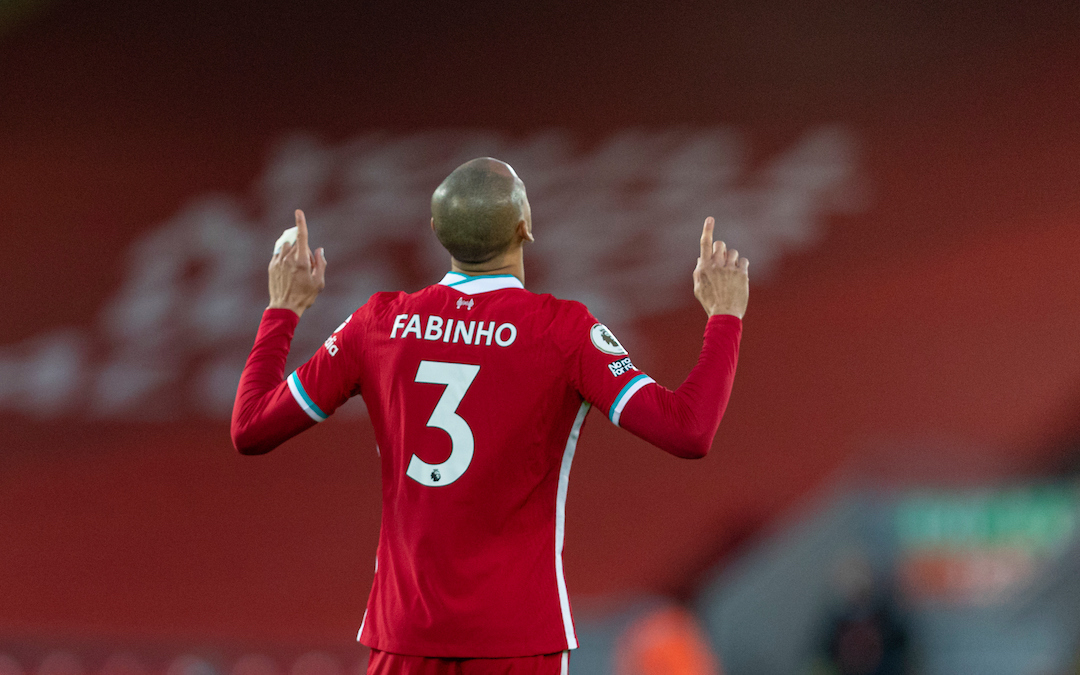 These are all very important factors contributing to whether or not Liverpool win football matches, but perhaps the main reason they need to bring somebody in this weekend comes down to confidence, above all else.
If there weren't players in the dressing room at half time last night thinking what most of us were when Matip suffered another setback, there should have been.
The Cameroon defender is elite and his presence in the team is huge, yet a lack of reliability has almost become a self-fulfilling prophecy with him.
To go to war in the manner this team does, it needs to look around the dressing room and see those who can be relied on.
Injury at this level is often a cruel concept as all bodies are treated equally when some clearly aren't tailored for elite competition, as players like Daniel Agger have openly admitted themselves.
For every Henderson, Sadio Mane, Andy Robertson and Mohamed Salah, who turn out every week and put their every fibre into winning games of football for Liverpool, there are those who can only physically manage a fraction of gametime.
A decision on those players will have to be made in due course, the reality is Liverpool might have to keep them and find solutions as opposed to a nonchalant cutting of losses.
The other big factor, lest we forget, is that these players are serial winners in every sense of the word.
Don't think they aren't asking if we're signing anyone, and if not why? These are players who are fully aware of the moment and want to maximise it. They're part of a club creating an elite mentality in order for them to win.
Therefore, what message does it send out if they're hindered and an opportunity is allowed to pass? If anything, Liverpool must act now for the good of the project, the harmony and the prospects of this group of players' future success together.
Confidence is defined by many things in football. After a much-desired Premier League victory last night, Liverpool must now ensure they send out the right message when it comes to their obvious centre-back issue in the time that remains.
It could turn out to be one of the most important weekends for this team and this period in Liverpool history.
---
"You get so wrapped up emotionally, panicking, worrying. But once results went our way…it was a great feeling."

"We went to their ground with confidence, with a patched up team."

The Weekender FREE Podcast 🗣

Listen to 'The Weekender' for free 👉 https://t.co/f72LO6RfBI pic.twitter.com/xdlYGn1i2N

— The Anfield Wrap (@TheAnfieldWrap) January 29, 2021
Recent Posts: