Neil Atkinson's post-match review after Liverpool's 0-0 draw with Manchester United in the Premier League…
DID you enjoy it?
The things you find out when you are at home and not in the ground or leaving it.
"Did you enjoy it?" Jürgen Klopp asks Juliette Ferrington after the match. What a question, Jürgen. Ferrington finds it near impossible to answer. She goes for 'intriguing'. Jürgen pretends not to understand.
We all understand, though. Did you enjoy it? Of course not. Are you mad? It is the game that knocks us all sick, from here to Urmston. You dread it. The only thing that makes it worth it is the sheer unadulterated blissful joy of watching The Reds score against them. The goals.
How do enjoy a game like this without the goals? How?
There's a way. The way is that you feel we are the poorer side, you feel that we should be grateful for what we get. We've been there. Seen that. Done it. Be glad you slowed them down. Today is not a day for that.
So the game was repeatedly sickening. Repeatedly heartbreaking. Unbelievably, deeply, so deeply frustrating. Because Liverpool got around their penalty area. Liverpool got in their penalty area. Liverpool's performance was good. The shape was good. The approach was good. The structure was good.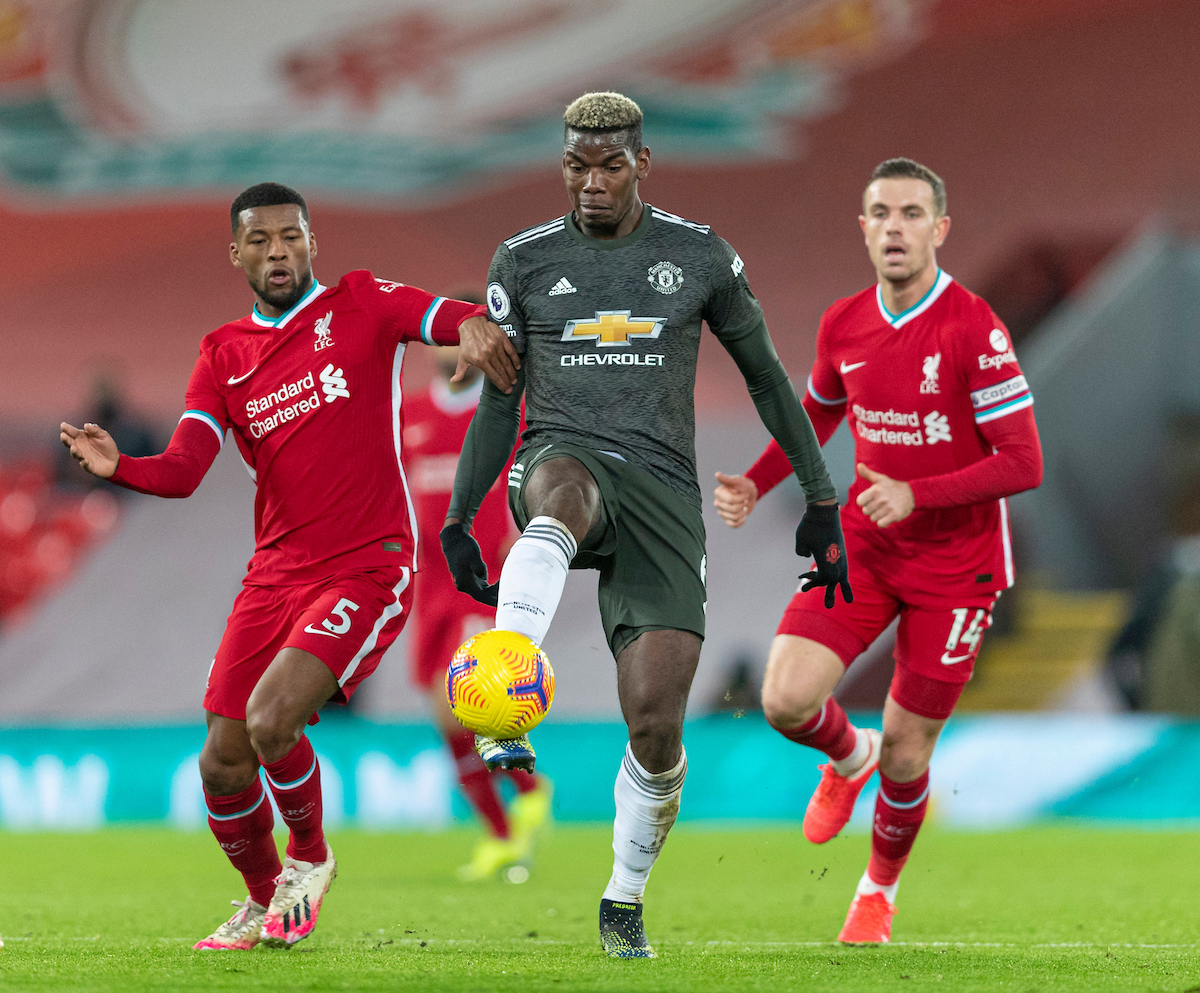 What happened in the penalty area was bad. It was very bad indeed.
In recent weeks it has felt that there are understandable mitigating circumstances for Liverpool's front three, for Liverpool's attacking. But not today. Today it is fair to say that in the area of the pitch Liverpool most need Mo Salah, Sadio Mane and Roberto Firmino to be good as individuals or as a collective they were bad. Actively bad.
Mo Salah looks confused and Roberto Firmino isn't certain. We need goals badly and we miss Diogo Jota. Sadio Mane needs better support. Our link-up play around the box just isn't working as it should. There is an element of being over-demanding here. Salah battles and keeps possession and fetches the ball out from United legs. But we need goals. That is what Jürgen will go to bed thinking tonight and wake up repeating in the morning.
This is a deepening problem. In that they could all do with both one going in off their arse and one going in from lovely link-up play and neither look like happening any time soon. They look an absolute world away from the lads who were at the centre of scoring seven against Crystal Palace. They look, around the area, like shadows of themselves.
There are a number of frustrations and disappointments. The shape. We always go narrow when we need to go wide. We should be splitting Manchester United apart, drawing them to corners and then snapping the ball back for Shaqiri and Thiago.
Instead, we pass it at speed between the square of Lindelof, Maguire, McTominay and Fred. The concentration is impressive to watch, but pointless. It does not work and it is defined by the three attackers, determined to pitch their tent and put their arses in. Scrap for their lives when they could maybe glide.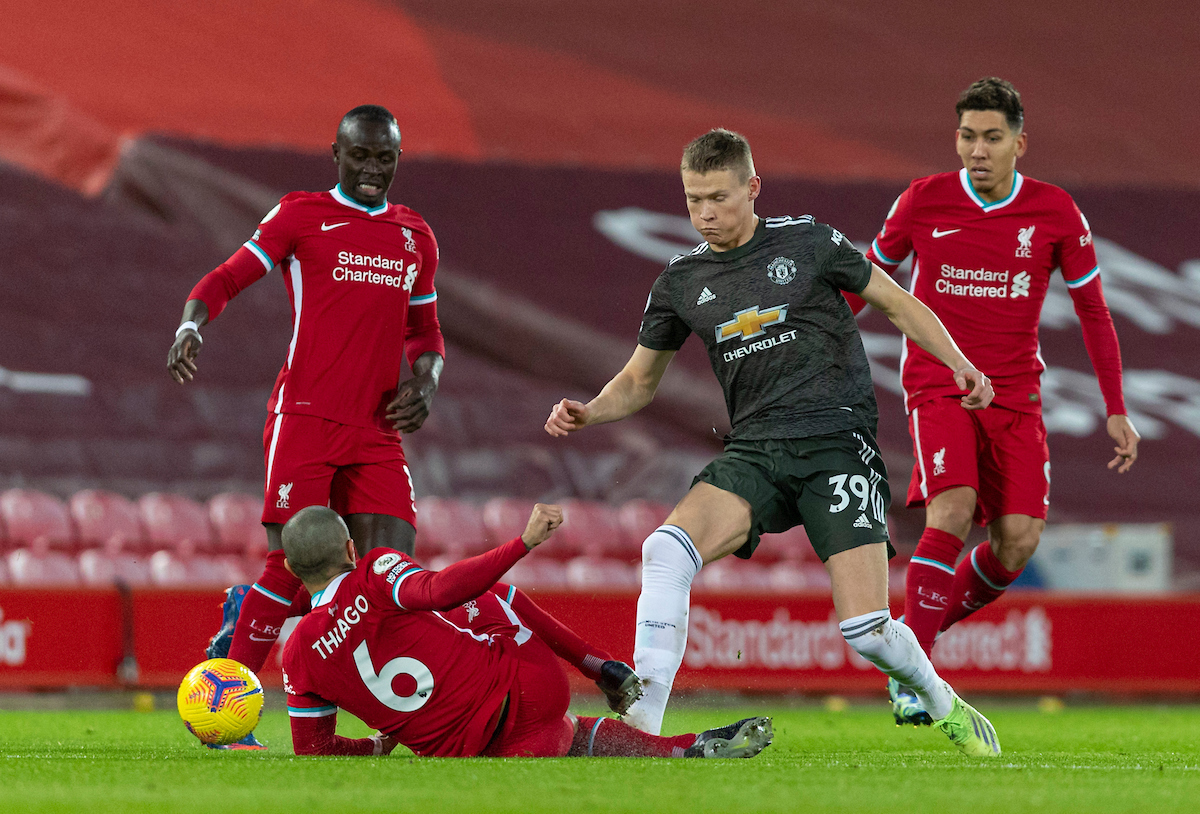 Alcantara is just a delight. Everything. His passing. His tackling. His vision. His body shape. His face. God I love his face. It's got some level of expressiveness to it. He lives the game on his face. Remember that Zidane movie where the camera just followed Zidane for 90? I want one of them but even closer in. Right up on Alcantara's face like he's John Thaw playing Inspector Morse. Filling the screen with every look.
There is none of your mitigation here. The triangle of Thiago Alcantara, Jordan Henderson and Fabinho all play very well. And I suspect they will play very well again. The fullbacks aren't great but aren't poor. Gini Wijnaldum grafts and Xherdan Shaqiri is alive in bursts. None of them do things that actively inhibits. There is no mitigation. There is simply this fact – you have to dance with the one who brought you. And in Jota's absence that remains the case.
But. The things you find out when you are at home and not in the ground or leaving it.
Prior to the kick off of the Manchester City game they interview Pep Guardiola and he mentions few sides scoring many goals, mentions "today's games". There is this as the mitigating factor – no one is attacking well, not really. There is a weird outlier game of the last however many for all clubs which is Wolves v West Brom.
That isn't to say that sides that should win aren't winning like Liverpool. Manchester City were good against Chelsea and are solid. But then Liverpool have only conceded four in the last six league games. Liverpool have taken nowhere near enough points. Only Manchester City and Everton can say otherwise, being fair.
I miss them. They've driven me mad, played well, attacked badly, done my head in, done OK, but today I've missed them. We had fun on the HotMic insofar as you can under the circumstances. But today would have been special. United at Anfield, visiting the Champions. Right now in a boozer typing out words before going out, whatever the result.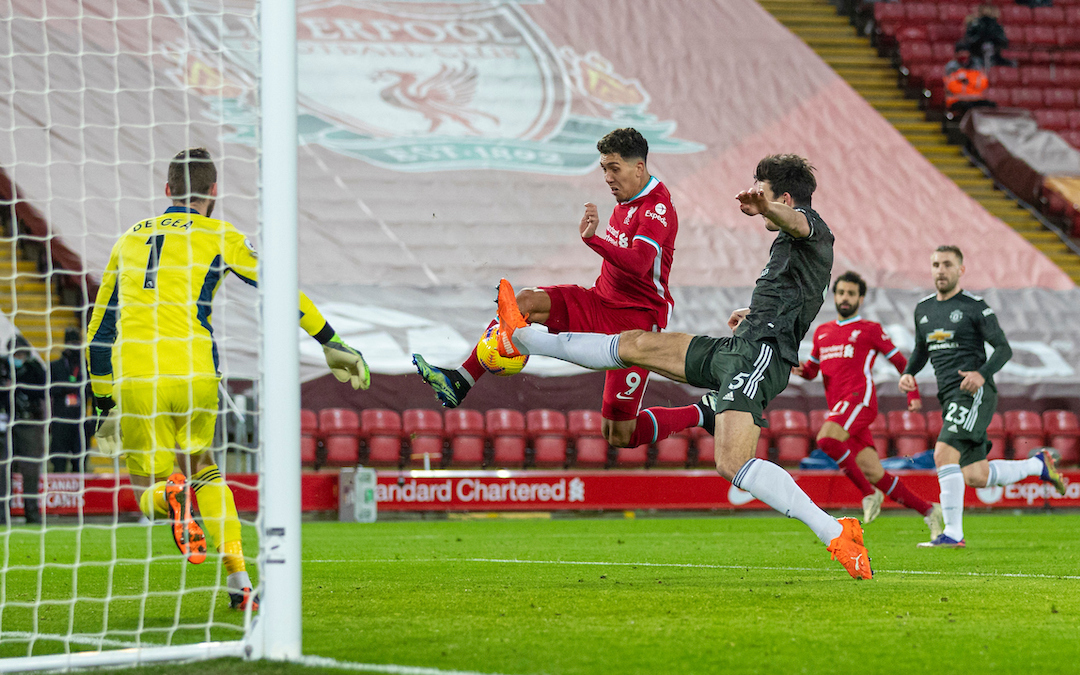 They miss us. The "they" is them all. United's lot as well. Every side up and down the country. But right now I feel like the we, the us, the Liverpool us, we could do something. We could encourage and scream and shout. We could help one go in via a deflection, bring about that team move.
There's nothing constructive here, no neat sentence to set up what comes next, just that shimmering feeling of loss. Not loss of a game, not loss of two points, not loss of Liverpool's collective mojo, just that loss of us and them, that loss of me and you.
Things you find out when you are at home and not in the ground or leaving it.
There is no mitigation here for us either. Liverpool play Manchester United at Anfield and we should see each other afterwards, maybe even see some of their lot, take them out for a little while, let them walk around the home of the Champions.
I miss you, but you know that. I miss you like I miss goals. Goals will come back first and goals will help but, let me be crystal clear, I won't stop missing you.
These are the things you find out when you are at home and not in the ground or leaving it.
---
"The shape was right. The structure was right. Liverpool got a lot right, but they were nowhere near good enough in and around the penalty area."

Subscribe now for the reaction as the Reds fail to win in the Premier League for the fourth game in a row 👇https://t.co/oaOWcUzrlr pic.twitter.com/QNc67yjt78

— The Anfield Wrap (@TheAnfieldWrap) January 17, 2021
Recent Posts: