Jürgen Klopp has learnt so much during his time as Liverpool manager, but Dan Morgan writes that he may have just learned something new about Manchester United…
JÜRGEN Klopp has learnt many things since arriving in Liverpool.
From managing baffling fixture schedules to Scouse abbreviations he originally thought were a whole new language, he is now well versed in Liverpool life.
He undoubtedly has also come to adopt similar frustrations as most of us when it comes to matters of a political and governing nature which form the wider issues of the country he now lives in.
It would be understandable that after five years he maybe felt he knew all there was to know about life in England. Yet there is an argument that after the last couple of weeks, he has set himself a new reminder of never speaking publicly about Manchester United.
When he casually made reference to them after discussing a penalty claim not given against Southampton, the new found exuberance of the Old Trafford fanbase jovially lapped it up.
Tweets about the "Rafa rant" and Kevin Keegan comparisons were aplenty. To a United now buoyed by their position at the top of the Premier League again, they fully believe history is repeating itself.
It isn't, that's the first thing to address. The main reason being it's hard to convince yourself without the application of any bias that United are "back".
A week top of the Premier League when you've crashed out of the Champions League and remain two defeats away from Gary Neville protesting about how the manager needs another five players during commentary isn't really a pendulum swing back to the perch being knocked off.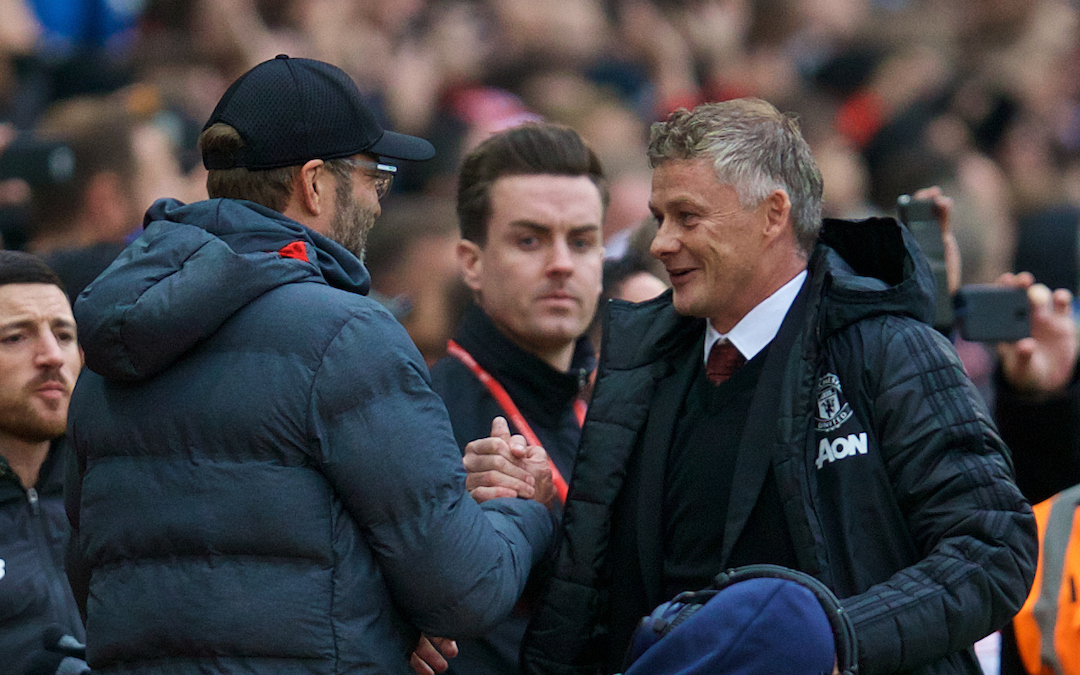 So without the presence of an Alex Ferguson or a great United side this should be an easy task for Klopp to navigate. Yet beyond United supporters, the likes of Mark Clattenburg is now chipping in with nonsensical quips to the point where this all feels innately dissatisfying.
What now remains as a result is the concept of Klopp's image and reputation. He clearly isn't enjoying this season. It is in every way the antithesis of what he needs to create success. The lack of supporters is arguably hurting him most, but the poking and prodding from pundits and certain media outlets is clearly irking him more.
It remains the case that when Liverpool were either seemingly creating 4-3 scorelines every week and eventually winning nothing, he was seen as cuddly and friendly. Yet now he's a winner, he has become the enemy and the person to shoot down.
He isn't without fault. His antics on the touchline have caused confrontation and he himself admits he goes over the top at times. There is an argument also that he was wrong to mention the scheduling issue in the manner he did without first internalising as to the best approach
Therefore, the best thing he can do now is to say nothing. Give nobody a headline, an opportunity to offer up controversy or Des Kelly the platform for another personal vendetta. I'm not saying literally do nothing, but there is a line he is treading dangerously on.
Mentioning United, which he was completely within his rights to do, was exactly what they wanted. And now we're back to the concept of pressure, and the ugly reality of people wanting to see another person essentially struggle under it.
For that reason, an ambivalent Jürgen Klopp is no bad thing. By the sheer context of who he is he will be loved and hated by millions who have never met him. Offering anyone extra incentive simply isn't worth the comment right now.
He has learnt many things at Liverpool, choosing what not to speak about in public is potentially now another one to add to the list.
---
"It's a massive thirty days for Liverpool Football Club that will define the season and it starts this weekend against Manchester United."

"There is adversity, yes but there's a league to be won."

Subscribe for all of our build up to this Sunday 👉https://t.co/oaOWcUzrlr pic.twitter.com/yk8fPJNhOF

— The Anfield Wrap (@TheAnfieldWrap) January 15, 2021
Recent Posts: