Dan Morgan writes about how it feels to be a Liverpool fan unable to support the team in the stadium as The Reds' three-year unbeaten streak at Anfield ended…
IF a tree falls in the woods, does it still make a sound?
If this Liverpool team loses its home record in an empty stadium, is it felt as profound?
Worse still, are we entitled to have our own way without the applied caveat of the environment and situation we find ourselves in?
When this team started their unbeaten home run in the league, Trent Alexander-Arnold was an untried and unproven teenager on the bench. Philippe Coutinho was Liverpool's best player and Mamadou Sakho was allowed to take the piss at Anfield.
Since then we've had two Champions League finals, amassed 97 and 99-point seasons and watched the likes of Virgil van Dijk, Mohamed Salah and Alisson Becker be added to something which then took on its own lifeform in a way nobody envisaged.
Liverpool won the Premier League. They celebrated then as they suffer now: alone.
When Jürgen Klopp embarked on this journey and dragged a suffering fanbase with him, he did so under no illusion of the part we had to play. And yet now he doesn't have us to call on. He cannot sell the journey and ask us to live every waking second, not really.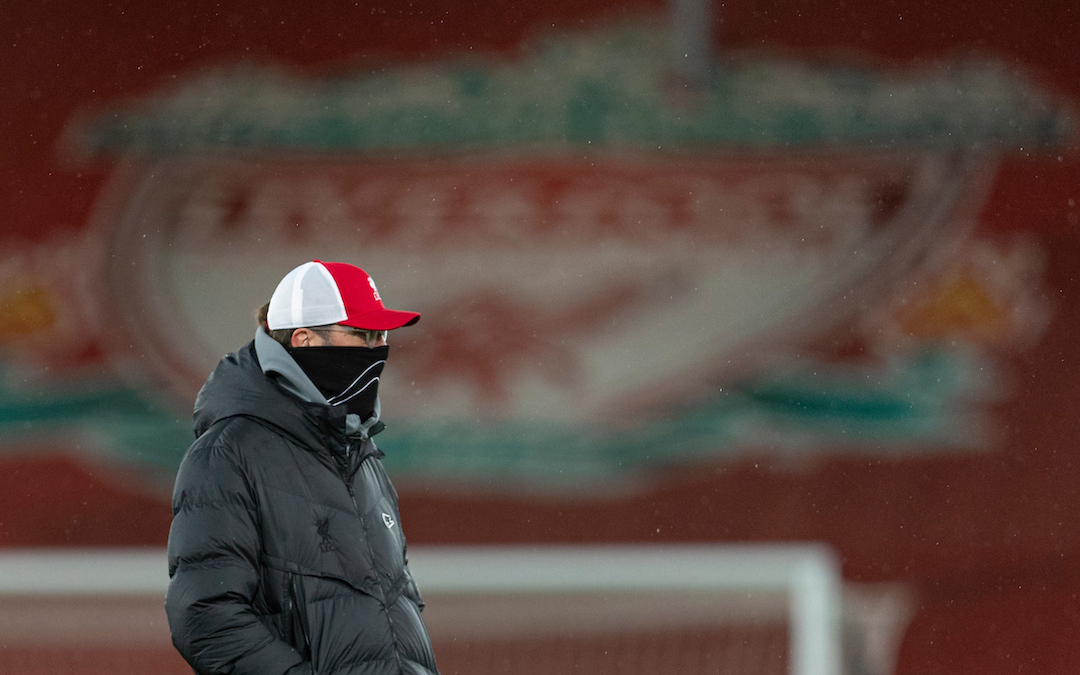 In many senses I'm gutted I couldn't be there last night at full time, because to fully appreciate what this team did since that Crystal Palace game would have hit home more than ever.
Better still, like everything else, we'd have been in it together.
Klopp's tenure has been built on fragility in many senses. When it's good it's incredible. When it's bad, it has a habit of being spectacularly so. That has definitely applied to games in isolation.
Maybe the same can be said of his seasons? Maybe the tightrope between first and wherever this now leads is more fragile than we ever thought. There are lessons in being league winners which are now proving tough to stomach.
Yet results alone can be an irrelevant factor when it comes to the general picture of an enterprise we view only through the prism of a lens, beaming back the eternal void of a place once so energised by life.
And still we want Liverpool to be the abnormal version of themselves on a regular basis. That is unfair and unrealistic. Whether they need fans as much as it seems lends nothing to the fact that sometimes, for some unknown reason, it snows in April.
There's still everything to rescue. Still. These player's want the return of their own normal so much, too much. But there's part of me that wants to give up, you know. Part of me that asks about what happens when a tree falls in the woods and nobody is around?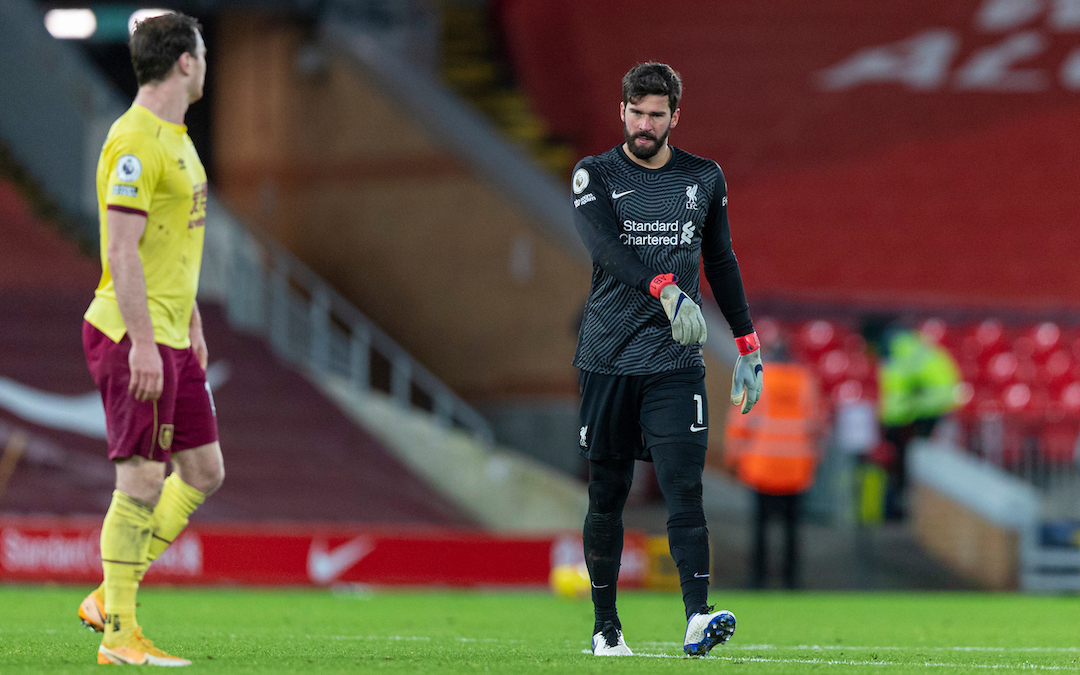 What's the point if we don't get to help each other through this? I think a lot about Liverpool's parade for the league. Don't have it now, it's done. It was taken away along with the conventional norms of a life we once knew.
But if 1,369 days taught us anything it was that anything is achievable. Don't forget that this football club and its team and manager made us all better in some form. They told us something about ourselves.
If they keep going then so will we. Each and every day until the day comes that we return to what we know. Us and them, the thing you've never been so certain of in your life.
I wish we were there last night. I wish we could've called them fucking heroes to a man and pumped our chests at the fact that we did something special, you know, all of us here.
This Liverpool team will come back and one day so will we. The adventure starts again then and not a minute before.
---
"You can look back at the season, pick out moments, talk about hard luck stories, VAR decisions."

"Whilst a lot of that is true, it doesn't excuse our performances against bottom six teams."

The Post Match Pint 🎥

Subscribe 👉 https://t.co/oaOWcUzrlr 👈 pic.twitter.com/BTTxjv2IoU

— The Anfield Wrap (@TheAnfieldWrap) January 22, 2021
Recent Posts: