As Liverpool mourns the loss of one of their own, Karl Coppack writes that we can channel Gerry Marsden's words as The Reds' try to rediscover their form…
IN 1999 I was DJing at a private party in the grounds of Kenwood House in London as a favour for a mate at work.
She's from Liverpool too so I knew I'd be on safe ground with a mixture of Scouse friendly tunes. I knew I'd be on safe ground if I ended the night with the usual stand by for an audience of that age.
It took just three words of that closing number before aggressive men strode across the dance area with malice in their hearts. They wasted little time in advising me to 'turn that shite off' and 'put Z-Cars on' instead. I feigned ignorance and let it play on. Fuck them.
They were still shouting at me as my taxi left.
It's funny how a mere song can do that. There can't be too many clubs who will be forever linked with a fictitious tale of a carousel worker who takes his own life following a hopeless robbery.
In the 1945 musical 'Carousel' the character Billy Bigelow, a confident if naïve carousel barker, does just that, leaving his new wife Julie and unborn daughter behind. As Billy's widow comes to terms with the situation, her cousin, Nettie Fowler, encourages her to keep going by singing an uplifting song. That song? 'You'll Never Walk Alone'.
It's beautiful, it's inspirational, it's wondrous and it's the sort of song you don't want to play to a garden full of Evertonians without having security nearby.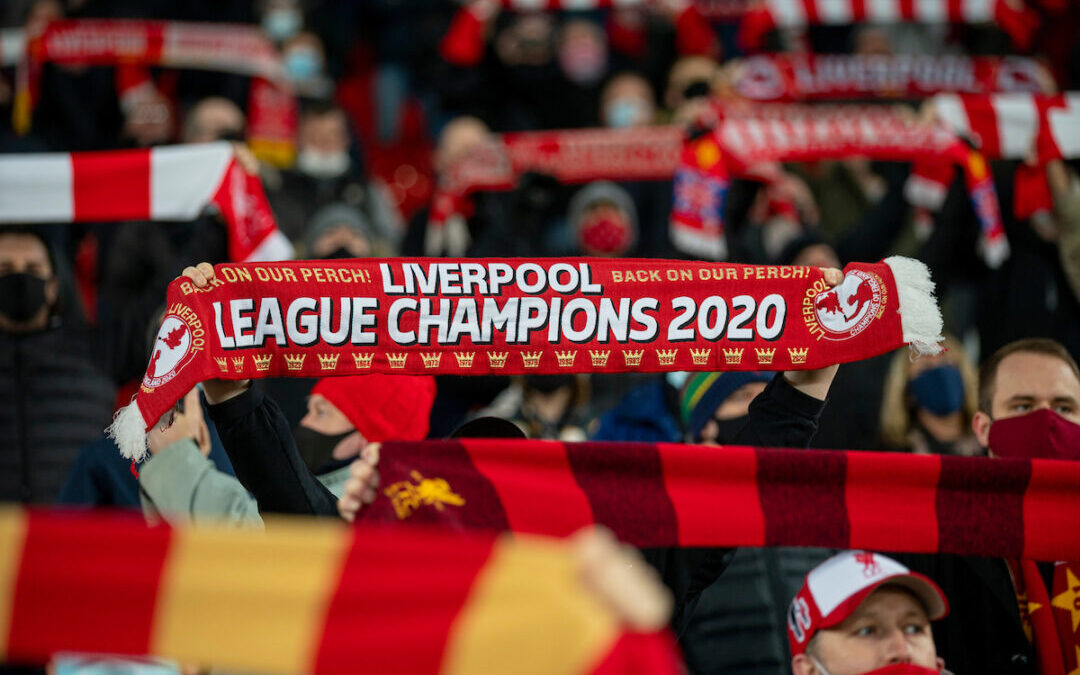 This week Gerry Marsden passed away at the age of 78 and it's his voice which brings the fans and the song together. The voice which has been heard at every home game for over 50 years.
The song isn't for everyone. Some point at its mawkishness and somewhat syrupy message, but I love it, have always loved it and will always love it. Even if it had nothing to do with us, I'd still acknowledge that it's a hell of a song. The musical may be absolutely nuts (seriously have a read of the synopsis, it's mad) but Rodgers and Hammerstein knew what they were doing there.
Maybe it's been overplayed and its abbreviation to its four initial letters has lessened the impact of its lyrics. How many times have you read a text from a Red which ends with YNWA when you need support? How many actually mean it? It's just a sign off along club lines these days, like a secret handshake. That annoys me a bit.
I also don't like singing it when the team are losing in the last minute. It looks like defeat.
But it's also been played at key moments in our history. Gerry sang it at Wembley just weeks after Hillsborough at the 1989 FA Cup Final. I was in the Everton end that day and it was an incredible and sombre experience. You could only hear his voice and the distant noise of the helicopters above the ground.
John Peel played Aretha Franklin's lengthy rendition of it on his first show after the disaster. In 2018 my family played the same version at my sister's funeral. It was sung at half time at Istanbul and stiffened up the sinews of the lads who had been battered in the first half. It means something to so many.
And we could do with reminding of it now. Two draws and a defeat in the last three games has all but wiped the polish off the current Liverpool side.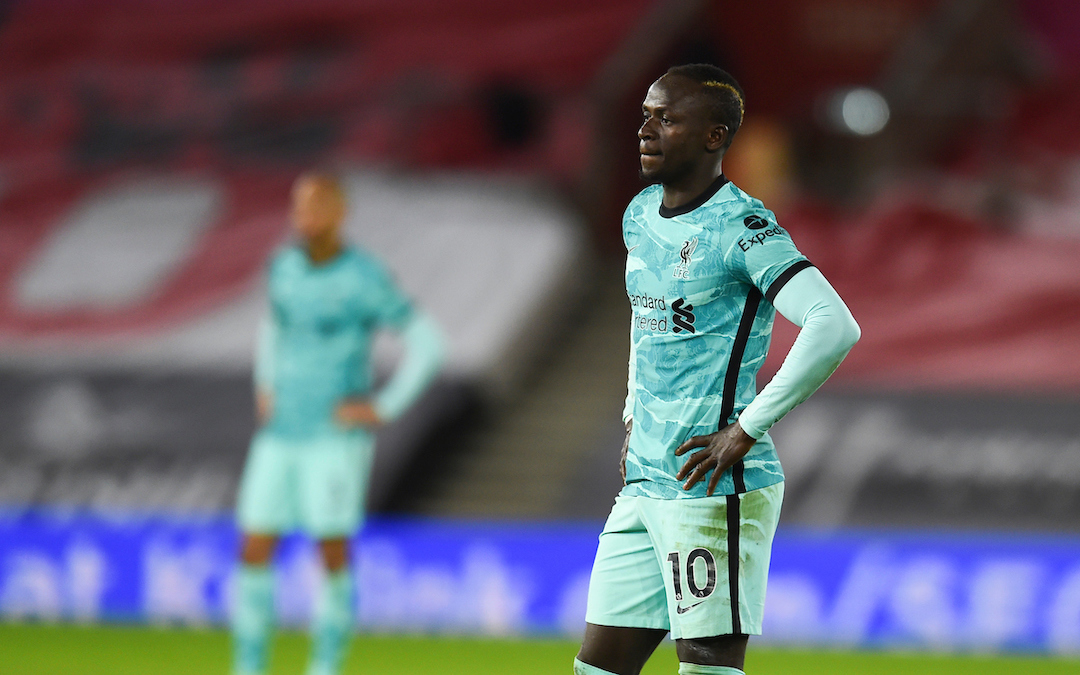 We'd do well to listen to it and get behind the lads and their manager. We're not quite at the stage of dreams being tossed and blown, but it looks like this will be a title fight where big haymakers take the bout rather than the systematic demolition of the league like last year.
We have to get off the carpet after Monday.
'Character' is a Brendan Rodgers word. He had to use it often enough when The Reds had lost out and he needed something to praise them somehow. It was used by both Houllier and Benitez as they too lost games they should have won.
Liverpool had very little of it on Monday in Hampshire. The early goal made our shirts heavier and, whereas we would tear apart anyone who had the temerity to bloody our noses last season, this time we looked beaten before we started. True, the referee didn't help as Andre Narrative's always had selective vision, but we just looked like a side beaten early.
Character is needed and not just for the players if this brief slump is to be arrested. We can't allow ourselves the luxury of self reproach and slumped shoulders. The games are coming thick and fast and now is the time to stand up and fight on, not after a 7-0 win.
Liverpool won the league through skill and ruthlessness last season. The goalposts have moved this time, for everyone not just for us. Ability isn't enough. This time we'll have to beat them all again. There's no lead to defend and build upon now. We just have to reset and see what we have.
The problem with a great run is that you're not sure how to react to a bad one. Heads have gone a bit but now is the time to dig in. Most leagues are won through sheer bloody mindedness.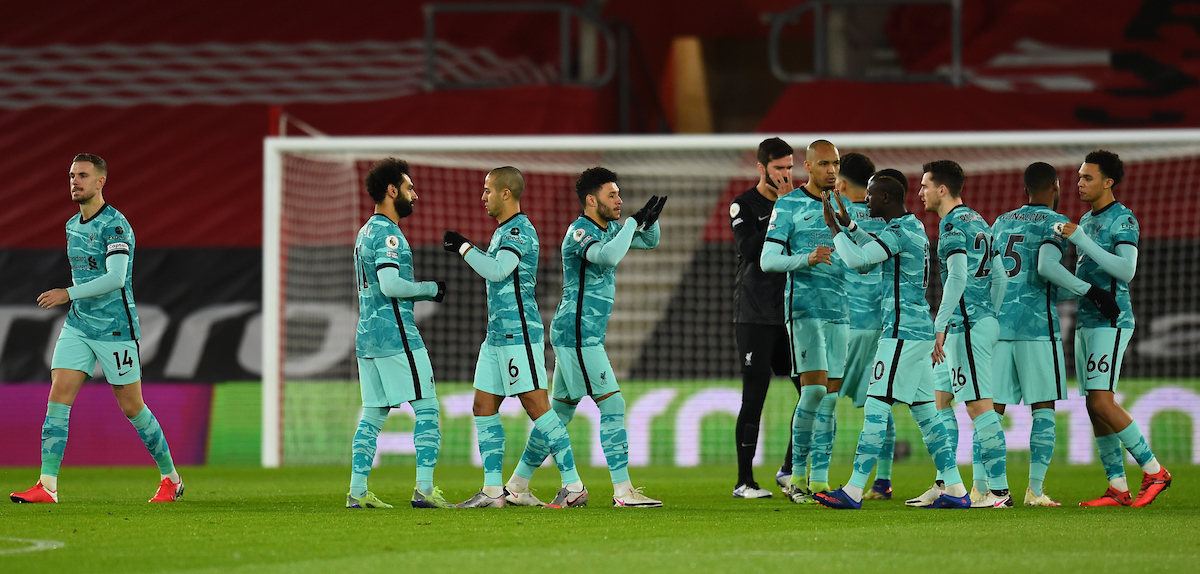 Younger Reds may look at the Double winning side of Hansen, Rush and Molby and think we walked away with it as we were the best side in the country. We didn't and we weren't. Blood and guts won us those trophies along with a ruthless efficiency.
It's the hardest thing to achieve. Look at the best players in the game. They're not great because of their skill and artistry. No, they're great because they can do all that while being booted in the air all the time.
Liverpool are being booted in the air a bit.
Jürgen won't want to take his ball home just because it's harder this year. He'll want to use the natural buoyancy of his squad and start again. A bad run isn't a bad thing if you can build again and put a better one together. We're top of the league and people are writing us off. Good. We love proving people wrong and it's time to show that we can do that.
We're walking through a storm right now, but all storms pass in time. We're a bit afraid of the dark too but it'll soon be light.
Rest in peace, Gerry. It wasn't even your best song ('Don't Let the Sun Catch You Crying' is lovely) but you're stitched into the fabric of this club forever.
These lads are too and it's our job to remind them of it. Prepare yourself for a fight. No runners. No runners ever.
YNWA.
---
📽️TAW: LFC Suffer Saints Setback |
#FreePodcast |#LFC

"We don't care what your name is, boy; we'll never turn you away…"

John Gibbons is in conversation with ex LFC CEO @PeterMooreLFC on the sad passing of our 12th man; Gerry Marsden.

📽️Watch Free👉https://t.co/2ebvBcVfYG pic.twitter.com/jXkf78gHWw

— The Anfield Wrap (@TheAnfieldWrap) January 5, 2021
Recent Posts: