There were question marks about Diogo Jota when he signed, but Aaron Daniels writes that those questions are long gone now and Liverpool are missing him…
HINDSIGHT is a wonderful thing.
We all know now, having witnessed with our very own eyes, that Diogo Jota has what it takes to play for this Liverpool side.
It was a signing that came out of nowhere, as does most of the transfer business Edwards and his staff conducts these days.
Upon hearing the news, for me and likely many others, there was a mixture of excitement, bafflement, and 'he hasn't even been getting a game for Wolves lately'. More than anything we were happy we signed a forward player. But there were questions all over the place…
'He's just going to be back up, isn't he?'
'Reckon he's Firmino's replacement?'
'Surprised we signed him really. Trent hates him after that FIFA tourney, doesn't he?'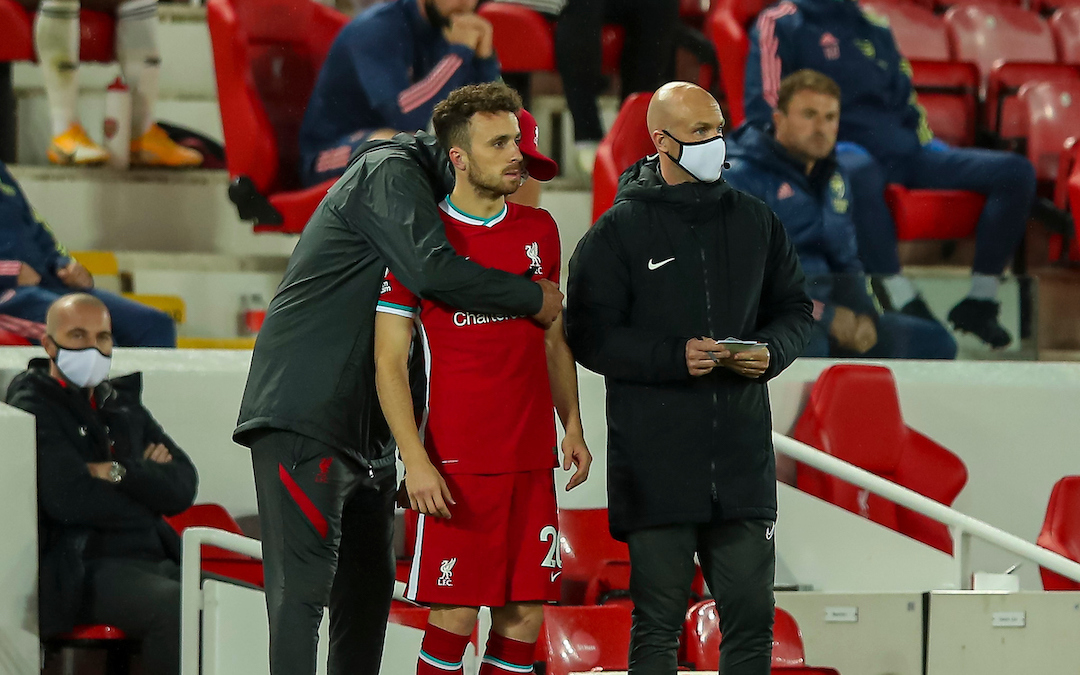 He got off to a flyer. He scored 12 goals for The Reds in all competitions, including that hat trick against Atalanta, and has looked the part in loads of different ways.
Since his injury against FC Midtjylland on December 9, The Reds have struggled to find that quality in both the rotation of the starting 11, and from the bench, with Origi and Minamino unable to provide the necessary quality needed.
It has been an absolute privilege to watch our established front three of Sadio, Bobby, and Mo Salah tear the arse out of defences this season, but for all their greatness it cannot go unnoticed that there have been recent dips in form for each of them.
Yes, we've been spoilt. The bar has been set high, and three or more games without a goal for any of the three is often accompanied by talks of 'd'ya reckon he needs a rest', or if you've got dickhead mates like mine, 'his head is in Madrid'. Fuck off, lad.
Let me be clear. Despite those droughts and dips our front three is majestic. They all contribute in different ways as well as grabbing the all-important goals.
More to my point, as well as this season being the maddest season you've seen, it has also seen Diogo Jota pose a solution to the maddest question we've been reluctant to ask ourselves: Can anyone play consistently with two of our current front three, with a view to being a long-term replacement?
The answer is yes. The answer is Jota.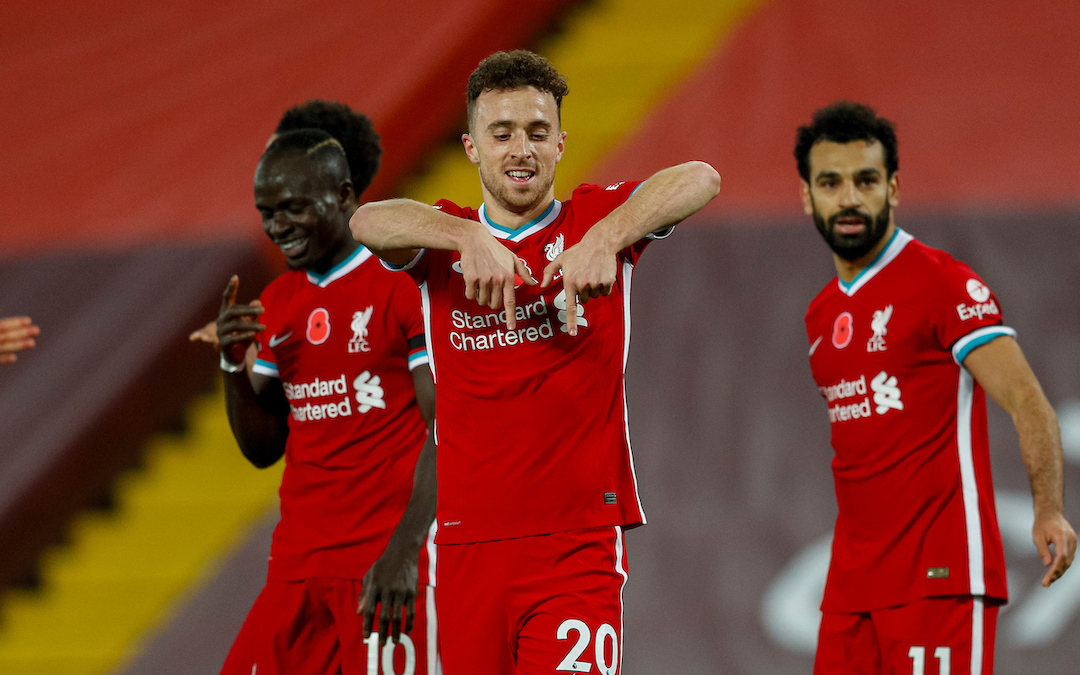 Jota has demonstrated that he can show consistent goalscoring form in this Liverpool system. Interestingly, he has shown he can do this in a number of all the front three positions. This speaks volumes of his footballing intelligence to be able to adapt in such a short period of time.
The idea of a front four is also exciting as much as it is frightening for the opposition. City away was an eye opener.
Since arriving he has provided the correct balance for different reasons. He has shown us fans that the almighty front three can be broken into, he has shown his team mates they can't afford to drop off, and he has shown the bench something we have all known for a long time – they haven't had the quality.
For too long have we looked down the M62 to the blue half of Manchester and marvelled at their options. It is great to finally have our own.
Any injury is a blow, and this season we haven't half had our fair share of bad luck. The patched-up defence has done well considering the situation, but with every passing game it resembles the fortitude of a toddler fighting sleep – you always feel it can give in.
With that in mind, Liverpool may increasingly find themselves needing to outscore the opposition; similar to the side of three or so years ago. In the light of a leaky defence, it might need to channel the heavy metal stuff.
The return of Jota cannot come soon enough. Recent results have seen The Reds fail to find the winner. Four points from games against Brighton, Fulham, West Brom, Newcastle and Southampton says all we need to know.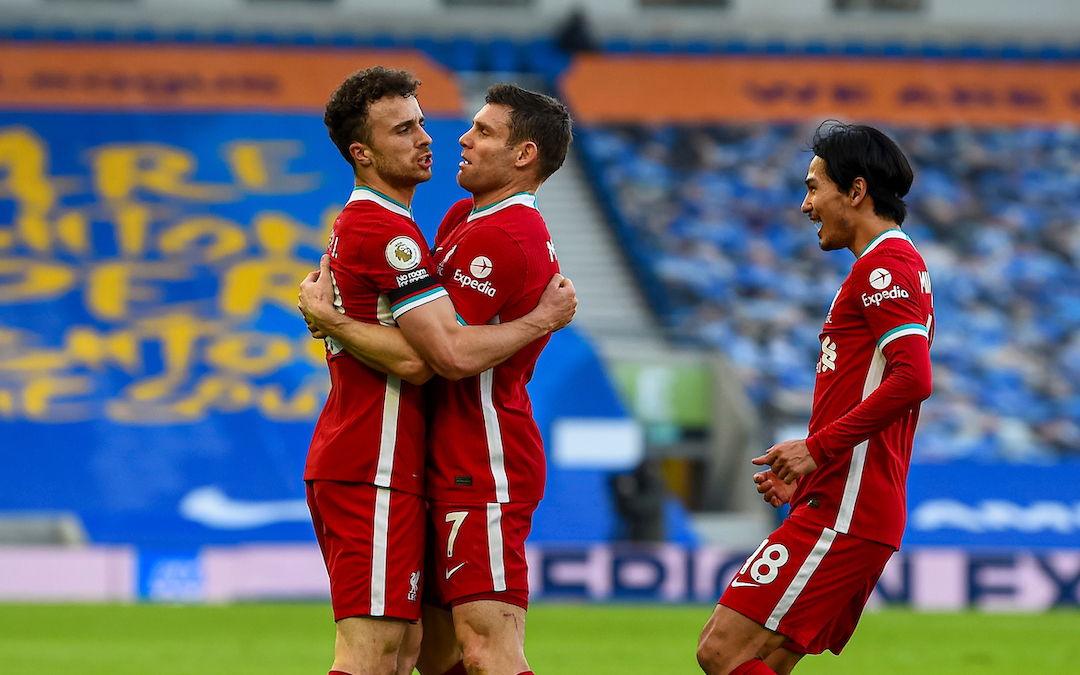 Recent news suggests that Jota is due to return sometime towards the end of January. The length of time out would suggest he will be eased back into action, meaning a timely return for a busy schedule which would include the return of the Champions League in February.
Jota's reappearance into the fold will be interesting for different reasons and will pose further questions which we can all look back on and hopefully laugh at ourselves…
'Reckon he will be the same player, lad?'
'What if it takes ages to settle back in?'
'Reckon Trent still hates him after that FIFA tourney?'
All of us will be hoping Jota can find the form we fell in love with when he returns. Lord knows we need it.
I want to be singing D-I-O-G-O for the rest of my days.
---
"It was weird in every way wasn't it? That it was going to be off and then it was on again."

"Weird that people were getting dropped off by their ma to play against The Reds!"

1️⃣ Download our app
2️⃣ Get FREE tokens
3️⃣ Watch The Post Match Pint

👉https://t.co/yTcwWTZN7t 👈 pic.twitter.com/zvXFaJJsLT

— The Anfield Wrap (@TheAnfieldWrap) January 9, 2021
Recent Posts: