David Segar writes that Andy Robertson's success in 2020 for Liverpool and Scotland appears to have had a huge impact on his approach and overall game…
IT really is quite infectious.
No, not that. Well, yes, that. But 'that' is not what I am referring to.
What I am talking about is not something that will ruin your Christmas just days before the event… Unless you're a Crystal Palace fan.
I am talking about the relentless beam of positive sunshine that emanates from Andrew Henry Robertson.
He was at it again on Saturday, being a world-class full back and doing it all with a big Scottish grin on his big Scottish face as Liverpool ran riot at Selhurst Park.
Robertson, along with many others, was sensational in the 7-0 demolition, including a fantastic assist for Roberto Firmino to make it 3-0 before the end of the first half.
When he's not larking around with James Milner and Trent Alexander-Arnold on Liverpool's social media channels, he's whipping in balls that demand to be put in the net. He is a man who would simultaneously be your first pick for five-a-side while also getting the first round in at the bar afterwards (in the before times when we could all do that, of course).
It is perhaps a good job that we haven't been able to be around one another much this year, or it is for me anyway. I would still be greeting everyone I pass in the hallway with a loud "Andy Lonergan!", as 'Robbo' did during the title celebrations in July when he greeted for former Reds goalkeeper by screaming his own name in his face.
It feels somewhat like shooting fish in a barrel writing words of praise about Robertson. He has, after all, been one of the world's best left backs for most of the three and a half years since his £8m arrival from Hull City.
He has noticeably hit top form in recent games, racking up the assists and helping Liverpool to climb back to the summit of English football despite a slightly rocky opening to the campaign.
He has also been a near ever present in a season in which players will surely need to manage their minutes, especially when almost all of his teammates have been picking up injuries.
Robertson has already played 1,743 minutes in all competitions according Transfermarkt.co.uk, including every minute of Liverpool's 14 league games so far.
Kostas Tsimikas was brought in to provide left-back cover for the first time since Alberto Moreno exited stage left on a hoverboard. It was meant to allow Robertson a chance to rest or to cover if he picked up a knock, but in a twist no-one saw coming, it is the Greek international who has spent most of the campaign on the treatment table.
Like Robertson when he first arrived, Tsimikas looks to have raw ability, but will need time and patience to develop into a well-rounded option capable of playing to the insanely high standards set by the man ahead of him in the pecking order.
In the meantime, the 26-year-old Scot is going from strength to strength. His performance at the weekend included another sublime assist for Firmino, his second for the Brazilian in a week, putting an inch-perfect ball into his teammate's path for Bobby to do the rest.
That made it 28 Premier League assists for Robertson since August 2018, the most of anyone. When told of this achievement post match, he said to the club website: "Obviously to get that number is incredible. I try my best in everything I do. I try to defend as well as I can but when I get in positions, I try to set the forward players up.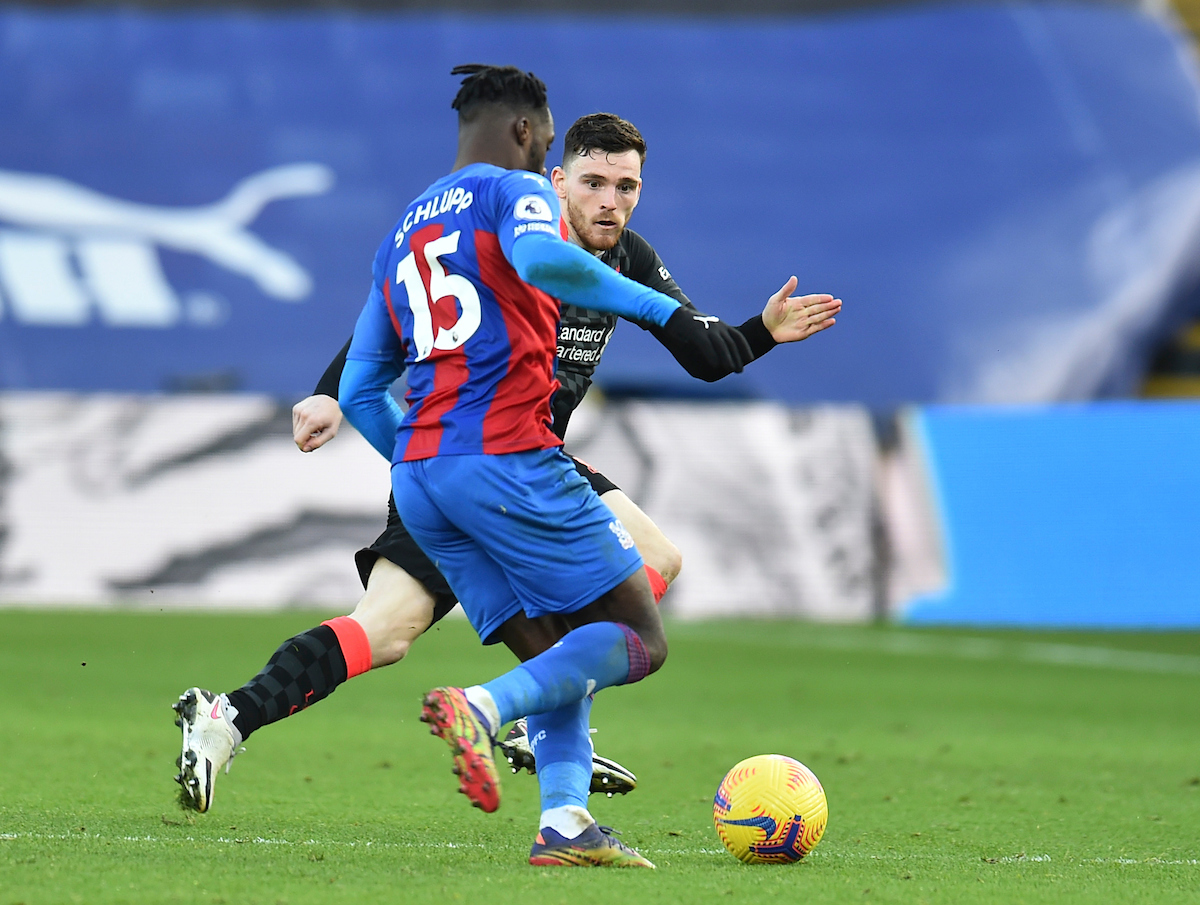 "Me and Trent have got the license to go and you try to provide as best as possible, especially when Bobby's ran 60 yards – you don't want him shouting at you!"
Can you imagine Bobby Firmino shouting at anyone? Kung-fu kicking them, maybe, but shouting?
It was Robertson's fifth assist of the season, and another from a pinpoint ball into the strikers. His corner against Tottenham for Firmino in the week begged to be dispatched, though arguably his finest assist of the season came in the 3-0 win against Leicester.
The ball he played in for Diogo Jota to head home that day would have had strikers across the world leaping out of their seats to head an imaginary ball such was its arcing aerial perfection.
The published author almost had another assist in the second half only for Sadio Mane to miss the chance created for him by the left back. Mane was then taken off for Mo Salah, with a reaction that suggested that the Senegalese attacker had triple captained himself in fantasy football.
That is the kind of passion that embodies this Liverpool side, though, whether people want to think that it's moodiness or not, it is a fire in the belly that sets them apart. We saw it with Robertson when he shoved the great Lionel Messi's head after the Argentine was dispossessed in the 2019 Champions League semi final at Anfield.
There are some, believe it or not, outside of Liverpool FC who do not like Robbo. He rubs them up the wrong way (not just Messi). It's difficult to see when he's on your team, but at the same time, he is clearly a 'zero flips given' kind of guy when it comes to pleasing anyone not on his side.
He certainly won't be making David Coote's Christmas card list after yelling "What's the point in having you?! Fuck me! Honestly!", at the Premier League referee following his performance in the 1-1 draw with Burnley last season. It was simultaneously disrespectful and accurate.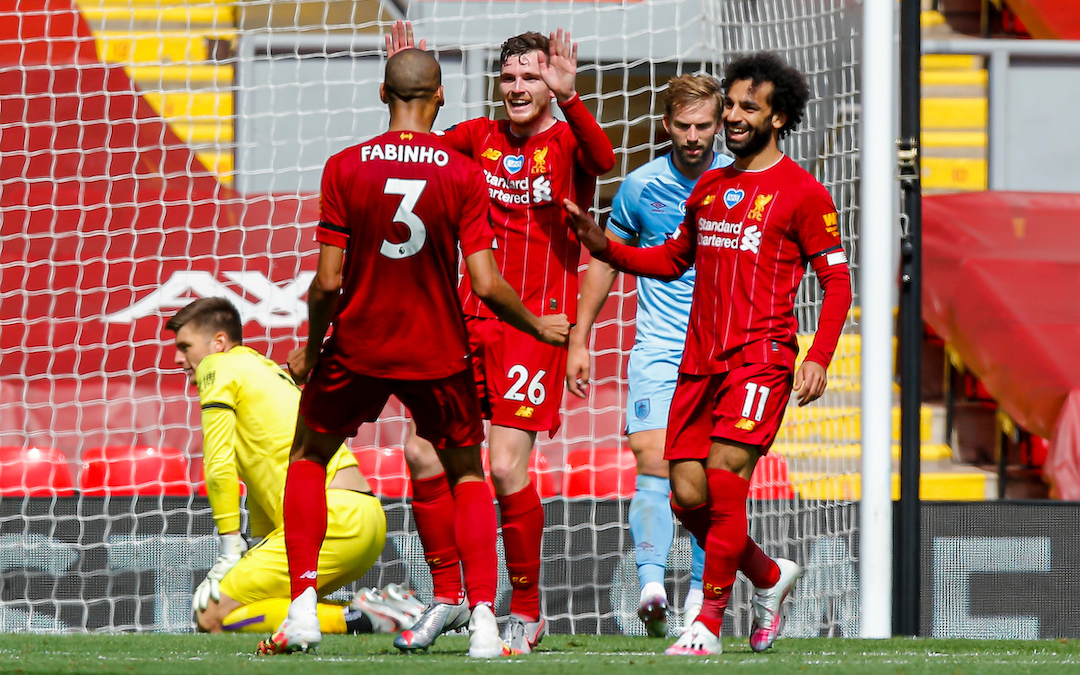 It has been a memorable year for all of us, for good reasons and bad, but Robertson will surely remember 2020 for the rest of his days.
As well as lifting the Premier League title for the first time, he then led Scotland as captain to qualification for a major competition. The first time they have managed such a feat since 1998.
The obvious pride on his face and in his voice that night seems to have sparked something else in him. His performance levels were already good, but it feels like he has turned things up to 11 since that night in Serbia.
He will need a break at some point, but until that day comes, this turbo version of Robertson will be a welcome option for Jürgen Klopp and will only help in Liverpool's efforts to pull away at the top of the league.
Any arl fella on The Kop will tell you that there is something right about a Scotsman being a major part of a successful Liverpool team.
Andy Robertson will undoubtedly be in the conversation in decades to come when people talk about the great Scots to wear the Liver bird on their chest.
For now, he can just provide the ammo for the front three and worry about nothing else, except possibly a stray shoe to the face from Bobby.
Merry Christmas, all.
---
🗣 Crystal Palace 0 Liverpool 7: The Review | #NewPodcast | #LFC @dan_morgan3 is joined by @Knox_Harrington, @Sean_Rogers and @StuWright78 to look in-depth at Liverpool's 7-0 win over Crystal Palace…

Subscribe 👉 https://t.co/cXuFmbDvp3
Listen 👇 https://t.co/4y56gQr2Vj pic.twitter.com/64aFKlbIrz

— The Anfield Wrap (@TheAnfieldWrap) December 20, 2020
Recent Posts: