As Sam Allardyce comes back round the Premier League manager carousel, Karl Coppack writes that it reaffirms that Liverpool struck gold with Jürgen Klopp…
FOOTBALL careers sometimes move in a circular motion.
Theo Walcott has returned to Southampton this season, Wayne Rooney went back to Everton for a second spell and Gareth Bale is back at Spurs on loan from Real Madrid.
This can happen at managerial level too. Howard Kendall managed Everton three times albeit with diminishing returns, Kenny was with us twice and Mourinho will probably be back at Chelsea one day if anyone's still talking to him. Those spells tend to be shorter ones come the end of their careers as they can seldom live up to the glory of their initial tenure.
Then there's Jimmy Sirrel. Ask your Dad. No! Ask your Grandad.
Trust me here, but Jimmy managed Notts County from 1969 to 1975, 1978 to 1982 and 1985 to 1987. Ten years in three spells.
I mention this because Sam Allardyce (I refuse to call him by his matey nickname) has just returned to West Brom. Yes, returned.
It's little known that he started his whole managerial shebang there, when in February 1989, he was invited to be a player-coach by then manager Brian Talbot.
He was knocking on a bit then having played at nine clubs including two spells at Bolton Wanderers and Preston North End and wanted to work behind the scenes. He looked after the reserves for a while before moving up to the role of first team coach. Both he and Talbot were sacked in January 1991 when the Baggies were knocked out of the FA Cup by non-league Woking.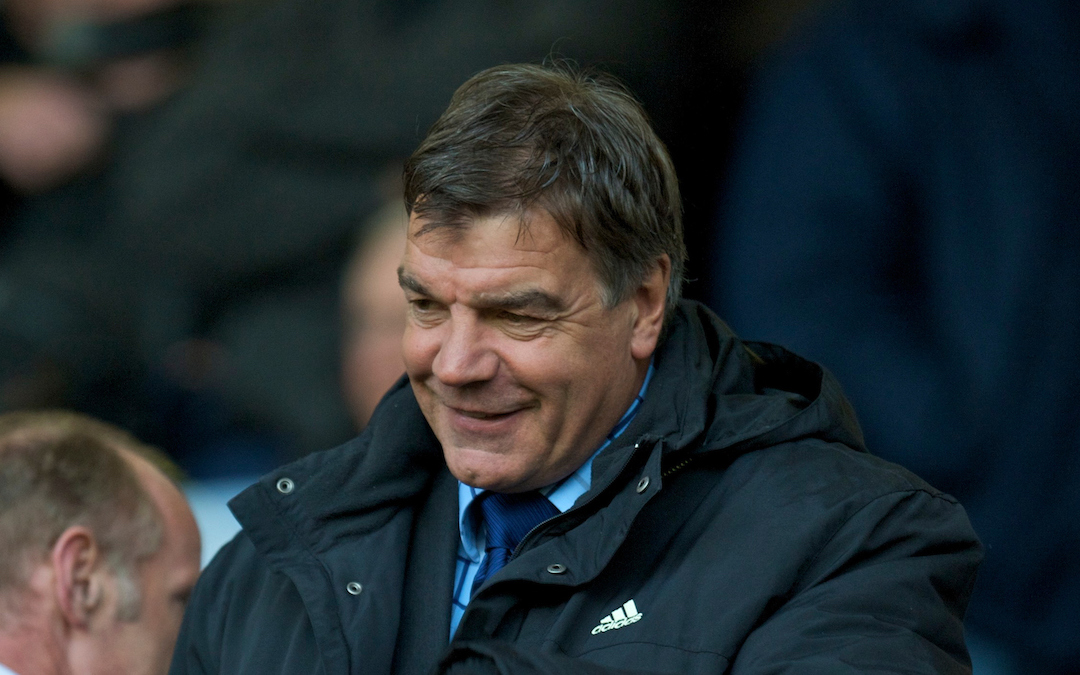 Fair enough, like.
But he's back there now. His 13th club including his one-game career with England. Ready to have his back patted by his entourage of media mates. They love a Samuel soundbite.
They love a story too and, of course, Allardyce is the last league manager to win a game at Anfield. Be prepared for a lot of 'wouldn't it be ironic if' stories, particularly given his time at Everton. The battle between the argumentative German and England's own no-nonsense clogger.
The media love a managerial story. At the weekend I was one of those 'highly irresponsible' people given eight hours' notice to move from Tier Four to the relative safety of Liverpool/Tier Two and sat through an awful lot of sports phone ins on the solo drive up. Don't worry. I've had a test since and I'm no danger to your families.
The airwaves shook with Arsenal fans pillorying Arteta and/or lamenting their treatment of Wenger who at least had them in the top half of the table. Each caller was egged on by the presenters in the name of content.
Politicians aside, there aren't many more walks of life where it's appropriate to demand someone lose their job.
I mean, imagine phoning into a radio station to demand the lad in a coffee shop be shown the door. It just wouldn't happen. You might be annoyed by the wait or him writing the wrong name on your cup thing (Carl usually. Or Mark), but you don't go on the radio and tell Robbie Savage all about it.
I suppose football exists in a bubble of its own, to use the parlance of our time. It's fine to insist on an entire backroom staff to be shown the door in the same way it's okay to shout at a 6ft5 defender from a terrace when you wouldn't do it outside.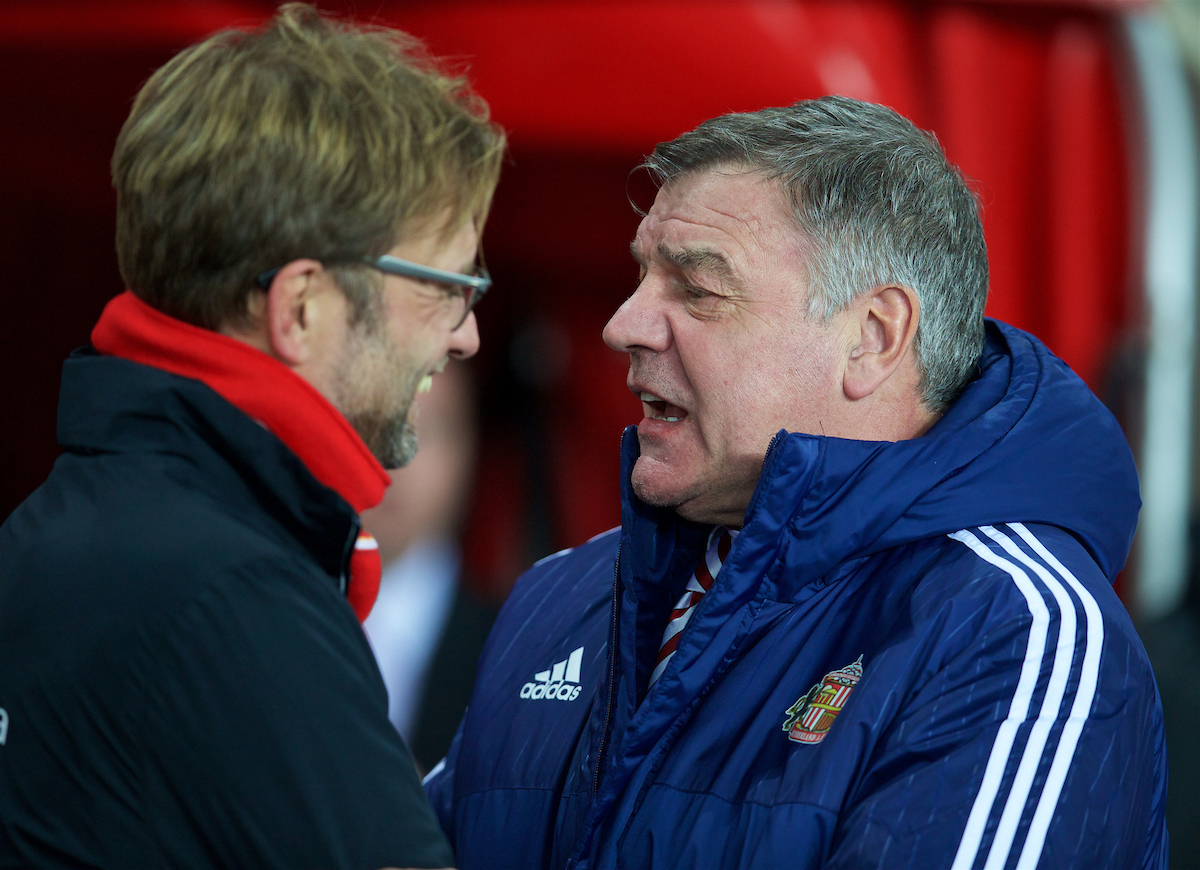 You can even bet on who's going next. Imagine doing that in any other walk of life. Odd.
I've just had a look and, as you'd expect, Arteta is the favourite to be given the pink slip followed by Chris Wilder, Solskjaer, Scott(ie) Parker and Steve Bruce. Guardiola is 50/1 which surprised me. The rank outsider, the 100/1 shot is…
Well, we've been lucky here.
I lost count at the amount of times that Rafa had definitely, definitely, definitely walked and I wanted his replacement out pretty much immediately. I had a huge meltdown when Kenny went and shouted in the street when I heard some people on this fledgling podcast called The Anfield Wrap advocated his dismissal. With Brendan Rodgers it was more of a case of 'when' rather than 'if'.
We don't have those conversations anymore. The only shout you'll hear about Jürgen going is from people worried that he'll walk if the owners won't give him any cash. It's never about his ability.
Obviously, those trophies help, but it's more than that. You need a manager who is synonymous with your club. Arsene Wenger would look ridiculous at any other club than Arsenal. Ferguson would never try his hand at Wolves. Jürgen Klopp just suits Liverpool. Ballsy, decent, occasionally fractious and just basically sound.
There's no kiss-arse factor in this. Any newcomer could praise the fans to the hilt and still be unpopular. My favourite Klopp moment is of him addressing the fans leaning over the side of the stand with their arms outstretched to slap palms with the players. This was at the start of the Covid crisis and the manager snarled: "Put your hands away, you fucking idiots."
I should point out that he said that to the adults, not the kids. I really like that he did that. Everyone is capable of bad decisions – I thought Charlie Adam would be a good signing – but that was particularly stupid and it was good to see him calling them out instead of hiding behind a PR screen.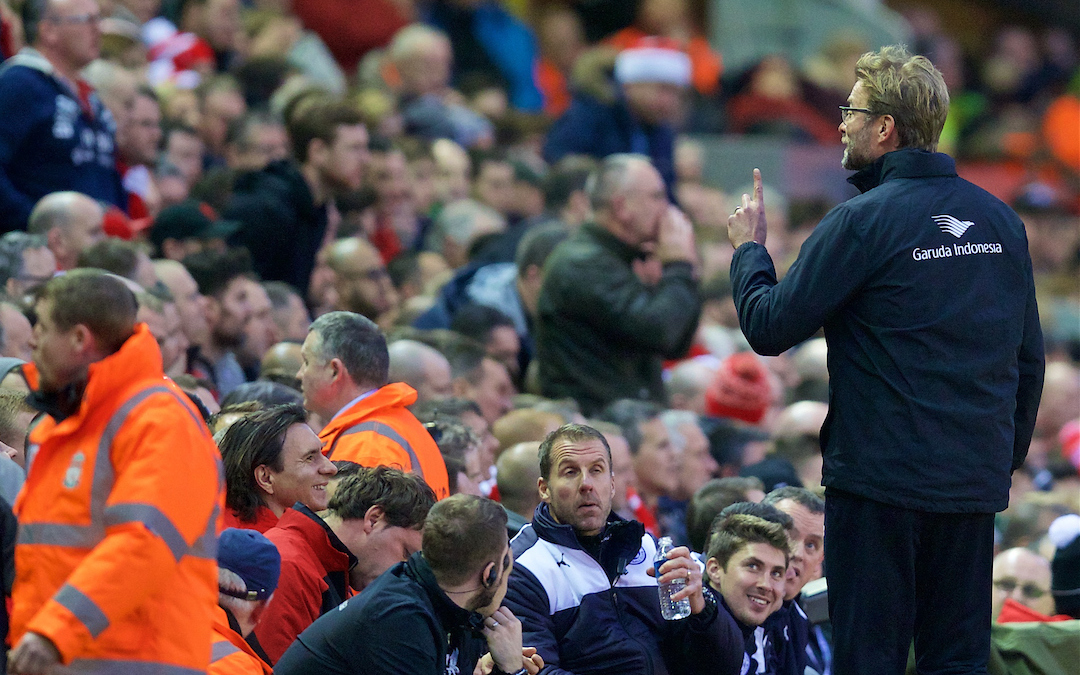 Is he perfect? Well, I'm not keen on him telling the stands to shout more – that's our job, not his. But these days it'd be nice for us to just have the opportunity for us to fall out over it.
He also likes Genesis. Don't @ me. You're wrong. Awful band.
More than anything though he's united the fanbase. That's no easy thing. Ten years ago, I would have said it was impossible. Some going, that.
We're lucky that we're not having to appoint managers who have been around the carousel more than once. How can you have an affinity to a club when you change your badge so often?
Allardyce is good at what he does, but his is a style which has flown in the face of fans who demand a passing game more than one of percentages. West Ham couldn't abide him.
We're fortunate to have someone who is not only in stride with the fans but likes to see the game played in the same way we do. That means so much.
Have a good Christmas or, if you're struggling, have the best one you possibly can.
---
Palace v Liverpool | The Team Talk

"You don't have to look further than Jurgen Klopp for a lesson in humility."@jsexton24, @Adam_Smith_82, @emiliabona & @HarrietEPrior react to the press conference and #TheBest awards.

📱Subscribe to listen 👇
https://t.co/oaOWcUzrlr pic.twitter.com/6R7X5ugRB1

— The Anfield Wrap (@TheAnfieldWrap) December 18, 2020
Recent Posts: