Neil Atkinson's post-match review after Liverpool's 0-0 draw with Newcastle United in the Premier League…
OH god, it is cold.
At one point the snow falls. There is something glorious about football in the icy cold – with fans – when the freezing weather means we all pack together clutching hot tea and more. We should be up there with them, handling this frustration together.
God, I missed you today and tonight. Missed the journey, pre and now post. Imagined the alternative dimension. I love the games around New Year. A bit easier to get tickets and a bit more chance of an adventure. Instead an absence.
And absence is what this game reminds us of. Had we been there screaming our heads off, could we have made a difference? Could we have give that lift, that extra 10 per cent of snap? Hard to say at St James' Park on a very cold night. The Newcastle United fans pride themselves on matching everyone in ferocity of support and maybe the whole thing cancels itself out.
Regardless, what I am really talking about here is the difficulties of COVID-19 and the unreal problems it has created for football.
Never mind the fact that the Premier League seem to be about as able as Johnson to get ahead of the consequences of the virus. Never mind the fact that everyone was so bothered trying to void last season that they never really thought through this season. Or maybe they madly just took the Tories at face value when they said our lives would be back to normal by Christmas.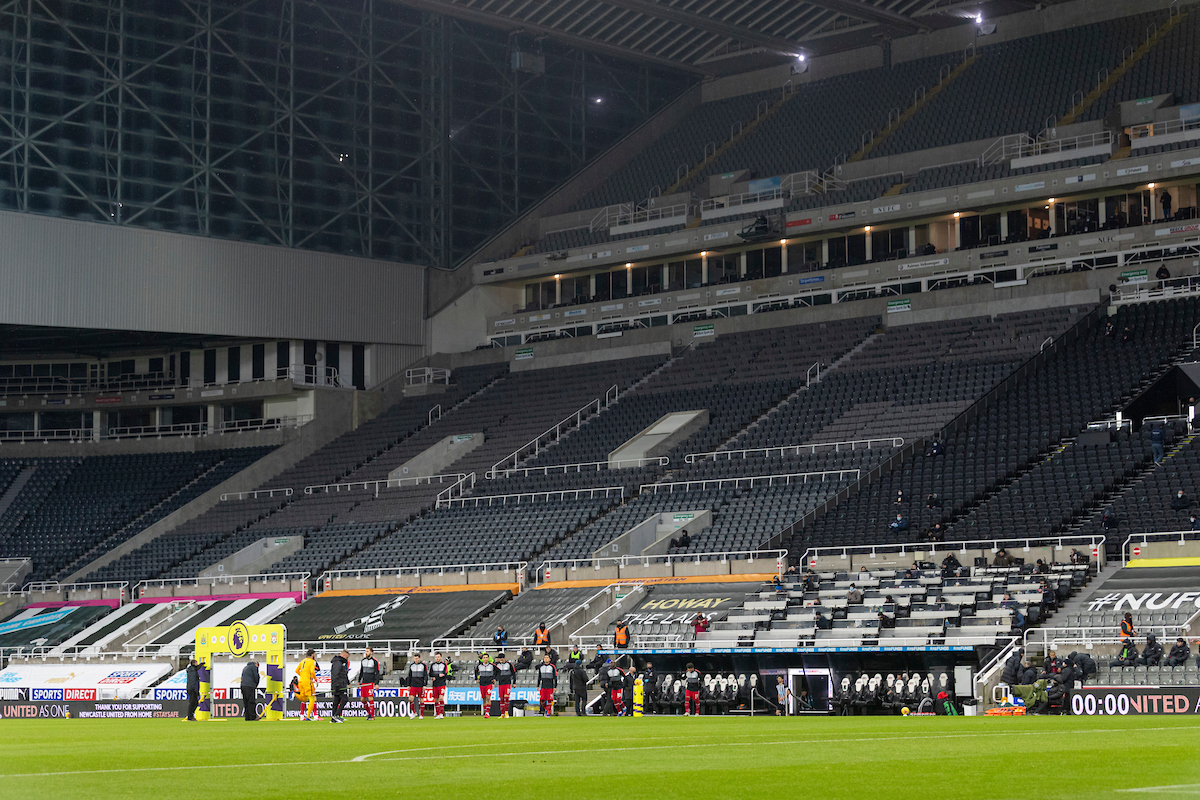 What actually matters is what the stop-start nature of 2020 has meant to teams. The crazy lack of pre season. The concertinaed nature of these games, some of which now cancelled with hours to go. It isn't great.
Nothing is quite right.
All of this is a framework that holds the frustration watching Liverpool tonight. Nowhere does it show more than upfront.
Sadio Mane's tension is in his face all game. His brilliance and supreme intelligence with the football should get us through. He should score tonight. The ball strikes him on the head awkwardly and he clutches his forehead at the unfairness of it all.
It is not really reasonable that Liverpool do not find the back of the net in this game. Roberto Firmino and Mohamed Salah miss obvious goals but not from want of trying. The second half sees balls nearly scrambled across lines so often that Newcastle have no real right to be 0-0.
Except that they do. Because the man of the match is the Newcastle goalie. Darlow has the game of his life defending the goal but it isn't just him. Both Fabian Schar and Federico Fernandez defend excellently. They scrap for everything, anticipate everything. They genuinely show a great deal through the game.
Still. No question, Liverpool passing is for the most part excellent. Yes Salah's touch is not as utterly perfect as normal but Trent Alexander-Arnold and Andy Robertson are key fulcrum players on either side that use the length and breadth and flow of their courageous passing to stretch Newcastle from side to side. We look bunched up in the middle at times but the full backs are like a metronome keeping up the pace.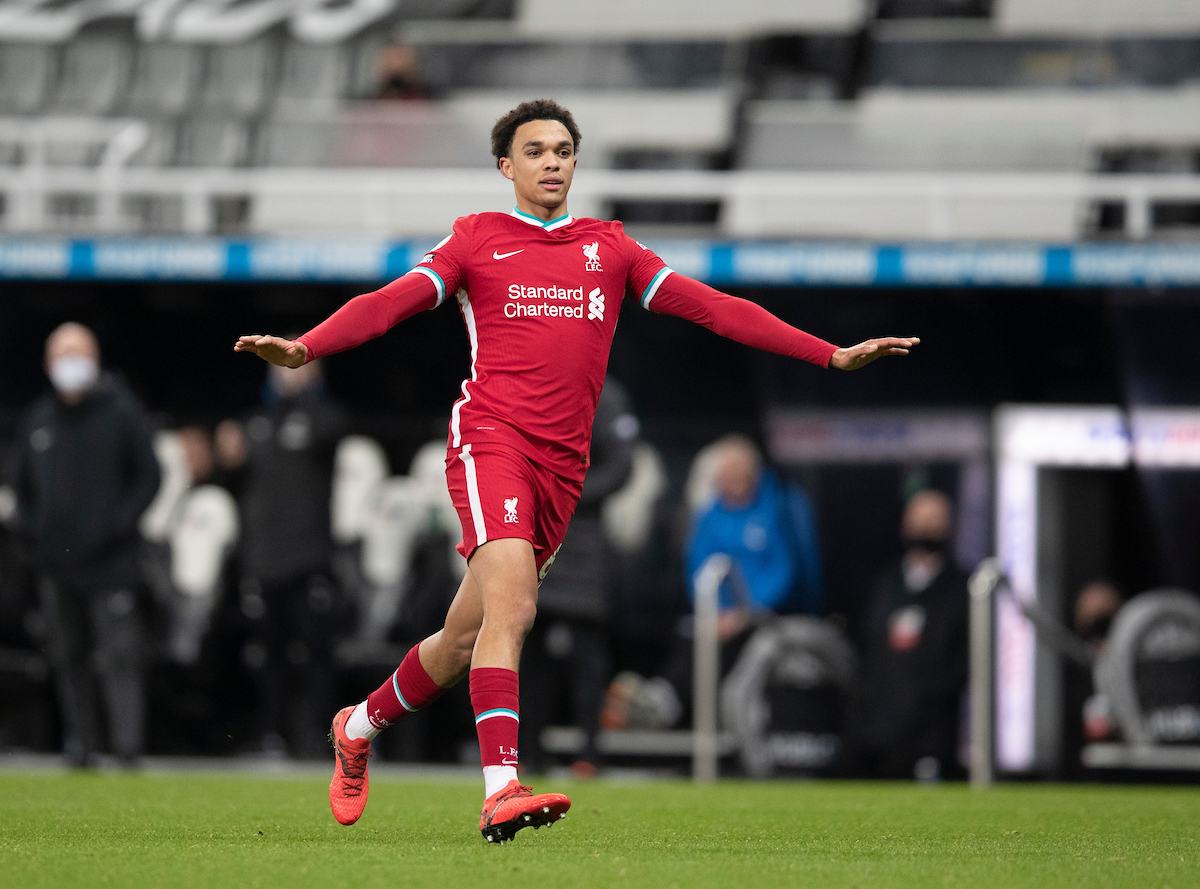 Since Van Dijk's injury, on their best days, power switches from the centre backs to the left-back and right-back pillars, and the weight of the team shifts accordingly.
There is a problem, though. Currently the centre of Liverpool's defence is weakened in both directions. They are more ponderous and the midfield more ponderous with them. Curt Jones looks a lad with his head wrecked and Jordan Henderson isn't that far behind.
Thiago Alcantara's cameo is a suggestion as to how things could be different and fast. Fast being the operative word. One of his early passes is a diagonal into Gini Wijnaldum which opens the whole final third up immediately. He is a shining light when others just seem a tiny bit snuffed.
In general though, it is harsh. Liverpool are in so many different ways on the verge. But not quite over the line.
It should all work. It should. That there are no goals tonight may just be the luck of the draw. It feels more meaningful, though. It feels like a message. We're going back into Tier Three, no more lucky ticket 2,000 fans at Anfield, and no goals tonight.
We hope, we hope, we hope with everything that we have got that 2021 can see the resolution of this grim virus. And it's miserable impact on football.
Even if you don't much trust the Premier League – and god knows there is a core issue that the Premier League clubs don't trust each other – and the Tories are a brutal joke, the scientists work on. They forge on and find a way, even if there are frustrations legion. Like Liverpool FC, you might say.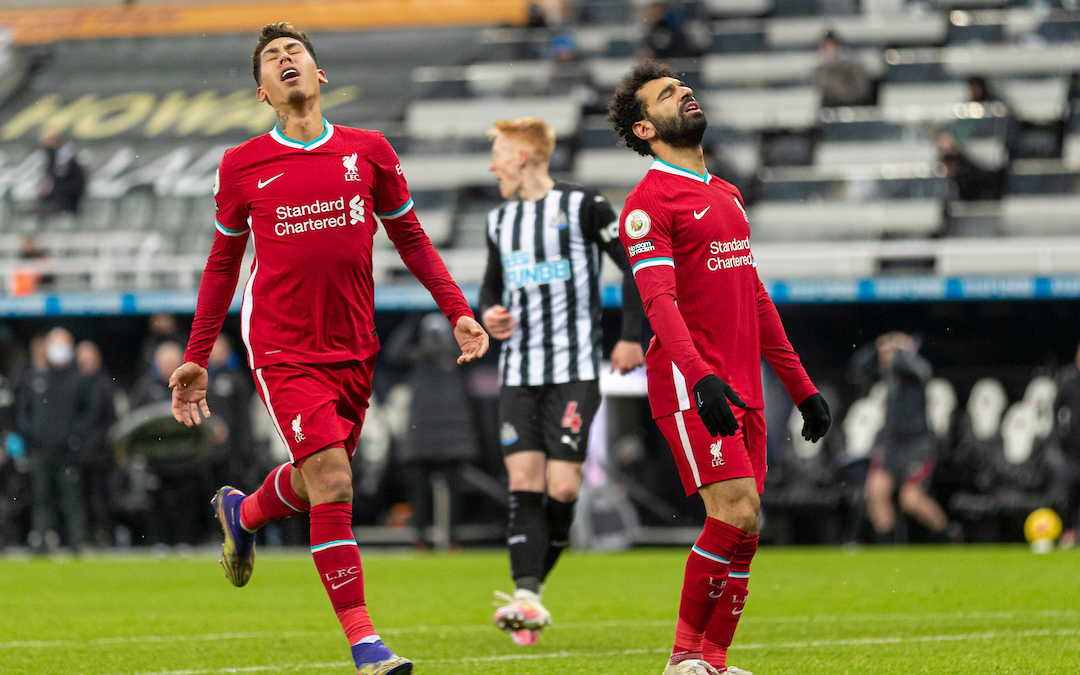 They find a new way. And now so must we. For two seasons we have put in unbelievable runs and points hauls. This isn't that. This is a scrap day by day, week by week.
I don't give a fuck how many points it takes to be top at year end. I don't give a fuck what the PPG is. I don't give a fuck about anything but Liverpool remaining top of the pile till May, whatever May looks like.
We scrap again against Southampton on Monday. But we may well need to win and to win we will need that bit more snap.
I wish I was preparing a trip to Southampton. I wish we could be there with them. Reminding them we are there for the scrap with them. They were frustrating tonight but what isn't these days.
They, themselves, the front three, the gaffer, the captain, remain our boys. You dance with the ones that brought you.
How I wish we could dance.
---
"All these draws mean that so many other sides are becoming Liverpool's business, even though they shouldn't be. They aren't convincing leaders at the minute and tonight has to be a starting point for something."

Get subscribed for Newcastle reaction 👇https://t.co/oaOWcUzrlr pic.twitter.com/r8EvrJnIGM

— The Anfield Wrap (@TheAnfieldWrap) December 30, 2020
Recent Posts: