Takumi Minamino hasn't been the player most expected him to be at Liverpool, but Dan Morgan writes that our expectations of his role may have been wrong…
JÜRGEN Klopp again defied the masses this week.
To some he's a hypocrite, a man who professes to act with the welfare of players at heart, but then contradicts himself in a Danish dead-rubber in the next breath.
The point is that he doesn't have to engage in what others think, and gladly he doesn't. Just because he wants five substitutes doesn't mean he has to make five a game when he has the chance.
It doesn't mean that he has to rest Mohamed Salah and Fabinho. Squad management stretches beyond the confines of the first XI after all, it's in the name.
Liverpool and Klopp have as much a responsibility to players 19 and 20 to 10 and 11. On The Review Podcast after the game midweek, we spoke about how every player will have prepared for FC Midtjylland to play some part.
That means that Sadio Mane, Andy Robertson and Jordan Henderson were all set for the minutes they played. They were prepared and therefore they contributed to what, in the end, was a result which altered nothing in terms of fate but potentially plenty for morale and momentum.
For all of the attention given to the appearances of Leighton Clarkson and Billy Koumetio, there was just as much intrigue around a player like Takumi Minamino, who's place in this Liverpool squad becomes an ever-increasing odyssey with each passing game.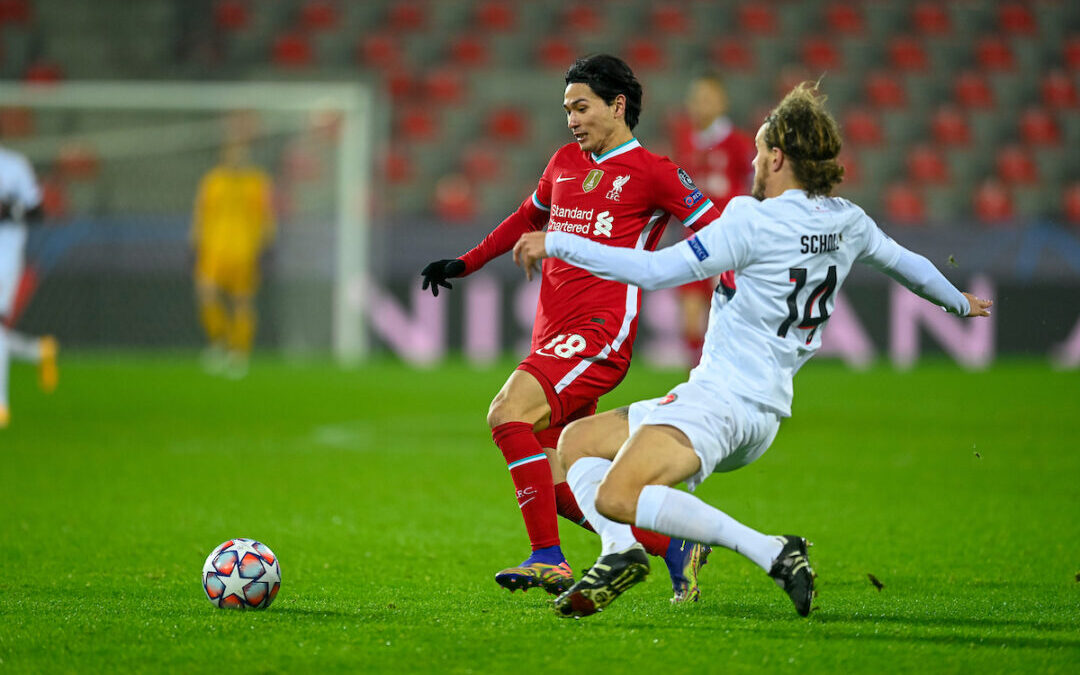 Minamino is a player who was brought in and immediately labelled a bargain for the club. He was immediately earmarked as a Michael Edwards' masterstroke despite many seeing him for only one game, even if it was one of his best.
Right now Minamino is, in many senses, living up to the reality of what he was; a £7m purchase from the Austrian league. People reading that line will immediately be set on the back foot and feel the need to defend him, but there isn't always a need to.
The reason being that, given what Liverpool paid, it might be completely fine for him to be a decent squad option for Liverpool and nothing else. It's ultimately what Xherdan Shaqiri has been, in fact he's arguably been more effective.
Minamino still has to improve. He still has to find ways in which to get better at changing his body shape and finding space if he is to qualify in the role of squad player. There is no doubt the talent is there. But to be Liverpool's 18th best player in this squad requires a label of 'above average'.
Most Liverpool games now tell a story. Whether that's the growing importance of Curtis Jones, a resilience to conceding goals or an injury to a key player, there is a growing sense of responsibility around this squad for everyone involved in what has been a testing period for Klopp's team.
That responsibility will no doubt need to fall on different players at different times. Regardless of places in the pecking order, Minamino and others will continue to play a vital role in the squad this season.
They have to ensure they're ready when that moment comes.
---
"Every substitution made us stronger, which is mad. You're looking at it thinking 'He'll take Trent and Salah off soon. Oh, he's taking Divock off? Sound haha.'"

📱 Subscribe for all the best immediate video and audio reaction to Midtjylland 👉 https://t.co/oaOWcUzrlr pic.twitter.com/5IKcFqkD9n

— The Anfield Wrap (@TheAnfieldWrap) December 9, 2020
Recent Posts: