Neil Atkinson's post-match review after Liverpool's 1-0 win against Ajax in the Champions League…
A JOB done.
There isn't relief as such. Relief would have come had we been needing something from the sixth game. And there isn't awe either. That would have come had we boxed it last week. There is just deep satisfaction.
Doing this mad job I do – that I am lucky to do, I hasten to add – it means you think about football a lot and have to put, at times, into words concepts that are felt more than explained and one of my go to instincts has become this: any season you have something to play for in April is a good season.
This season that truism is doubly, triply true. Because on this day, when some found out if they will be at Anfield on Sunday, what we can say is that possibly, just possibly, having something to play for in April will have a full ground watching it, wherever it may be.
I keep honing in on that message being simple but it is also a burdensome message. Keep it alive until we get to see them, footballers. Keep it alive until they get back. There is enough going on in everyone's lives, in the lives of the footballers without adding that, in one sense.
But, in another, it is true.
This week, as Andy Robertson spoke about football supporters and VAR, one of the things that it reminded me of was how they think of us. There was a piece in The Athletic today around injuries which mentioned players taking more caffeine supplements to make up for empty stadia. They miss us like we miss them.
If things go as we hope then possibly we get that big night altogether at some point in any of February, March or April and, if so and god willing, May. Because a season that is still alive in April is good. One alive in May is splendid.
Liverpool confirmed that we will have February no matter what, not with a flourish but with a grind. When we beat Atalanta 0-5, Diogo Jota pinned back the ears of Europe with his performance, with his hat trick. It isn't as dramatic but tonight Curtis Jones should have done likewise with his showing. He has made it crystal clear he now belongs in this company and he hasn't yet turned 20.
He should have done better with his early effort. He did brilliantly to hit the post. He then finished with a minimum of fuss from the acute angle. In the gaps in between all this he was a key cog in the Liverpool midfield. Had an Ajax midfielder turned up and offered that we'd be listening to endless conversations about the conveyor belt of talent at their disposal.
I don't mean that meanly. Ajax are an excellent club with an excellent setup. They also played really bravely this evening and deserve credit for that. But Curtis Jones is at Liverpool. And if you can make it there, you can make it anywhere.
Neco Williams does so well given everything. The quality of his opponent, his own recent performances, the general noise around him. In fact, he does so well there is no given everything. He just plays very well indeed on the night. Having Joel Matip to his left was good news. Joel's stepping up to the task marvellously. He'll see The Reds right.
Caoimhin Kelleher has a big night. He'll have more of them. It seems strange to say it but he is a goalkeeper brought in to be able to pass it 35 yards. Tonight he made the saves he had to and helped Liverpool beat a remarkably aggressive Ajax press. I hope he starts in the absence of Alisson Becker against Wolves, but in part I wouldn't be surprised at this stage to see Adrian back in for that. We have to see.
In the middle of the park Jordan Henderson and Gini Wijnaldum were marvellous. There's wear and tear on Gini. I'd be happy to only see him twice more in Advent. A big showing Sunday, a big showing against Tottenham Hotspur and then a chance to rest up. We shall have to see on that, it involves others getting back.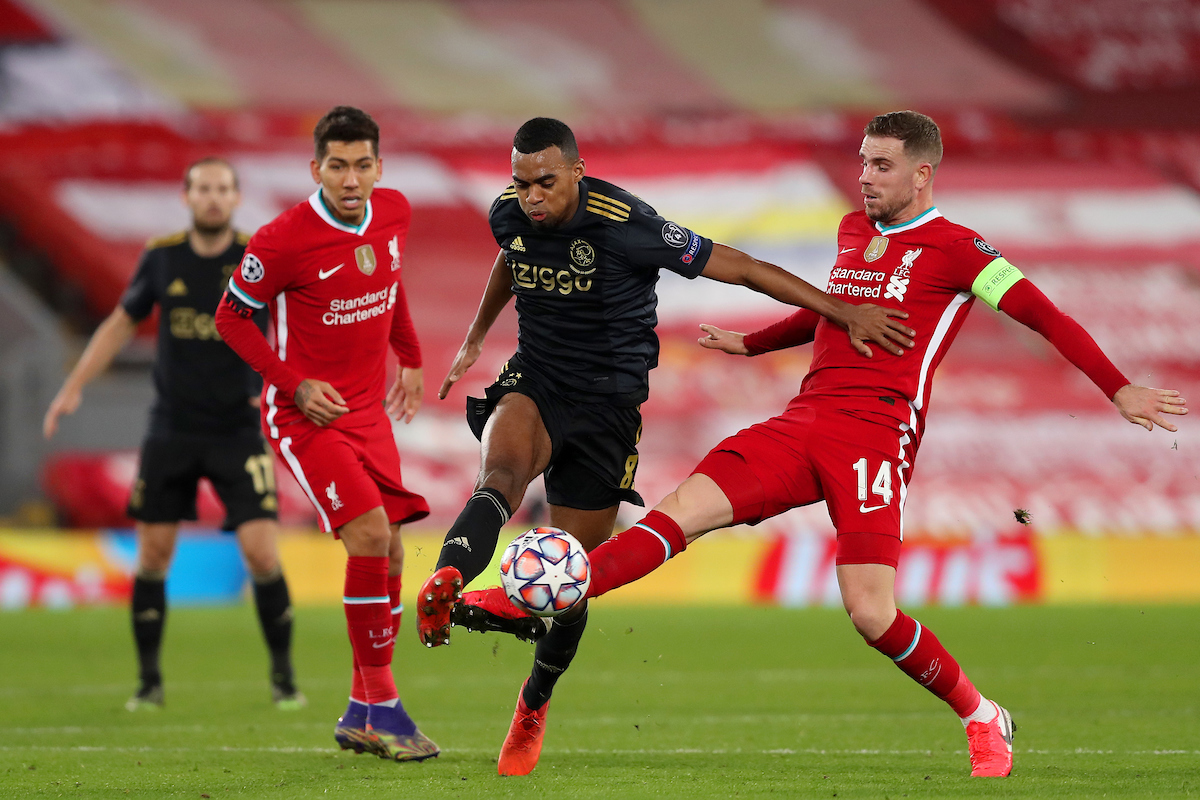 If this is to prove his final Liverpool season, he will finish it having given everything. He'll finish it as one of the greats. If we have something to play for in April it will because he never stopped standing up as autumn turned to winter.
The captain loves standing up too, but he may need to go further again, perhaps further than ever before. He needs to take that burden now. Between now and when this competition next counts, we have 14 league games minimum by my calculation. We need Jordan Henderson to start at least 12 of them.
We need a bit more from the forwards. Quietly Sadio Mane and Mo Salah look to be lacking a tiny bit in confidence. It seems strange to say but both are brilliant at getting Liverpool to the edge of the area. After that, things aren't quite right.
No matter tonight. Tonight is sorted. But by Sunday it would be lovely to see both back razor sharp.
Tonight opens up February. Dare to dream. And if you are Curtis Jones in particular, dream big. Because if you are Curtis Jones you have February. You have March. There are many Aprils in your future and, dare I say it, there will be some gathering to be done in May across your career.
That process may well start in earnest in 2021.
---
"That's exactly what Liverpool needed. It gives us a bit of respite and it was a really good performance against a strong side."

"Ajax were really good but we found a way to win."

📱 Subscribe for all of our reaction to topping the group 👉 https://t.co/oaOWcUzrlr pic.twitter.com/4dU4SHgunC

— The Anfield Wrap (@TheAnfieldWrap) December 1, 2020
Recent Posts: