Despite romping to the league title last season, Karl Coppack argues that the circumstances this season make another procession an uphill task for Liverpool…
IN December 1965, The Beatles released their sixth studio album, 'Rubber Soul'.
It was more introspective than their previous work, with songs like 'Norwegian Wood' and 'In My Life' pointing at a new direction. The public loved it, but it made one man in California uneasy.
Brian Wilson of the Beach Boys loved The Beatles. Loved them. But he also knew a benchmark when he saw it. Like the Fab Four, his band were adept at knocking out three-minute classics, but he knew times were changing and that he had to keep up with the lads.
The following year saw the release of another Beatles album – 'Revolver'. Even if you don't know it, you'll know some of it. 'Eleanor Rigby', 'Tomorrow Never Knows', 'Got to Get You Into My Life'. Yeah, pretty good.
Wilson drove to his studio and started work on their next album 'Pet Sounds'. It included 'God Only Knows', Paul McCartney's favourite song of all time and no matter if you're a fan of his or not, you'd have to admit that he knows a bit about songs. Credit where it's due. 'Pet Sounds' is a masterpiece.
Brian had matched his mates across the pond, but he was still a bit nervous. What would they do next? He had to be prepared and started work on his project 'Smile' almost immediately. It was a bit 'out there' but that was the way music was going.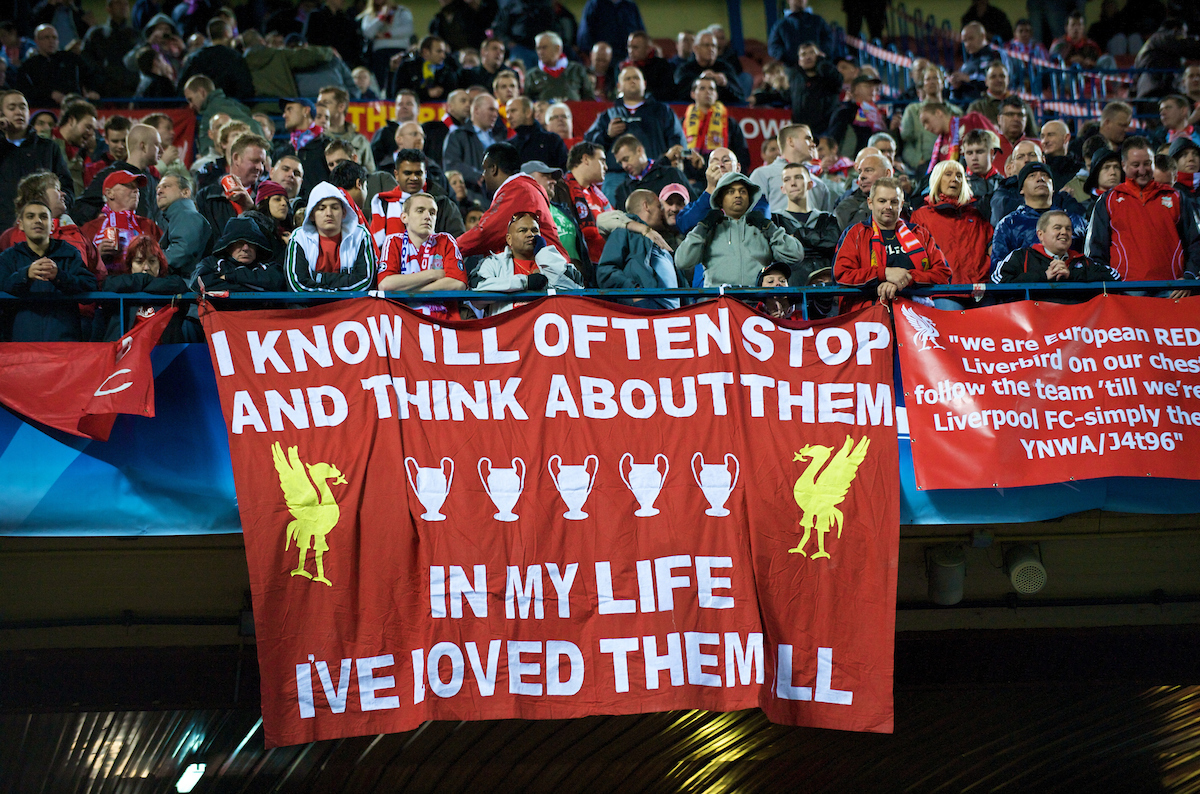 Then one day he was driving when 'Strawberry Fields Forever' came on the radio. He stopped the car and cried. They'd beaten him to it and he couldn't match that. A few months later, McCartney played him an acetate of 'A Day in the Life' from 'Sgt. Pepper'. Brian lost it big style.
That can happen. People lose it big style if the new edition isn't as good as the one before it. People lost it big style after the Fulham game on Sunday because Liverpool can't compete with the Sgt Pepper of last season.
A lot of that stemmed from frustration and maybe the fact that Jamie Carragher was making out that Fulham were the Champions elect or something. It was a pig of a game. Two bald men fighting over a comb, two spent swimmers clinging together to stay alive or whatever. It was a battle to see who could stay awake the longer.
Liverpool deserved nothing and came back with a point thanks to a stupid handball rule. I mean, how that's supposed to show intent is beyond me. The lad was just trying to make sure Gini didn't take his head off but that the rules these days. Still, a point is a point.
The fallout was predictable with some talk of the Champions binning Naby, Ox and Shaqiri etc, for the crime of being injured. It all got a bit embarrassing and sulky. I suppose Joel Matip should be on that list now.
Of course it's frustrating, particularly when we had a chance to go two points clear, but it's a miracle we're in the running at all given the injuries. I get that expectation is high, but we have to recalibrate a little. We've a ton of injuries and playing a game every 10 minutes. The first team is held together by Blu-Tack as it is, so it's little wonder we're not taking the league by storm.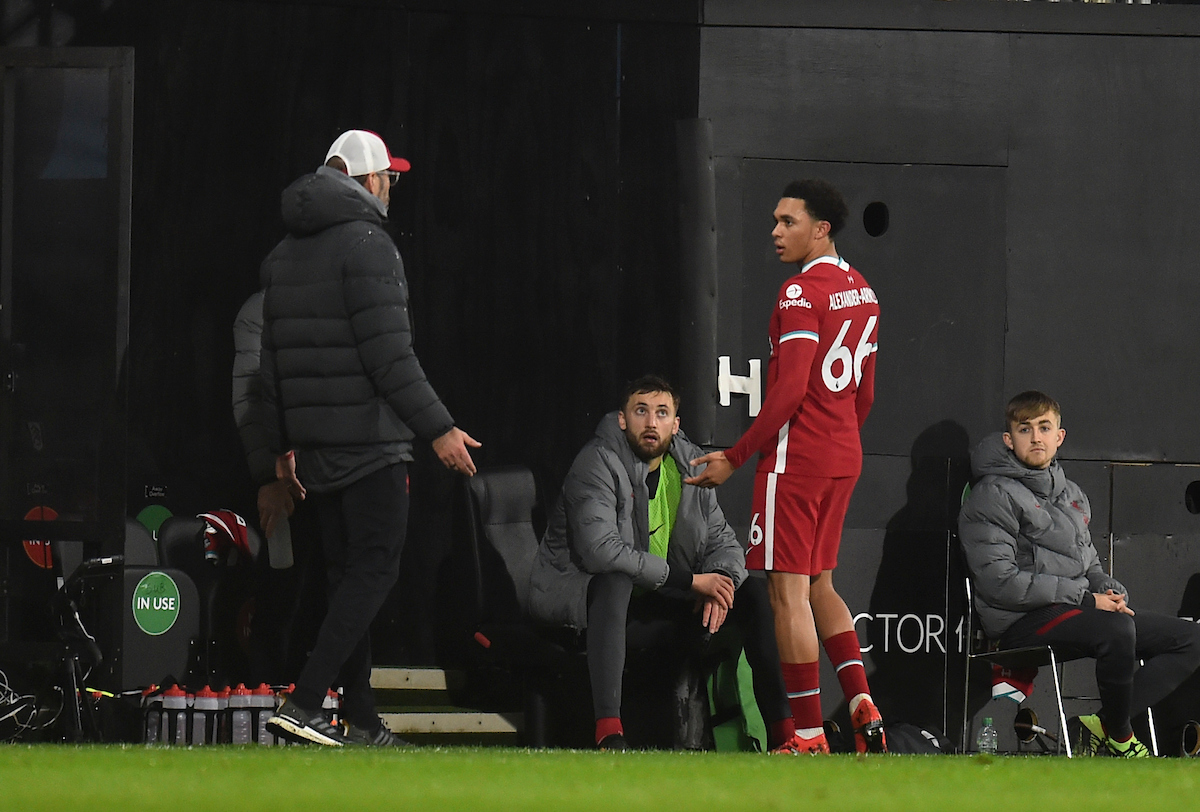 You can't judge this season on the last. This one is completely different. This is the most unusual campaign in the league's history. Nothing makes sense.
I've gone from not knowing anything about Rhys Williams to praying he gets an early night and stays away from all physical activity. Seriously, if I see one pic of him pulling a Christmas cracker and I'll be outside his house with a loudhailer. A quiet one, of course.
It's an even playing field this time and not the procession it was last term. There are going to be numerous league leaders between now and the end of the season and it seems likely that nothing will be decided until much later in the campaign. There may not even be a definite shape till about March.
Look at Arsenal. In the most inconsistent of seasons, The Gunners have decided to set their course by being the worst example of themselves in two decades. Even when they were average in the past, they weren't this bad.
They're just 12 points from the top of the table. Twelve points before Christmas is nothing. OK, they won't win the league, but a top-four finish is still not beyond them.
This toing and froing would ordinarily make for an exciting season, but it's been dire. The football has been awful. For the first time in a long time, I was in no hurry to turn the telly back to our game for the second half last week.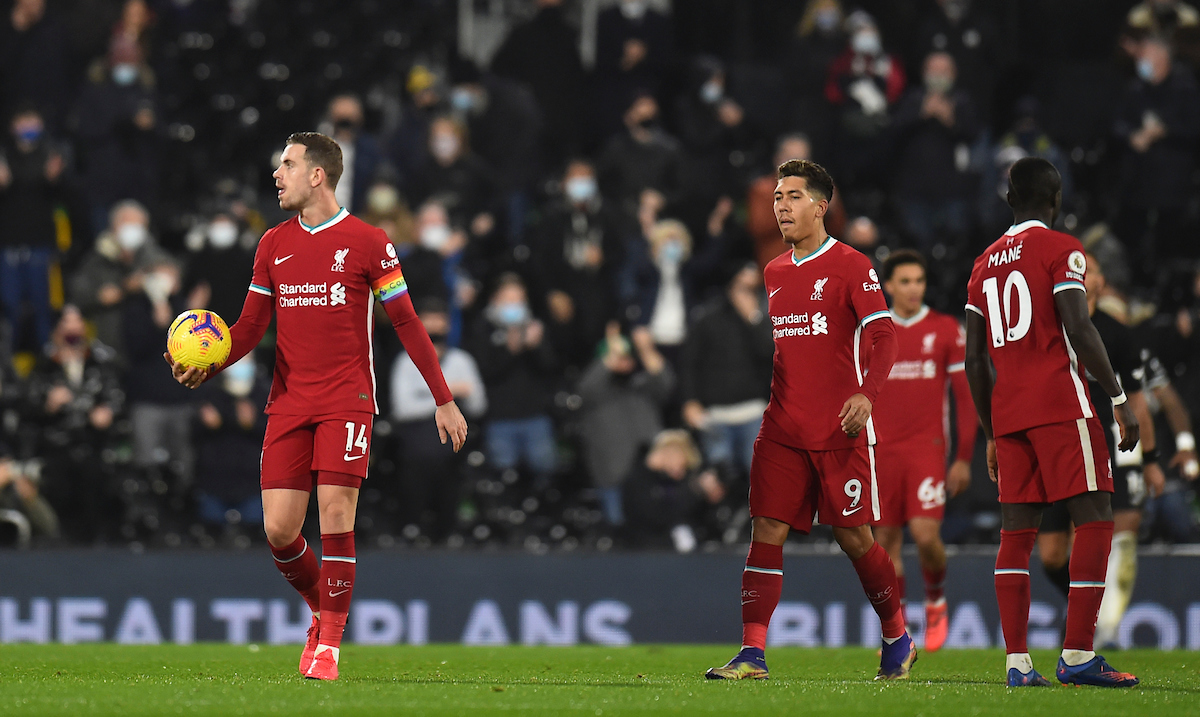 That's no one's fault other than the current world situation. If we're cramming in so many games into such a short timeframe then the quality will suffer. It's clear that the players are keeping an eye on their fitness just so they can play the next match rather than extend themselves. That's a league-wide observation, not just The Reds.
Well, if that's how it is, we must be the best at it. Graeme Souness once said of the 1970s side that we could play when we needed to and we could fight and dog it out too. This season looks like being more of a car park scrap than an exhibition of Europe's best league.
Jürgen's Reds will have to get their shirts dirtier than usual and we'll have to do better with less. Not easy, of course, but we can all be behind him instead of sulkily shouting at Joel Matip's back muscles.
The Beatles followed Sgt Pepper with the 'Magical Mystery Tour' EP that had a bit of filler on it, to be honest. I've never liked the cute schmaltz of 'Your Mother Should Know'.
Liverpool will have to rely on more filler than killer this time if we're going to get through to May with a chance of retaining the League.
I believe they can do that and so can we as fans. It just won't be as pretty this time.
---
It's our comfort zone, our happy place. The maker of so many special memories…

Let's do it together, even while we're apart.

Subscribe to TAW Premium as Liverpool look to go top https://t.co/oaOWcUzrlr pic.twitter.com/8NPj1PFEZG

— The Anfield Wrap (@TheAnfieldWrap) December 16, 2020
Recent Posts: