While Liverpool deserve plaudits for doing us proud on the pitch, Josh Sexton writes that Jordan Henderson deserves his recognition for doing the club proud off it…
LIVERPOOL just can't stop bringing trophies back to Anfield.
While we've become so accustomed to seeing our players and coaches rewarded for their efforts on the pitch, there's an extra feeling of pride when those efforts transcend the football bubble.
That was the overriding emotion for me, and I'm sure many other Reds, when seeing Jürgen Klopp and Jordan Henderson take to the stage at the BBC Sports Personality Of The Year awards last night, with The Reds taking home the Team Of The Year award and Klopp also recognised as the Coach Of The Year.
And it was close to being a clean sweep, but Lewis Hamilton just pipped Jordan Henderson to the grand prize of being named as the BBC's Sports Personality Of The Year.
People can dispute whether or not Hamilton deserved it, and will no doubt make the same inaccurate jokes people have made about Andy Murray and the idea of being a 'personality' down the years, but The Anfield Wrap's Dan Austin put it best for me as he tweeted:
"Lewis Hamilton spent this year convincing a backwards industry filled almost exclusively with incredibly wealthy, powerful white people that black people's lives should matter. A working-class black lad making a social difference and making racists fume is to be supported."
I've always found it hard to discern whether the award is as much about impact outside of sport as much as achievements within it, but let's make no mistake that our captain deserved recognition on both those fronts, and the fact he became the first footballer to finish in the top two this decade has to stand for something.
On a personal level, I'd like to say thank you to everyone who took the time to vote for me – I'm very humbled by it. My congratulations to @LewisHamilton, he's a deserved winner 🏆 pic.twitter.com/T9qwWfn28S

— Jordan Henderson (@JHenderson) December 20, 2020
On the pitch, Jordan Henderson has the perfect story arc; the unlikely lad from the north-east of England who has proven the doubters wrong to reach the pinnacle of world football.
We all know about the insult and injury Henderson has faced and fought during his time at Anfield, and this excellent piece from Simon Hughes in The Athletic shows that it's something Henderson has had to overcome from early in his career.
But the one thing that stands out from that article, from his actions as Liverpool captain and in the small print of his Sports Personality Of The Year nomination, is the character that he displays off the pitch.
Henderson has always been quick to credit others, insisting that any personal accolades awarded to him are in fact the product of the support of his teammates and coaches, but that humility is something that was clearly part of his personality from a young age.
He's mentioned in the past that his father Brian, who worked as a policeman, was the one who encouraged the discipline which made him the man he is today and ensured Jordan stayed on the straight and narrow as a child, but Simon's article also shows just how often he arrived at a crossroads in his early career and independently chose the right path.
That takes a lot of sacrifice for a young man, and it is full credit to Henderson and his mentality that never lost sight of the ultimate goal.
His determination to reach that goal even managed to impress the stone-faced Roy Keane as his former boss at Sunderland, and in the aftermath of lifting Liverpool's sixth European Cup, his dad noted that as a youngster he had promised he would one day play in a Champions League final and there he was…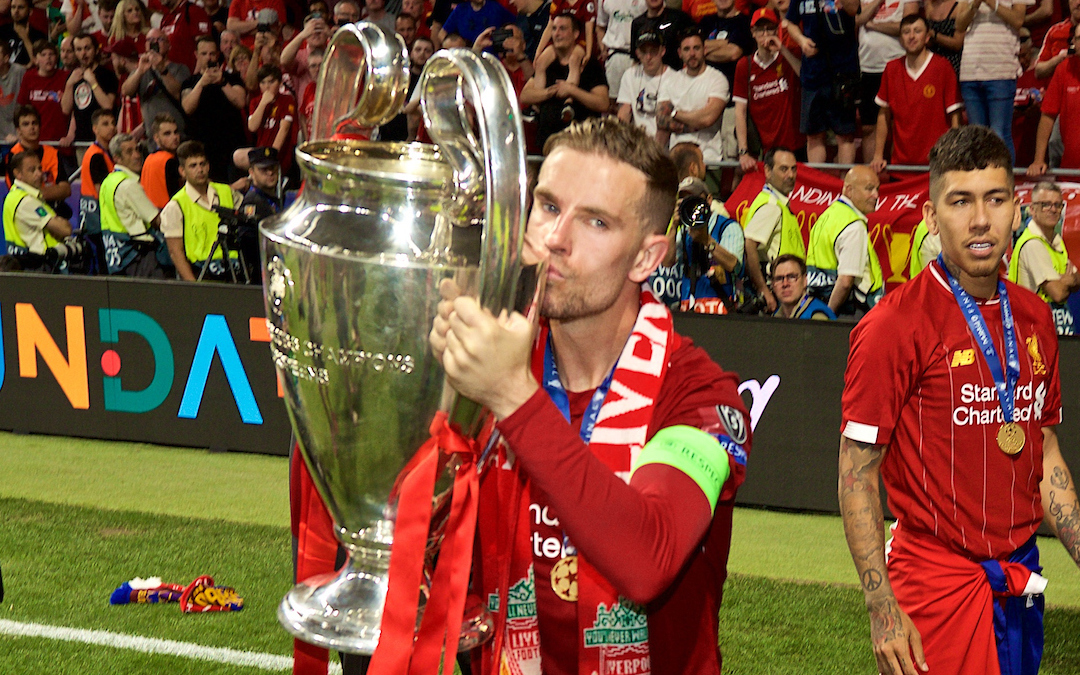 What's so special about that, though? After all, most footballers who reach those highs have similar stories of chasing the dream and the sacrifices necessary to do so.
Well for Henderson, there is a certain something that he has never sacrificed.
In the aftermath of the setting up of the #PlayersTogether movement, Burnley captain Ben Mee said in a piece for The Guardian: "He is also a working-class lad from Sunderland who deserves full credit for bringing us all together, showing what makes a true leader."
Typically, our captain came out and praised the togetherness shown by his fellow captains and Premier League stars in helping set up the fund to support the NHS during the COVID-19 crisis, but clearly Henderson deserves credit as the initiator who hadn't forgotten his roots.
Earlier this month he earned further plaudits in what has been a divisive year, throwing his support behind the Rainbow Laces campaign as he tweeted: "If wearing the #RainbowLaces armband helps even just one person then it's progress. Everyone is welcome at Liverpool Football Club."
Jordan Henderson has fought to become the player he is today and seems to get better and more influential to The Reds with every year that passes. But perhaps more impressive is his character, his commitment to supporting good causes and his approach to being a captain throughout all aspects of the club.
Liverpool have given us so much to celebrate on the pitch in 2020, and the early signs show that Henderson may have more opportunities to show off his shuffle in the new year. But our captain has transcended that and given us reason to smile off the pitch too.
In a year which has served up more than its fair share of shite, that's something to shout about.
---
"I've never seen a goal celebrated like that at Anfield, in the league, ever!"

"He's had to work so hard to get to where he wants to be"@lizzidoyle & @The_Mighty_Mojo on #SPOTY there 🙌

Vote here: https://t.co/V4oLNJj40V pic.twitter.com/YluluiDxeC

— The Anfield Wrap (@TheAnfieldWrap) December 20, 2020
Recent Posts: