Karl Coppack writes that while FSG aren't known to be reactive in the transfer market, it may be time for a change of mentality as injuries continue to stack up…
NOBODY'S talking about football anymore.
Think about it. How many times have you watched a Liverpool game and sat through a post-match discussion on tactics or individual players this season? Not that many. The footy has been relegated to the second or third item on the agenda.
Our game at Brighton was no different. Two penalties, two goals chalked off, Danny Welbeck, injuries and points both shared and dropped. Oh, and then the game. Jürgen mentioned that he thought the Champions played well. I can't say I agree but there we are.
What followed was a spat between Jürgen Klopp and the veteran journalist Des Kelly. The manager congratulated the BT Sport man for injuring James Milner albeit with tongue partially in cheek. Kelly reacted and because his paymasters were affronted at the accusation that they're indirectly complicit in the noted increase in muscular injuries, they let the interview run on longer than usual.
It made for fascinating television and it also significantly reduced Steve McManaman's screen time so I for one was grateful. Fletch.
The discussion carried onto Match of the Day several hours later. Micah Richards claimed that five subs gives the bigger clubs an advantage over the lower half teams as they had deeper squads. Surely having world-class players also gives them an advantage too. That de Bruyne lad wearing his team colours might make a difference. No one starts a new season even.
What was lost in all of this was the impact of James Milner's injury. The 34-year-old went down with a hamstring injury late in the game, possibly due to playing too many matches in too short a time at right back and central midfield.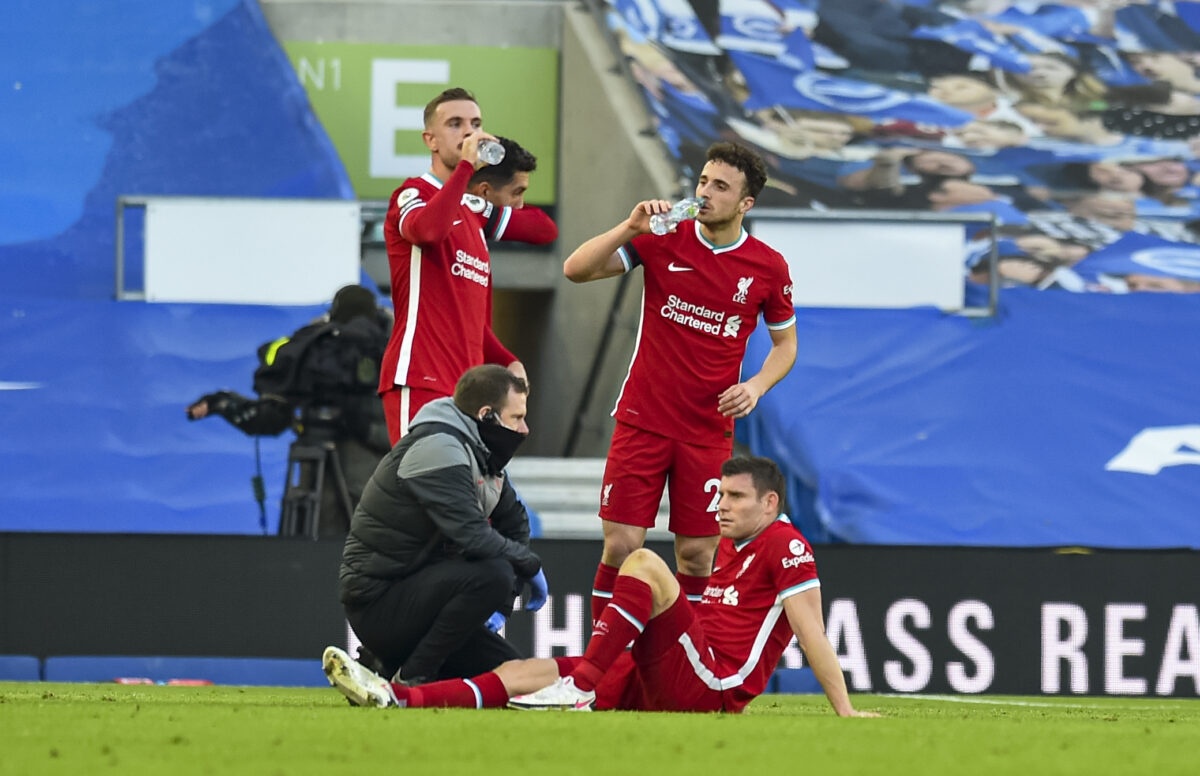 It will be a sore loss. The Reds have not just lost a player but one who can cover a myriad of positions. Luckily it seems Trent will be back soon, so we'll be OK at right back again, but this latest injury shows how stretched the squad's resources have become.
No one saw this coming, particularly at centre back. The decision not to replace Dejan Lovren was more questionable than controversial, but with van Dijk, Gomez, Matip and, if it came to it, Fabinho carrying the four central defensive duties, it looked like we'd be OK.
Now two of those players won't be available for the remainder of the season, another has already had a muscle injury and the other, Joel, isn't always the most reliable fitness wise.
So, do we buy in January?
We were asked this question on AFQ Football on Monday. Between us we decided that it is unlikely that Fenway Sports Group will abandon their usual transfer strategy simply because the treatment room is becoming ever crowded, but it'd be nice.
I wonder if sticking to our guns is wise.
Michael Edwards and his team are renowned for tracking players over time before making a move. It will only be when the club is ready that we will jump in.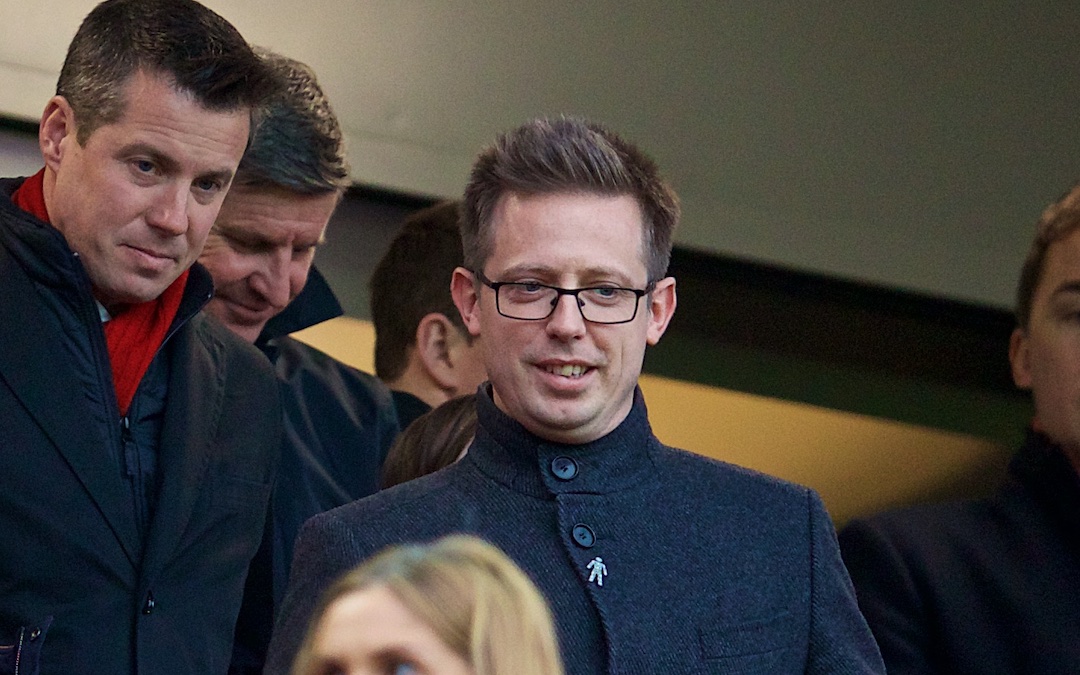 Diogo Jota's transfer was a perfect example of this. From rumour to arrival in a little over 48 hours. If we were ever in for Timo Werner, the disappointment in not landing him was quickly forgotten when the Portuguese hero knocked on the door at Melwood seemingly hours later.
We certainly like to take our time. Jürgen Klopp once said that he already wanted to work with Oxlade-Chamberlain as far back as his Dortmund days. The backroom staff had Andy Robertson marked early even when he was hardly pulling up trees at Hull City. Patience brings its own rewards.
But with a muscle injury seemingly every couple of games and a very, very winnable league to be retained, it might be time to break the glass and adopt a short-term strategy. Release Steven Caulker 2.0.
A lot of this depends on the management team's faith in Nat Phillips and Rhys Williams. They've come in and performed wonderfully. Neco has struggled at times but his role is more of a risk-and-reward area. He has to take chances with his position at times in order to aid the attack and that takes experience at Premier League level.
Will Jürgen look at the two lads and decide that they can defend in a championship-winning side. He's the most supportive manager of his players I've ever seen, but he can be ruthless when he needs to be.
Perhaps if a first-choice option can't be secured he might look at a loan. Just a player who can come in and play a few games every now and then when the two/three-week injuries creep in. I think we'd all feel a bit better with backup.
A few weeks ago, I was worried about Nat and Rhys playing lots of games. Now I'm worried about them getting injured too, and the way our luck has been I don't fancy our chances.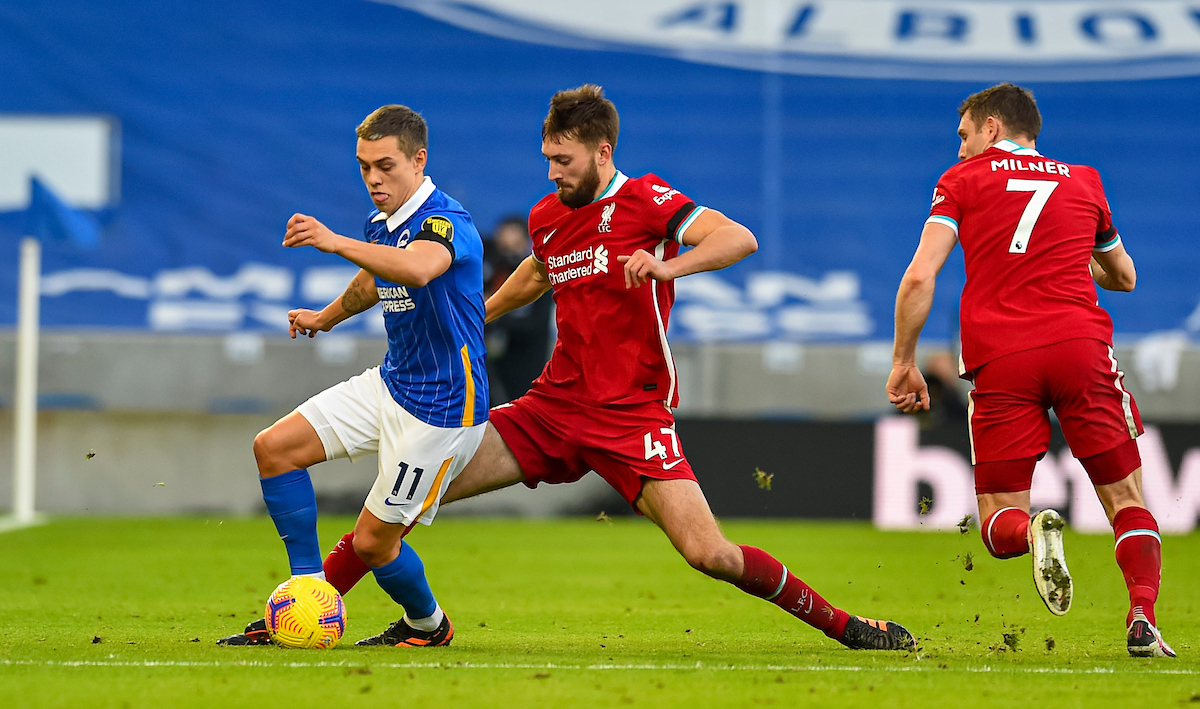 Usually football managers just have to deal with everyday supervisory stuff, but this campaign has demanded a crash course in crisis management. The pandemic, VAR, bizarre handball changes, empty grounds, and Chris Wilder and his mates have levelled the playing field. Strategies and plans of actions have gone out the window. Now it's all about just getting through the next few weeks.
They're doing a good job of it too. We haven't seen a recognisable starting Liverpool 11 for ages now and we're still joint top of the league with City and Chelsea away in the bag. If Jürgen wins this league with 20 fewer points than last season, there's an argument to be made that would represent greater success than 2019-20.
This isn't a regular season. We've just seen the Liverpool manager being offered outside by TV nice man Des Kelly. We've seen lads drawing lines on pitches. We've seen West Ham approaching the top four and we've all heard Steve McManaman. None of it makes any sense, but the first person to be able to navigate it might just take the title.
I just wonder if the club will be flexible enough to abandon their usual transfer policy to steer us to calmer waters.
I suppose we'll find out in seven games and 29 days' time. Maybe we might be able to talk about football again then rather than everything but it.
We can but wish.
---
"In an injury crisis, one leads to another, it's a spiral. This is going to happen to almost every Premier League team. We are going to run these footballers to the ground."

Listen to our FREE podcast in the usual places 🗣

🗣 Listen to our FREE Pod 👉 https://t.co/OnvW8T4bX4 pic.twitter.com/HvOogCWlGD

— The Anfield Wrap (@TheAnfieldWrap) November 30, 2020
Recent Posts: