Karl Coppack writes that Liverpool's ability to just get on with it, in the face of all number of setbacks, is what makes them one of English football's greats…
YOU probably wouldn't call it a highlight as such, but there was a moment near the end of the Leicester City game which perfectly encapsulates Jürgen Klopp's collection of Champions.
Though his manager is always quick to praise his number nine, even he would have to admit that Roberto Firmino was having one of those games. If the ball wasn't hitting the post or keeper, it was usually slightly behind him or just out of reach. Nothing fell for him. He must have had a legion of black cats pass in front of him as he walked under numerous ladders on Friday the 13th.
People are often quick to point at the Brazilian's goal rate on the rare occasions when Liverpool misfire and every one of his sceptics were out in force when he had another shot cleared off the line. So, when he finally headed past Kasper Schmeichel every outfield teammate was on him in seconds.
They celebrated the scorer, not the goal.
Workplaces are never perfect. There'll always be colleagues who just rub each other up the wrong way and training grounds are no different.
Robbie Fowler and Stan Collymore may have been a potent strike force in the mid-90s, but they couldn't get on at all. Tommy Smith and Emlyn Hughes couldn't bear the sight of each other but were still one of greatest centre back pairing this club has ever seen.
Elsewhere, Andy Cole swore he'd prefer a pint with Neil Ruddock who broke his leg in two places in 1996 than so much as talk to his former teammate Teddy Sheringham. Sometimes people just don't fit each other.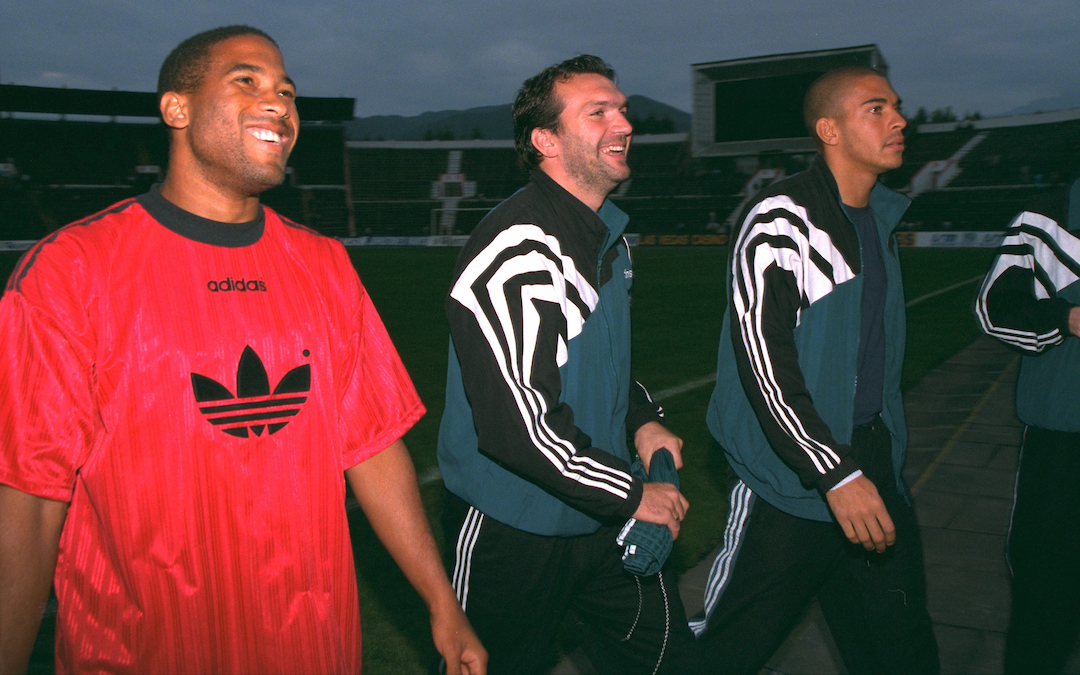 That's probably the case at Anfield too, though you wouldn't know it. The level of ambition is sky high and a place in the first team is the foundation of a successful career, so you'd think there'd be the odd bit of plotting or a grimace at someone's back somewhere. If there is, it's well hidden.
The days of signing egos has long gone. Though few criticised Gerard Houllier for signing Paul Ince at the time, it would be an unlikely move today. Ince the Reputation was exactly what we needed at the time. He bounded into Melwood with full ego and was made captain immediately. Ince the Player was a different prospect, however.
'The Governor,' as he liked to call himself, hardly excelled on his return to the North West, but his level of self-importance shone just as brightly as it ever did. Maybe it was that swagger that made him the player he was, but there's no chance he'd pass a Jürgen Klopp today.
The squad hasn't changed much over the past three seasons and when it has it's been to bring in players of the same almost humble mentality. The only real additions have been the latest wave of Academy prospects in Curtis, Neco etc. They've augmented the squad rather than replace the first team, so they won't be looking at them with Machiavellian eyes just yet.
This is a genuine team now in the true sense of the word. Everyone gets a hug regardless of status.
So, when Roberto went through a bad time and finally got his goal, they knew what it meant. It became their goal too. A lovely moment. Musketeers even.
It's that attitude which partially explains the victory over Leicester. I've appeared on a few podcasts in the last fortnight and handed my poorly worded views on how Liverpool can navigate their way through this injury crisis. It's a fair enough question as there seems to be one muscle injury per game nowadays with Naby being the latest to take something to read into the medical bay.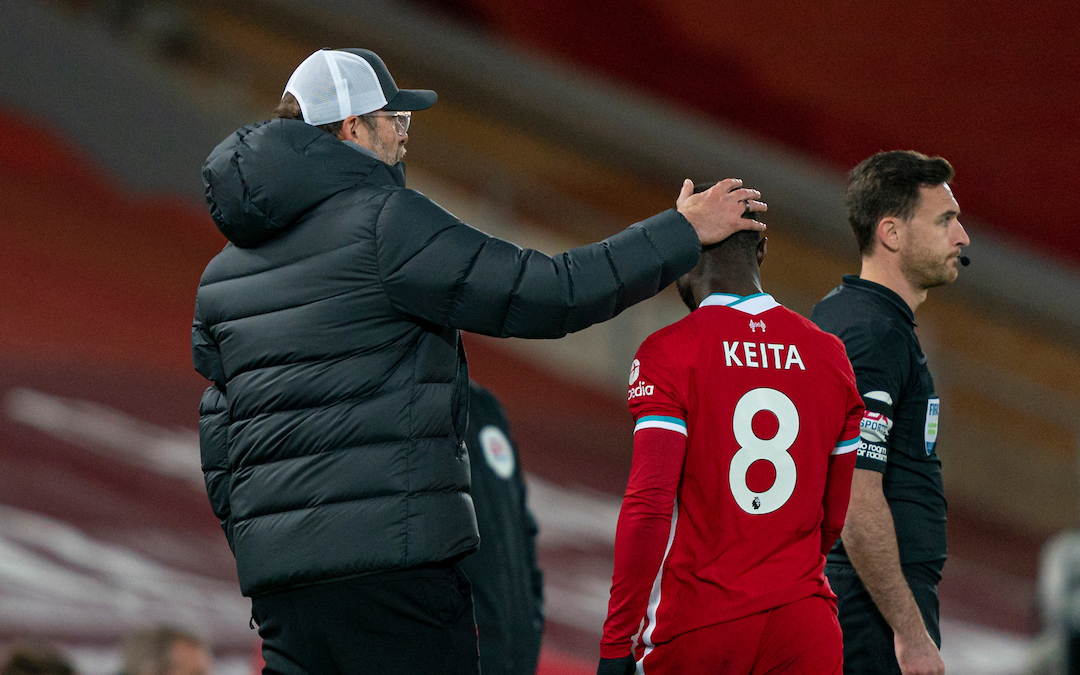 I spouted here and there about game management and 'just getting through till the New Year', but Liverpool don't seem to have done that. Jürgen just put a team onto the pitch and they got on with negating a usually impressive Jamie Vardy and shut down any influence James Maddison could have on the ball.
They just got on with it.
Fans can worry about the next game too much. I know I do.
But look at the facts. We've already played City, Arsenal, Leicester, Everton and Chelsea with a depleted squad and we sit joint top of the league and, though the Premier League has been a shapeless fudge of a campaign thanks to the sub issue, VAR, handballs that aren't handballs then are, meaningless international friendlies and injuries, one thing has stood out more than anything else.
Liverpool are a very, very good side. We forget that at times.
And this isn't even the Liverpool side you'd choose immediately. Not even close.
We still have Virgil, Gomez, Henderson, Trent, Thiago and Mo to come back and make it Normal Liverpool. This one, Diet Liverpool, is still too good for the league.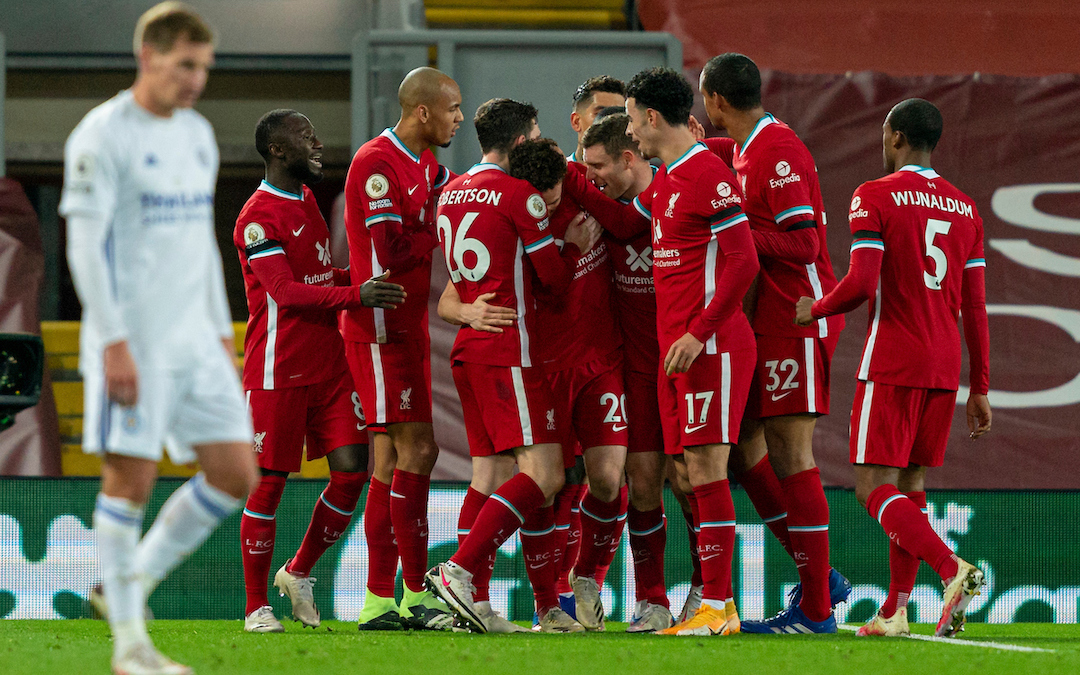 How do you do that? Is it just a case of getting a group of great players together and making sure they get on? Not necessarily as the feuding players named earlier all played in successful sides, but their bond does seem to calm the crisis.
Success helps, of course, and any side that can post a European Cup one season and a Premier League title the next has got to be content to some extent, but it's more than that.
Bob Paisley once said that the problem with winning the league is that you're still doing a lap of honour six months later. Retaining the league is no easy task, as the relief that comes from the initial success must take your eye off the prize the following season. Leicester City finished 12th the year after their Premier League title. I bet their fans could care less, but it's a luxury we can ill afford.
It's harder still to retain the league with half your squad out, but Liverpool aren't interested in sympathy and hard-luck stories.
This translates to the European Cup too. Victory over Atalanta tonight means we don't have to think about the tournament for a few months and can just build on this league start. Just one more game to win. Business as usual.
Roberto Firmino will go to work a happier man this week. It's clear his form has been a frustration, but it'll be worth it if there's a goal glut on the way. He likes December. This time last year he was about to score vital goals to make us World Champions and then add a couple more on Boxing Day at The King Power stadium to see off The Foxes' title challenge.
Liverpool will just get on with beating what's in front of them. That's what we do now. We just get on with it.
---
"What about the record breakers then!?"

"People are going to be thinking about this team in 20 years in the same way I was when I was 5 thinking about the team in the 70s."

✅ The Record
✅ Jota
✅ Fans in Anfield
✅ Miner's Performance

📱 Subscribe 👉 https://t.co/oaOWcUzrlr pic.twitter.com/JSlWtpGbAt

— The Anfield Wrap (@TheAnfieldWrap) November 24, 2020
Recent Posts: