All the best players suffer from bad form, but Karl Coppack asks how we solve it in the case of Roberto Firmino given the current circumstances at Liverpool?
FIRSTLY, I'm not calling him 'Bobby.' No.
My dad was 'Tommy' as was his dad before him. He liked it well enough but was always 'Tom' when he introduced himself.
His reasoning was that Tommy was the name for a five-year-old kid with scraped knees and a basin haircut while Tom was more mature. I never had the chance to tell him that one of the Ramones was a Tommy. Ah well.
The same connotation arises with Bobby. The kid in King of the Hill is a Bobby and suits it. Yes, I know there's Moore, Gillespie and Grant from Brookside but I just don't like it. His boss and teammates may call him it, but it's not for me. Roberto it is.
Let's talk about Roberto.
They say that form is temporary, class is permanent. Roberto is a class act. His ability to drag his centre back to anywhere and gives his mates space is his key strength. He's also skilful, deft, intelligent and deadly when you need him to be. His form, though…
The entire 4-3-3 formation is set up for him. He may have two of the world's greatest strikers on either flank, but we lose some of their potency when the Brazilian isn't in the centre. Luckily while things haven't been going well for him, they've carried on scoring. It hasn't helped him. The dejected look on his face when he sees his number on the touchlines is heartbreaking.
In over 45 years of supporting the Champions, I don't think I've ever been so baffled by a player as much as the 29-year-old. Don't get me wrong. I love him, appreciate him and wish him everything in the world, but like a PG Wodehouse novel, the thing loses its beauty once you examine it too deeply.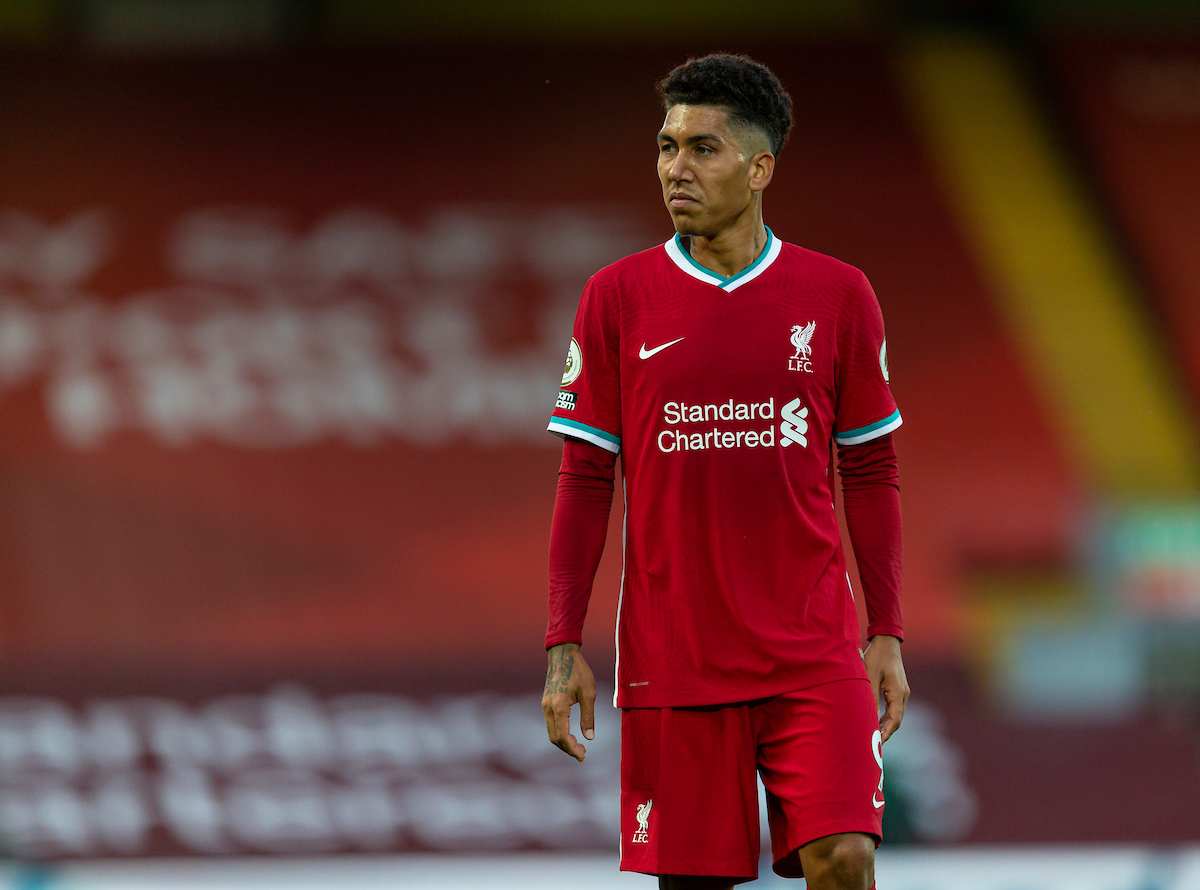 Brendan Rodgers played him on the wing when he first arrived as Christian Benteke was more of an archetypal number nine and he did fine, but not £29m fine. Then Jürgen tried him in the middle. Bingo. But only in a peculiar, particular way.
He's not a striker in the traditional sense. Nor is he really a false nine. He's too mobile for that. Cesc Fabregas would never play so deep when he took on that role for Barcelona. It's no great shock to see Roberto hanging around the centre circle with Mo and Sadio far advanced.
You could see him as a split striker in the Beardsley/Pablo Aimar sense, but that doesn't suit him either. He's neither of those things. He's just a Roberto Firmino. A false, false nine maybe.
And yet it works. Or it used to.
Form is temporary and even his biggest fans can see that it's just not happening for him just now. The flicks are finding defenders more than attackers and his shooting is more of a danger to the ball boys than to the net. He's snapping at everything. Though it would be unthinkable a year ago, he's now the first substitute.
Diogo Jota doesn't help either. Great for us, of course, but nothing shines a light on your shortcomings more than when the new lad comes in and starts scoring hat tricks. That must be in his head too.
So, what do you do when your touch is off, and you can't fashion a chance? Normally, you work harder. I'm not sure he could. Maybe he should relax and allow his instincts to take over? But that doesn't work if those instincts have broken lockdown restrictions and have gone on an extended holiday.
Last week his manager and teammates rallied around and pointed out that our current position is down to him as much as anyone. More, if anything, as no one is entirely sure how to play him and where to pick him up. That might have been unnecessary as his form is judged as unfortunate by the fans more than blaming him. Few are loved more than the shiny-toothed striker.
But what do you do with him now? Klopp is allowing him to play himself back into form, even going so far as to play all four strikers to the detriment of the midfield at City where Henderson and Wijnaldum had to do the work of three men against one of the best clubs in the world on their own ground, but how long can that go on?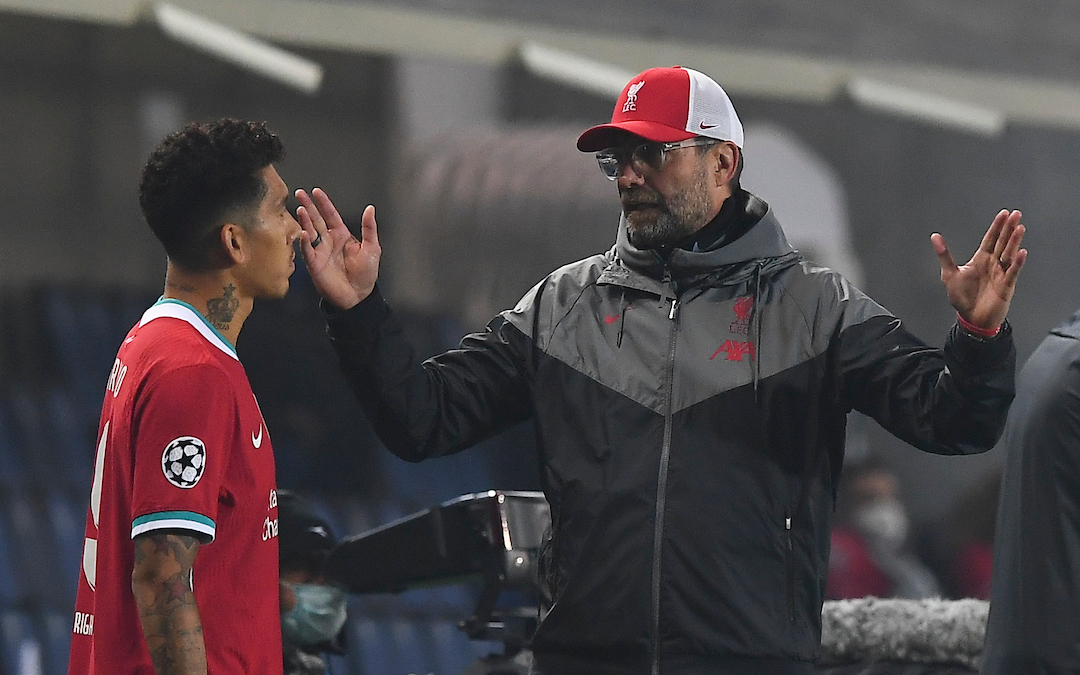 For what it's worth, I think the manager's right. I'd rather see him on the pitch and wait but can you take the risk of an empty shirt when we're defending/attacking the league and aiming for a seventh European Cup? It's a thin line to walk.
And if/when we go back to the 4-3-3 what do you do about Diogo? He's been a revelation since coming in and you can't really tell him he's dropped as we want our mate to oust him properly. If Jürgen is anything it's loyal so he's not going to throw him under a bus any time soon.
Maybe this international break has come at the right time for once. Trent will have a rest, Thiago and Fabinho will have more recovery time and Roberto will do whatever takes his mind off his form, be that more training or more Netflix. Whatever works for him, I suppose.
The rest will do them all good. We finished the last half hour at the Etihad on fumes as the schedule punished us. The injuries haven't helped but we're still in a great position despite all that. If anything, it's a fillip to know we've achieved all this with all our injury issues and a misfiring Firmino.
Would we have beaten City had all our lads been fit? Hard to tell, of course, when you consider they should have won 2-1 thanks to this week's handball policy. Small margins all round but it's reassuring to know this Liverpool have even more to give once everyone is back.
All great players go through form loss. Kenny certainly did and if it can happen to him…
Roberto will be back to his best again and he'll always have our support. Always.
Oh, and apologies if your name is Tommy or Bobby. Nothing personal, Tom and Rob.
---
"I think part of the reason Firmino is struggling a bit is he's becoming less integral to what we do because the other two in all phases of play are becoming more important."

"I think they will relish a fully fit Thiago."

Listen for free 👉 https://t.co/pwmVLUIWCB pic.twitter.com/JenKUPk9fP

— The Anfield Wrap (@TheAnfieldWrap) November 10, 2020