"This pandemic has taken so much of what we love about football away. But we still have the stories," writes Josh Sexton…
"IN a lockdown, it's really important for the people that they can do things they like to do.
"Watching football is obviously something they like to do, so I'm happy that we can continue."
I don't often like disagreeing with our manager, but I do have a slight objection about the above quote.
As football supporters, we have a funny relationship with this sport that we have all decided to dedicate a large proportion of our lives to. It becomes an obligation, really.
From the start of the Coronavirus crisis, football has been painted as something that can provide light relief from the mundanity of life behind closed doors. I always wonder which version of football those people have been watching to reach the "light relief" conclusion.
For those of us deep in this thing, football has many ways of testing our love. Seeing what we're really made of…
'Born into a family of Scousers who have seen The Reds win anything and everything, are you lad? How does the next 25 years without a league title sound?'
'Looks like you're finally gonna get that league title, eh? Have a global pandemic and some null and void chat.'
'Still won that league title didn't you, you spawny Redshite bastards. Here, we'll lash your centre half in the fire for the foreseeable.'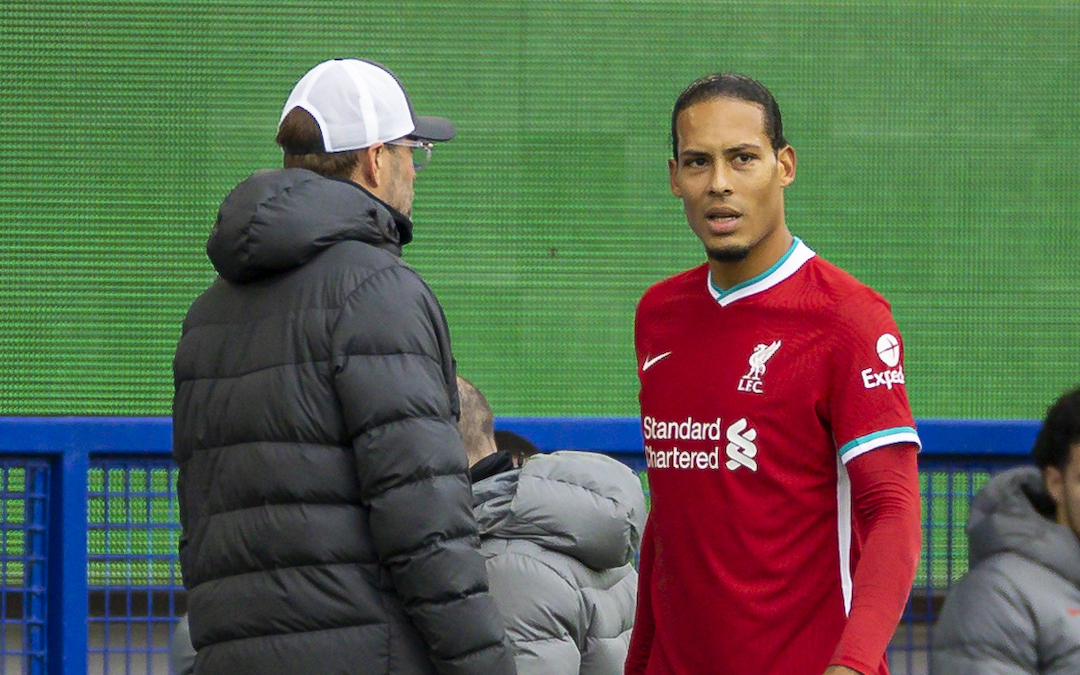 How's that for some light relief?
My love for football, for better or for worse, is going nowhere though. In sickness and in health. Till death do us part.
To be fair, this love has brought me my fair share of moments. Some of the greatest of my life, if truth be told. Moments of sheer joy created by a group of footballers and coaches who I don't know on a personal level, but am made to feel like I do. Surrounded by people who share that common bond.
Football brings people together, the issue is it's powers to do so are limited by the pandemic.
One way in which football can and still is bringing people together, though, is in its storytelling. As Liverpool supporters we think our club is the best at it, and while many may argue against that, we do seem to produce the maddest storylines time and again.
Saturday's win over West Ham was just another example.
As the game is being played the country is plunged into another lockdown, a further blow to return to any kind of semblance of normality. When will we get to jump all over each other in the stands of a football ground, roaring with pride at our lads as they lap up the plaudits? It's rightly the least of a lot of people's worries right now, but it's a question nonetheless.
While football may not be the most *light* form of relief, it is definitely a release and there would have been nothing quite like the let off of a winning goal scored by a newly signed substitute to get Anfield on its feet and dancing long into the night.
At least we get the let off though, and even if it isn't the same by any stretch, it still makes us feel something. We still jump for joy, laugh at the madness of it all and laud the fact our lads sit top of the league in spite of everything.
In spite of everything. The West Ham story is one that will soon be subject to the void of time, a thread in the tapestry of the 2020-21 season, but it's a story with such depth.
The man of the match of the evening, Nat Phillips, standing up, standing out, heading everything in sight and battling away. The Athletic's James Pearce reported that the 23-year-old was supposed to join Swansea on deadline day. The sliding doors of football.
Xherdan Shaqiri, our little cubic magician, a man whose time on Merseyside seemed to be all but done when he was left out of the League Cup tie against Arsenal amid offers from a couple of Italian sides. Back from the cold last season. The redemption arc of football.
There are stories throughout this team, of course. But those two were the ones we felt the most on Saturday evening, in the sore heads of Sunday morning.
You may not have had that, or at least not felt the same as you would walking out the ground, the pub, from watching it with your mates.
This pandemic has taken so much of what we love about football away. But we still have the stories. We still have Nat Phillips and Xherdan Shaqiri.
Take care of yourselves and your loved ones. The Reds will take care of business.
---
"Every time he's come in, he's done exactly what he's supposed to do, those passes he finds! If Thiago plays that little reverse ball, we're all going nuts." @JamieWebster94 on Xherdan Shaqiri 🗣

Listen for free 👉 https://t.co/oeEOQNZk1n pic.twitter.com/HZkQhnMeoU

— The Anfield Wrap (@TheAnfieldWrap) November 2, 2020