Neil Atkinson gives his immediate post-match review after Liverpool's draw with Manchester City in the Premier League…
MANCHESTER City vs Liverpool.
The game was brilliant and it was wild until it was very, very sane. Until it was very, very tired. Neither side could manage much of a head of steam towards the end of either half, neither side were prepared to gamble but neither were prepared to fold either.
God it felt good. When he missed the penalty, you felt unbridled, unfettered. In this time of bridled, in this time of fettered that is something to hold onto. Something to cling to.
We're left without outlet, a dank, sweaty hinterland that follows us all around; pent up and teeth ground and left twitching around corners. And then he misses the penalty and for a fleeting moment there is such joy, such delirium, a link between now and then and will be. Then we have a football match to finish.
It's a strange game of football in a strange season.
There is a desire to act as though it is a strange season because of the current make up of the table. But last season Leicester City were involved until Christmas, Chelsea and Tottenham should be serious sides and Liverpool drew at Goodison Park and lost at the Etihad and Vicarage Road. Substitute the latter for Villa Park (yes, I know we won at Villa Park last season but bear with me) and nothing is all that strange in that sense.
What is strange is it happening in the universe without outlet. What is strange is the ongoing intensity for sides with European commitments along with the lack of proper pre-seasons across the board and how late last season finished.
It finished latest for Manchester City and let me be crystal clear – had Liverpool suffered what they have through a lack of preparation for the campaign you would never have heard the end of it from our manager and, on a personal level – crucially, from me. I would have been taking adverts out in the popular press about it. I'd be having a breakdown on Sky Sports News about it.
Manchester City have had an awful lot to put up with yet they finish both halves ever so slightly the stronger but Liverpool feel edgily dangerous towards the end of both too.
That said, I think both managers would have shaken hands on 70 minutes or so. Both said that will do. That there is a lot more to come. Both will recognise that while the first half was a game where quality could make the difference the second half was one where sheer exhaustion might. That isn't how football games should be decided. But perhaps this season it will prove to be.
Jürgen understands these players and knows when sometimes game plans write themselves. And if a mad combination of bad injury luck and good form luck means the plan is (pretty much) 'EVERYONE ATTACK', then that is what we will do.
All of these players were bought for a reason and they are trained by some of the best in the world. Sometimes you have to learn to trust them. The four up front then, is a formation that writes itself. On a different day, with Raheem Sterling and Kevin De Bruyne more lucky, this could have all gone very wrong. But the fact is, in the first half, it is all good.
It is perhaps worth pointing out that the manager chooses his shape but may well have chosen a different one had Naby Keita had more in his legs, or, crucially, had Fabinho, Thiago Alcantara or Alex Oxlade-Chamberlain been available for selection. We forget the latter too often.
What his shape does is leave Jordan Henderson and Gini Wijnaldum with so much to do. They both are excellent over the course of the game. It is intriguing to watch Manchester City press Wijnaldum. A reminder of something often discussed in these reviews – there is value to looking to break the strongest link in a side. The doubt it can put in resonates.
Manchester City just can't get on top of us. Their passing is seriously fast and you see how the combination of this and the high line is basically a new form of defending. Let's call it attack-defending. The attack-defending Liverpool give Manchester City the runaround, and it works to a tee.
The shape was something of a surprise and it put greater stress on the players. For the equalising goal, Wijnaldum is where he doesn't want to be, Sadio Mane isn't where we need him to be and Jordan Henderson is a million miles away from where it would help.
Through the game both Diogo Jota and Mane find it difficult, this is, sort of, no way to play a big game and yet here we are doing it. This isn't about something like the application of blame, more an observation that football is a game of decisions and it is hard to get them all right all the time. Especially when your opponents are this good.
Joe Gomez is unlucky. Because without writing 10,000 words on this, there is now such a thing as a VAR penalty. Gomez is proceeding forward in the box with a running action, versus using his arms with a blocking action. He pulls his arms away but the computer presumably would like him to take his arms off. No judgement here, but you know as soon as Craig Pawson walks over to the video screen, it is a pen. It is what it is.
Which is presumably what Kevin De Bruyne thinks as he scuffs the ball to the side of the goal in the rain. It is what it is. You can be a superhuman footballer and still miss from the penalty spot. It is what it is. Maybe it was just the rain, falling hard in Manchester by half time. But you felt alive. You felt unbridled.
Joel Matip gets dropped back in and he was, again, the absolute business. He understands completely his role in this side. It's fascinating his development. Andy Robertson was splendid throughout. Alisson Becker was both brilliant and bananas. The header he comes for was gratifying beyond belief. He must have read it a million miles away.
Kyle Walker is a bit all over the shop at points and Liverpool's front 10 look up for it, but once Bernardo Silva comes on on at 60 to shore up their flank, Manchester City are closing Liverpool off again.
Diogo Jota's hunger is impressive but we are matched in the second half – and especially in the last 20 – by a team that also knows what it is to grind it out til the 87th minute and then sneak one. You see Phil Foden on the sidelines in the dying minutes and imagine that is what he has in his mind but the game grinds itself to a conclusion.
In an alternative universe though he scores the penalty and Liverpool have to chase it. Who knows what that ends up looking like? The point being while it would obviously have put Manchester City in the box seat, there would have been some serious momentum in Liverpool's chase. The whole game would have been different.
Here, really, is our first proper chance to take stock. The first international break came after the madness of the 7-2 but also after the sheer staggering uncertainty of the campaign, of the window. We didn't truly know our own squad at that point.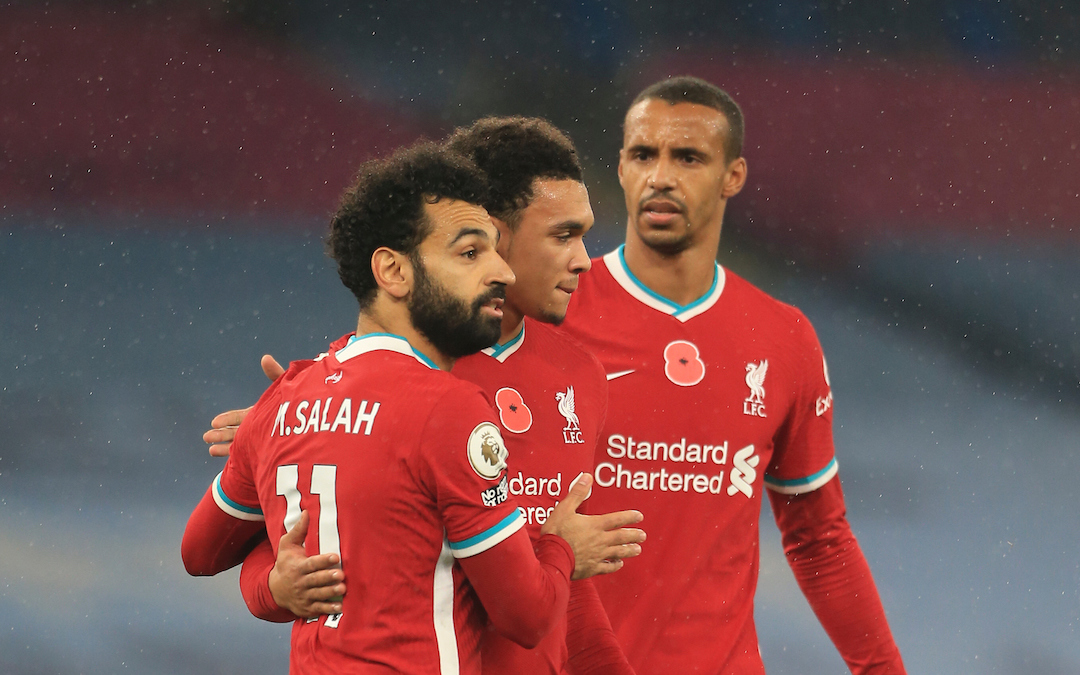 Now we do. We get to see some of it tonight as Xherdan Shaqiri replaces Roberto Firmino, as Liverpool doubled down on the madness for a brief period.
Now we understand what we are up against, how hard and unrelenting much of this will be. We know now what we have on our hands with Diogo Jota and what challenges we will have without Virgil van Dijk and with injuries in general. Injuries in general, though, will be hitting everyone. We are most exposed currently but that will change.
This strange season is almost a gift from the footballers themselves. They are the ones risking these knocks. It's why, although I was delighted to see Big Kev miss his pen, I'm pleased he is doing his business. You want to take stock in a number of different ways. So here's one: tonight we got to see the two best sides from the last 10 years of English football go like fuck at one another. They could be the two best teams ever to play in this division.
All things considered, we should be glad of a point then. But also, this game must be seen as part of a journey. One in which the manager has taken important strategic decisions to get us through this challenging series of games and crucial tactical decisions to get us through this one.
Most of all. He backs our players. He knows what a mental and physical journey this has been for our players. It is a pleasure to watch them in games like this. And being honest, even a 1-1 draw feels like an honour to be a part of.
The hurdle is cleared. Sort of. Enough. Take a breath. Because have a look at what happens next.
This league isn't going to win itself. Prepare to graft.
---
"I really liked what Klopp did. He's gone 'what I tried here last season didn't work, so i'm going to try something mad."

The Post Match Podcast 🗣

📱 Subscribe for all our reaction to a draw at City 👉 https://t.co/oaOWcUzrlr pic.twitter.com/bL24cZJ8qT

— The Anfield Wrap (@TheAnfieldWrap) November 8, 2020