Despite ongoing injury issues in defence, David Segar believes Liverpool fans can still be confident of success thanks to the presence of Alisson Becker…
THERE is a famous scene in Alfred Hitchcock's classic thriller The Birds.
Tippi Hedren is sat smoking a cigarette while a gradually increasing number of birds gather on the climbing frame behind her.
It is an unsettling moment, but not as scary as the opposite scenario currently happening at Liverpool. Jürgen Klopp is sat with an Erdinger (unskimmed) while his defenders disappear one by one from the playground behind him.
He turns around and sees only Joel Matip sat on the swings. "Hello boss. Did you know that during the Pacific War of 1941-45, coconut water was used to give emergency plasma transfusions to wounded soldiers?"
The ever-growing injury list must be concerning to Klopp, just as it is to Liverpool fans. There is barely a day going by at the moment where news doesn't break of another star out with serious injury, Covid or any other possible blow that the universe can throw at them.
However, it still doesn't feel like panic stations are quite needed. It is very much subject to change given the current run of horrific luck, but as things stand, Alisson Becker is fit and ready to go.
Seeing the Brazilian back in the team for the victory over Sheffield United last month was like a warm hug. While we weren't watching the pay-per-view game with a beer, knowing that Alisson was back between the sticks felt more like experiencing the game with a nice hot chocolate.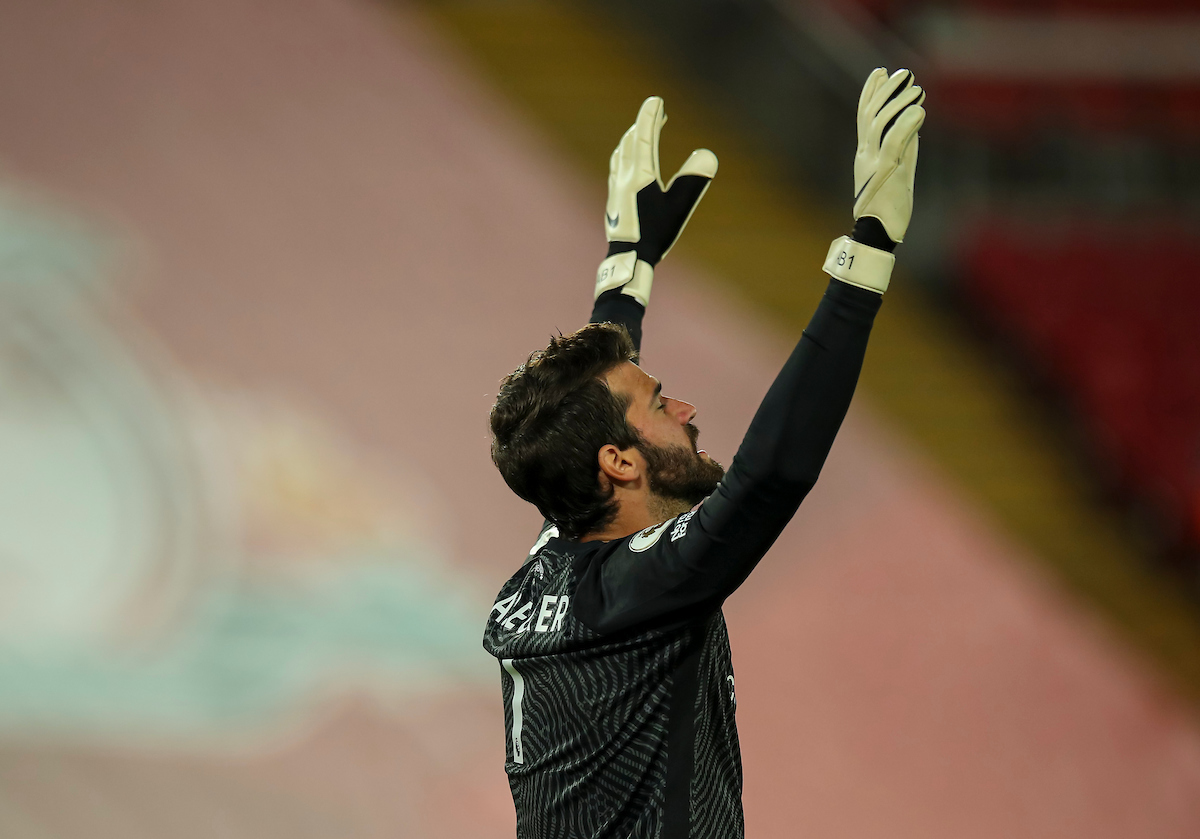 Like those ones you get from Costa with marshmallows and whipped cream, with chocolate shavings on top. I call it 'Diabetes In A Cup', but Costa's head office didn't take my naming suggestion in the end. (A reminder to them that my articles are still open for sponsorship!)
When Alisson injured himself in training in a freak accident earlier this season, there was widespread alarm. Many of us were like that employee in The Simpsons during a fire drill at the Nuclear Power Plant who is just racing round in circles going: "Fire, fire, fire, fire, fire, fire, fire, fire!"
He only really missed three games, though one was the 7-2 defeat at Aston Villa and another was the derby draw with Everton, but it felt like Liverpool were infinitely weaker without the former Roma man at the base of the team.
On Sunday, we lost one of the greats. Ray Clemence was one of the best goalkeepers of all time, an unquestionable Liverpool legend, and by all accounts, a very nice bloke. My dad would always use him as a reference to anything that was safe. Catch anything successfully and you were "Clemence".
Dad would tell us about the great team of the 70s and how it all started with the security that everyone felt with Clemence in goal, with a mentality of not panicking when the ball was in the air, or even if the opposition got in behind the defence. Calmness breeds confidence, and that was a big reason behind the remarkable amount of silverware the big man won at Anfield.
I have obviously only ever seen clips, but I imagine the way fans felt back then with Clemence in goal was much the same as we do now knowing that Alisson Becker is patrolling the penalty area.
When he signed from Roma for a briefly world-record amount in 2018, Alisson was exactly what Liverpool needed. We can't be sure what the final piece of the jigsaw really was, but it felt like he was probably it. A very strong team that conceded too many soft goals became a very strong team that barely conceded any goals.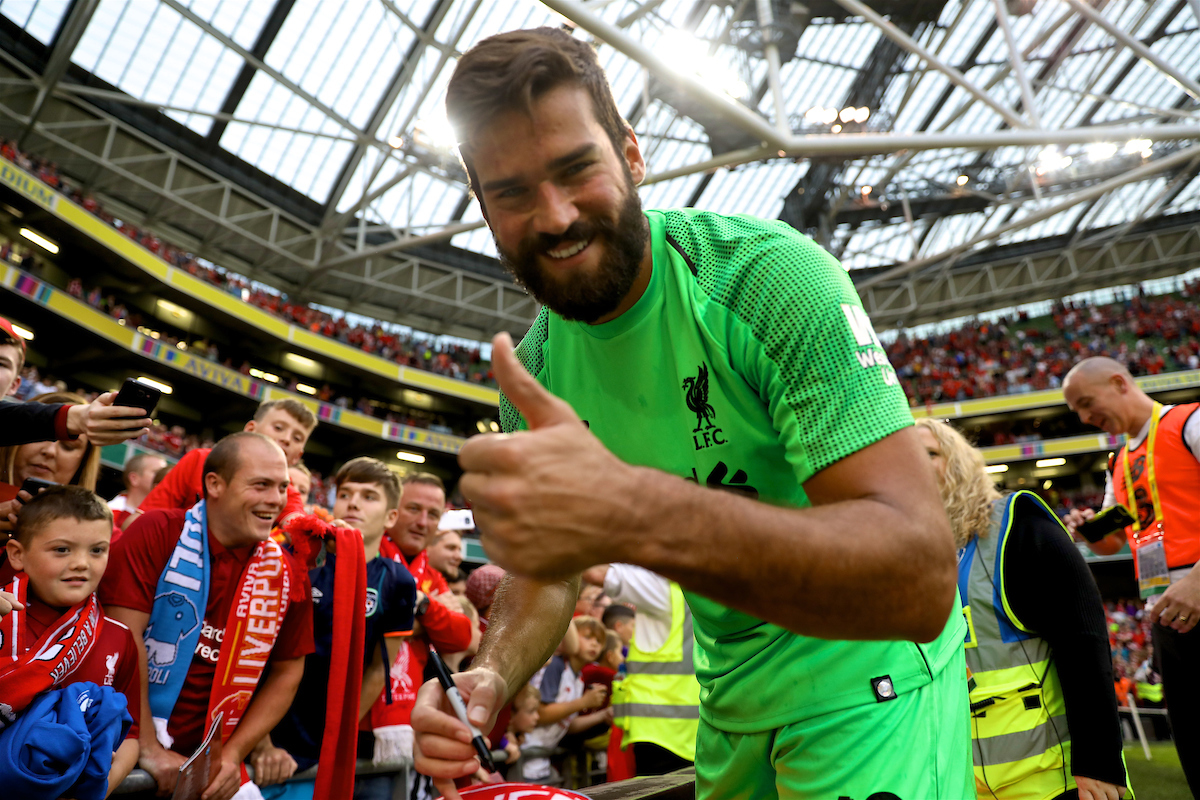 You could argue that he doesn't make too many saves that would make a great YouTube compilation, no matter how much shit techno music you put over the top. However, most goalkeeping experts will tell you that it is a sign of true quality that he doesn't need to.
He does the so-called simple things, only if they were that simple, everyone would be as good.
His imposing figure visibly intimidates strikers, although it can't be ruled out that it is his astonishing handsomeness that is putting attackers off. "Sorry boss, I was going to chip him, but ended up getting lost in his eyes. Won't happen again."
He has risen to every challenge thrown at him in English football so far, but 'Ali' might be about to face his biggest. Playing behind Joe Gomez and Virgil van Dijk week in, week out can make the job of goalkeeper a lot easier, but for the next few months, he will have to work with Matip, Fabinho, Rhys Williams, Nat Phillips, and who knows who else?
Matip and Fabinho are both excellent, but the former in particular cannot be relied on to play more than once a week – which is a particular issue in a season where the team needs to play twice a week almost every week – while the latter is only a makeshift centre back.
There is a chance that Alisson will find both Williams and Phillips ahead of him in the same game at some point, or perhaps the even younger Billy Koumetio or Sepp van den Berg, but having him back there will only serve to boost the confidence of whichever pairing are charged with protecting him.
Williams and Phillips have both risen to the occasion when called upon, and will almost certainly be required to do so again a few more times. Given their lack of experience, especially at the top level, it would be enough to cause immense panic in many.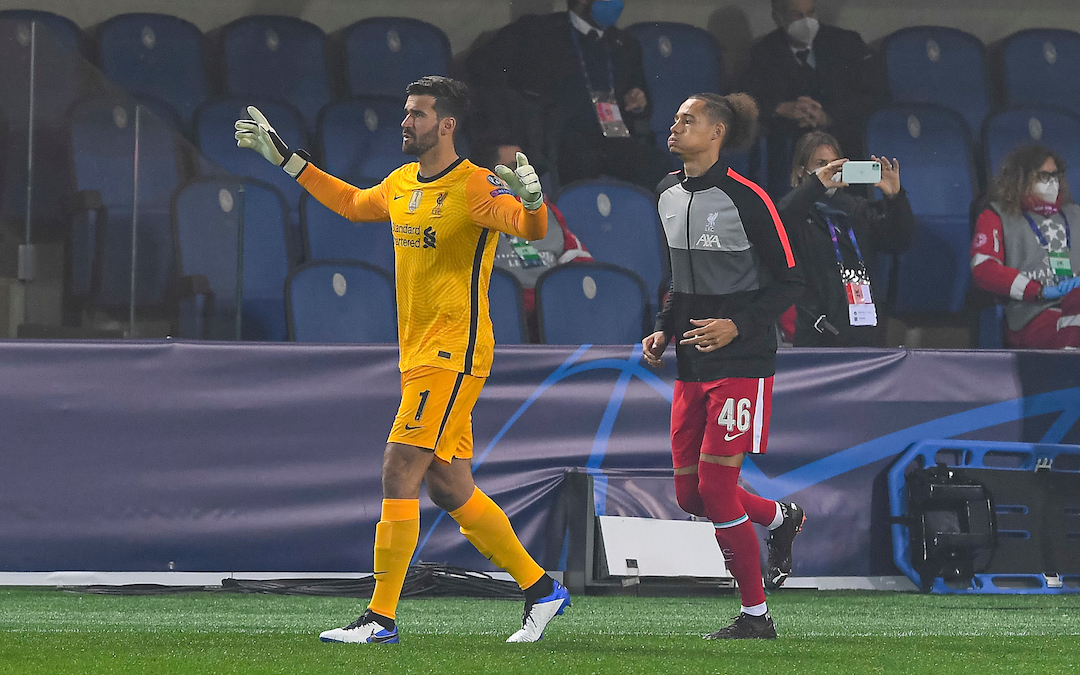 Just having Alisson out and Adrian in a few weeks ago was enough for mad shouts like 'Let's sign Jack Butland'. The criticism of the Spanish number two seemed a tad harsh, but it was a demonstration of the lack of faith caused when you lose a figure like Alisson.
As long as the big Brazilian is in goal though, we should all feel relatively tranquil about things, and I am sure the players will also. Having a calm head in goal keeps calm heads all over, which is exactly what Liverpool need right now.
The lineup in defence for next Sunday's top of the table clash with Leicester City is looking more and more like it'll mostly be made up of fringe players, with all four of the first choice backline currently injured.
However, with Alisson Becker in goal, frankly, you could put three Subbuteo players and a half-eaten sandwich in front of him and I'd still back a Liverpool win.
It's going to take a lot more than a few injuries to stop the Champions.
Sorry, who is the VAR official for Sunday?
---
Recent Posts: