Neil Atkinson gives his immediate post-match review after Liverpool's 3-0 win against Leicester City in the Premier League…
LIVERPOOL are the Champions.
It was about a year ago, maybe a bit more, when Leicester City came to Anfield and everyone knew they were good. It was the eighth game of the season. They'd won some games that had grabbed attention. They had a load about them.
And Liverpool steamed them. It was a 3pm kick off and because it had taken a late penalty for Liverpool to win the game, because around then there was still a prevailing view that Liverpool were as lucky as they were good, some clowns on Match Of The Day framed the game as though it was tight. It wasn't. On xG it was Liverpool 2.81 Leicester 0.15. That day you came out of the ground and you thought that something was happening.
Liverpool went to Leicester on Boxing Day in 2019. Liverpool were theoretically vulnerable, Leicester were actually second. And Liverpool steamed them. It was live, it was live live. It was the game of the day. It was the game of Christmas. And Liverpool made mincemeat of them for the second time in the season.
What Liverpool did on both occasions was take Leicester deadly seriously. This is important. Liverpool treat Leicester like they would either Manchester club. They show them the utmost respect and approach the game accordingly.
They approached today accordingly. Today was meant to be something where Liverpool would be vulnerable and Leicester would be able to profit from it and Liverpool stood up on Sunday night, on live television, and Liverpool reminded the nation not just that they were Champions but why they are Champions. They showed that they remain the best team in the land, possibly the best team in English football history at dealing with adversity.
Liverpool are the Champions. And Liverpool are fucking monstrous.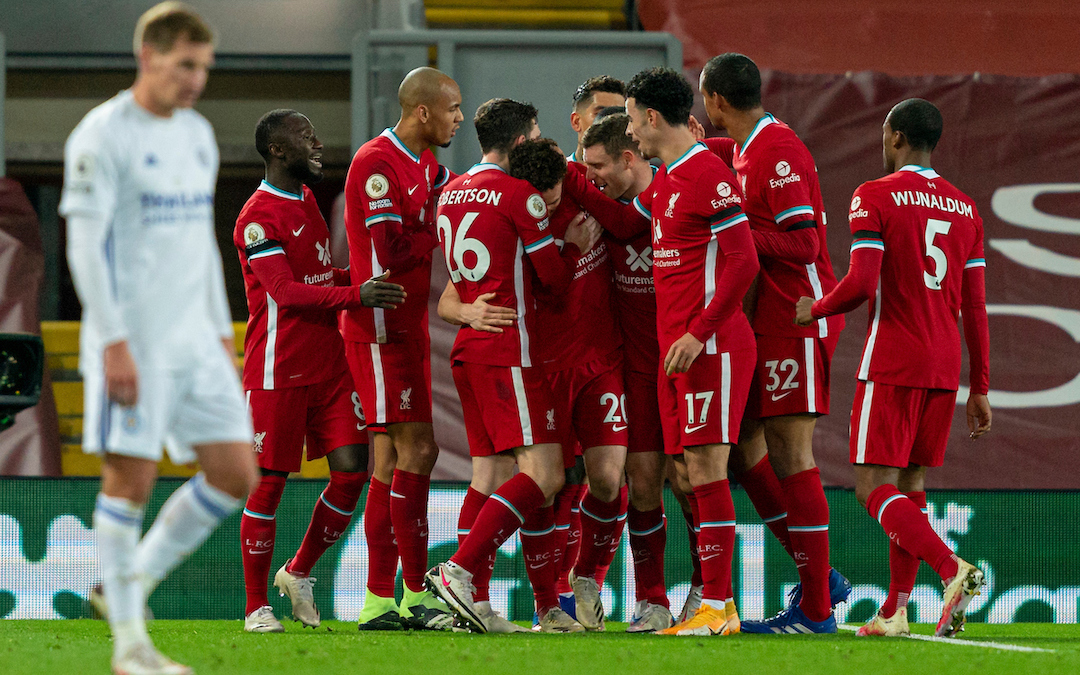 What Liverpool did to Leicester City tonight was nothing short of a demolition. I expected a tight game Liverpool would snatch, not a first half Liverpool dominate. Often on these pages, on these shows, I say something like this "you're greatest strength can be your greatest weakness". Tonight Liverpool flipped it.
They knew that Leicester would look to target their right-hand side, look to hurt James Milner for pace. And Liverpool hurt Leicester with James Milner's quality, with his certainty. Leicester wanted to play the game around Milner; Liverpool therefore played it through him. They backed their captain, backed him to win every battle, but more than that backed him to get them playing.
The return from the international break hails an important run of games. You worry, of course, that the phonebook length injury list that Jürgen Klopp now faces must take its toll. And of course it will. But this performance gives the lie to the idea that any of those stepping in are bit-part players or understudies. On the contrary, they are all very good and made better by playing for Jürgen Klopp's Liverpool.
Liverpool makeshift centre-half partnership looked anything but. Jamie Vardy barely got a meaningful kick and Liverpool were very clever and very adaptable with the line. They would stay front foot until there was a point when they would scramble. Scramble makes it sound as though it was panicked. It wasn't. It was planned and managed and the goalkeeper was as certain as the centre halves.
With Milner at right back Liverpool were down to their last centre midfielders. It didn't matter. All stepped up. Gini Wijnaldum bossed it. Curtis Jones looked after it with such swagger. But Naby Keita pressed it. He was the advantage first half, he hunted when hunting needed to happen. He showed and probed and was the business.
Hopefully the substitution was precautionary, because now is the time for him to be the Liverpool player he could be.
I was overjoyed Roberto Firmino got his goal. He was excellent outside the penalty area and frustrating within it, until he heads that one home with aplomb. That was a serious header. He should have had a hat trick. The woodwork hates Bobby. So does the goal-line technology. We all know he isn't just there to score goals. But when his header goes in from a last-minute corner, a perfect leap is rewarded with a direct strike.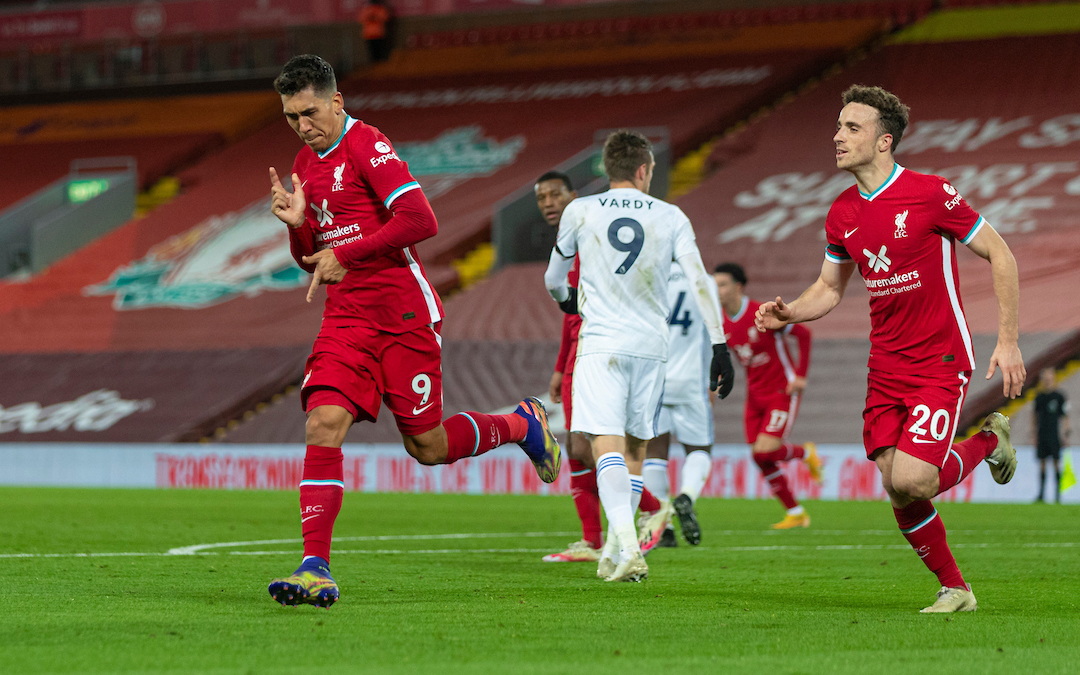 Diogo Jota is one of the first to run over to congratulate him. The whole team is glad that Firmino has got the goal he quite obviously worked for. Their partnership tonight is classy. Sparkling. Add in Sadio Mane and we have a party. And remember this – Sadio Mane wants to retain the title more than you do.
The manager says that people talk negatively about Roberto Firmino because they don't have enough to say. It is amazing that anyone doesn't have enough to say about this Liverpool side. Do you want to talk about the scorer of the other Liverpool goal? Jota's desire in front of goal, his pace in seeing the opportunities, his surety of touch?
Diogo Jota wants to win everything he can more than you do. He's strangely scruffy. He runs away from people without looking quick. He has a sublime tough but it is never ostentatious. He reads the game brilliantly but it looks accidental. It's a constant camouflage act. Take him insufficiently seriously and he will hurt you.
Do you want to talk about the other end of the pitch, the goalkeeper, who takes risks, leaving his goal to distribute the ball, giving pace and problems all over for Leicester?
Whatever anyone is talking about, they surely cannot escape that Jürgen Klopp knows what his players are capable of and trusts them. Games like this are not just a demonstration of individual skill, they are a representation of the Klopp method: find good people and build them up, and when you are done, build them up some more.
Andy Robertson is the best night out of your life. I mean, it would be an exhausting one. Andy always going the bar. The drink always different. Him hurrying you along. But then the after hours. The club. The post club. Bits and fucking pieces. You sweating from your eyeballs, euphoric.
It's 6am and he's arranging to meet you bright and fucking early at 12, son, and you are in, you are there, you are yes to everything because he is and because it is joy to be alive, because you had a year where they took the feelings away and you will never allow that again.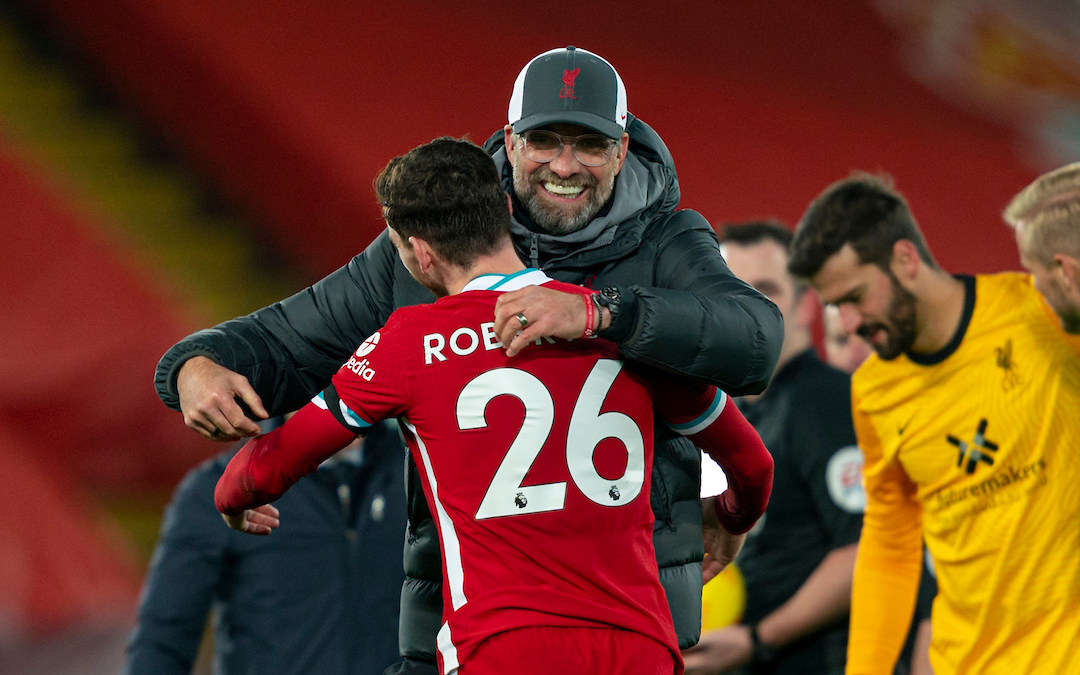 Yes to everything. Keita gets injured so Milner moves and you worry about Neco but yes to everything. They'll sort it out. Yes to everything. Yes to every challenge, yes to every 50-50, yes to every single time it looks too big to climb, looks difficult to overcome. It is easy to say you will be yes to everything but difficult to actually be it.
Liverpool today showed what that was, what that meant, what you need to do if you want it. Liverpool today said to us, to the nation, that when we can next get together and get on it, when we can next say yes to everything as one, they will be there for us. They will be at the business end. They will be our Champions. They will be what we wanted and what we needed and what we wanted for all time.
They will be our night out. It still isn't a party, still not a disco, still not fooling around. But it will be. I promise you again it will be. It will be a party, it will be a disco, it will be fooling around. It will be Liverpool top, Liverpool Champions. Want to hold you. Want to kiss you.
Another step forward. This league is meant to be wide open. It may well be. If it is wide open it will be wide open for us. But if one team pulls clear, one team shows and dominates, it will be us.
We haven't lost at home now for 64 games. Sixty-four hurdles. One more done for this season.
Yes to everything. Please. Yes to retaining. Yes to being the business. Yes to 20. Yes to steaming Leicester. Yes to sending a message.
This league isn't going to win itself. But these lads look like they are going to win it.
---
"The Reds are mustard! I could pick any of the eleven as man of the match."

"Even when missing their best players, Liverpool were leagues ahead of Leicester."

📱 Subscribe to get all of our reaction to Liverpool's record breaking win 👉 https://t.co/oaOWcUzrlr pic.twitter.com/zQkJb72NpZ

— The Anfield Wrap (@TheAnfieldWrap) November 22, 2020
Recent Posts: