Neil Atkinson gives his immediate post-match review after Liverpool's 2-0 home defeat to Atalanta B.C. in the Champions League…
"WE were always a second late on the press and we didn't do enough with it." – James Milner
Nailed that.
Liverpool didn't play at all well, didn't settle and just didn't create. It's the second time this season the final thing is the case – the first was FC Midtjylland at home. That in and of itself tells a bit of a story. Liverpool finally found a way that night.
But they didn't come up against a player as good as Alejandro Gomez who took the opportunity to run the show. It was serious number 10ing. He was bright as a button and was nobody's job. Therefore he was everybody's. But everybody wasn't quite right.
Not being quite right is the defining factor. The selection was a key reason. The selection is influenced by the injuries and the schedule. The selection is influenced by the key piece of calculus – which game is more important? This one or Saturday?
Liverpool have chosen Saturday and those who started actually know it. When they went to Atalanta they went to beat them. They went to play at their best, their most intense game. They went to make a point.
Today they tried to hold. Tried to get to the hour mark. Liverpool won't have any hard-luck stories – James Milner made that clear – but if they chose one they could choose the fact the two goals come at the worst possible time. If it is 0-0 on 70 I reckon Liverpool are favourites. But instead they are thwarted and then unsettled.
I've long been of the view that this side isn't good at playing for a draw. Liverpool are good at cranking up and down the gears but they aren't good at just playing without intensity for long periods.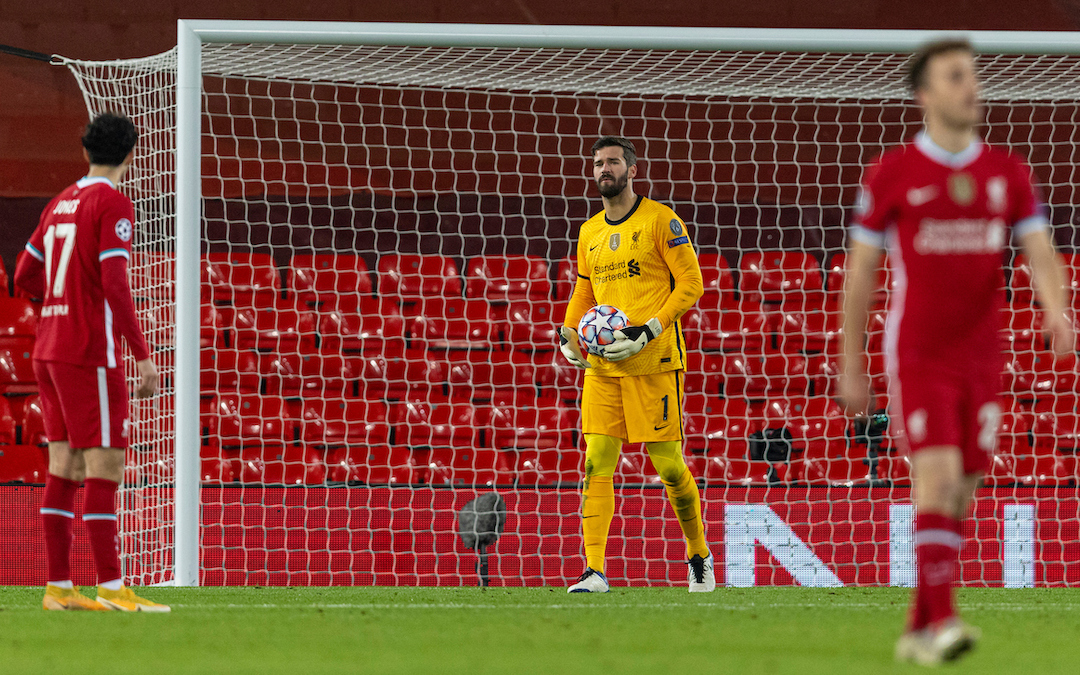 The strangest thing about the game was the refereeing. It's been years since I have seen anything like it. He gave very, very little. He wasn't letting things go more for one team or another. He was just letting everything go. The number of times everyone just paused and looked at the referee as if to say "surely you are giving that one?"
He wasn't. Nor would he give the one after, nor the one after that. He gave practically nothing. It was as much an art project as refereeing and when the good de Roon is booked at the end he is within his rights to be surprised. "This one?" He seemed to ask. "This one you give and book me for?"
It, in fact, proves to be a bit of a shame Liverpool weren't at their most intense, their most Henderson, because part of me would love to see what would have happened had he and that been there with officiating like that.
He wasn't though. And Liverpool weren't either. This will happen again. It is a game not dissimilar to Porto at home in 2017-18. A side determined not to be exposed again but that one finished 0-0. A game not dissimilar to Watford back in February. A side able to discombobulate Liverpool and then profit from it.
The shame is the slight missed opportunity but we are back to the calculus, back to the thinking and the planning.
Nothing is easy. The hurdles are higher and different. Beat Brighton and everything makes sense. Beat Brighton and the sums add up.
As ever, win the next game.
It kicks off in a minute.
---
"The difference was Atalanta played much better and had learnt loads from the first game."

"It's frustrating and disappointing but hopefully it can be used as another pick me up."

📱 Download The Anfield Wrap app for all our post match reaction 👉 https://t.co/AUQZTwhTt9 pic.twitter.com/6QVrunfYRE

— The Anfield Wrap (@TheAnfieldWrap) November 25, 2020
Recent Posts: