David Segar writes that Jürgen Klopp and Pep Guardiola are right to ask other Premier League clubs to reconsider their stance on the five substitutes rule…
THERE has been a lot of talk about greed and injustice in football lately.
The bullies of the Premier League just cannot help themselves. These clubs only think about number one, and will tread all over the rest to get their way.
Won't somebody please think of the Big Six?!
Yes, my tongue is practically sticking out the side of my cheek here, but it is a point that has been raised several times by English clubs competing in Europe since the start of the season, and it came to the fore again on Sunday in the immediate aftermath of Manchester City 1-1 Liverpool.
Both Jürgen Klopp and Pep Guardiola reiterated their frustration at the decision taken by the majority of their fellow Premier League clubs at the start of the campaign that the five-sub rule, brought in for the final straight of last season, be reverted back to three.
Some have dismissed it as merely moaning from two managers who have fewer selection problems than those without the same resources both financially and in personnel.
However, the increase in muscle issues in players, particularly those who have been playing twice a week pretty much since the start of the season in September, off the back of a shortened pre-season, is not a coincidence. There are apparently now 26 players out injured in the Premier League with soft tissue problems.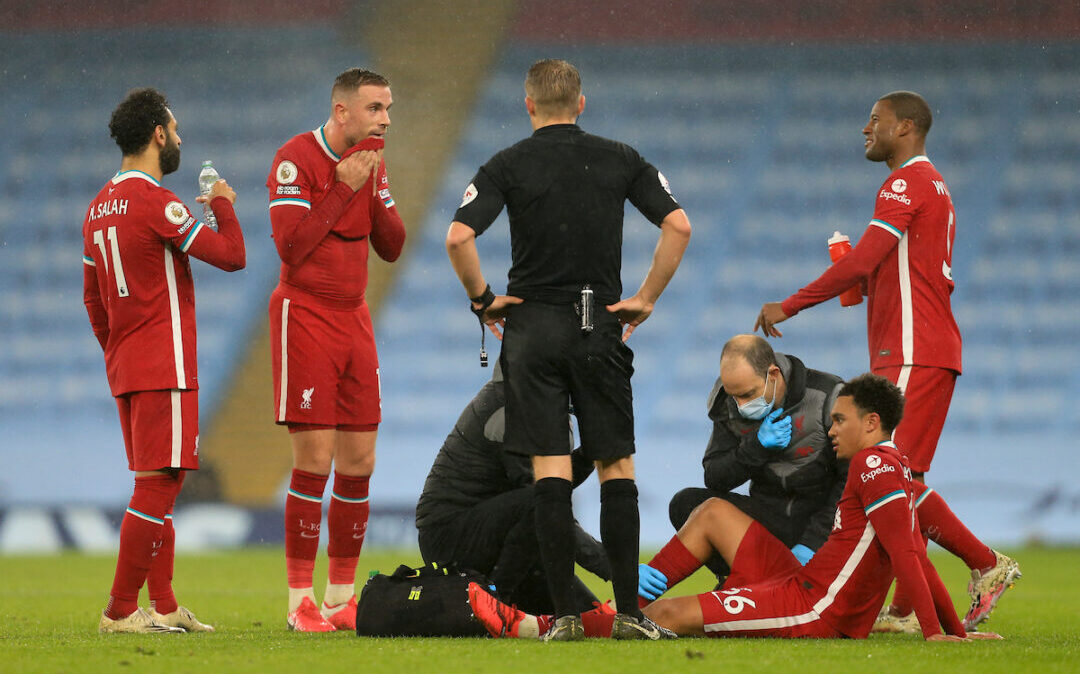 I haven't seen such reckless behaviour around soft tissue since the bog roll aisles during the first national lockdown.
The contest in Manchester between two teams who, for me, both showed that they remain the two to beat, was also perhaps the perfect example of the problem. It was fire and brimstone for a while, and then both sides were exhausted and nothing else happened, apart from Trent Alexander-Arnold going off with a *checks notes* soft tissue injury.
Liverpool, City, Chelsea, Manchester United, Tottenham, Leicester and Arsenal are all having to juggle domestic commitments with European games every week at the moment, and their players are then sent on international duty in between, often to play three games in a week and half.
The five-sub rule was brought in by the Premier League after a vote of its clubs for Project Restart, with the understanding that the schedule would be more taxing than usual during the rush to complete the 2019-20 campaign.
However, the so-called 'smaller clubs' didn't extend that goodwill into the new season, outvoting those competing in Europe because it was something that would only affect them, citing the excuse that keeping it would give a bigger advantage to those with deeper squads.
It is very much notable that literally no other major league in Europe agrees with this stance. They have all remained with five, as has, mercifully, UEFA for the Champions League and Europa League.
When asked what he and his counterpart discussed on the final whistle at the Etihad, Klopp surprisingly said that it related to a mutual disagreement about the return of the three-sub rule, telling Sky Sports: "All the teams have to understand why it's so helpful. It's not an advantage, it's a necessity, 100 per cent.
"In all other countries it happens and here we make a bit more fun of the competition by having only three subs. That is really incredible, so we have to talk again."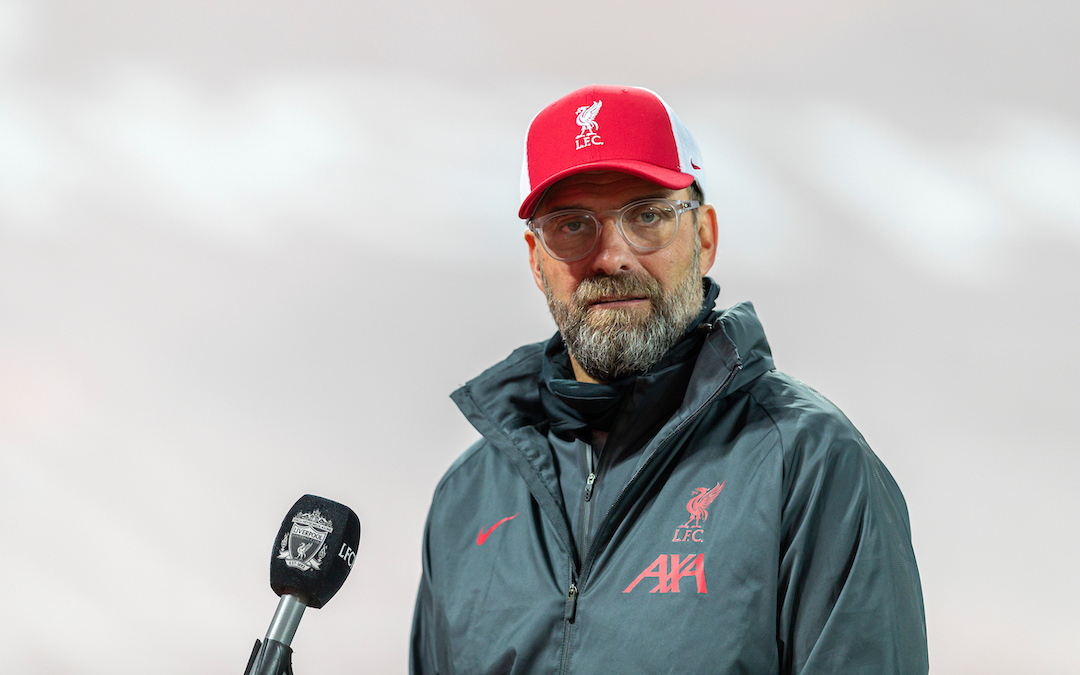 In his own post-match comments, Guardiola added: "All around the world it's five substitutions, but here we believe we are more special people.
"We don't protect the players, and that's why it's a disaster. In this calendar, especially. I will demand, if the people allow, we have to come back to five substitutions. If not, it's difficult to sustain it."
The PFA also offered its support on Monday, issuing a statement which read: "We told the Premier League we would support such a move (for five subs) on health and safety grounds for our members before the first vote and our position has not changed."
You could argue that it was a bit weird to raise the issue after a game in which both managers had only made three subs between them. However, Klopp and Guardiola would almost certainly retort that this misses the wider point.
Sunday's clash was one where neither felt they could afford to gamble. Their season might ride on the result. However, in games where they feel they can make more changes to rest legs, they would like the option to do so. What they want is to be able to bring their main lads off on 70 in other games if they have it sewn up, which seems fair enough.
You would think teams like Fulham and West Brom would be glad to see the back of Sadio Mane and Mo Salah for the last 20-25 minutes. Instead, they may now be forced to compete against them for the full game.
The vote just seemed to come and go, with very little debate. Just as with Project Big Picture – which is another article for another day – there was one negative raised and then everyone voted, literally it seems, without a second thought.
That's not to say that the big club advantage argument isn't an understandable one. The non-European sides felt that the edge gained by a team being able to bring on five potentially top class internationals to try and turn a game meant that it would make a hard fight even harder. That is indeed a risk, but it ignores a number of other factors.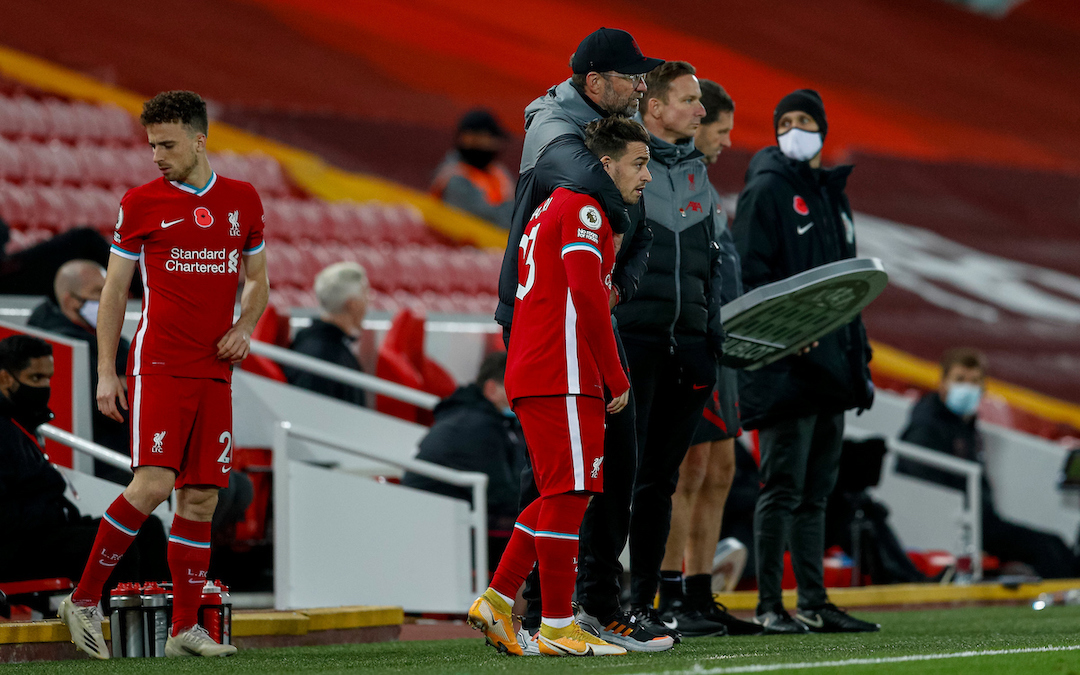 Firstly, why wasn't this considered to be the case when the clubs voted in favour to have five subs for Project Restart back in June? That was brought in to help mitigate the risk of players picking up injuries because of the high volume of games in a short period. Was it not also providing an advantage to the bigger teams then?
The results don't really suggest so. They weren't particularly skewed in favour of the big clubs any more than usual. Manchester United had a good run but that was hardly down to their subs. Let's face it, it was all down to Bruno Fernandes.
Also, what does it say to the fringe players at those other clubs? Their club has actively voted to prevent being able to give them more minutes. There are no teams in the league struggling to fill their bench with decent quality.
Fulham, for example, named Ruben Loftus-Cheek, Michael Hector, Neeskens Kebano, Ivan Cavaleiro and playoff final hero Joe Bryan on the bench at the weekend. Perhaps not the strongest five-a-side team ever but you wonder how those who didn't get a game feel about their club's stance.
Surely one potential compromise could have been an additional rule whereby if five subs were allowed, it be on condition that at least two of the players being brought on should come from that club's academy.
The bigger spending of the top six wouldn't be a factor, and you would see more opportunities for the next generation, many of whom have instead been sent on loan, sold, or left to make do with U23 games and first team bench-warming.
It is apparently something that can be revisited and voted on again in future. The fact that West Ham boss David Moyes has already admitted that he has changed his mind on the issue is a promising sign, and he surely won't be the last.
There are reportedly still a number of clubs who oppose it, though. Perhaps they'll change their mind once they also start playing twice a week over the Christmas period and their own injuries start piling up.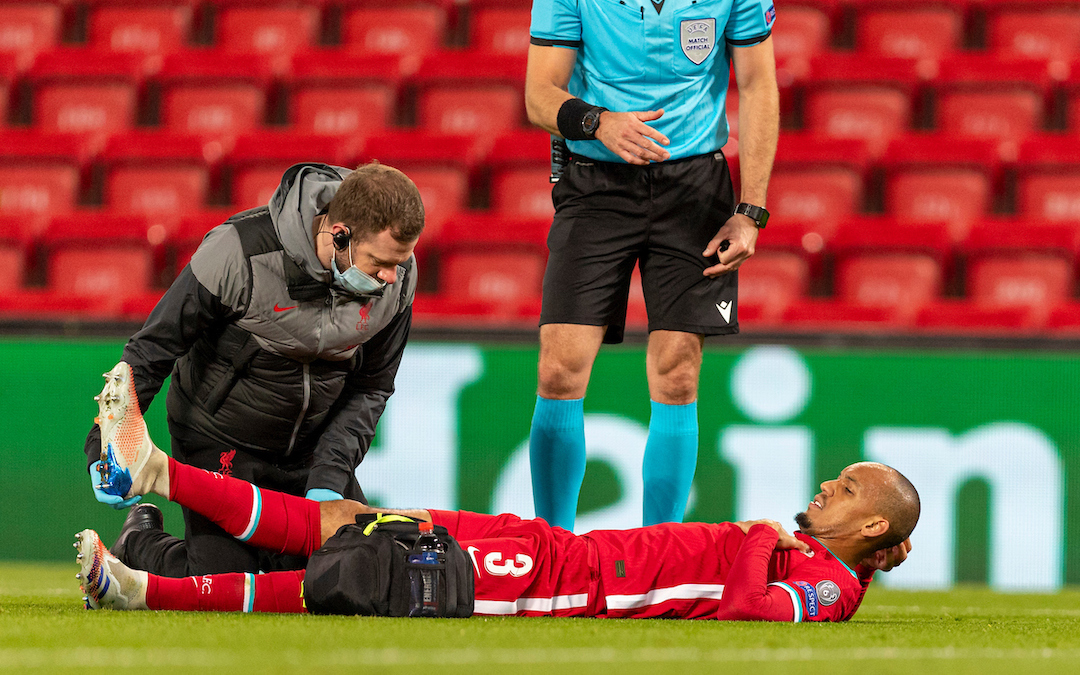 When fixtures return to a normal and more manageable period, fine, three subs is enough, but as long as there's a congested and tightened schedule, more consideration has to be made to players. Not just now, but who knows how many injuries will be picked up this season that could have longer term ramifications for the players in question?
There is understandable skepticism around the wishes and wants of the so-called Big Six, but that doesn't mean everything they want to do is evil and wrong.
The word "self-interest" is, somewhat justifiably, raised whenever these league matters arise. It has to be recognised that this is the case for all 20 teams, and the decision not to allow five subs is pure self-interest from those who voted against it.
Klopp and Guardiola is the great modern day rivalry, but their similarities on how they see the game is what often shines through. This is one of those occasions where two very intelligent men are both using common sense, and not for the first time, are baffled that others aren't.
They are both unequivocally correct. Hopefully, sooner rather than later, broader common sense prevails.
It usually does in football, right?
---
"In reality Klopp and Guardiola seem to have been concocting a battle plan together. They both came out with a concerted effort to say we need to talk about this."

🗣 @RorySmith On 'The Moment'

📱 Subscribe to watch in full 👉 https://t.co/oaOWcUzrlr pic.twitter.com/EqGovEtU2q

— The Anfield Wrap (@TheAnfieldWrap) November 9, 2020