Dan Morgan writes that the constant reminders around Kirkby of the success of the Jürgen Klopp era will ensure this team are cemented in Liverpool's history…
ARMS aloft, joining almost in unity separated by half a century, Liverpool's Bill Shankly and Jürgen Klopp have taken centre stage at the newly formed Liverpool training base in Kirkby.
This isn't an accident, it isn't something which will have been done to pacify the German while he's in charge. When Klopp is long gone from Liverpool, the image of him and Shankly will remain, standing to represent the two greatest revolutions in the club's history, the paralleled times when the club was truly living in the grip of a true visionary in every sense.
Klopp can be his usual self when appraising the site, talking about how it was built not for him but for Liverpool and its future. But it now has his stamp of excellence attached in a way that can't be defined by equipment or decor, it certainly cannot be replaced after he leaves.
Liverpool is now a centre of that very excellence Klopp has instilled. It's a place for winners, a place where in every department it strives to be the best.
I love the idea of the time capsule. I love the idea that it will one day remind those who never lived this glorious time that Liverpool rose from the ashes in a way none of us could have ever imagined.
As the team returns in dribs and drabs like soldiers from the battlefield after international duty to check out their new facilities – many going straight to the physio room, no doubt – they will be wise to embrace every element of their new surroundings and remind themselves of what sets them apart from the rest.
When this team faces Leicester City, it faces its last manager before Klopp in Brendan Rodgers. The Northern Irishman is now a different proposition to the one who managed this club. He and the club were on their own journey, their own learning curve. It serves no use to question why some people still dislike him without any real cause.
Yet it isn't unfair to use Rodgers' time as a solid comparison to the current situation facing the club, and why Liverpool still hold a trump card regardless of personnel this weekend.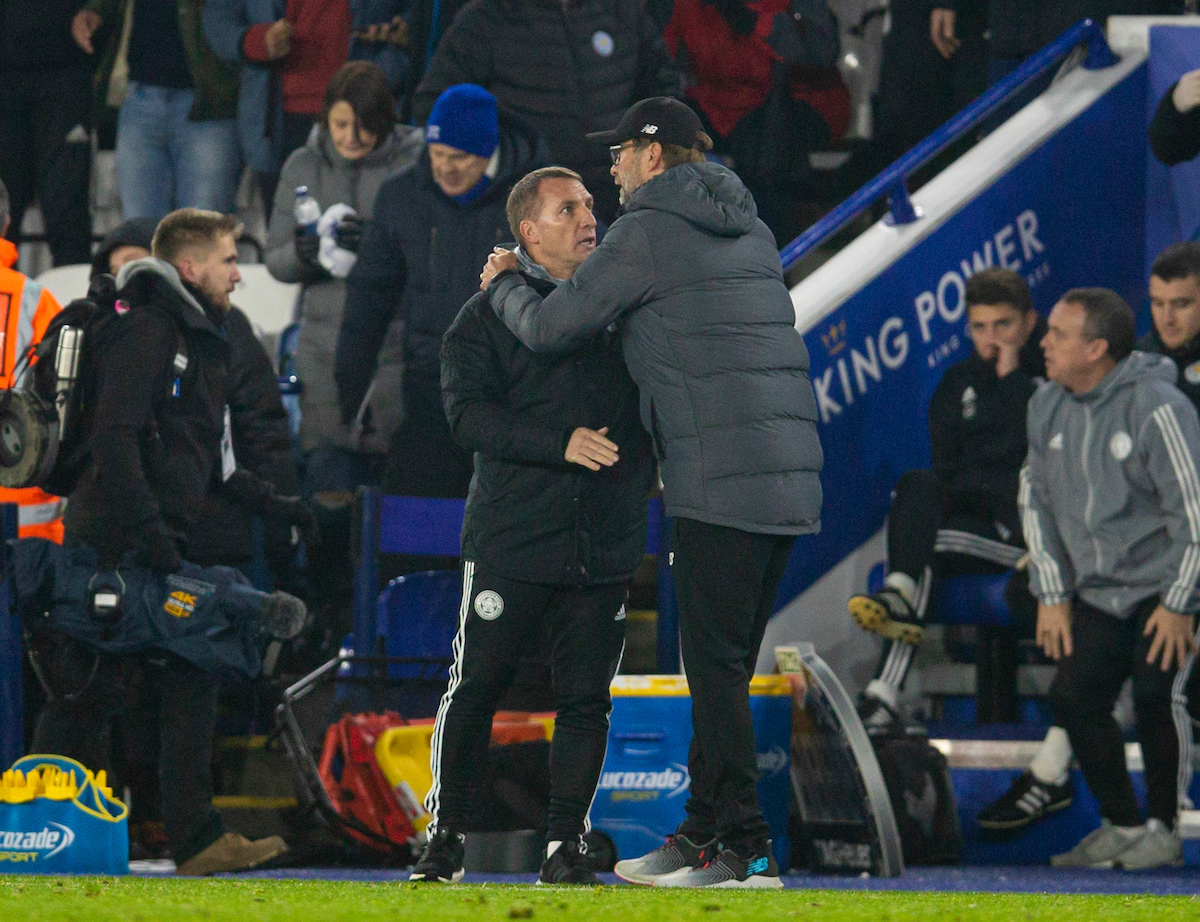 For all Rodgers' good, there was plenty of indifferent and painstakingly bad toward the end. While many memories flock to Stoke, I'll always be reminded of the FA Cup semi-final at Wembley against Aston Villa in 2015.
Rodgers changed Liverpool's shape three times in one half of football, and proceeded to make his team worse after the break by subbing Lazar Markovic for Mario Balotelli and backing himself into a corner.
My point is that, under the most severe injury circumstances, Liverpool under Klopp is eminently different for one main reason: it has both philosophy and identity at its core. Should Curtis Jones and Rhys Williams start on Sunday, you back them to get the best information possible to help them succeed in helping Liverpool win the game.
Liverpool's coaching staff will back the process, back the philosophy and back their players to understand what has been laid out to them in how to beat Leicester. If that isn't enough, then it won't be through anything other than this team being beaten on the day through whatever circumstances play out.
It will take its medicine but there won't be anywhere near as much much soul searching needed.
That's why this team and this manager will be immortalised by the new training centre, Anfield and beyond. It's also why we cannot rule out them emerging from this most testing period having once again somehow found a way.
They are a marvel, they hold the barometer for excellence we can't lower from here on in under any circumstances.
Thankfully, it seems wherever you look in the new training facility, those reminders will be there every single day.
---
Recent Posts: