James Milner has been commemorated at Liverpool's new training ground, and Dave Segar writes that he's more than deserving of his place in our history…
THERE are very few new ways to honour the greats of football.
Mad-looking statues, naming stands after them, or dramatic documentaries. There was a superb one on Sky about Francesco Totti the other day that almost had me buying a full Roma kit.
There is another way to show a player how much they mean to you, it seems. Liverpool's new state of the art training complex in Kirkby boasts three full-size football pitches, goalkeeping and warm-up areas, two gyms, a full-sized sports hall, pool, hydrotherapy complex, specialist sports rehabilitation suites, and a James Milner door.
Yes, the recently opened AXA Training Centre has a door named after The Reds' number seven, who explained after the champions' 3-0 win over Leicester: "When the plans were made and we said there should be a door there, me and Hendo, because the route was a strange setup. So they put a door in and decided to try to be funny and name it after me. It's wooden hinges so it's not a statue or a stand but a door at Liverpool, I'll take that!"
It is quite the honour for Milner, who probably always dreamed of having his name on the Balon Door… *Thomas Muller face*
Regardless of such bizarre compliments, there is a solid argument that the 34-year-old deserves something named after him after the service he has provided the club.
Milner signed on a free transfer from Manchester City in the summer of 2015 to relatively little fanfare. The consensus seemed to be that it was a solid get for then manager Brendan Rodgers, but also that a player who had turned 29 and was struggling for starts at the Etihad wouldn't exactly be a game changer.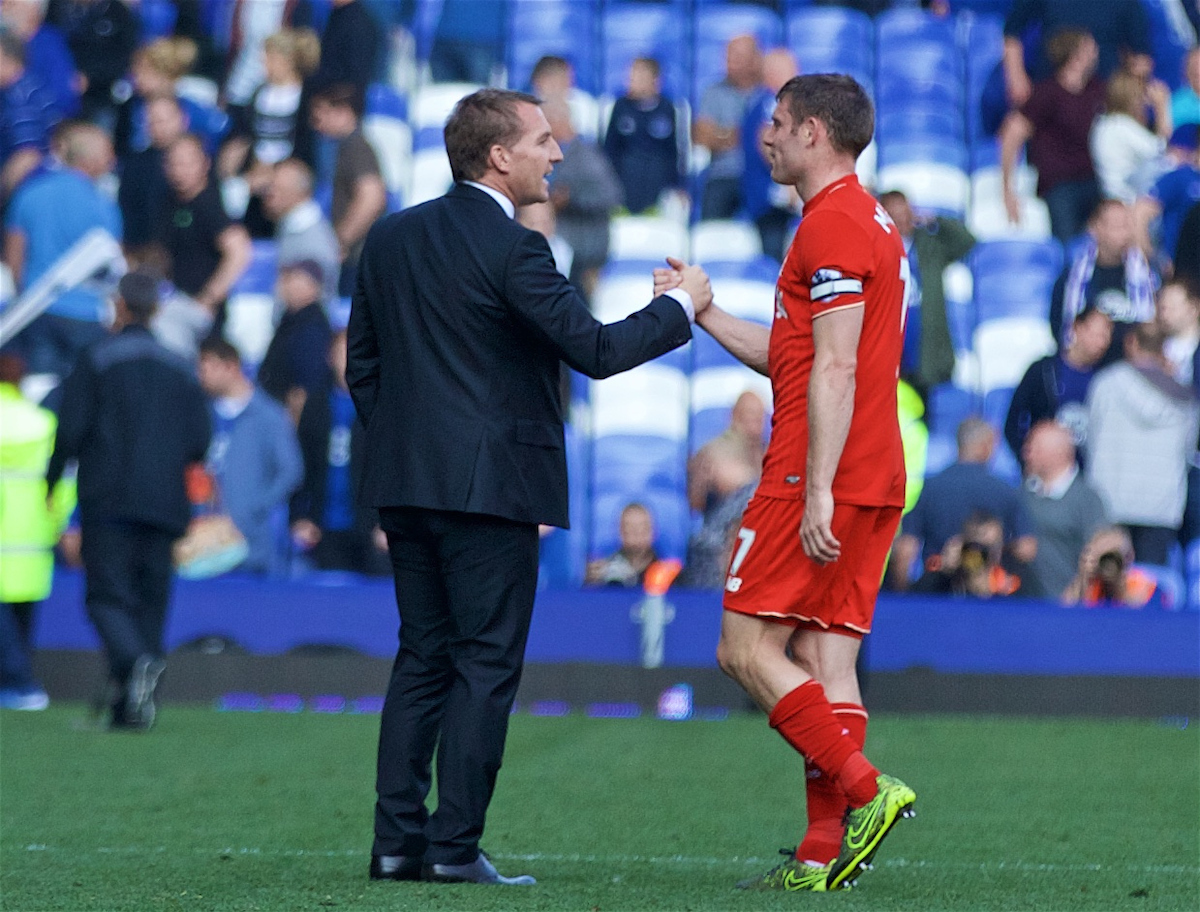 Almost five and a half years later, the man affectionately known as 'Millie' has truly become part of the furniture (quite literally, now), and showed once again at the weekend just how important he is to Liverpool Football Club.
His tireless work as an emergency right back in the absence of the injured Trent Alexander-Arnold didn't just see him put a shift in, but he was an integral part of the comprehensive victory over The Foxes.
Leicester tried to target Liverpool's right side, and succeeded in getting in on a couple of occasions, but in the main Milner held his own and kept them quiet along with Joel Matip.
Crucially though, just as Alexander-Arnold usually is, Milner was a creative outlet from that position. He produced five chances for teammates (the most of anyone), and got two assists, albeit both were from corner kicks. He moved into midfield after the injury to Naby Keita and maintained his high levels in his more preferred position to help The Reds see out the win.
Given the situation that Liverpool find themselves in – with seemingly more injured players than they actually have players – Jürgen Klopp being able to rely on someone like Milner becomes even more invaluable than usual.
His versatility can sometimes feel like he's being damned with faint praise, and it's probably something that annoys Liverpool's vice captain to some extent, who had to play an entire season at left back in 2016-17, which he did to great effect.
However, he is as professional as they come and he showed again on Sunday how critical it can be to have someone who is not only willing to plug gaps when needed, but who you can rely on to do so with such game intelligence paired with unrelenting commitment.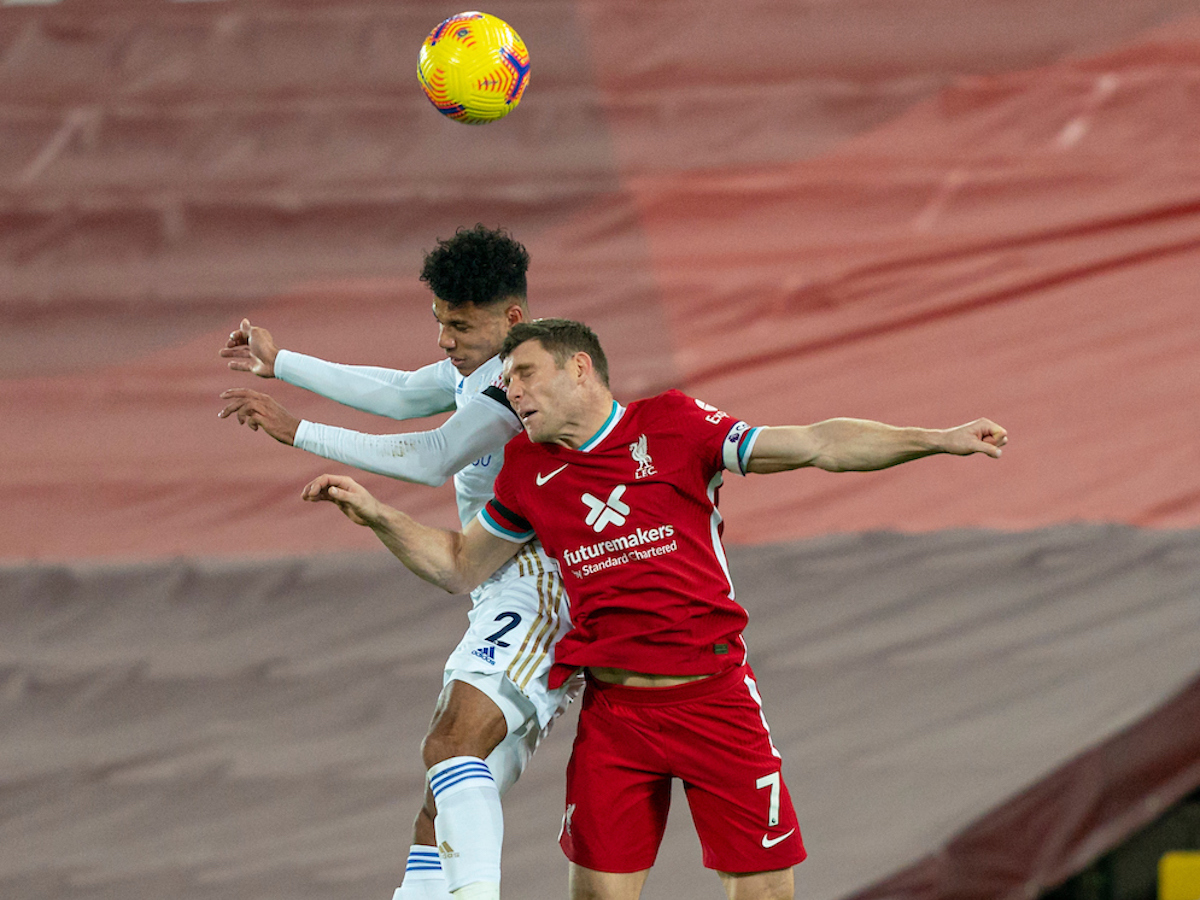 He may not be the most spectacular. He won't try flicks and tricks or wallop in 30-yard screamers, but he will play smartly, honestly and with as much hard work as you can expect a human to produce in a football kit.
It would perhaps have been more appropriate to name a treadmill after him at Kirkby. One that can't be turned off and dispenses Yorkshire Tea.
The impact Milner has made since his move from Manchester to Merseyside is surely beyond what anyone expected at the time. He has been an important part of a side that has won English, European and world titles, and even approaching the age of 35, he is still fixing problems and thriving while doing so.
When Alisson Becker and then Virgil van Dijk got injured, there were even jokey suggestions that he might end up having to play in goal or at centre back. People were probably only half-joking in truth.
It was perhaps seen as one last big move for Milner when he arrived at Anfield, yet he has now spent more time at Liverpool than he has at any other club in his career.
He is probably the best player the club has ever picked up on a Bosman free transfer. Markus Babbel, Fabio Aurelio, Gary McAllister and Matip are in the running, but to get over half a decade of such impeccable service and leadership surely puts Milner out in front of that particular list.
Talk of him leaving to be reunited with his boyhood club Leeds in the summer was unfounded, and it's a good job that it was. He may end up at Elland Road, or elsewhere, in future, but he is contracted until 2022 and it is difficult to see a scenario where Klopp allows his trusted general to leave before then.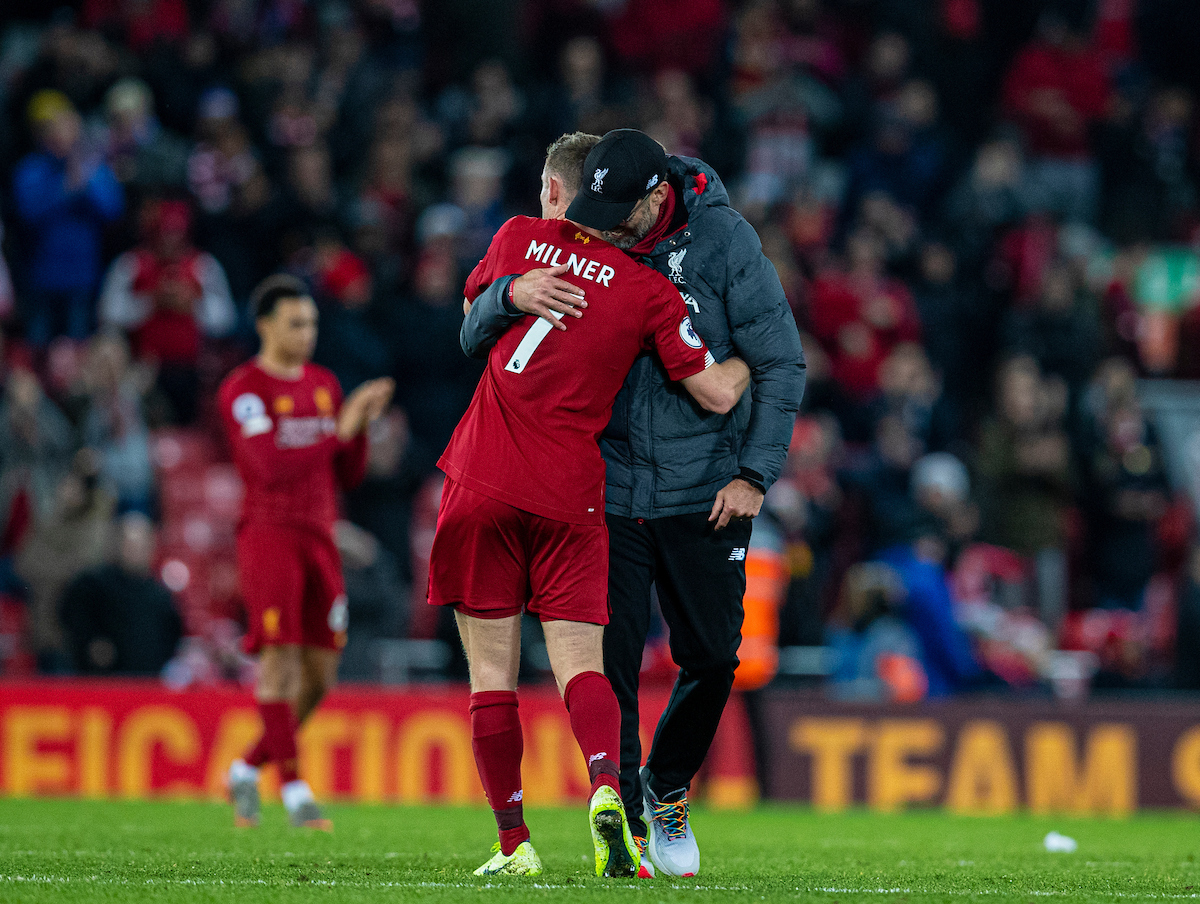 It wouldn't just be his ability on the pitch that would be missed, but his unyielding professionalism off it.
In addition, his skits on the LFC social media channels with Andy Robertson are too good to let go of anytime soon.
With the first team and youth sides now together in Kirkby, the youngsters getting to see, and potentially work with Milner day in day out would be the perfect example to follow. The impression that someone with that work ethic can leave on the next generation of talent cannot be underestimated.
Liverpool's number seven shirt has had some iconic names fill it over the years. Ian Callaghan, Kevin Keegan, Sir Kenny Dalglish, Steve McManaman, Luis Suarez, but Milner's name deserves to be up there as a success story of the famous garment when history recalls his tenure in future.
As the years go by, many will come and go through the James Milner door at Kirkby.
Very few will have the impact that the man himself has had on the club… So far.
---
"Loads of heroes, but i'm a big fan of Jimmy Milner. I love him."

"They obviously targeted him. His contribution was the most touches on the pitch and he won possession and created more chances than anyone."

📱 Subscribe to watch 'The Final Word' 👉 https://t.co/oaOWcUzrlr pic.twitter.com/ipwAGrBync

— The Anfield Wrap (@TheAnfieldWrap) November 24, 2020
Recent Posts: