Diogo Jota's arrival caused us to ask questions of Roberto Firmino, but Josh Sexton writes that ideas of a head to head between the two are complete nonsense…
A PROPER football chant is a real artform.
Of course music is pretty much the purest form of art anway, or at least the most universal. It's pretty much the one thing that unites the entire human race, music is a part of everybody's life.
Music has the power to take you to places in your past and feel the emotions you felt at any specific moment.
After the final whistle yesterday I travelled back to The Olimpiyskiy Stadium in Kyiv, stood on my chair with all my mates dancing and singing to One Kiss by Dua Lipa. It's one of my fondest football memories of the past few years, and the music made it.
But football chants are something different to the massive chart rammers that can occasionally creep into football crowds (see also The Kop singing She Loves You by The Beatles, or There She Goes by The La's in Basel).
With a football chant there's more artistic license. We as football fans can take the music to pretty much wherever we want. We can use it to crow at the opposition or lift our own lads onto a higher plain (or both in the case of Show Them The Way To Go Home).
That artistic license is the key though, as it means we can embellish around certain aspects of the game or certain players.
I mean, let's be real Manchester United fans; Anderson never shat on Cesc Fabregas – literally or figuratively. He never even got close enough to lace his boots. But football chants don't really account for class.
And they certainly don't account for form either. Could you have safely called Bobby Firmino the best in the world these past few weeks without being completely ridiculed for it? No, but it doesn't change it. It's in a song, so have that.
I have struggled with Bobby Firmino these past few weeks, though. I think it's fair to say our Facebook relationship status went from "in eternal bliss" to "it's complicated".
Don't get me wrong, I loved and still love him to bits and all I've ever wanted is for him to stick two fingers up all those that say "how can you have a striker who doesn't score goals". But this shiny and new lad had come in and was doing all of the goals, and maybe I just started to over/under analyse things a bit more.
It's the nature of football these days, though. Everything is a head-to-head battle. Not friendly competition, no, that doesn't make for good headlines. But Sadio Mane fuming at Mo Salah for not squaring it across goal? Those are the juicy ones.
And no matter how hard you try, it seeps into your subconscious mind.
"Well Jürgen always goes three upfront so somebody is gonna have to miss out, and only one of them isn't firing right now."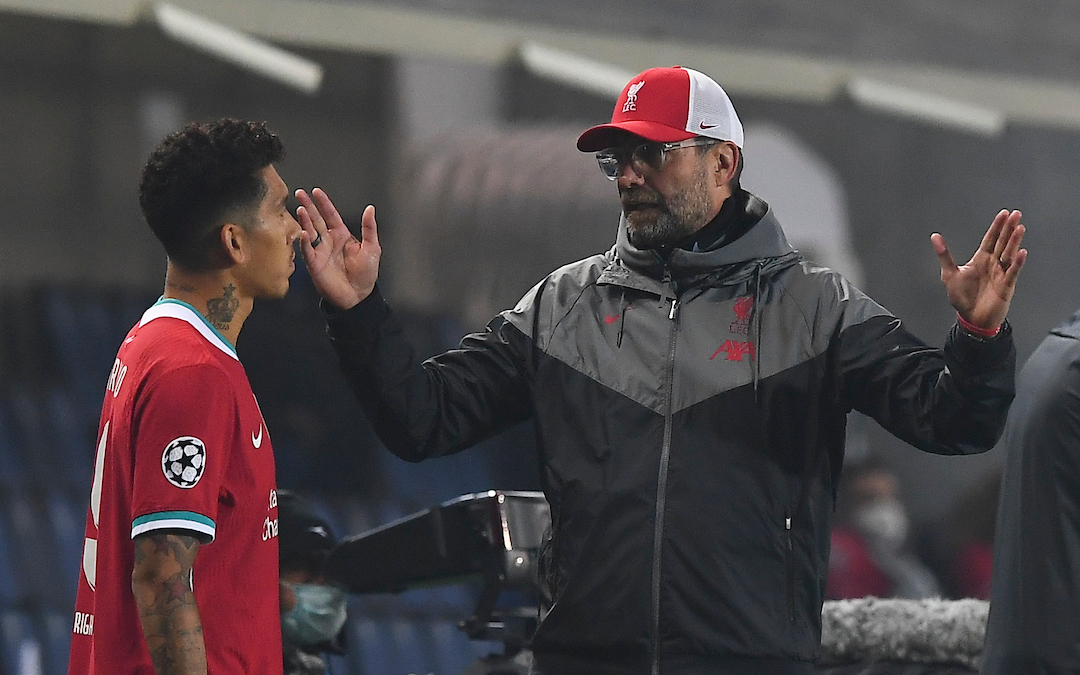 To me it wasn't even the fact that Bobby wasn't scoring – and before the banter boys start to rush to their keyboards to crack out the classic "how can he not be in the team to score goals, he's a striker", I mean his overall play wasn't even where it usually is.
That's not to say he's been crap. He's the starting number nine for the best team in the world, and he'd get into any other strike force in the Premier League – argue with yourselves. His stats for Liverpool are relative to Liverpool and the way Liverpool play.
Why Reds bang their heads against brick walls in argument with opposition fans about Bobby's goal return is not because he isn't expected to score goals, it's more that he brings so much more than goals that goals become the least important of his contribution – especially when Klopp's side keep making the winning thing look so easy.
He's only a number nine by virtue of the shirt on his back. He'll never be a poacher or conform to any stereotypes of a number nine because he's so much more talented than that.
Since he arrived at Anfield he's completed as many tackles as some defenders in this league – you know the lads whose job it is to tackle.
For the lads in the forums who believe that opposition teams magically leave space in behind against Liverpool, that's what Bobby brings. Ask your own team's defenders, he's a nuisance you have to follow around, and he won't give you a moment's peace.
The minimum we should expect is hard work and we can never doubt that Bobby will bring that to the pitch. But he's set such a high bar for himself in recent years by being able to do the tackling, the pressing, the dragging opposition defenders all over the gaff, all while scoring loads of goals, that we've just come to expect it all from him.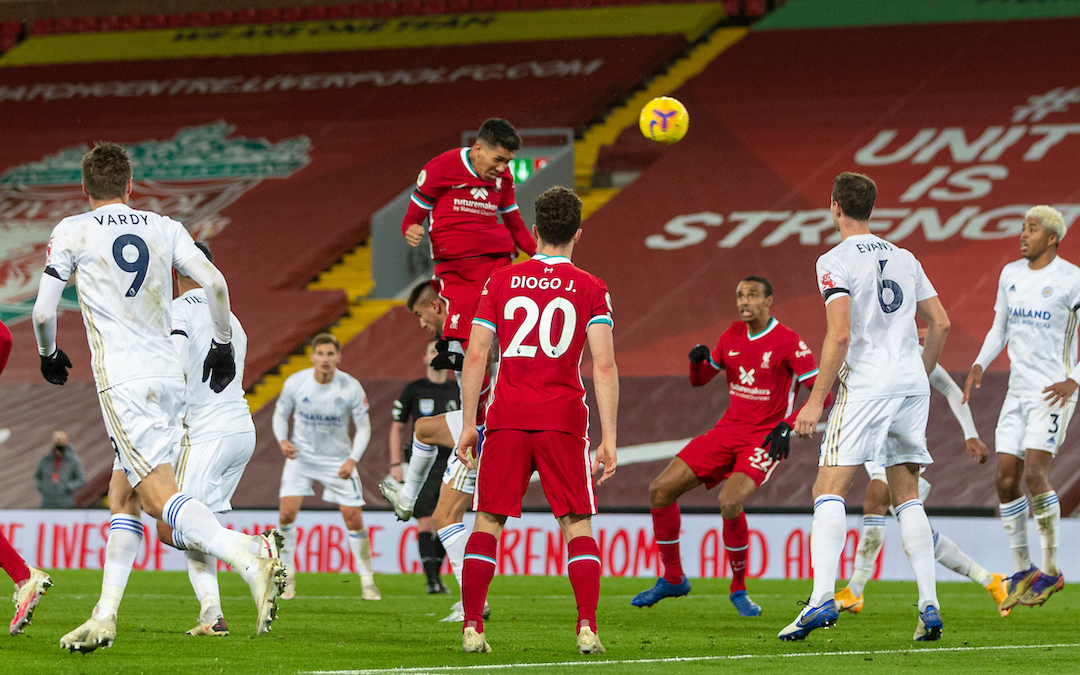 But this gets harder for Liverpool year on year, you know. They have to keep adapting because teams are only ever trying to find new ways to beat you, and the more they play you the easier it makes it. That's why we should all still be so impressed with our lads. Because it means they have to adapt and find new ways to overcome the opposition.
For Firmino, that might mean dropping that bit deeper just to make sure his marker commits to open up space in behind. It might be feinting where he'd usually go for a flick. It's all about the finest margins.
Diogo Jota has come in and absolutely lit up the place with his goals and performances, but teams had no idea previously of what Diogo Jota at Liverpool looked like. They could only go off what he was like at Wolves, and it's clear to everybody that he's gone up a few notches since then.
Firmino doesn't have that luxury, but it doesn't make him any less of a threat. He was absolutely sensational yesterday in proving that, and you could see how made up everybody was that he got his goal to top it off.
Ultimately scoring goals is the most fun thing in football just behind winning. Liverpool are doing enough of both right now, and they've still got the best in the world right at the heart of it.
Our number nine…
---
"That was a performance put in in adversity, siege mentality. We're going to show you who we are."

"It's a reminder that Liverpool haven't had many bad results this season."

🗣 Listen to today's podcast for free 👉 https://t.co/Kt039EZiT8 pic.twitter.com/1EpBYYm37K

— The Anfield Wrap (@TheAnfieldWrap) November 23, 2020
Recent Posts: