Neil Atkinson gives his immediate post-match review after Liverpool's 1-1 draw against Brighton in the Premier League…
YOU are left livid.
It wasn't clear and obvious. There's an issue with that being your starting position because then people go "ahhh, so you think…" and that's understandable because some people are actually Evertonians or are Evertonians in their souls.
It wasn't clear and obvious. It wasn't even controversial. It wasn't bloody stupid. The player goes for the ball. These things happen.
Had the referee given it in real time, had he or the video assistant referee spent 90 minutes not standing for any contact which doesn't result in winning the ball in the penalty area then absolutely fine. But that isn't the case. The ball doesn't move in a Welbeckian direction and he is undermined. The ball just does what it does.
I hate talking about referees. Even in the Merseyside derby the late decision is frustrating but it is digital. This isn't. This is a choice. A choice to look at it, a choice to accept it.
At half time Liverpool should be behind. But from the 0-0 they don't deserve at the interval, they deserve to win the game. Liverpool's second half is precisely the second half of Champions. And yet.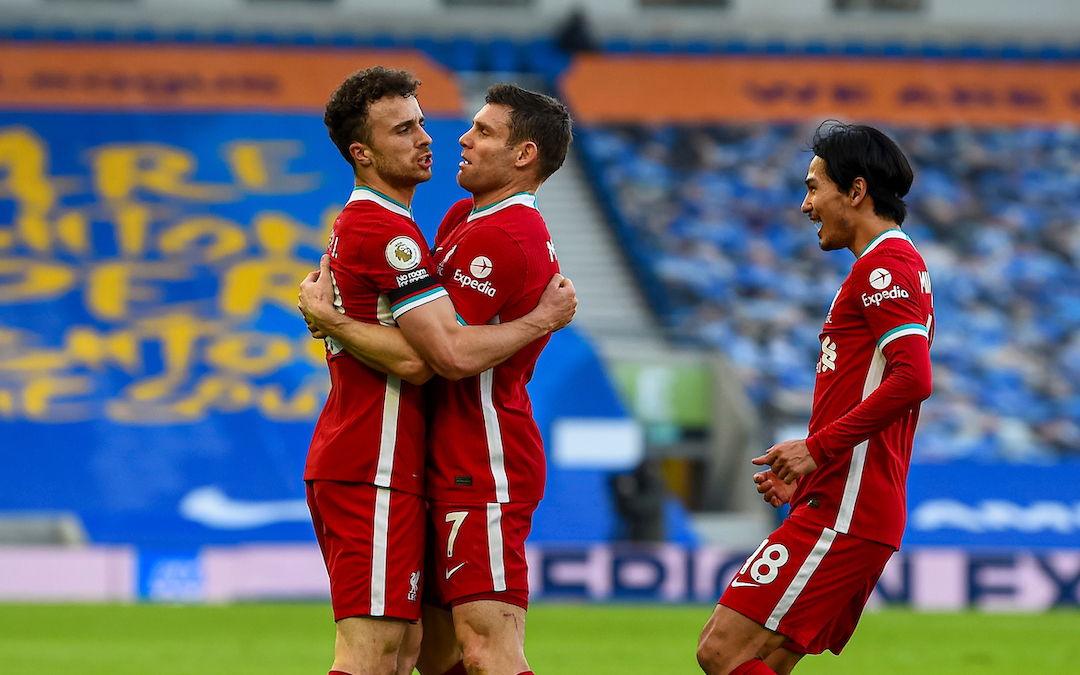 You are left livid.
Seeing the team there is something to be said about both Nat Phillips and Neco Williams. One would be fine. It is harder for Williams than for Phillips. Williams needs to do more in all phases of play. Phillips has his decisions made for him. His job is just to win it when he can and manage space if he can't.
Both at once feels a bridge too far. Both makes it easy for them to be targeted. Both offer genuine encouragement. Williams is dreadful around the penalty but what hurts him eventually is that players become increasingly reluctant to involve him. Phillips isn't built or expected to be involved. The ball is something he should repel most of the time.
The first penalty is a penalty. Brighton own the first half and should be disappointed with going in at 0-0. Nothing has quite worked for Liverpool; the 15 seconds of the disallowed goal aside.
Second half shows the value of both James Milner at right back and Jordan Henderson in general. Suddenly it is easier not just to be Nat Phillips but to be Liverpool. The goal is just beginning to be on the cards at the moment it comes. Liverpool never feel threatened by Brighton again while Brighton are obviously dangerous.
Brighton play relatively well across the course of the 90 minutes but just fall short bar the missed penalty.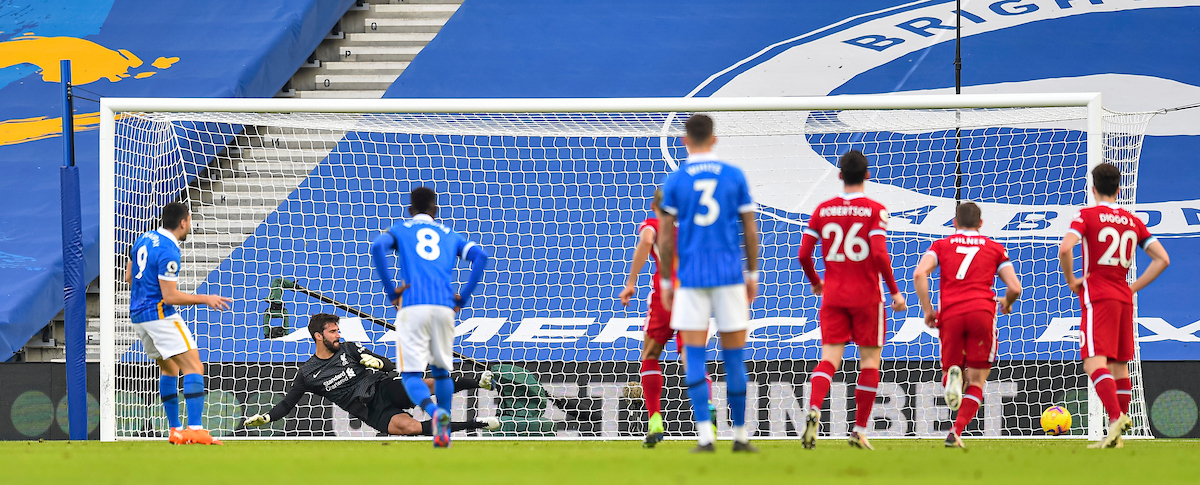 You are left livid.
The manager exists in the livid at the moment. BT decided not to interview him but to argue with him which is in a sense fair enough but in another is just naive. In terms of the contracts et al the issue isn't BT but the Far East audience, but they aren't prepared to say that or engage with that, they are hiding away.
The wider point isn't immediate but it is months old. The wider point is that only the clubs, thus far the European-qualified clubs predominantly, have been asked to adapt, have taken the strain of football post-COVID. No one else. No competition or association or television company has genuinely adapted. They have instead shrugged.
To say it again, all of this was something which could have been anticipated. But anticipating is an action, something you have to be open to.
He is left livid. He isn't alone.
What's exhausting is having to put up with the mouth of the south Jake Humphrey. What's exhausting is the chunner as though anyone is being unreasonable or, worse, unprepared, lacking determination.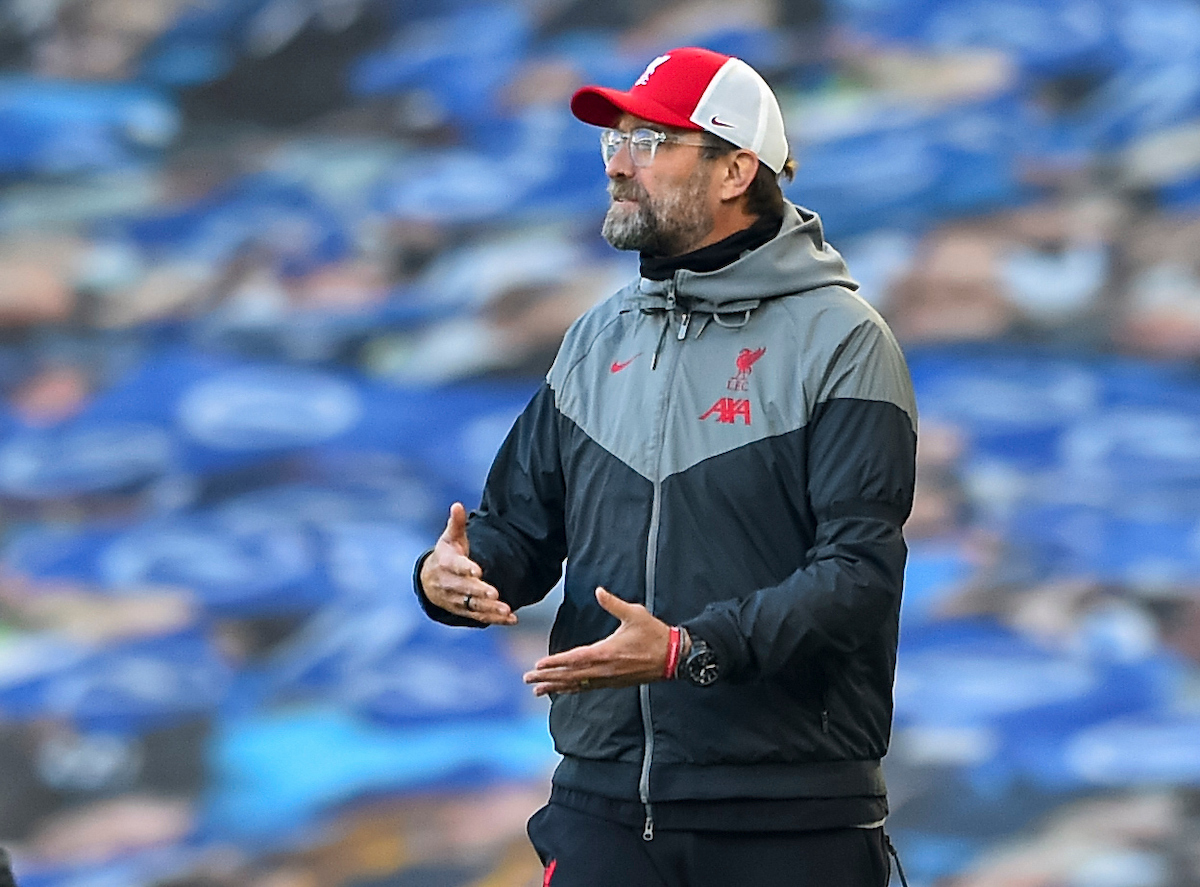 This isn't about whether or not you want to bite down on the gum guard. It is about that Liverpool have lost another player to injury; Brighton lost two. These footballers haven't had a pre season. They aren't conditioned and they will continue to fall, they will drop.
Liverpool deserve zero points till they deserve three. They show vulnerability till they show resilience, till they show vulnerability. They all gave us all they have and they all, each and every one, deserve our love and respect.
My crucial, final thing from today is that they will fight for me and you, fight for each other.
There are 28 more hurdles, 28 more fences. It will be like the Grand National but let's be clear: though Liverpool will hit some hurdles, they won't stop moving forward until there is nothing left in their bodies.
We are left livid. And trust me, literally *me*, the energy of being livid can make you do all sorts.
Being livid can be being on the march. Fuck them. Each and every one. Win the next one and the one after and the one after that. Grit your teeth and fuck them. It's our league.
---
"It felt like we were getting away with one, like it was a bonus."

"But VAR is changing our relationship with the game."

📱 Subscribe for all of our reaction to Brighton 👉https://t.co/oaOWcUzrlr pic.twitter.com/wlPDf851BX

— The Anfield Wrap (@TheAnfieldWrap) November 28, 2020
Recent Posts: