Neil Atkinson gives his immediate post-match review after Liverpool beat Atalanta 5-0 in their third Champions League group game…
THERE are statements of intent and statements of intent. That was serious business.
I like Atalanta. I rate Atalanta. They are a side to be scared of. A side that other teams have rightly been scared of.
Liverpool didn't dismiss them, they demolished them. Liverpool didn't treat them with contempt. They treated them with the greatest respect. They treated them like they were a side at Liverpool's level. They treated them as though they were elite.
Atalanta weren't up to standard but they weren't allowed near standard. Liverpool blocked everything. They set up within perfect precision for an hour. You can see how perfect Liverpool were because you can see how they become gently fallible by the time it is 0-5.
Nil-five. Nil-five doesn't happen between third in Italy and first in England. Nil-five simply isn't on the agenda. And then…
It is amongst the great Liverpool away performances in Europe. All that puts you off that call is the stage of the competition. Were that last 16 or last eight we would be amazed. But make no mistake, in prospect, that was amongst the biggest games in Atalanta's history. The win for them would be enormous. Defining.
They were dismantled. Your columnist here falls in love with the moment and the feel but rarely gets carried away with just scoreline in either direction. Scoreline can prove to be a liar.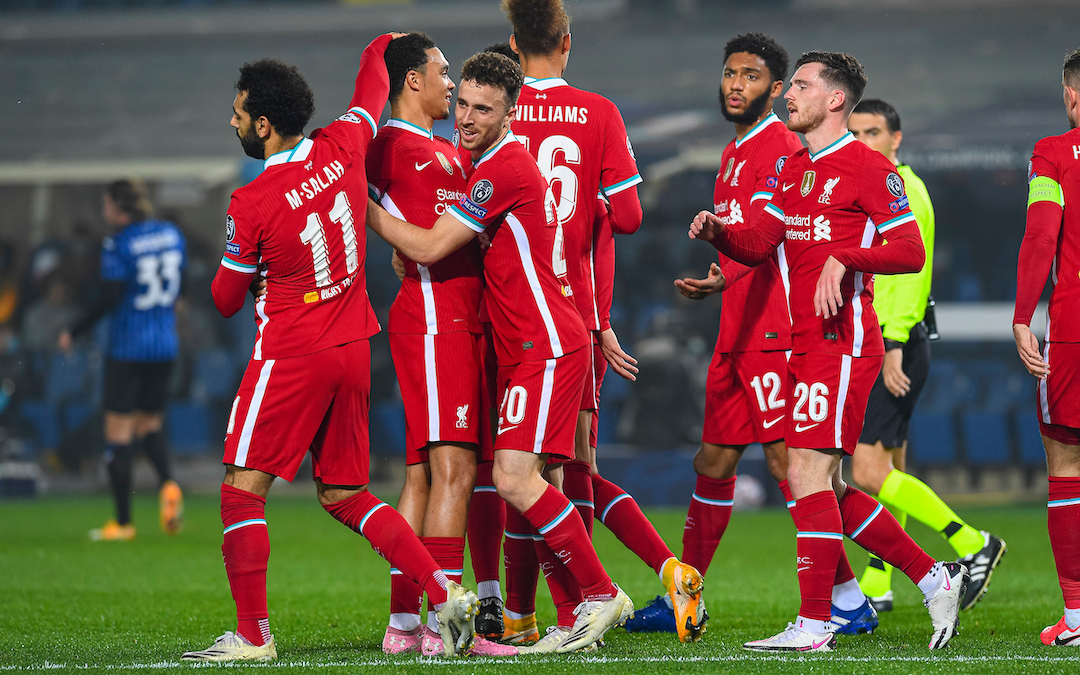 While Liverpool finished beautifully, emphatically, what they did was utterly defenestrate Atalanta. They took them, frankly, to the fucking cleaners, pal. What Liverpool do to Atalanta this evening in and out of possession is not far from an absolute humiliation. Liverpool are magnificent. They are the very best version of themselves and they break their opponents.
In a sense, that is understandable. Comparative budgets will suggest that what Liverpool ending up doing they could. But for over 12 months the Atalanta talk has been about a side that has found a way to punch above all weight. They've shown it over and over.
And then Liverpool. They hit Liverpool like a tide hitting a rock, like a skier hitting a gate. They slam into The Reds and end up in smithereens. Liverpool are both the irresistible force and the immovable object.
In a sense, Liverpool are the worst combination. A side who understands pressing in both directions as well as a side who simply has better players. Better educated and more talented is a hell of an ask. But it is why we should glorify this side, why we should be so proud of them.
They are smarter than the smart side. More determined than the focused side. Better gifted than almost all sides. As ever – you want to fight they will outfight; you want to play they will outplay. And if they finish far better than you can imagine then hold your fucking breath. Bring your fucking dinner. You are in a world of trouble.
Diogo Jota is magnificent. It's the sort of hat trick you'd dream of if you were actually good at football. Something for everyone.
The opener has the dink. It's retro. It's Rush, it's Dalglish. They don't score them like that anymore. The second is the quick touch and finish away from the defender. It's retro. It's Fowler. It's Hasselbaink. They don't score them like that anymore. The third is away from the keeper. Scruffy with an end product. It's retro. It's Nistelrooy. It's van Persie. They don't score them like that anymore.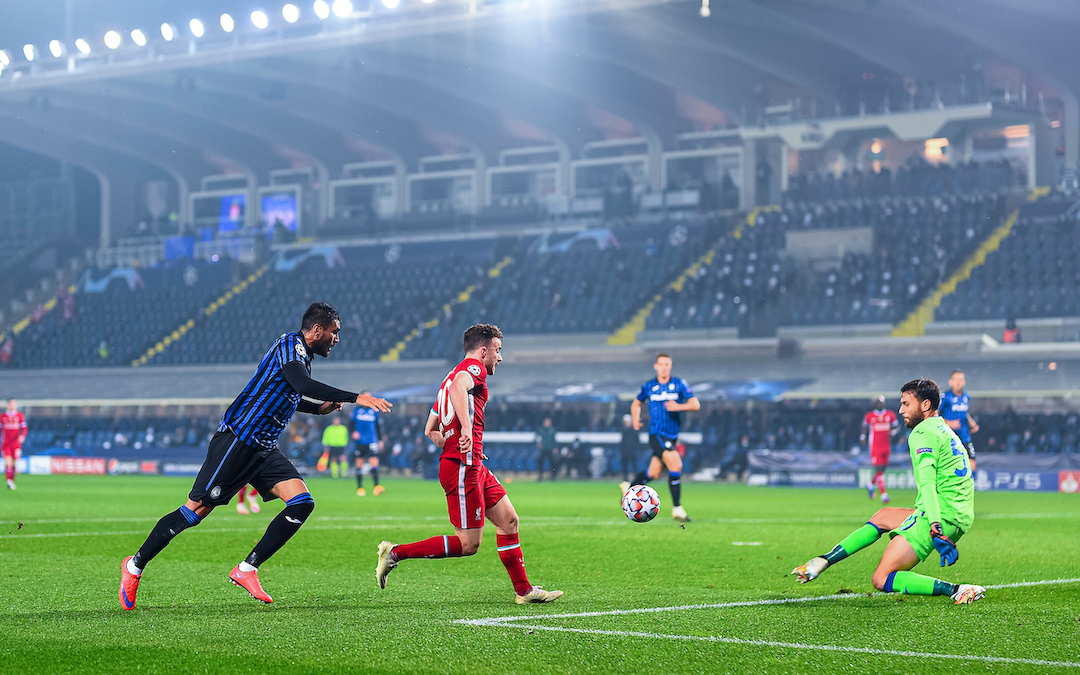 They score them all like that tonight. Tonight is a display and an announcement and, yes, a statement of intent. If anyone were in any doubt here is a Liverpool player for the next five years.
The next five years here matters. Brace yourself for the pieces that posit him starting at the Etihad. The virtue of that is all mixed. We don't need to overload this yet in any direction. We need to trust the decision makers here. What will be will be.
This evening Jordan Henderson and Gini Wijnaldum remind everyone they are brilliant central midfielders. The hardest thing in football is what Diogo Jota does three times but the second could be the way Jordan and Gini play the accordion. They squeeze the air out of everything. They have the game on their terms. They demand everything and they get it. More than anything they demand the ball.
One day Rhys Williams will concede a Champions League goal (As a side point the one Duvan Zapata has that hits the inside of the post is simply magnificent. And by the way, he is a footballer my friends. My hand to god, he is a serious player.), but that doesn't look like happening any time soon. It's another performance from him and one clarified by everyone around him. Just do the bits that pertain emphatically to you. We will help you through the rest.
They would. They will. Tonight is the night to reflect on what the very essence of a team is, on how it pulls you through in the same direction, how it covers for your flaws, how it emboldens you, how it lifts you, how it loves you. None of this stuff is airy fairy. You are at your best when you are bold. You know I think that, anyway.
Nil-five. Walk around it. They'll do for me. I love a statement of intent. Bring on Sunday. Bring on next May. The shiny things aren't going to lift themselves, you know.
Into these. The next ball is a Liverpool ball.
---
"You can't ask for much more than that. They were just on it from minute one, they didn't let up." 🔥

"So many great individual performances too."

📱 Subscribe to listen to our Post Match Show after Atalanta 👉https://t.co/oaOWcUzrlr pic.twitter.com/oOdLp2Bunh

— The Anfield Wrap (@TheAnfieldWrap) November 4, 2020