HOW'S your therapy going?
It's Monday night as I write this so you're ahead of me. I'm still somewhere between fury, nonchalant acceptance and utter confusion. My state changes every couple of minutes. That might be reflected here.
7-2 though. 7-2!
And not to a fully fit vintage Barcelona or Madrid, but to a side which flagrantly had Ross Barkley had in it.
Wiser heads than mine can point to heavy defeats of yesteryear and can rightly brush them off with context.
As Jamie Carragher pointed out, the Reds lost 5-1 to Villa on the same ground shortly before Christmas 1976. That was 5-1 at half time, but at least Paisley's side had the decency to shut them down in the second half. The current lot welcomed Villa to add to their total throughout and left so many back doors open that any ball over the top had us panicking.
That 1976-77 side went on to win the League and European Cup, of course, and it's always bearing in mind that, the calamity aside, this is still a team that destroyed Chelsea on their own midden and delivered a first-half masterclass against Mikel Arteta's much-improved Arsenal.
We lost on Sunday night from a position of strength. It was a shock because Liverpool are so great, not because it was just Liverpool. I'd rather have that than the alternative.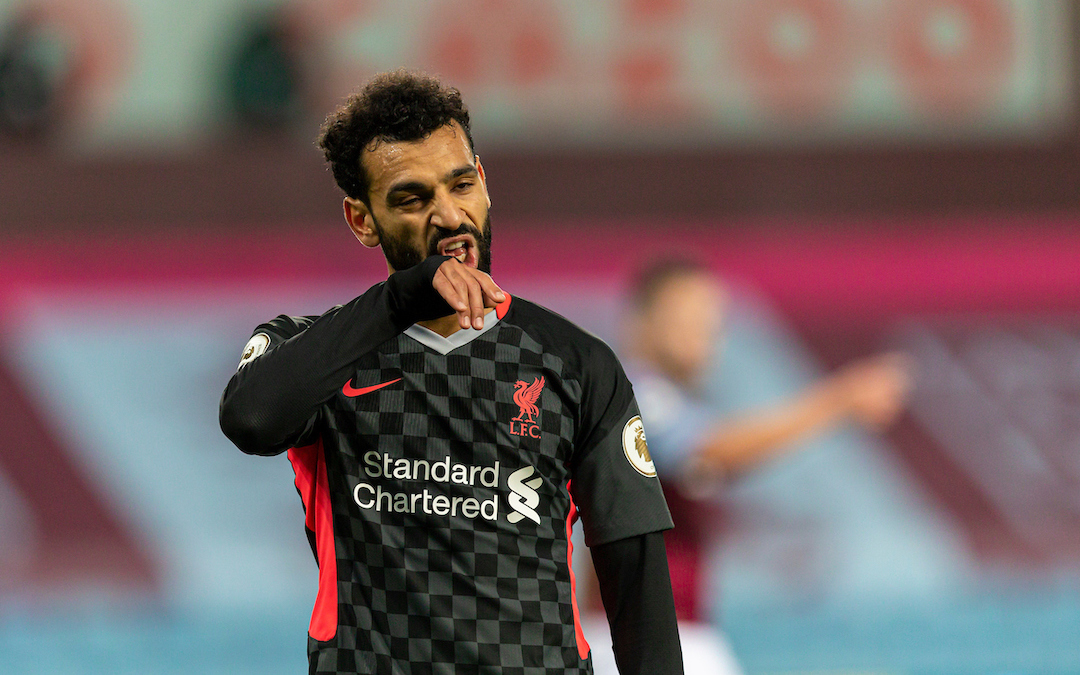 I suppose you can determine your own levels of optimism from games like that. I'm one of those ludicrously cheery souls who still thinks a deficit of two goals is always within reach. At 2-1 I was sure we'd win because we do that now. At 4-1 I sighed at the prospect of a draw. Come the end I was just hoping for throw-ins so we could take time out of the game and get out of there.
The rest of the footballing world looked at the Leicester, City and United games and declared that it was a freak weekend, but the simple truth is that none of the other games mattered. The Foxes took a savage beating at home and still ended up with better goal difference than us on the day. Liverpool were that abject.
The other narrative is that this has been coming. A few fingers were pointed at the Watford, City, and Arsenal defeats, but there's drop off and there's drop off. For the past year Liverpool were as close to footballing perfection as was possible. Regular form i.e. draws being draws rather than viewed as defeats returned, but Sunday was inexplicable. I mean, where to begin?
The goalkeeper morphs into Brad Jones, Joe Gomez was making up his own defensive lines and not bothering to tell the others and Roberto Firmino brought back memories of Sean Dundee. Did we miss Alisson and Sadio? Of course, but they couldn't have stopped the cavalcade of half-arsed blocks and gaps.
Jürgen Klopp will tell his charges to put it behind them or at least learn from it. He won't see them thanks to the stupidest and most dangerous international break in footballing history, but he'll at least be on hand for counselling. Ever the optimist he'll be using it to make them stronger because…
…Look, this may not be popular but, well, I'll just say it…
…It might be a good thing.
No, hear me out.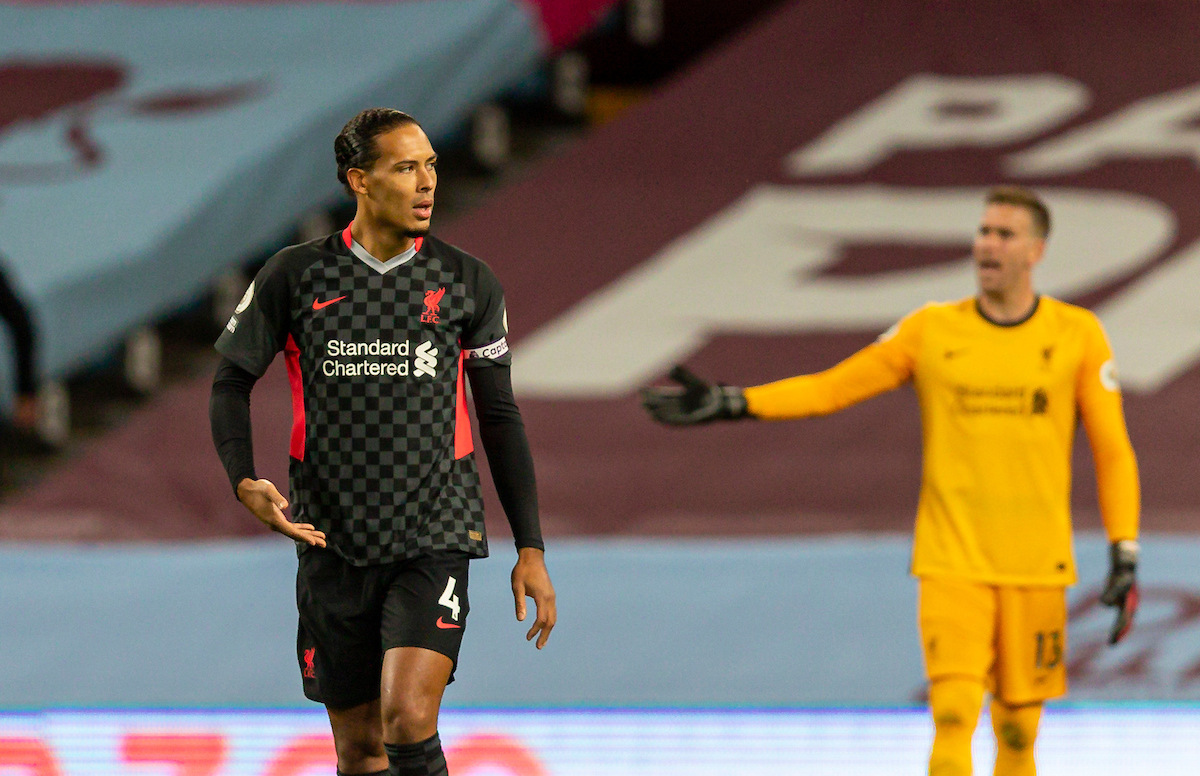 Think about it. Since the 97 points the team have had enough smoke blown up their arse to fill an air hangar. You can talk about keeping feet on the ground and all that but that's got to have an impact. We treat them like Gods, and I love that when they deserve it, so it's understandable if they listen to their press.
Teams can get sloppy at that stage, though they usually make up the ground once they've been shocked into doing the stuff that got them there in the first place. Then there might be a draw or a narrow defeat. Give the lads their due, there was no slow erosion of great results and form. When we get beat, we commit heavily.
League, World and former European Champions, whatever. It took a lad who was at Brentford last season to remind them that reputations count for little if you're going to knock off every now and then.
It turns out we're not immortal and, though it may be an unpopular reminder, it might reset a few egos, the manager's included. This is not to suggest that they're being carried around on sedan chairs in their own heads, but rather that ours is the hardest division to win and we have to be at our best all the time.
Champions face harder opposition than anyone else as theirs will always be the greatest scalp. It's what made the 2000s more irritating as we were finally beating United only to see them finish above us year after year.
As Ronnie Moran used to tell his teams, 'here's your medals. It'll be harder next time'. Liverpool have been forced to learn that now.
Jürgen has tons of credit left – leagues and European Cups give you that – but had that been any other manager, many would have regretted putting some cash on Solskjaer being the next manager to get the push. He's lucky in that regard and he knows it'll be a blip. Liverpool cannot be as bad as that ever again. Even if they tried.
And we're lucky in one regard. The Champions visit the league leaders next and the latter may be favourites if Sadio is still ill. It's the perfect stage to right a few wrongs and prove to the world that Villa was just the perfect storm of madness and folly.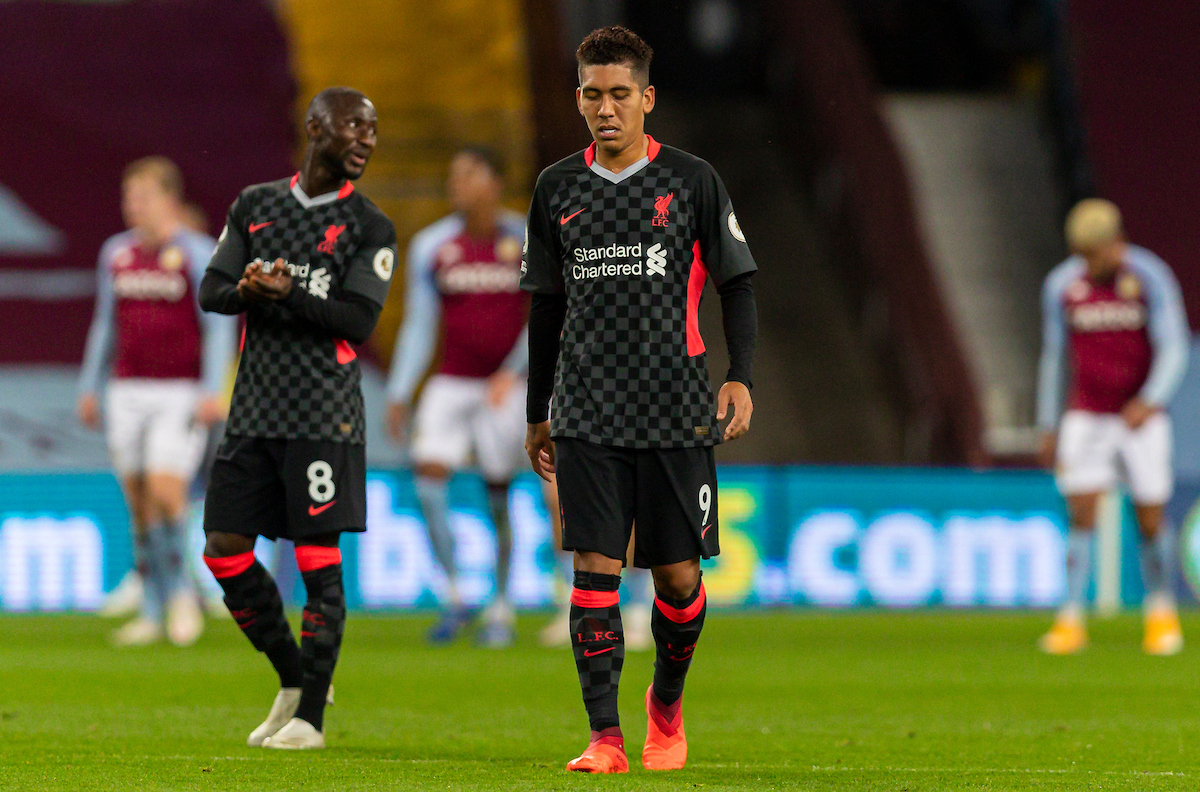 Results can only be truly judged in context. It's what you do next that counts. There's always precedent.
In the 1983-84 season, Joe Fagan's Reds were battered 4-0 away at Coventry City. We demolished them 5-0 in the return fixture. As the teams left the pitch, Alan Hansen reminded a Coventry player that 5-0 is better than 4-0 (I hope it was Sam Allardyce who played both games). The team bore a grudge that lasted five months.
I want Liverpool to do the same and I imagine every single player wants the same.
We've come across some issues, but it might be a good thing that they've come to the forefront. 7-2 can sod off, though.
I hope your post Villa therapy is going well. I'll calm down soon, but I'll be calmer if we take this out on Everton in just under a fortnight.
Up the inexplicable Reds.
---
"The high line is not new, it's been a potent weapon. Liverpool are the best around at offsides per 90."

"There's a big picture. High risk, high reward. But when it goes bad, it looks ugly! 7-2 ugly!

📱 Download our app for therapy, when you're ready 👉https://t.co/v3xcfwjq7C pic.twitter.com/97dvXPy1QD

— The Anfield Wrap (@TheAnfieldWrap) October 6, 2020