WHAT happens when a city needs its football clubs more than ever before?
We should know, right? It was at the time I was born in the midst of an economic and industrial crisis in the mid 1980s, oblivious to the turmoil of Thatcherism that left Liverpool teetering on the brink of collapse.
But then time is a flat circle, as once was quipped, everything that has happened will repeat itself eventually in some form. As we stand on the brink of a Merseyside derby which now exists in a very different world, it's clear that both clubs have a responsibility which now goes way beyond mere games of football.
In those days 30-odd years ago, it was the escape to European shores and the birth of casual culture which provided the sense of hope and aspiration. Now there is only the endless fight for a brighter day.
So what can Liverpool and Everton do? Some might argue that "sticking to football" is by far the most pragmatic approach. The truth is they simply can't.
As organisations, both are multi-million pound assets to the city, as well huge emotional investment vehicles in addition. They have formed lives, attitudes and identity in a way that remains perplexing yet seamless.
That's why both football clubs now have to be more than the sum of their collective parts. Both do great things in the community, but it feels like they now must grasp the nettle of a city in fear, frustration and general paralysis as the rope is once again tightened.
The fact Everton are flying actually helps in this sense. Carlo Ancelotti has shown The Blues what it's like to love football again, to not be able to wait for the next game. And yet we're in a world where we are yet to see James Rodriguez and Thiago Alcantara in the flesh, with no idea when we will.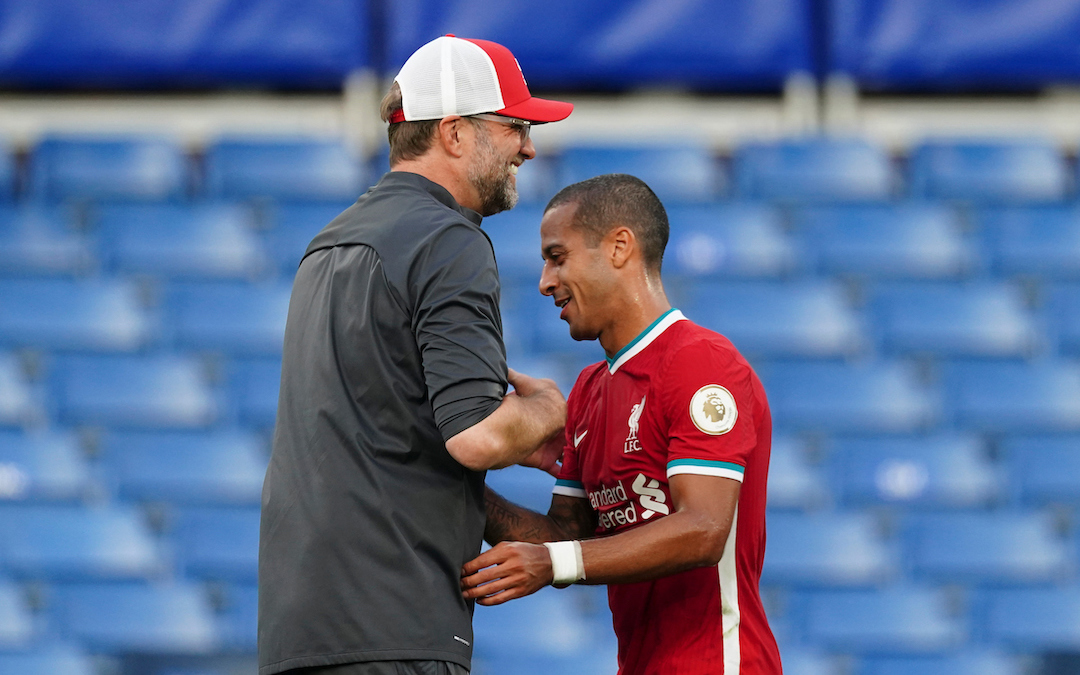 Nobody can take that loss of connection for granted. That's why the clubs need to use their voice, their desire to help and a general sense of wishing to be good now more than ever. They may be letting in water at every part of the ship, but they still need to be the violin players on the top deck.
It matters because leadership right now is so scarce, locally and nationally. I know I'd rather listen to Jürgen Klopp speak on social matters more than anyone in an official capacity right now.
But football clubs are complex things. Built for fans in name, but controlled by capitalism behind the scenes. There's a sense that shifts in intention may well have to change if we are to come through the other side.
That's why talk of resets within the game are important, regardless of where it comes from. Is it really sustainable to see £80m be spent on a lad who gets rowdy in Mykonos after two WKDs when that sum could now be indispensable to cities like Liverpool?
The answer is that there's no answer to anything currently. All we know is them, tomorrow. The walk across Stanley Park and the sense of lion's den won't accompany the fixture this season, and hopefully neither will some of the unsavoury elements which crept in when all we had to worry about was the football.
This city, my city, our city is bleeding. Right now we need more than mere football clubs if we're to continue to stick our flags down and declare them representative of us as people and place, they have to show they're fighting for just that.
The Merseyside derby has taken on a whole new meaning, but in some ways it is simply returning to what it once was.
---
Support The Team? Support The City ✊

Our directory of Liverpool City Region charities and businesses that you can support today is online.

Please share as widely as possible and get in touch if you would like us to include your organisation.

Visit 👉 https://t.co/15pRFSxX0i pic.twitter.com/bADReul2Dv

— The Anfield Wrap (@TheAnfieldWrap) October 16, 2020