I'D forgotten all about anger.
The aftermath of the Villa game had nothing to do with being angry. In my house at least it was met with confusion. How did we manage to fail so spectacularly? We'd still have been battered even if we discounted their spawny deflected goals. It still takes some figuring out and I'm still not sure even now.
OK, there were three balls in our net at the Leeds game too, but we won that, and the win papered over a myriad of cracks.
Saturday though. Saturday would have turned the most placid Red into a Tasmanian devil. I mean, where do you start?
Anger has the ability to build and spiral. Once the panto had ended, I was venting full spleen at the myopic Michael Oliver. Then came David Coote. I'd almost forgotten about Jordan Pickford at that stage but there he was again in glorious technicolour. Then came Richarlison followed by the imaginary card waving yet curiously unbooked James Rodriguez.
I was trapped in a vicious circle of unsatisfiable rage. I still am, to be honest.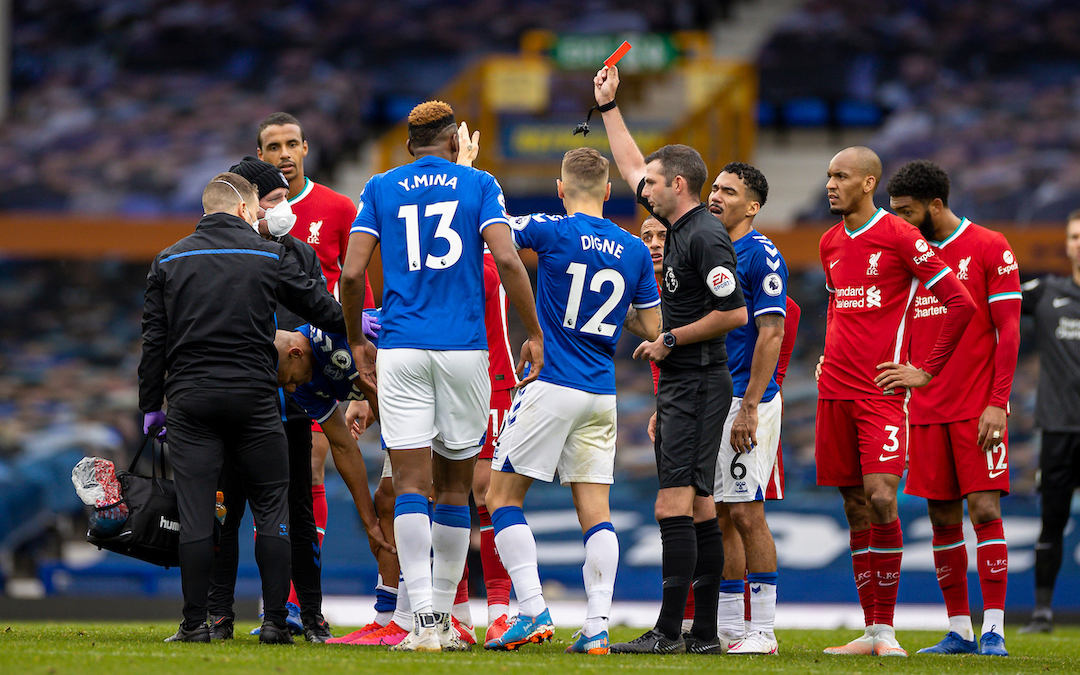 All those elements jumped around my mind and burned my neurons as I tried to make sense of them all. Injustice is one thing, but repeated injustices pickle the brain rather than poke at it.
It's been a long time that I've been so furious at the outcome of a game and even then, this was a different kind of ire. Woeful performances can be waved away but this draw-defeat had little to do with Liverpool. If anything, we were excellent.
If Jordan Henderson, Fabinho and Thiago continue to play so well together we may have finally found our best midfield. Sadly though, it looks like we won't be seeing the Brazilian in his usual role for a while yet. Thiago too, maybe.
VAR – the Warren Commission for shit referees – was deemed the main culprit, but it's more than that. You can watch an incident a thousand times from a thousand different angles and still fail to see what David Coote saw.
The process of VAR was supposed to take human error away from close calls. That was the theory anyway, and it works at times. I mean, well done to all who worked at the stop/start button to see that Virgil's sleeve or whatever was offside. You must feel very proud. It's just a shame you all went on a tea break straight afterwards.
Oh, I know what you'll say if you're not a Red: 'Ah, but you've got to say that as a Liverpool fan. You're not acknowledging that things go your way too at times. Would you have wanted Alisson sent off for that challenge?'
Yes.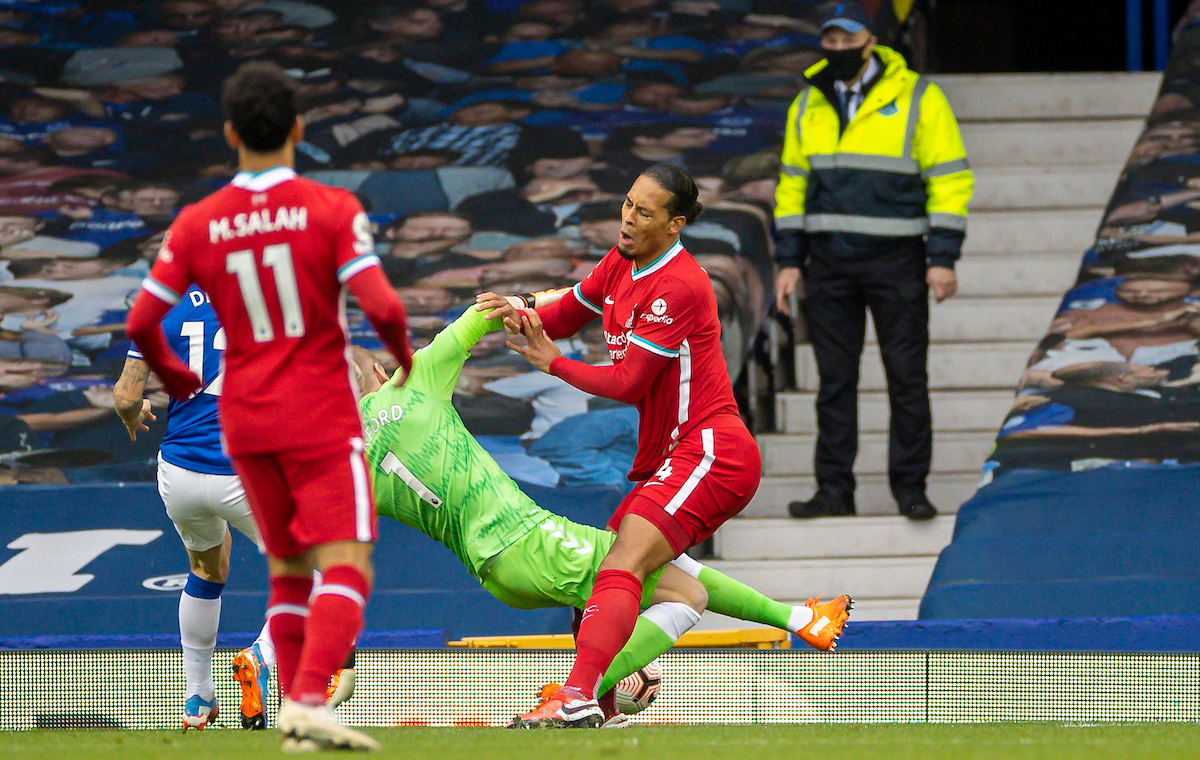 Easy to say, I know, but if my keeper would have legged it out of his goal and taken out their equivalent when we were already a goal down, I would have expressed some views using some pretty strong genital-based imagery.
It's Funes Mori grabbing his badge after he was sent off in the 2016 home derby. I bet his teammates were made up he'd left them to deal with a hungry Reds side who were already two up. On Saturday, Everton could have been down to 10 men after 12 minutes with a penalty to face. Should have been. Had we had a decent set of officials they would have watched a rout. Instead, they got a game.
This is all shouting in the wind now. There's nothing I or anyone else can do about it, but I'll still mutter under my breath whenever this game is brought up. David Coote and I are not destined to be friends. I bet he's devastated.
One more thing, though.
What did Sadio gain from being in that position? I can't see it. None at all, of course, as he wasn't offside. Did the officials really see it and think that he had an advantage? Isn't that what offside is really about? Not drawing lines for the sake of it.
Yes, the game's over and it'll soon be forgotten when we're next given a 50-50 decision. Then it'll be LiVARpool again. Erm, lol.
I thought I'd lost all my anger once nice things started happening to The Reds. I was worried that I'd start to have kind thoughts about teams I once called my enemy, but I'm still capable of rage after all.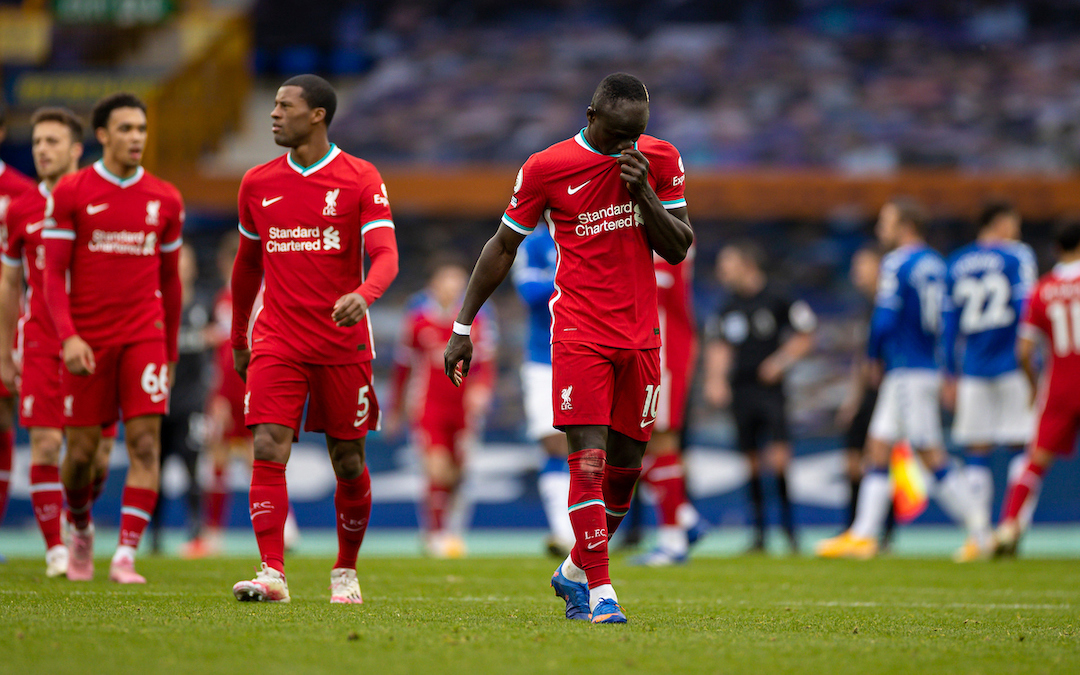 Anyway, the focus is on Europe for now and The Reds will also be anxious to right the wrongs of the Atletico tie back in March, on top of any residual anger from the weekend.
Tonight's Ajax game will be a strange one. It'll be great to see the lads run out in Amsterdam, but it should be with us standing behind them. A midweek trip to the Dutch capital to watch us play a club no one of a certain age can seriously dislike would have been wonderful.
Ajax have got the lot – the history, the charm, the classic kit and the iconic players. They also have a healthy bank balance thanks to the sale of Hakim Ziyech (Chelsea), Donny van de Beek (United) and Sergino Dest (Barcelona) for a combined fee of around 110m Euros, though that will be scant consolation for their fans if we take out our frustrations on them.
Still, at least Ryan Babel won't be an issue for them. He's gone back to Galatasaray. Every cloud and all that.
This is a strange season and I've a feeling there'll be more mad games like the last two, albeit with better results. I also think there'll be a low points total required to be crowned Champions of England.
But I still think we can win it all – Virgil or not.
---
"For the scouse community, Amsterdam is like a second home!"

"But it's exciting we've got the European Football back. Ajax are a proper club, four European cups. They're a model club."

📱 Subscribe for all of our build up to Ajax v Liverpool 👉 https://t.co/oaOWcUzrlr pic.twitter.com/fEZiZ18oIz

— The Anfield Wrap (@TheAnfieldWrap) October 21, 2020