Liverpool have had their fair share of bad luck this season but, as Karl Coppack suggests, The Reds can use that adversity to fuel their fire…
THERE'S a scene in an episode of The Simpsons where Mr Burns weighs up the chances of his company's softball team winning the Championship pennant against a rival billionaire.
The tournament is strictly an amateur affair with more emphasis on heavy drinking than results, but Burns likes to give himself an edge whenever he can. Instead of using his employees to staff his team, he recruits a team of professional ringers and gives them nominal jobs around the site providing they sign up for the league.
Things go wrong for his ringers though and Smithers, his lickspittle assistant, tells him that some of his elite team are either ill, have disappeared or, in the case of Don Mattingley, been kicked off the team for sideburn violations. Burns laughs this off.
"Smithers, there's no way I can lose this bet. Unless, of course, my nine all stars fall victim to nine separate misfortunes and are unable to play tomorrow. But that will never happen. Three misfortunes, that's possible… Seven misfortunes, there's an outside chance… But nine misfortunes? I'd like to see that."
Which is exactly what happens. Steve Sax is arrested for every crime perpetrated in Springfield history, Wade Boggs is beaten up by the town drunk Barney Gumble following a row about Britain's greatest Prime Minister, Ken Griffey Jr overdoses on nerve tonic, Ozzie Smith disappears down a void and Roger Clemens is mis-hypnotised into thinking he's a chicken. It can happen.
Mr Burns carefully selected elite stars are all but out and he's forced to play the Championship decider with his collection of second-string ragbag employees.
Liverpool could match him for luck this season.
The campaign began with four centre backs in van Dijk, Matip, Gomez and Lovren. Jürgen surmised that three misfortunes were possible but not four. Lovren was always going to be moved on but Fabinho could step in if cover became thin.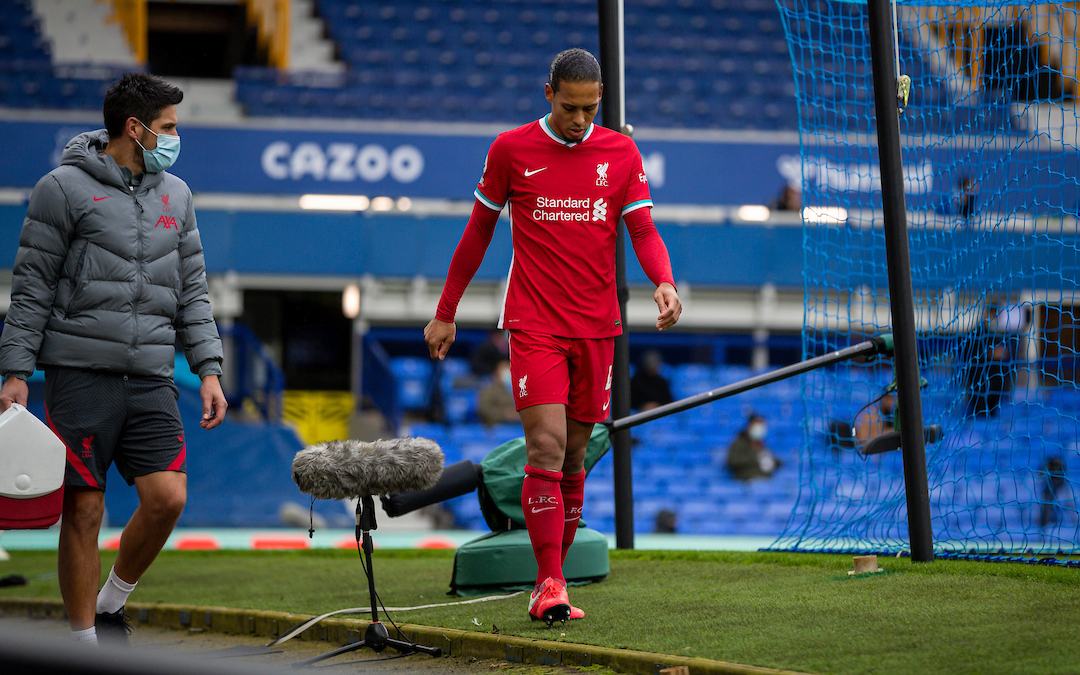 You know the rest.
Lovren is sold, Jordan Pickford kicks out Virgil's knee, Matip is injured and now our emergency replacement has done his hamstring. At the time of writing our first-choice centre halves are now Joe Gomez and a 19-year-old kid. A pretty good 19-year-old kid, it must be said.
There's been a false narrative passed around about Liverpool's luck. You've heard them all already. The front three are never injured, they'd be useless without van Dijk etc. The naysayers pointed at VAR decisions last season and said we were lucky. We only won the league because of a perfect storm. And the European Cup but that was only because Barca panicked etc.
That's bollocks, of course, but if you want to look at our relationship with luck then consider the following…
Some players have been unavailable due to the pandemic, we lost our best and most talismanic defender to Bruce Lee, had a last-minute derby goal chalked off by Mr Magoo, conceded a penalty a week later given by Mr Magoo's more myopic brother and got absolutely battered by a side who barely stayed in the division last year.
Net result: No one has more league points than Liverpool. No one. We also top our Champions League group by a couple of points with two more home games to play.
For a team that's already faced more slings and arrows at this point in the season than in the whole of the last two, we're doing pretty well. We've dropped five league points after five games. It took until February 29 to do that last year. And yet we're still joint top.
It's going to be harder this year, much harder, though no less achievable. We just have to fight fate a bit harder.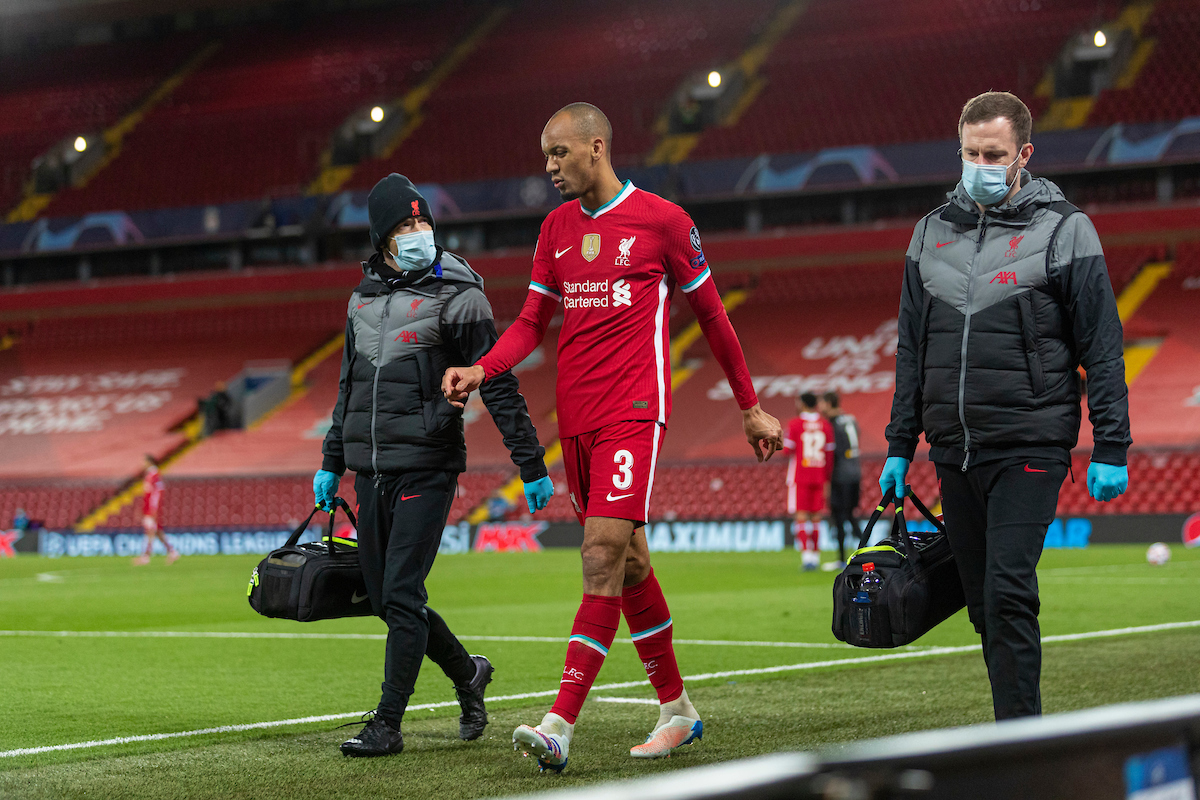 In the TAW Daily Rundown this week, Neil talked about the possibility of our 20th league title. It may seem an odd time to consider it when we haven't had much of a chance to celebrate or even get used to our 19th, but it's been on my mind too.
The bar has been raised for Jürgen Klopp now and will continue to do so. Won the first title in three decades, have you? Well, we want another immediately. And another European Cup please. If you could do that against the backdrop of a season which defies all logic too, that'd be nice. Oh, and with most of our defenders out. Ta.
The loss of van Dijk is a blow – of course it is – and Fabinho too, but sometimes you just have to play the cards you're dealt. The ability is still there, so maybe we should embrace the madness of this season and stride ahead while the rest of the league work out what the hell is going on. We can be the order in the chaos. Calm heads are needed, not a 'woe is me' approach.
Last night's performance against Midtjylland was criticised as lacklustre but we got the win, the points and the hell out of there. That's fine. We never have to play that game again. There may be a number of those encounters this season so brace yourself.
We may not be at full strength and we may be relying on the squad more than before, but we can't feel sorry for ourselves. We've done enough of that in the past. In any case, won't it be even sweeter if we're successful without Virgil and with Rhys playing a handful of games. That may be romantic, but this club exists on emotion.
It'll be harder this time. It's proving to be that already but look at what we can do. Some of Klopp's carefully selected elite stars are out and he's going to be forced to retain the league with his collection of ragbag second-string employees. So be it.
Just win the next game, lads. Then the next one and definitely the one after that. Don't give in to the madness. Dance with it instead.
Oh, and Mr Burns won that game, by the way.
---
"We've won, the group is looking very healthy. But it's fair to say a long stretch of that match was…graft?"

"Shite would be a decent description! But to be fair, what do you expect with so many changes." 😅

📱 Subscribe for our post match reaction 👉 https://t.co/oaOWcUzrlr pic.twitter.com/gKfYHoSjiu

— The Anfield Wrap (@TheAnfieldWrap) October 28, 2020