Neil Atkinson gives his immediate post-match review after Liverpool beat West Ham United 2-1 and show their grit and determination to all again at Anfield…
AND I have even put the italics on.
This ain't no party,
This ain't no disco,
This ain't no fooling around…
They are my heroes, you know. They remain the best of us.
Liverpool weren't very good for most of the game and were objectively bad for the first half an hour of it.
But that doesn't matter. Because when it is the business end, when it does matter they find themselves like nobody's business.
There is a thing they do when they are being that little bit blunt and that is tire the opposition. They move right to left, left to right and the opposition have to do the same thing over and over. They aren't being threatened but they are being tired, they are being worked.
The penalty probably comes from that. Arthur Masuaku is just sloppy and daft but he hasn't had a minute and he clobbers the main fella and that, which should be that a hell of a lot more often, is that.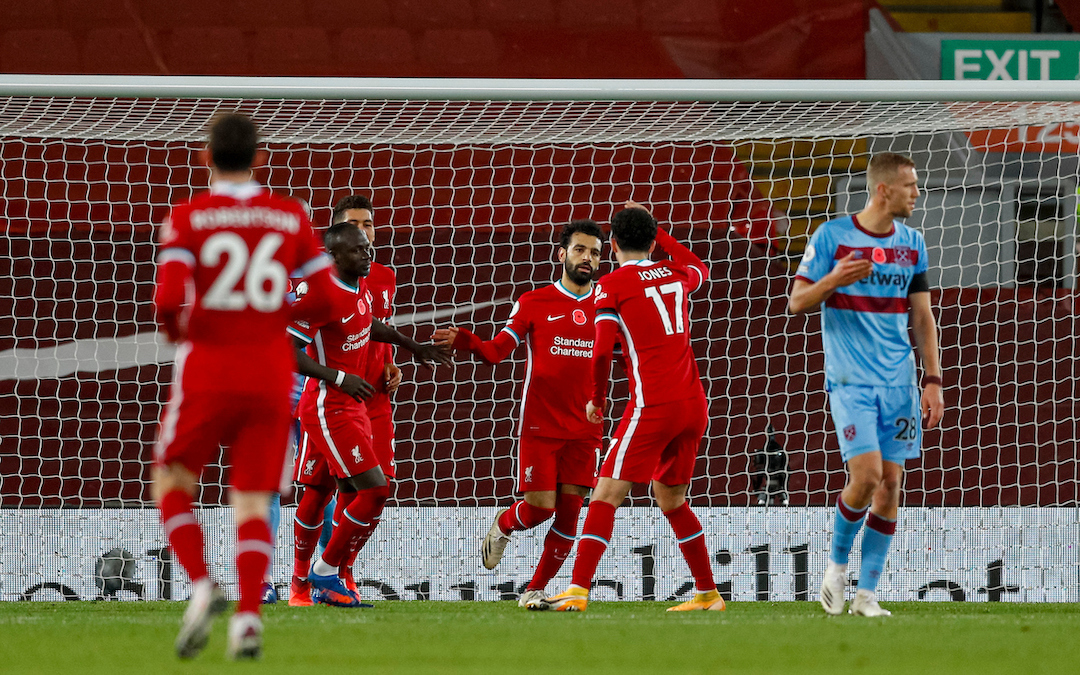 Mo Salah's penalty is excellent, unerring, never going to miss. As a taker he has become excellent. Penalties come with an expected goals value of 0.76. That suggests three in four are scored. Salah has massively outperformed that and that is a fact worth remembering if he ever misses.
He scores. He scores and scores from the spot. But he hasn't convinced. And, in many ways, this is similar to Liverpool strangely. No matter how many wins, no matter how dominant it looks across the long term, no matter what the numbers say, someone wants to tell you they haven't convinced. They are still unsure.
This season Liverpool have been in crisis. They have been vulnerable. They have conceded a ton of goals. They have had injuries.
They sit top of the pile. They have two wins from two in Europe.
They are my heroes, you know. They remain the best of us. You make me shiver, I feel so tender, we make a pretty good team.
Tonight Nat Phillips makes his Premier League debut for Liverpool. He comes in to partner Joe Gomez. And from the first minute he looks to win his battles.
The reason why they are my heroes, the reason why they are the best of us is that they always look to be front foot, they always step up. For years, for absolute beards, we watched Liverpool sides's whose react to adversity was to shrink, was to find it too hard that day.
Tonight Nat Phillips stands firm. Tonight he does the simple things well, which takes some doing. Tonight he wins what he can and composes himself for what he can't and then goes again. The problem with much of what I describe is that it makes you wonder, well, this sounds straightforward, why isn't everyone doing it?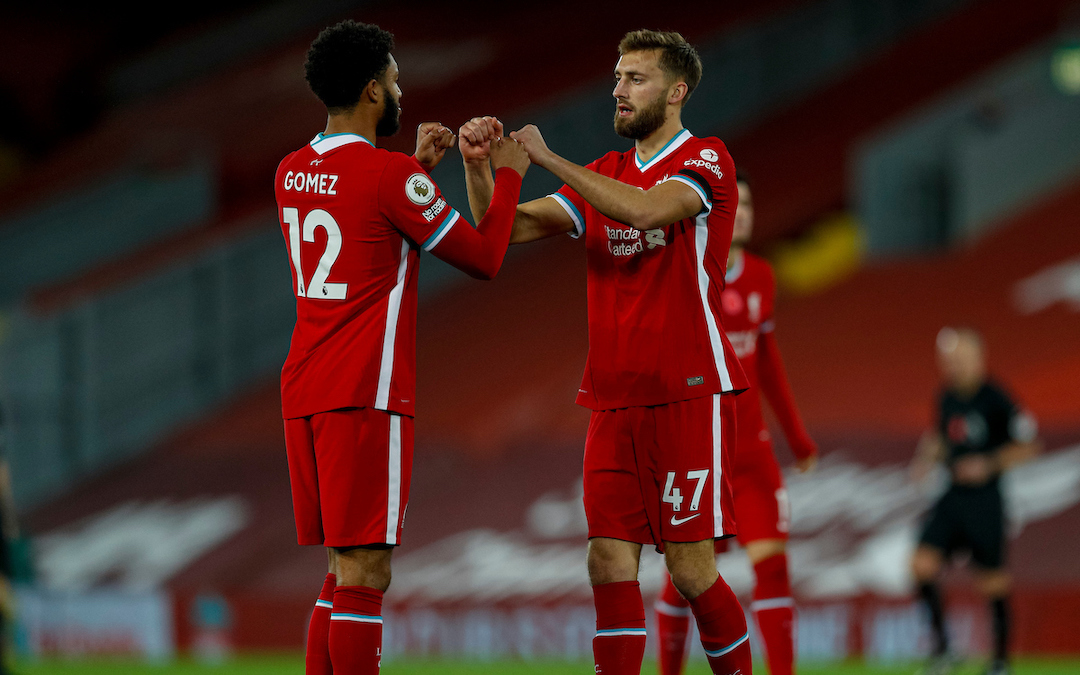 In a sense, yes. But in another there is a massive shortcoming organisationally everywhere you look. Literally everywhere. What Liverpool do brilliant that other sides – chip shops, multinationals and Governments – often fail to do is communicate in straight lines. Is have a clarity of purpose inwards and outwards.
Nat Phillips could have been at fault for something that cost us the game tonight. But if, in that moment, he had followed his captain and his manager's instructions, then that would have been alright. They are my heroes because it isn't a party, it isn't a disco, but they have clarity of purpose.
Sadio Mane and Jordan Henderson were tremendous second half. The captain is a marvel. First half he dwelt. Second he delivered. He grows and has grown as his team grows and has grown. He is what he is – the captain of a side who won a Champions League and followed it with a league, winning 26 of the first 27. He is a defining force in English football.
The argument he was English football's most defining force would carry more weight were it not for his teammate Mane. All the time Sadio. Every step Sadio. Every battle, every time he puts his body in front, every look tells you this story – it ain't no party. Nor no disco. But he wants to retain the title more than you do.
The first Jota goal isn't given precisely because Sadio wants it. He throws himself in. I have some sympathy with the officials. But it doesn't feel clear and obvious. That's fine for now, though. Because our heroes don't take no for an answer.
Xherdan Shaqiri comes on and is an absolute riot. It's the most sumptuous assist but there is something in his play which is just utterly unfettered. Every extra game for Liverpool, for the best team in the world now just feels like a bonus. He is both party and disco. He wins his battles but he may just be fooling around.
Trent Alexander-Arnold is just coming to the boil and that could prove ever so important. He's a spectacular talent. He can define passages of games from right back. And Diogo Jota scores another massive goal. Actually he scores two. He keeps his nerve on two occasions, not just one. Another hero. A new hero. A new hope.
It isn't a disco. It isn't a party. It is sterile. They miss us. But still they find and work moves, still they throb. Still they – like me, like you – need more than want. And want for all time.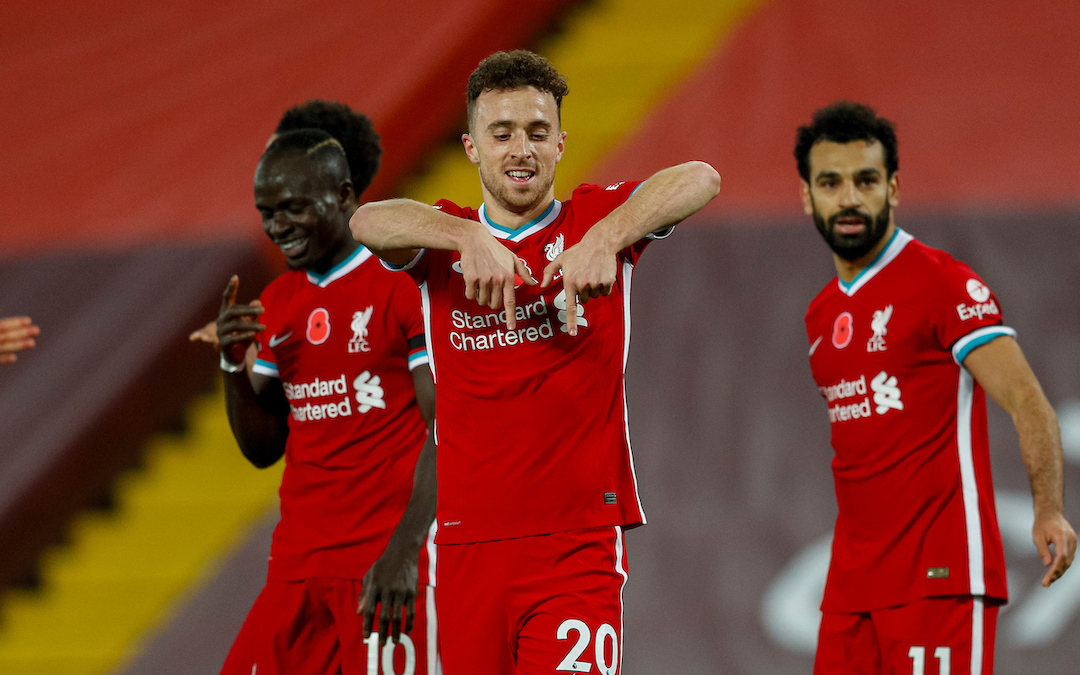 I'd like to kiss you,
I'd love to hold you,
And,
I ain't got no time for that now…
Tonight is that night. Saturday night and it should be ours, should belong to us because of our heroes, because they show the way. We should go dancing. Lovey dovey. But it can't be and right now who knows when it can be.
You can depend on one thing. You can depend on The Reds. You can depend on them wanting to be there when we can go dancing and when I can hold you. You can depend on these heroes to show for us no matter what. You can depend on them to bring the night out for us.
Last weekend Manchester City go behind against West Ham. They work and graft and find a point. Liverpool find three. Deserve three. Just need three.
My chest is aching, burns like a furnace – 31 down, seven to go.
See you at the Etihad. Into these.
That burning keeps me alive.
---
"It was shit in the first half."

"But by the end, Shaqiri is pulling off that pass, and we're pulling off our kecks."

📱 Subscribe to get all of our reaction to a HUGE win against West Ham 👉 https://t.co/oaOWcUzrlr pic.twitter.com/tbynWEQbgp

— The Anfield Wrap (@TheAnfieldWrap) October 31, 2020