Neil Atkinson gives his immediate post-match review after Liverpool beat FC Midtjylland 2-0 in their second Champions League group game at Anfield…
NOT easy, the managing. There's a lot going on. There's a lot to manage. There's a point to get us to.
Pragmatic? Disrupted? Downright horrible?
This game tonight has to be seen as part of a process. In itself, this game feels somewhat disjointed. We are missing key players, obviously, but more than anything else, this is a game between games.
The Champions League group games which inevitably fall between crucial early league games. These few games between the derby and the international break, before the increasing descent towards the intensity of the Christmas period.
This opposition, Danish FC Midtyjlland, are also new to us. They are relatively new to the world of football, so heaven knows what it means to this team to come to Anfield. It isn't wrong to think of them and wish they could have had an Anfield in its pomp, though that arguably would have made the football much more difficult for them. But it feels like a game between Ajax and Atalanta. Between Ajax and Manchester City.
So the team news when it comes is received with an understandable nod. Rest the front three. Give others a chance to build trust and confidence. Let's see what Minamino, Origi and Jota can do. They are all good players and this is a great opportunity to build on what they have done.
Now the final whistle has gone it doesn't really matter. The aim of the enterprise wasn't entirely to be enterprising and that is something which is unlike this Liverpool side.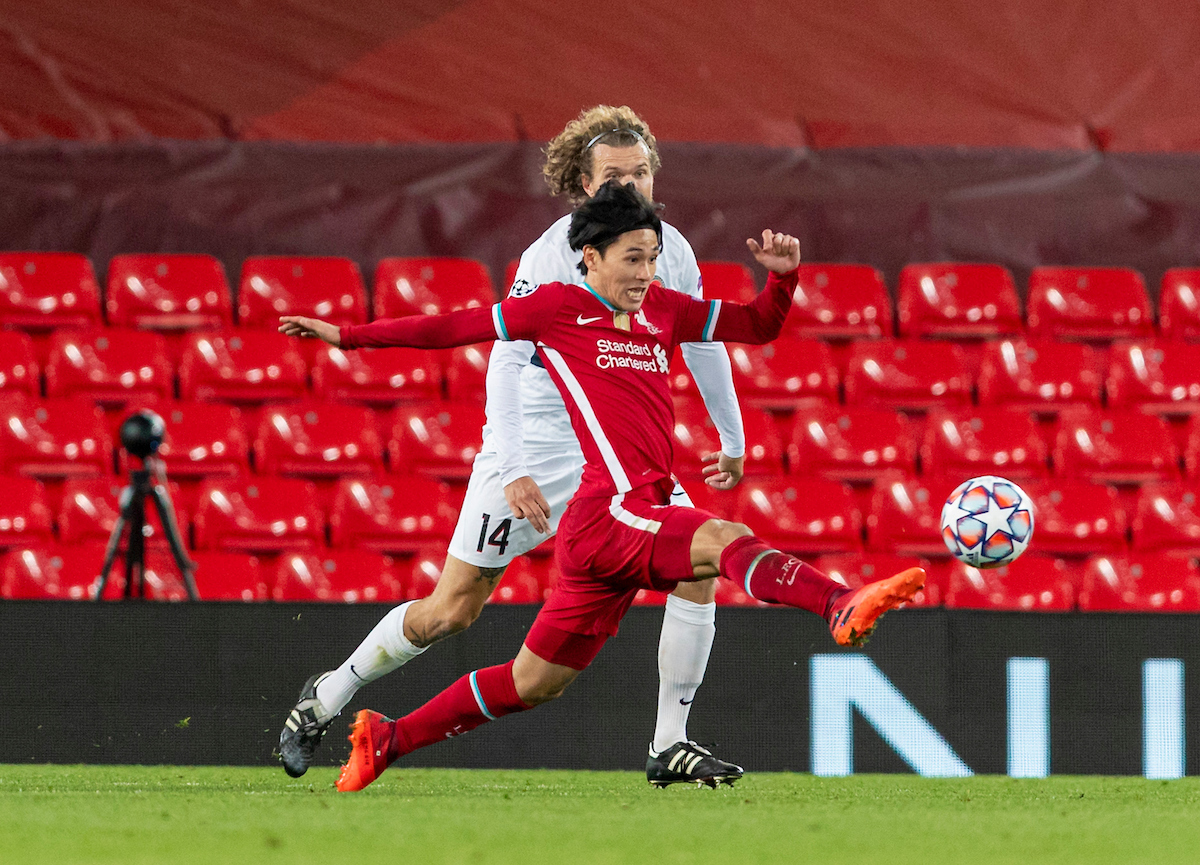 In fact, it is downright rare.
There have been very few lowkey Liverpool games in the last three years. Even EFL Cup games have fired into life. Shrewsbury Town at home remains one of the truly great Liverpool nights, one of the great nights of your life.
This stuff doesn't happen. Liverpool exist to try to reach the sky.
Not tonight. The first half is a grind. Such a grind. We pass the ball well to the point of boring. We are moving it around drawing on the Midtjylland press and we tire them out this way. They block us well and sometimes are able to cut off passing channels, but they end the game with more yellow cards than shots on target.
They mourn allowing Jota's goal early in the second half and, it is true, their shape had been strong enough to frustrate Liverpool, but was never going to be flexible or quick enough to beat the pace and ingenuity of Trent and Andy Robbo who are two of the best players on the pitch.
But the stuff that doesn't happen, happens this season. We keep seeing that. More than anything tonight is about this season. Under normal circumstances this game is a League Cup game, one between the first two Champions League games, one to dip in terms of selection but one to learn things about a first team player or two.
This is all a bit different. Not hugely, but like every side Liverpool haven't had the pre season they want. And like European sides, the games have been relentless. And they have been involved. Liverpool have played six big league games and had a big trip to Ajax Amsterdam.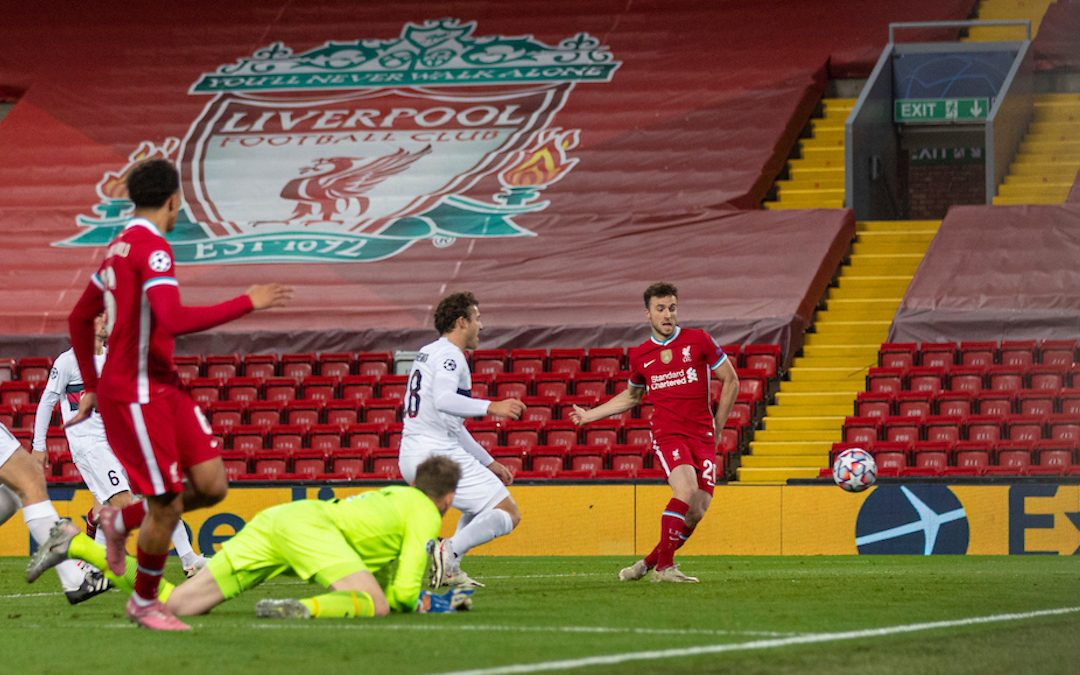 Among all of this then, the most significant thing that happens in the evening isn't the 10,000th goal in Liverpool's history. It is the Fabinho injury.
Liverpool have three enormous games coming up and, in this context, seeing Fabinho do his hamstring is more than just an irritation. It is top of the list of events that Liverpool FC could live without just now. Rhys Williams must rise to the occasion at a point no one thinks is necessarily best for him or the team. It is a risk, and one that must be borne.
But sometimes in football, these games are not great events, one way or another, they are not heaven or hell, they are just a period of time to get through.
It's a tough period. It's a period for managers to manage. There are no excuses, there are no hiding places. It's the trade off of being an elite club. Simultaneously, vulnerability is part of sport. You can be hurt, you can be undermined.
Liverpool were hurt and undermined tonight. They were turned around at times by Midtjylland who were very well organised, who set up far more like a side prepared to be modest than one prepared to throw caution to the wind, but in doing so hurt The Reds far more than they may have expected.
When you pick a weakened side you encourage your opponents but you also throw your own gauntlet down. Diogo Jota picks it up. The same cannot be said for Divock Origi and Takumi Minamino.
The biggest positive of the night is Xherdan Shaqiri. His performance isn't the best but what he offered throughout was both bite and nous. He sees the pitch. His contribution for the goal was fabulous and a reminder of what he can offer The Reds. There should be a start home or away or both against Atalanta in his immediate future. Were it not for Diogo Jota's goalscoring form it wouldn't be outrageous to consider Shaqiri against West Ham.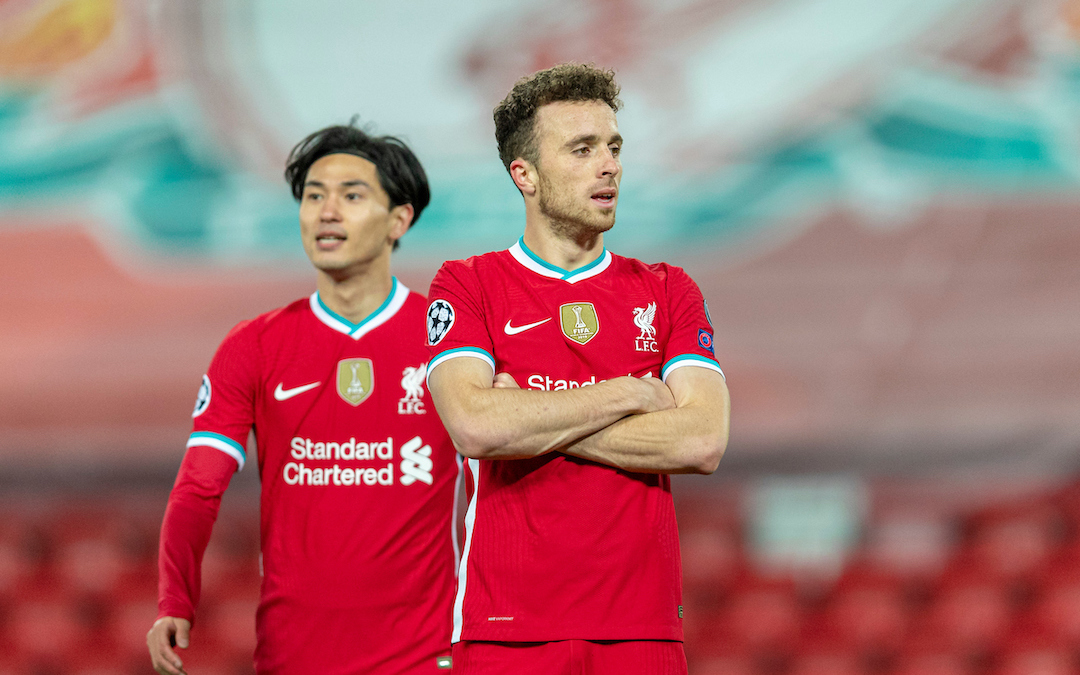 The most interesting aspect of the evening is how clear the substitutions being programmed is. This is a manager managing not just his team but his own choices. He is managing himself, his wants and needs.
Sometimes you have to trust, even in the midst of something that feels like a grind, where problems are encountered and methodically ground through, the process is a good one. We need to continue to trust Klopp's processes.
That's why, in so many ways, tonight is about the manager more than anyone else. He has created this team, this way of being. Layer upon layer of decisions each a little addition to the idea of a way of playing and being, accepting that not everything will be perfect, wanting above all to get to a better place, and see this through.
We are seeing it through. The manager and his team look at one another. Six Champions League points. That's what matters. Six Champions League points when the front three have no more than 90 Champions League minutes.
It isn't perfect but that is as much about Fabinho's injury as the performance. The performance is almost irrelevant but the slog remains. We will play better Saturday and we will need to. That's Saturday's job. Tonight's is done.
There's a lot to manage. We're doing it. Trust me.
---
"We're in a really good position to quality from this group."

"Fabinho's injury is the headline after this game."

📱 Subscribe for all of our post match reaction 👉https://t.co/oaOWcUzrlr pic.twitter.com/RslrsoTceg

— The Anfield Wrap (@TheAnfieldWrap) October 27, 2020