TAKE a breath.
Be angry with exterior forces later. Do that in a minute or two. But take a breath first, because your take away should be this…
Everton may prove to be the third, fourth or ninth best team in England this season. They are a tidy outfit.
But Liverpool just ran the show at their gaff, in their biggest game of the season, their biggest game in years. There is an enormous gulf between these sides.
Let's be clear and say that the Merseyside derby must be a nightmare to referee. Simultaneously it must be one of those games that wannabe refs dream of. They must lie awake at night thinking about the chance to embrace the game management challenge of the derby at Goodison or Anfield.
These are bruising battling games and you need to have a temperament of cold steel for this and the eyes of a hawk looking for a field mouse. You can admire that. Big Ols himself does well enough. But he is isn't helped by the robot we can't see.
I can be angry with the rules, angry with the VAR, angry with the overgrown infant they have between the sticks, but my god, were Liverpool good in spells. My god, did Liverpool's midfield show up.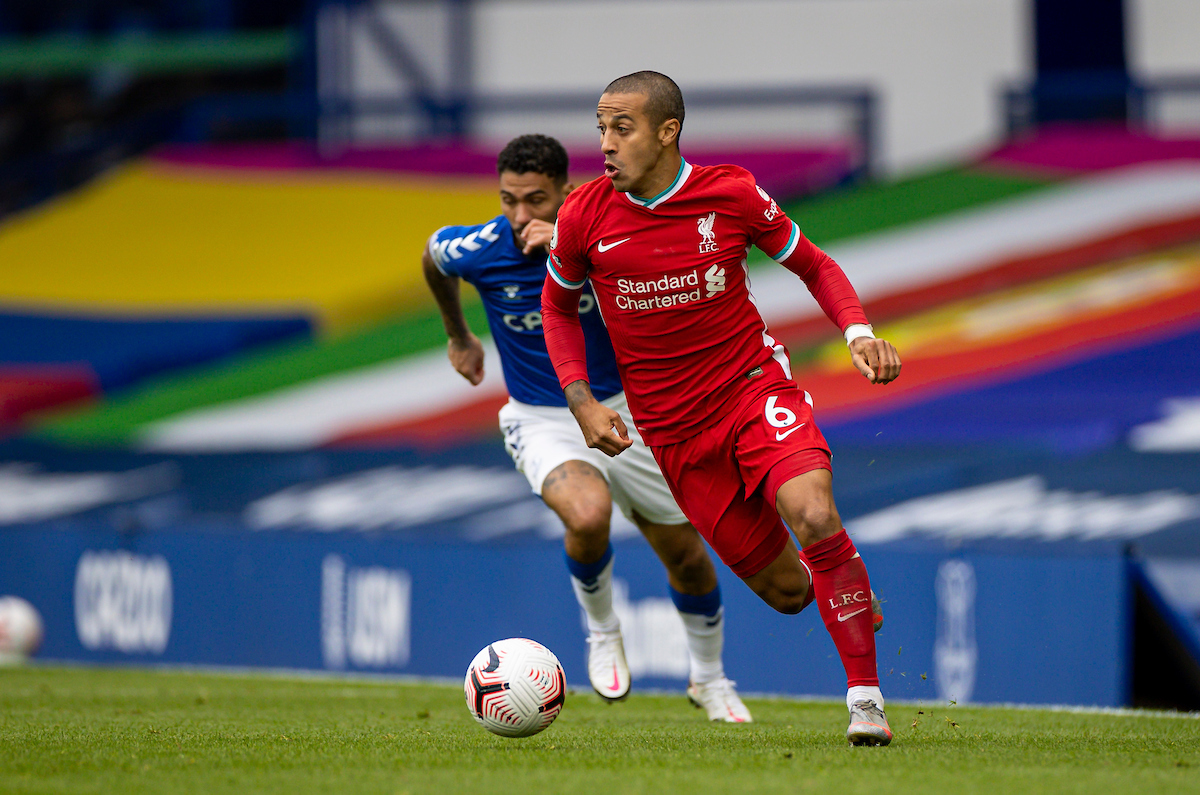 First half Jordan Henderson was just marvellous. He was my favourite, he set tempo like nothing we've seen so far this campaign. He was first to everything, only thing on the pitch faster than his legs was his brain. He saw the field, anticipated weakness and responded.
Second though, second we saw Thiago Alcantara get a grip of the game in a way which beguiled and bewitched. Everton had a good 15 and then it was all Alcantara. It was only his third 45 minutes with these footballers in competitive action and he showed the way for Liverpool.
If you came away from the Villa game unsure as to whether or not Liverpool could retain their title, you come away from Goodison Park absolutely certain these Reds will be there or thereabouts.
In the meantime, what you felt was alive.
Liverpool made the game happen at Goodison Park in a way they hadn't yet under Jürgen Klopp. They left Everton in absolute no doubt. There's an internet cliche about Everton and a Merseyside power shift. The marvellous Dominic Calvert-Lewin aside, all the power on the pitch is Liverpool's. Everton feeble in comparison, reduced to bad tackles, to rash moves.
All game Everton were on the ragged edge. You saw it from Allan, from Andre Gomes, from Abdoulaye Doucoure even from James Rodriguez. In the end it is Richarlison who breaks, who throws an absolute stinker in. You only do that if you are second to things. For the last two and a half years Liverpool have been first to almost everything; Liverpool have hardly been sent off, Liverpool have lashed very, very few stinkers in.
The first of the match comes from Pickford. The Everton goalkeeper is, in every sense really, a disgrace. I don't use that sort of thing lightly. I shrug most things that happen on a football pitch off but for years, actual years, Everton Football Club have deserved better than this clown. What he does to Virgil van Dijk isn't his first. He left something appalling on Dele Alli when Spurs beat Everton 2-6 and swamped them a couple of seasons back.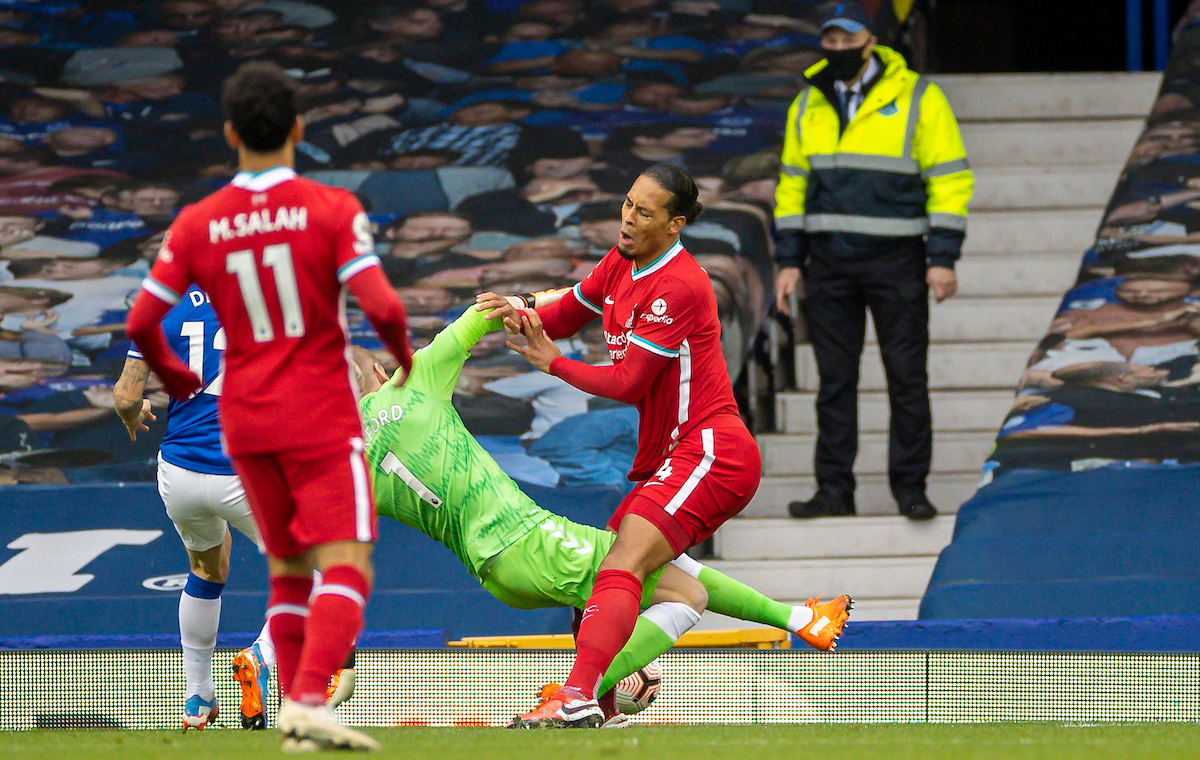 Everton were overwhelmed by Liverpool in the early going and the goalkeeper resorts to that. It calls into question the working definition of violent conduct up against serious foul play. For me that should be looked at by VAR, should be reassessed. For Blues who applaud it, not least because it causes an injury to Virgil van Dijk, in the long term they must know he is a liability. He isn't England's number one; he isn't in England's top five goalkeepers.
Fabinho was excellent as well for Liverpool. It is intriguing how Klopp wanted him to treat Allan the way Liverpool treat Jorginho at Chelsea. They wanted to make him sweat, make him suffer. Allan is stronger than his Chelsea counterpart but less good on the ball. If there is an issue with Liverpool across the whole of the first half it is that they aren't better around the Everton box having taken Allan out of the equation, having bullied him off the ball.
Repeatedly Liverpool need to make slightly better choices. This was the case at Villa Park as well. I can write at length about where Liverpool's line is at, about Adrian, about Gomez and Matip but there is a tiny thing for The Reds to work on – it remains taking a breath.
Andy Robertson does it brilliantly today around the area. It isn't just about working the space and time to look up – it is about then looking up. This is a two-way deal. Liverpool need to be that bit better at knowing and letting one another know.
It's a shame not to get the three points. A shame not to win a Merseyside Derby under those circumstances. I have yet to see an angle where Sadio Mane actually looks offside. I'd like there to be one. I'd like to be certain but I am very much not. Regardless though, I'll be fine, you know. You'll be fine. Liverpool will, trust me, be fine.
But the fact that Jordan Henderson doesn't get an injury time winner in a 3-2 at Goodison Park, well, that is not fine. It really isn't. Henderson is the best of us and by us I think I broadly mean all humanity.
There aren't that many more chances for him to get Steven Gerrard moments. I don't really want Jordan getting Steven Gerrard moments – that isn't what it has been about or should be about – but I wanted him to have that one. I wanted him to have snatched the points.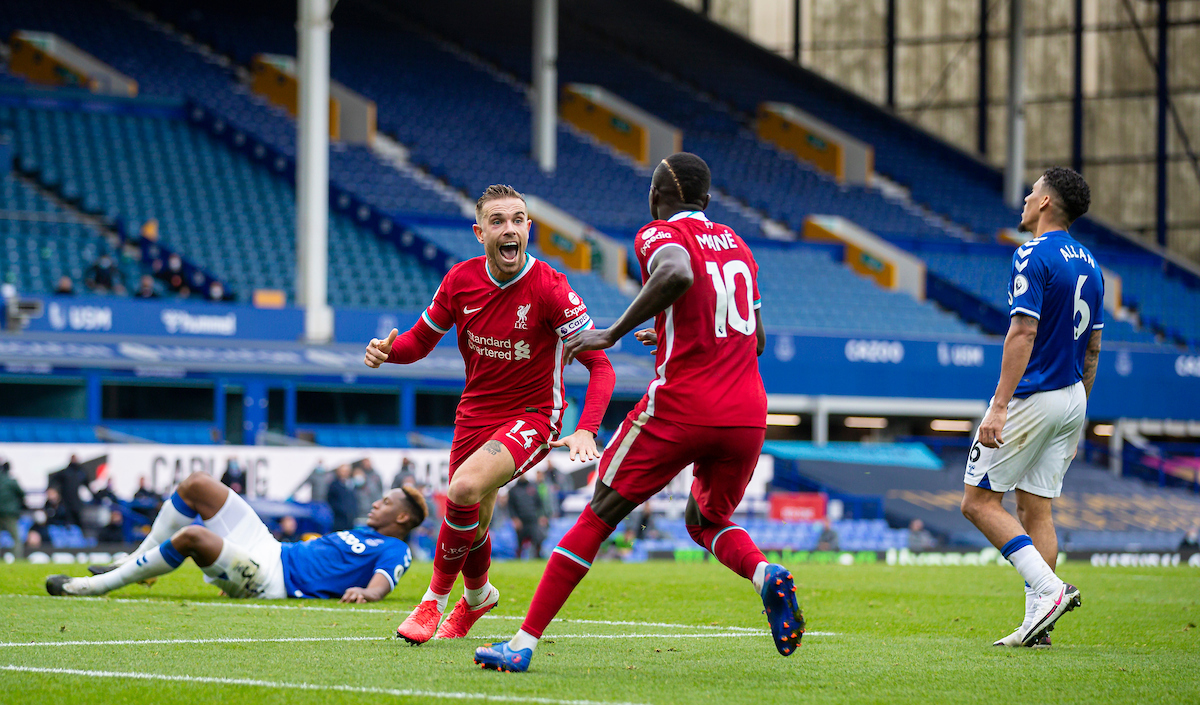 What is very hard to take is the computational cold-heartedness of a system that takes an android mind to games of this kind of passion. The VAR robot robs our captain of his last-minute winner.
Jordan has battled and fought for his right to be here. The robot doesn't care that the ball has been put into the back of the net by a man that has been handed nothing on a plate, has been doubted at every turn, and whose character has been forged and tested to get him this far. The robot neither knows nor cares and it isn't clear right now that the unseen eye is even correct.
I'd go for a substantial meal with Dominic Calvert-Lewin. I'd go for one with him this afternoon. I'd look him in the eye and say: "You know what, sound. Does three small plates equal one substantial meal? You were great today."
I asked you not to get too wound up at the start of this. I hope you haven't. I hope you all know how much a Liverpool win would have meant to me, to all of us. We all know that. It would have been everything. But it's OK. Honestly. Again, I promise.
They put in some terrible challenges today, Everton. Football is a contact game with fierce and angry rivalries. But it is never necessary to hurt someone and Klopp clearly cares very deeply for all our players. The red card, however, should have been the second not the first.
We have no choice but to move on from this game. But when it comes to believing that we could have and should have won, we never have to let that go. Everton are a good side. That rivalry makes games like this closely drawn and hard to win.
Prior to the match Seamus Coleman wrote some words in the programme about the game.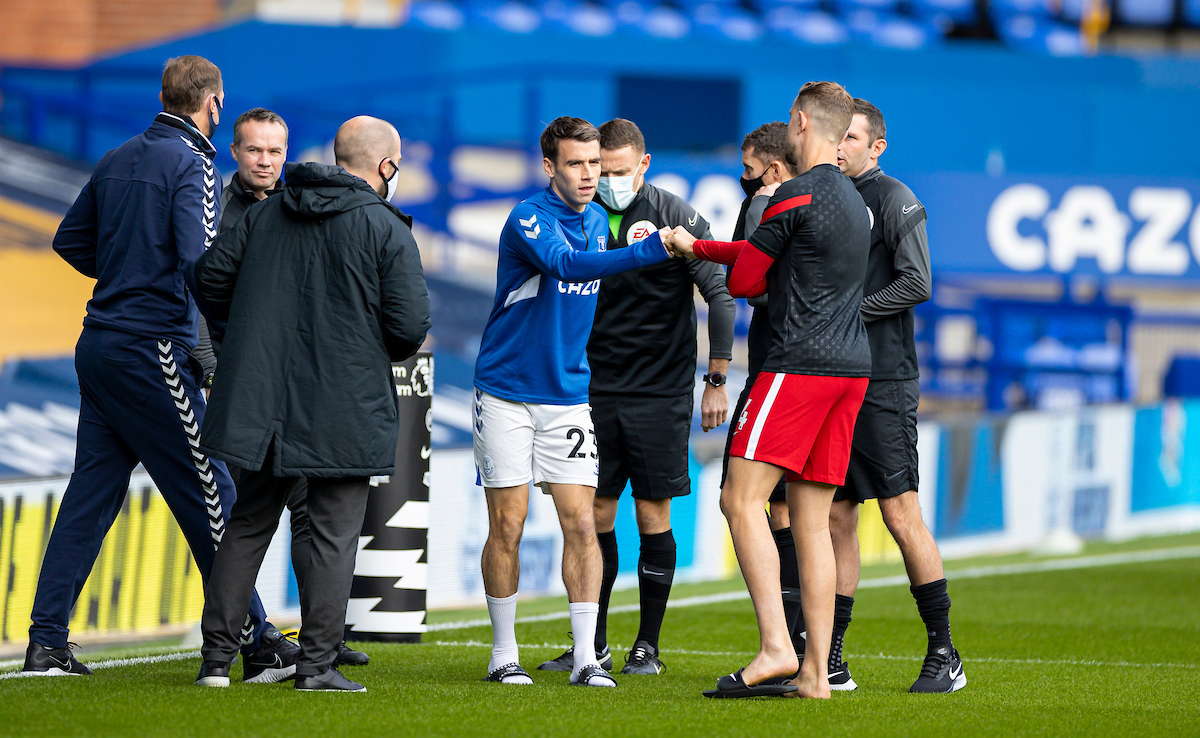 "Finally, a message for all of our supporters… In fact, for fans of both clubs today.
"I can't help thinking that the atmosphere today would have been up there with the best I have ever played in. I can only imagine the noise before the game and, I'll be honest, it saddens me we won't experience it today.
"I absolutely love the atmosphere of a Merseyside derby. And not seeing Blues and Reds inside the stadium reminds us just how serious the situation is."
I didn't sleep last night. I'm angry and I'm concerned for the city. The lack of sleep was nothing to do with the game, was due to all the ways I feel powerless, feel completely blunted, totally lack literal mental engagement by the crisis. It has put lives on hold. Genuinely, just put lives into limbo. And limbo is at best. Actual jeopardy at worst.
But then the footballers played that game of football and showed how much they cared for the game and one another and for what it all means. We all felt alive, raw, suddenly alive.
It will be there again and we will be. Take a breath, don't be angry. Be enthralled.
We are on the march, you know. This, this is what it is to be alive.
---
🗣 Everton 2 Liverpool 2: The Post-Match Show | #Reaction | #LFC

Our immediate post-match reaction podcast to the 2-2 draw at Goodison…

Listen 👉 https://t.co/aNID8MmNCG
Subscribe 👉 https://t.co/cXuFmbDvp3 pic.twitter.com/ofYcdsgEVv

— The Anfield Wrap (@TheAnfieldWrap) October 17, 2020